LIST: 8 Air Purifier Gadgets and Where to Get Them
Among all the protective gear and accessories we have like face masks and shields, air purifiers have become a popular purchase nowadays since the pandemic.
Air purifiers or air cleaners are devices that remove airborne contaminants such as dust, bacterias, and even viruses to improve air quality. Mostly suited for individuals with respiratory problems such as allergy and asthma, air purifiers now come in different styles, sizes, and featured functions suited for everyone's personal and home needs.
With that, we compiled 8 personal and home air purifiers should you need a good health investment that could last for years.
Clean Air+
One of the chic personal purifiers in the market is Clean Plus PH's Clean Air+. Made to be worn as a necklace, it is proven to eliminate smoke, pollen, airborne bacteria, and viruses, as well as mold spores wherever you go.
It emits around 5 million negative ions and covers up to 1 sqm to neutralize free radicals around you.
With a 10-hour battery life, you can either keep it on as a necklace while running daily errands outside, have it clipped on your car vent, or place it in a baby's crib or stroller. It comes in three pretty colors: Off-White, Rose Pink, and Coal Black.
Price: Php 1,490
Where to get: Lazada
Cherry Ion Personal Air Purifier
As you may have seen in some Filipino celebrities' Instagram pages, Cherry Mobile's Cherry Ion Personal Air Purifier is a portable air purifier that delivers fresh air anytime and anywhere you go.
With a mechanism that continuously emits 50 million negatively-charged ions per cm3/second, it can clear out airborne pollutants like bacteria, viruses, pollen, smoke, molds, and dust mites. A personal rechargeable and wearable air purifier, this device quietly runs for 10 to 12 hours on a full charge.
The unit is available in colors Black with a silver frame, White-Gold, White-Pink, and White-Rose Gold. It also comes in a smaller and lighter version called Cherry Ion Lite for Php 2,300.
Price: Php 3,500
Where to get: Lazada
Website: cherrymobile.com/cherry-ion
IONKINI Wearable Air Purifier
Maple Fresh PH is among the brands that offer affordable versions of air purifiers in the market. Their IONKINI Wearable Air Purifier promises the same benefits as others.
Claiming to inhibit bacteria growth and virus in the air, it also promises collagen production, enhanced blood circulation, regulated sleeping patterns and mood, and reduced stress levels.
This device emits up to 5 million negative ions per cm3/s with a running time of 10 hours. Plus, it comes with a one-year limited warranty.
Price: Php 1,595
Where to get: facebook.com/maplefreshph
CleanAir Mini Purifier
CleanAir Mini Purifier is a lab-tested air purifier device that gives an extra layer of protection from airborne bacteria and viruses. This sleek gadget is made with air purifying technology that emits negative ions to fight off invisible floating impurities.
It features a double emitter of 6 million negative ions per cm3 with a coverage of 1 sqm or 3.4 sqft. Unlike other air purifiers, CleanAir Mini Purifier can run up to 20 hours with just 30-minutes of charge.
Price: Php 1,480
Where to get: instagram.com/cleanlightph
Air purifier gadgets are not only available in necklace form. Apparently, there are a bunch of in-door home appliances available in the market that provides the same additional layer of health protection as air purifier necklaces for large spaces.
Here are some of the brands you might want to check out:
Sharp Air Purifier with Humidifier
Featuring the world's first Plasmacluster Technology, Sharp Air Purifier with Humidifier is the perfect choice for a two-in-one quality air purifier. It is equipped with Plasmacluster Ion (PCI) that reduces airborne contaminants and viruses while purifying the air.
A plus for this is its humidifying function that has special benefits in preventing dry skin, eyes, and throat. Another product from Sharp with the same technology and function is their Air Purifier with Mosquito Catcher.
Price: Php 30,498
Where to buy: Abenson, Robinsons Appliances, SM Appliance Center, Anson's, All Home, and more (full list here)
Website: ph.sharp
UV Care Clean Air 6-In-1 Air Purifier
A trusted brand specializing in UV-C sterilization, UV Care's Clean Air 6-In-1 Air Purifier offers six layers of air filtration that traps fine and large particles as well as smoke and odors, which explains why people are delighted to have this air purifier appliance in their home.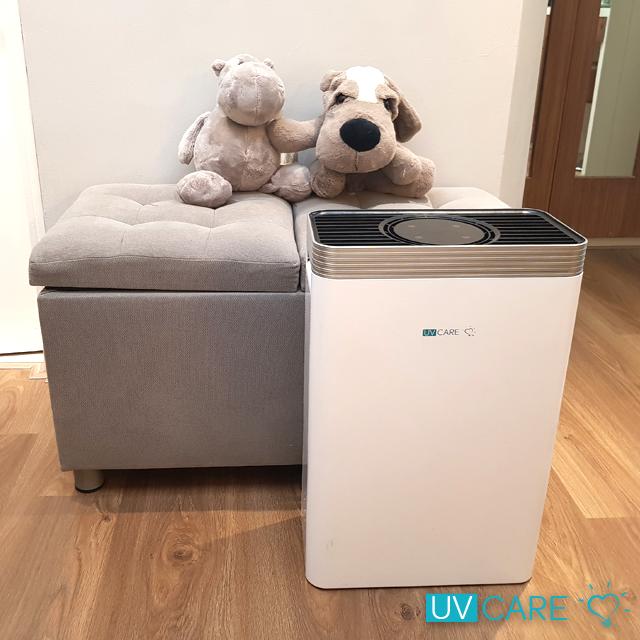 IMAGE UV Care
It is equipped with Washable Elementary Pre-Filter, 99.97% True HEPA Filter, Activated Carbon Filter, and Cold Catalyst Filter. This air purifier comes with a UV lamp that eliminates pathogens on a DNA level through Ultraviolet Germicidal Irridiation.
Price: Php 15,000
Where to buy: UV Care in-mall kiosks, The Clean Room kiosk and Lazada, Baby Company shops, Mothercare shops, Rustan's Department Store, Ace Hardware, other specialty stores (full list here)
Website: uvcare.net
Xiaomi Mijia Air Purifier Pro
IMAGE Lazada
A culmination of Xiaomi's previous purification technology, Mi Air Purifier Pro is an easy-to-use the product that will make your home healthier. It features a high-precision laser that can detect the smallest airborne pollutants, a sharp OLED display, and one of the best Clear Air Delivery Rate (CADR) scores.
This device can single-handedly clean the air in rooms and spaces up to 60m². What makes it easy to use is that it can be controlled with the use of Xiaomi's mobile application.
Price: Php 11,900
Where to buy: Lazada
Website: xiaomi-mi.com
Blue Pure 411
IMAGE Lazada
Blueair PH's Blue Pure 411 is a compact air purifier suited for small spaces. With its light and slim body, it is perfectly designed for rooms up to 15 sqm. One of its key features is that is it contains Blueair's world-leading filter technology, a 3-part filtration system, which effectively eliminates particles in the air.
Not only does this work silently but it also consumes only 1.5 to 10 watts of energy!
Price: Php 8,995
Where to buy: Lazada
Purchasing a high-quality and functional air purifier is a great investment for you and your family's health not only during this pandemic but also in the long run.
Which of these air purifier devices are you planning to buy soon? Share with us on the comments below!
---
Featured images grabbed from Sharp, CleanAir+, and UV Care