Kick-Start Coffee Celebrates Brand Evolution Over the Decade with a Modernized, Upgraded Packaging
Kick-Start Coffee Celebrates Brand Evolution Over the Decade with a Modernized, Upgraded Packaging
One decade after it first graced the vast terrain of coffee here in the Philippines, Kick-Start Coffee hits the shelves with a refreshed look and an even better packaging for their three signature blends.
In doing so becoming an embodiment of its local roots with the imprint of the country's tricolor flag on the black foil packagings as well as of the brand's resiliency through the years with such sturdiness that makes for a good coffee bin in itself.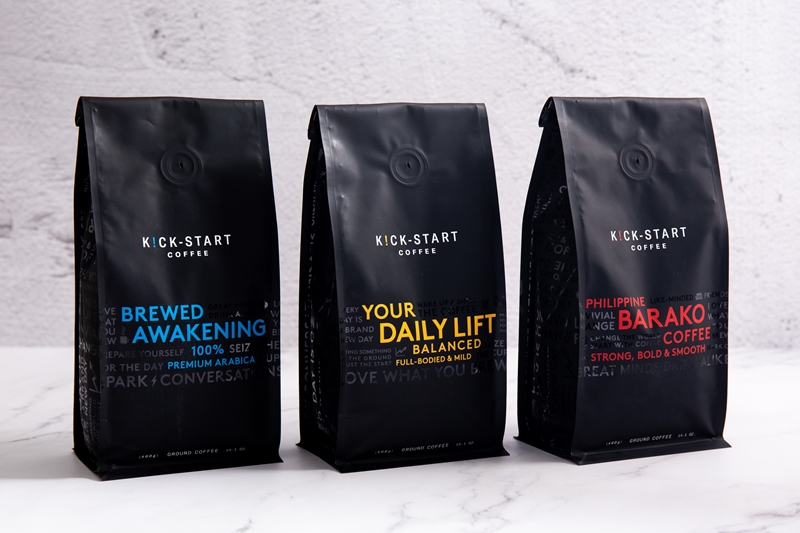 "The launch of the new Kick-Start Coffee symbolizes the evolution of the brand and an entrepreneurial journey milestone," shares Mike Asuncion, founder of Kick–Start Coffee and President of Silca Coffee Roasting Company, Inc.
"We hired a firm from San Francisco to preserve the essence of the original design while modernizing it with a global appeal to prepare Kick-Start Coffee for new markets abroad."
Also read: LIST: Must-Try Local Coffee Brands in the PH
Tracing its beginning back in 2010, the brand was founded with the working adults in mind, to provide them with not so much a plain beverage as a little something that kick-starts the day with the energy they need.
Its growth then concurrently allowed Asuncion to preserve his family's now 40-year coffee legacy in the form of Silca and to realize his dream of fostering the Philippines' very own coffee beans.
Kick-Start Coffee is roasted in small batches at their facilities in Silang, Cavite through the use of SASA Samiac Roaster from France—with every batch undergoing a test cup to ensure utmost consistency.
Their signature blends, to date, cover three variants called Your Daily Lift (Php 445), Brewed Awakening (Php 445), and Philippine Barako Coffee (Php 395). 
Also read: Types of Coffee that Grow in the Philippines
For when you want just a subtle taste of caffeine, a cup of Your Daily Lift is an ideal pick for the day. It is a full-bodied blend of Arabica and direct-trade Cavite Robusta, giving off the mildest flavor among the three Kick-Start selections.
 Your Daily Lift (Php 445)
Brewed Awakening, meanwhile, is a rich, complex, and aromatic coffee that is made of 100% medium-dark roasted Arabica. A good cup of this is perfect for those who like their drink not too strong but at the same time wanting the kick of the flavor to be there.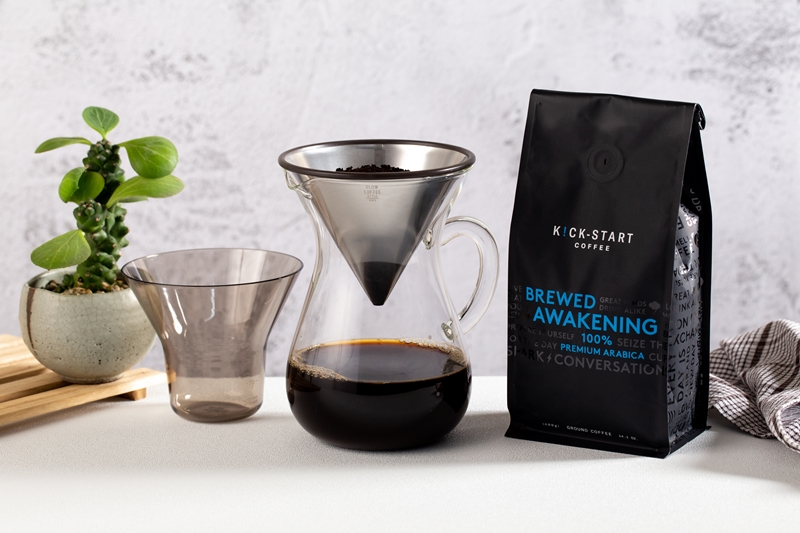 Brewed Awakening (Php 445) 
And finally, the strongest of them all, the Philippine Barako Coffee. It is made out of hand-picked Barako beans from the trees in the highlands of Cavite, a place whose unique climate, high elevation, and volcanic soil from the Taal Volcano naturally concoct the bold yet fruity flavor of this coffee.
Philippine Barako Coffee (Php 395)
"Coffee has played an integral part in fueling my life," Asuncion divulges. "As a kid, I have memories of our warehouse stacked with sacks of coffee and going around to farms and watching many people handle coffee throughout the value chain. In college, I conducted my thesis on Exporting Roasted Philippine Coffee to the United States and I concluded it would be feasible, but we needed an established brand from the Philippines to make it successful."
Years later, his affinity for the industry that led him to connect with farmers across the Philippines and deal with coffee origins around the world, along the way pins down Kick-Start Coffee as a top-quality brand backed with the history of the family business spanning from way back 1977.
Cop your own bag of Kick-Start Coffee at a supermarket near you or get in touch with them on Facebook, Instagram, or Twitter to have them delivered to you.
---
This article was based on a press release from Centaur Marketing. Photos used in the article are also provided therewith.