Cultural Center of the Philippines Launches Free HD Viewing of Shows
When the enhanced community quarantine was set in place, people at home turned to spending their days watching films, listening to music, reading books, and other forms of entertainment. Other than the frontliners, it was the arts that lifted our spirits.
In light of the current situation, the Cultural Center of the Philippines (CCP) hopes to promote safely staying at home by launching the CCP Online, an online scheduled premieres of HD recordings of theater, dance, visual arts, film, literary, and workshop events from its Cultural Content Digital Archives!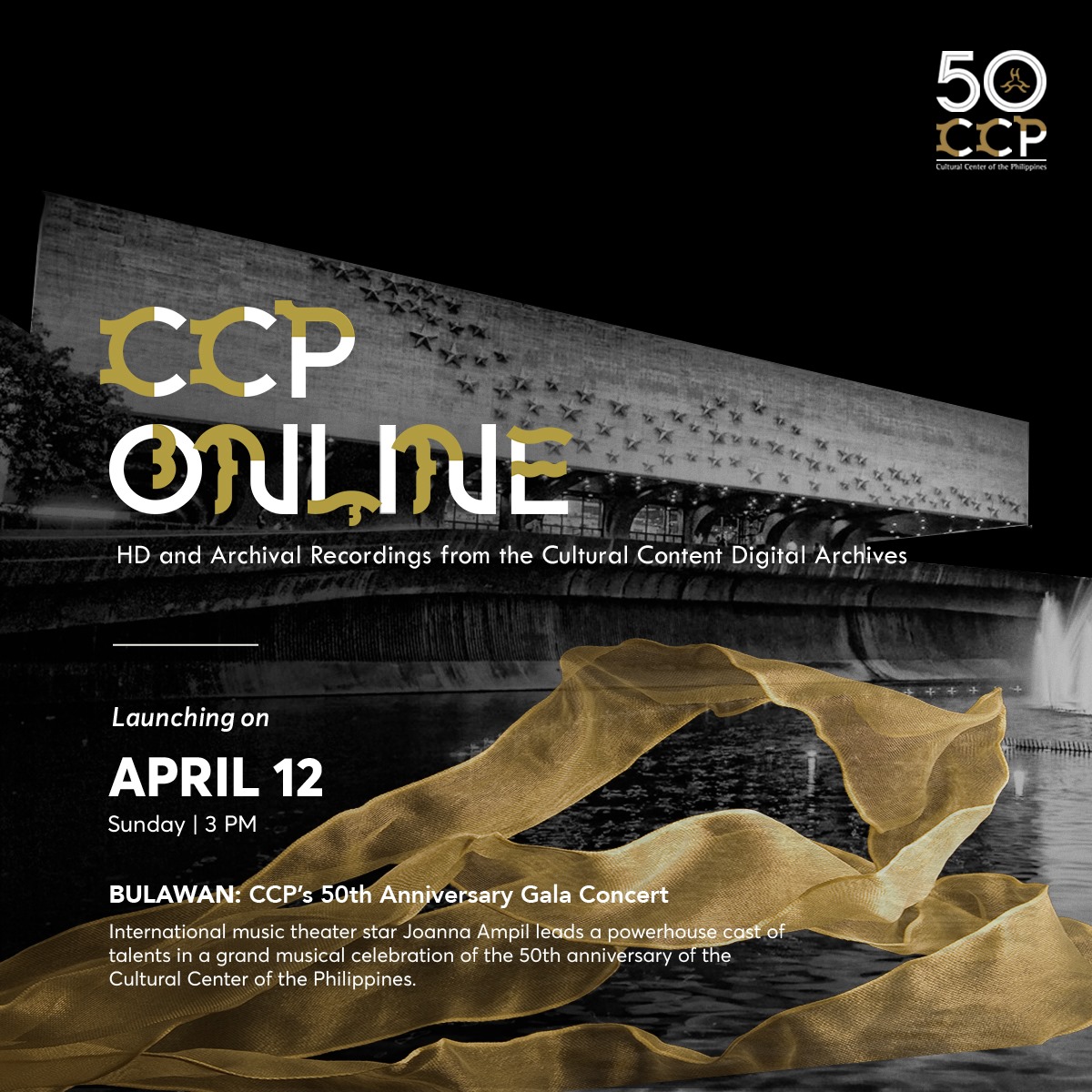 IMAGE grabbed from CCP's Facebook page
It was launched last April 12 at CCP Online YouTube page with BULAWAN: The CCP 50th Anniversary Gala Concert, which was recorded last September 2019 at the Tanghalang Pambansa to celebrate the CCP's 50th Anniversary with a grand musical celebration.
BULAWAN (Gold) features artists such as Celeste Legaspi, Rachelle Gerodias, Gian Magdangal, Raul Sunico, Ballet Philippines, the Ramon Obusan Folkloric Group, Bayanihan, Tanghalang Pilipino, the Philippine Philharmonic Orchestra, and many others. The performance was directed and designed by Loy Arcenas.
Also read: Cultural Center of the Philippines Celebrates 50th Anniversary
The show is available for viewing for free for a week until April 19, 2020. As announced by CCP through their Facebook page, they will be announcing new videos every week!
Still to come are the following shows:
Alice & Friends: A Tapestry of Dances in Celebration of 50 Years in Dance
3 p.m., April 17Friday
Philippine Madrigal Singers: MMMM…MORE!
3 p.m., April 20, Monday
Expect videos of CCP's collection of shows, theater, dance, visual arts, film, literary, and workshop events to watch every week by tuning to their official YouTube page, subscribe and set reminders for the premiere. Remember, each video will only be available for viewing for a week!
In a series of press releases since March, the CCP has cancelled shows and events such as the Ballet Philippines' Rama Hari, the PPO Concert Series VII, and the 16th Cinemalaya Independent Film Festival in light of the increased cases of COVID-19 in the country.
By moving towards sharing their previous shows online, CCP is urging the public to stay at home, practice social distancing, wash your hands frequently, and stay healthy.
---
Sources: Cultural Center of the Philippines website, CCP Facebook Page