Makati's Elbert's Pizzeria is Open for Takeout and Delivery Services Amid ECQ
If you're craving for some pizza but don't know where to get it, look no further than Elbert's Pizzeria.
Known for their delicious authentic Neapolitan-style pizza, Elbert's Pizzeria is open for takeout and delivery services amid the enhanced community quarantine (ECQ).
Available from Monday to Sunday from 11 a.m. to 7:30 p.m., this delivery service is ideal if you're itching to have a taste of their authentic Neapolitan Pizza.
The delivery service is available via FoodPanda, however, customers may also call the restaurant at 0917-677-8325 for direct deliveries.
Do note that direct delivery is limited and subject to factors such as the location, availability, and the size of the order among others.
Just a little safety reminder: While we take great care to ensure the insides of the pizza box and the food itself are…
With this service, you'll be able to sample the restaurant's delicious pizzas such as the Quattro Formaggi e Fungi and the classic Margherita.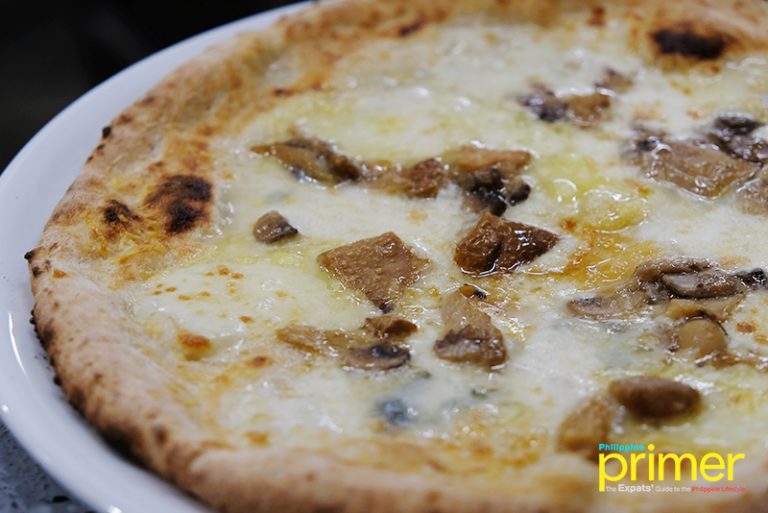 Quattro Formaggi e Fungi
Elbert's Pizzeria is located in Salcedo Village, Makati City. It is the brainchild of business man Elbert Cuenca who is also responsible for concepts such as the Elbert's Steakroom, Elberts's Sandwich Shop, and Elbert's Upstairs Bar. The pizzeria brings the concept of a true Naples style pizza: there is no space for fancy toppings.
For more information, you may visit Elbert's Pizzeria's official Facebook page. You may also contact them at 0917-677-8325 for inquiries. 
Also read:
Elbert's Pizzeria in Makati Serves Authentic Neapolitan Pizzas
LIST: Dessert Shops in the Metro Accepting Deliveries Amid ECQ
Restaurants Offering Ready-To-Cook Meals in the Metro
Antipodean Coffee Manila in Makati Now Offers Takeout Services During ECQ