Restaurants Offering Ready-To-Cook Meals in the Metro
As much as everyone enjoys home-cooked meals every day while we are strictly staying in our houses for the meantime, some may still miss their favorite go-to restaurants. Luckily, we've rounded up a list of restaurants that offer ready-to-cook food around Metro Manila available for delivery or take-out in their branches!
Locavore
Your orders will be accepted at Locavore Kapitolyo and must be placed at least one day before the day you intend to receive it. Cut off for orders is at 3 p.m. and orders can be picked up the day after at 11 a.m. to 5 p.m
Amber
Besides their Metro Manila branch, Amber also offers ready-to-cook items in Cavite and Laguna for a limited time offer.
Pang-luto sa bahay, AMBERkada!
Pancake House
Favorites from Pancake House are available for pick-up at their VistaMall, Taguig and El Molito, Alabang branch. You can also have them delivered right at your house through orders via their delivery website.
Home is where your favorites are. "My Pancake House" favorites are readily available for you to bring home and enjoy…
Max's Restaurant
Max's accepts orders through their website, directly through their open branch, or orders via Grab Food and Food Panda.
Level-up your home menu.Order our Ready-to-Cook products today. Please check this site, which is updated regularly,…
Mendokoro Ramenka
For ramen cravings, Mendokoro Ramenka offers a Take Home Ramen Kit and other varieties of food favorites from their restaurant. Mendokoro Ramenka also implements a one-day advance order and a 3 p.m. cut-off.
Mama Lou's Kitchen
Pasta, main courses, and more — Mama Lou's Italian Kitchen got you covered. And did we mention delivery is free of charge!
Mulberry Door
For schedules of pickup and delivery of Mulberry Door's items you can check out this post:
Old Swiss Inn
Old Swiss Inn in Makati now accepts pre-order of their meals to be delivered during their business hours from 8 a.m. to 5 p.m.
Conti's
Aside from their cakes and other sweet treats, Conti's Bakeshop and Restaurant is also known for their honest to goodness dishes. Now, they offer frozen meals and meals that are for quick and easy cooking.
DECS
For dimsum cravings, DECS' frozen dimsum is the perfect place to order with their wide variety of choices!
Fireside PH
For date nights at home, you can now order US Meat Choices from Fireside PH. They accept cash-on-delivery or payments through GCash or BDO Bank Transfer.
Cold Layers
Korean Beef Stew, Beef Gyudon, Taiwan Chicken Chops, and more! Yes, Cold Layers have meals to go for you and your loved ones.
Wobbly Pan
Have a Spanish cuisine feast at home as Wobbly Pan brings you ready-to-eat frozen items that are available for delivery!
We'll bring your food to you. Please stay home and stay safe!Contact 0945 412 89 64 for orders.

Wobbly Panさんの投稿 2020年3月17日火曜日
Chuck's Deli + Bakery
If you enjoy Chuck's Deli + Bakery's bread then you'll surely want to get your hands on their frozen bread that can easily be reheated. Frozen meals are also coming soon as they expand their menu!
Manam
From one of the most loved brands from The Moment Group, Manam offers a ready to heat, cook, and eat favorites. Mo' Cookies of the Moment Group also offers Classic Chocolate Chip and South Cotabato Fudge that are ready to eat.
Recovery Food
Recovery Food opens their Stopover BGC, Crossroads BGC, and Molito Alabang branches for ready-to-cook meats that you can enjoy at home.
Want to bring and cook some #feelgoodfood at home? Bring some ready-to-cook #recoveryfood favorites!Check out your…
Fast Food Restaurants
McDonald's
Chicken nuggets or just the chicken that we miss from McDonald's, the choice is yours — ready-to-cook packs are now available at selected stores!
Jollibee
One of the most loved Fast Food chain in the country, Jollibee now offers frozen and marinated items at their stores. While some branches of Robinsons Supermarket and SM Supermarket also offers such items from Jollibee.
Greenwich
Missing that oh so good pasta from Greenwich? You can now try making your own version of this pasta at home!
Mang Inasal
You'll surely ask for another cup of rice or two even at home with Mang Inasal favorites at your plate.
Chowking
The Chinese style fried chicken and a whole lot more of meals from Chowking is now also available in ready-to-cook packaging.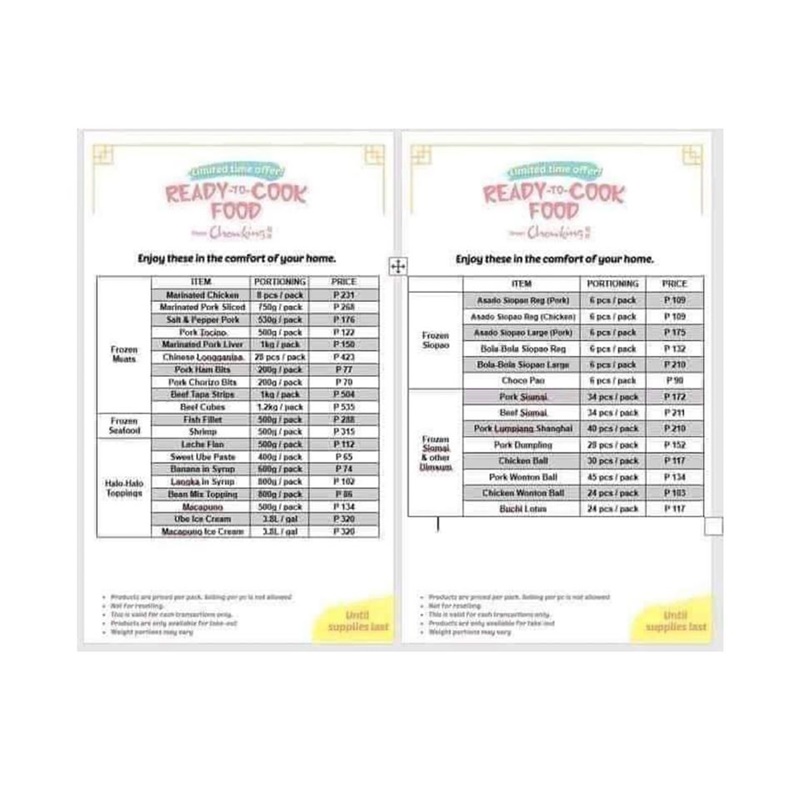 Bon Chon
The Korean inspired Fast Food chain, Bonchon has also released there own set of ready-to-cook food!
Which among these are you seriously craving for? Let us know in the comments below!
---
Feature image grabbed from Pancake House, Mendokoro Ramenka, Chuck's Deli + Bakery, Max's Restaurant