Audi Philippines Unveils New 2020 A6 Limousine
In the height of the night last September 11, 2019, the famed 2020 Audi A6 Limousine was officially unveiled to the eyes of those present at the Main Lounge of Manila Polo Club, Makati City.
While one unit of the all-new Audi A6 Limousine remained mysteriously situated at the corner of the stage before being bared to the anticipating crowd, another unit concurrently came in, swiftly bringing the Audi Philippines Head, Mr. Benedicto Coyiuto, to the center.
Mr. Benedicto Coyiuto delivering his welcome remarks, backdropped by the 2020 Audi A6 Limousine
Mr. Coyiuto prominently introduced the Audi A6 Limousine as the roomiest, the widest, and the best among its kind.
Considered as the "ultimate pacesetter of the executive class," it takes pride in being the Top Safety Pick of the US Insurance Institute of Highway Safety with its Matrix LED and HD Matrix LED headlights. It was also the recipient of the International Engine Award with its 2.0L TFSI mild-hybrid engine.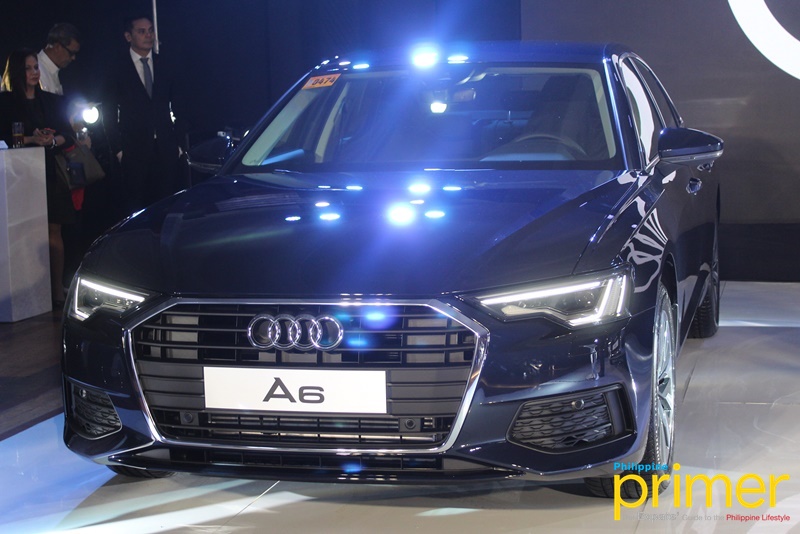 The 2020 Audi A6 Limousine in its bare state, stripped away from its cover
Flaunting a refined exterior with its taut roofline and short overhangs, it is deemed as an expressive ambassador of the Audi design language.
Also read: 5 Trusted Car Service Centers and Auto Repair Shops for Your Next Maintenance Check
Mr. Coyiuto poses with the Audi A6 Limousine for the press
The Audi A6 Limousine also boasts of a futuristic yet minimalistic interior with its multi-function leather steering wheel in double spoke design with shift paddles, electric door handles, electric sunshade for the rear window, manual sunshade for rear door windows, and power front seats with memory function for the driver seat, among others.
Also read: A Guide to Car Towing in the Philippines
With regard to its infusion of technology, the Audi A6 Limousine has a full-digital Multi-Media Interface (MMI) Navigation Plus and MMI Touch Response, both Bluetooth and Smartphone Interface, and a wide range of assistance options for added comfort.
Project Manager of Audi Philippines giving a run-down of the 2020 Audi A6 Limousine
The 2020 Audi A6 Limousine is already the 8th generation of its kind—its story beginning with Audi 100 at least 50 years ago. 
It is now available in Audi showrooms in Greenhills, Global City, Alabang, and SM Seaside City Cebu.
Details
Contact number: 02-592-1664
Website: Audi Philippines
Facebook: Audi Philippines
Instagram: audiphilippines
---
Source: Audi Philippines' official press release