5 Things You Need to Know About Cosplay Mania 2019
Cosplay Mania is known as the country's largest and most anticipated Anime and Cosplay Convention—with hundreds of exhibits, international & local sponsors and exhibitors, and unmatched pool of exclusive guests and content.
It's once again set to exceed everyone's expectations, happening on September 28 to 29, 2019 at the SMX Convention Center Manila.
Also read: 8 Reasons to Attend Cosplay Mania 2019
Here's a quick guide to help you enjoy the "mother of all conventions":
Tickets
Like the previous years, there are three (3) ticket tiers for Cosplay Mania namely Silver, Gold, and VIP. The following are the inclusions:
Silver Tickets – access to the entire convention including all the exhibits, fan meets, and other activities except for the JAM (Japanese Anime Music) Concert
Gold Tickets – all the perks of the Silver tickets plus access to the Standing Room at the back of the JAM Concert
VIP Tickets – all perks of the Silver and Gold tickets but with Reserved Seating at the JAM Concert's front section. VIP Ticket Holders will also have front section seating for special fan meets and will have access to the Premium Lounge, where they can relax with free drinks and snacks.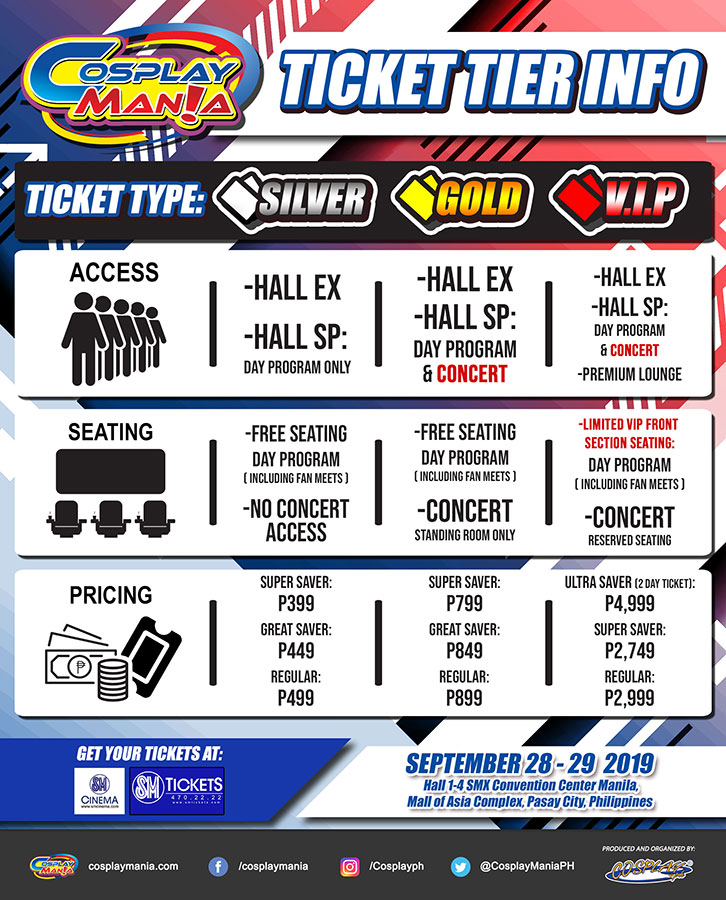 Additionally, Cosplay Mania has special and discounted tickets such as the Ultra Saver, Super Saver, and Great Saver—which are regular tickets bought at an earlier date and at a discounted price. Better be quick though, sales for the special and discounted tickets are coming to a close!
If you don't have your ticket yet, don't forget to purchase them at any SM Tickets outlet or through SMTickets Online. Tickets can also be purchased on-site.
Entrances
There are two entrances to the venue. The first entrance is the side entrance, facing the Archdiocesan Shrine of Jesus the Way, the Truth, and the Life Church. This entrance is for those who are yet to purchase their tickets.
Meanwhile, the second entrance is the main entrance for those who already have their tickets.
Those who purchased the Ultra Saver, Super Saver, and Great Saver tickets have an added benefit of entering the venue for as early as 9 a.m.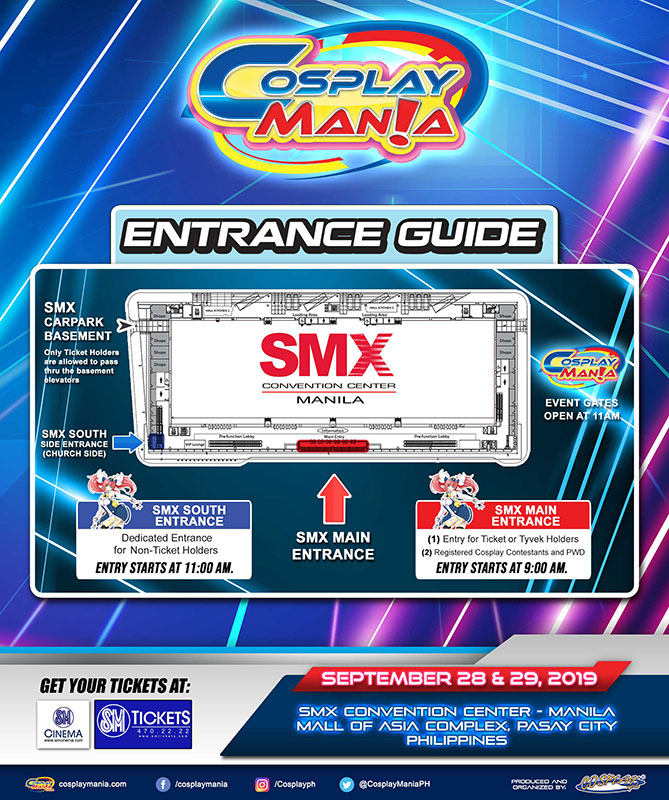 Furthermore, a portion of the exhibit will open at 10 a.m., which includes the Cosplay Mania Store, Food and Refreshment Booths, and the Premium Lounge. This is the perfect time to grab a snack, get some early shopping done, or relax in the Lounge for VIP ticket holders.
The early entrance gives guests a chance to get first dibs on exclusive merchandise, freebies, and convention activities.
Navigating the Con
There are two distinct areas at Cosplay Mania: the Exhibits (EX) Hall and the Special Performance (SP) Hall. All exhibits—including fashion, collectibles, online games, and the likes—are located at the EX Hall.
You might also want to consider dropping by the Quantum booth, where you can play with the latest Japanese video games for free.
The Lumica Stage, on the other hand, allows you to learn how to use light sticks while dancing to the beats of Japanese DJ's, as well as witness the selection of the Philippine Representative at the Cyalume World Dance Battle.
If you're into mobile games, the Mobile Legends booth will hand out official merchandise—even launch new games!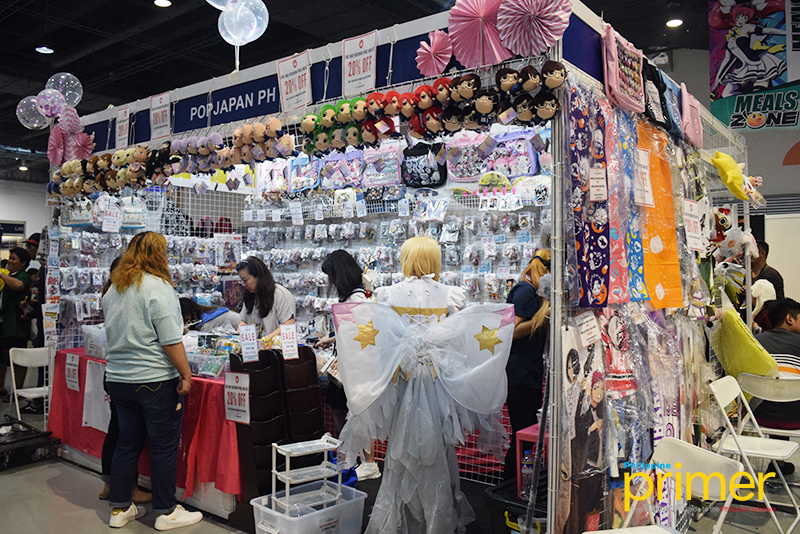 Exhibitor booths at Cosplay Mania 2018
The Good Smile Company, known for their nendroids, will have exclusive merchandise, but be reminded that some of their items are sold in very limited quantities. You can also find the latest collectible card games with game demos at the Ludus booth. 
Further, a part of their many exhibit booths is an artist section called Fan Fair. This area is dedicated to fan-made merchandise that you can get at very affordable prices.
There is so much to explore, so give yourself enough time to look around and immerse yourself in the experience.
Also read: The Country's Largest Cosplay Mania Returns This September
The Stage Program
Feature programs will be staged at the EX Stage and SP Stage. Both will have performances, contests, fan meets, and a whole lot more, so be sure to study the program schedule before you head to any of the stages.
Take note, however, that the program for both days is different. Cosplay Mania strives to keep things fresh every year, which means this could be your only chance to see and meet some of these guests in a long while.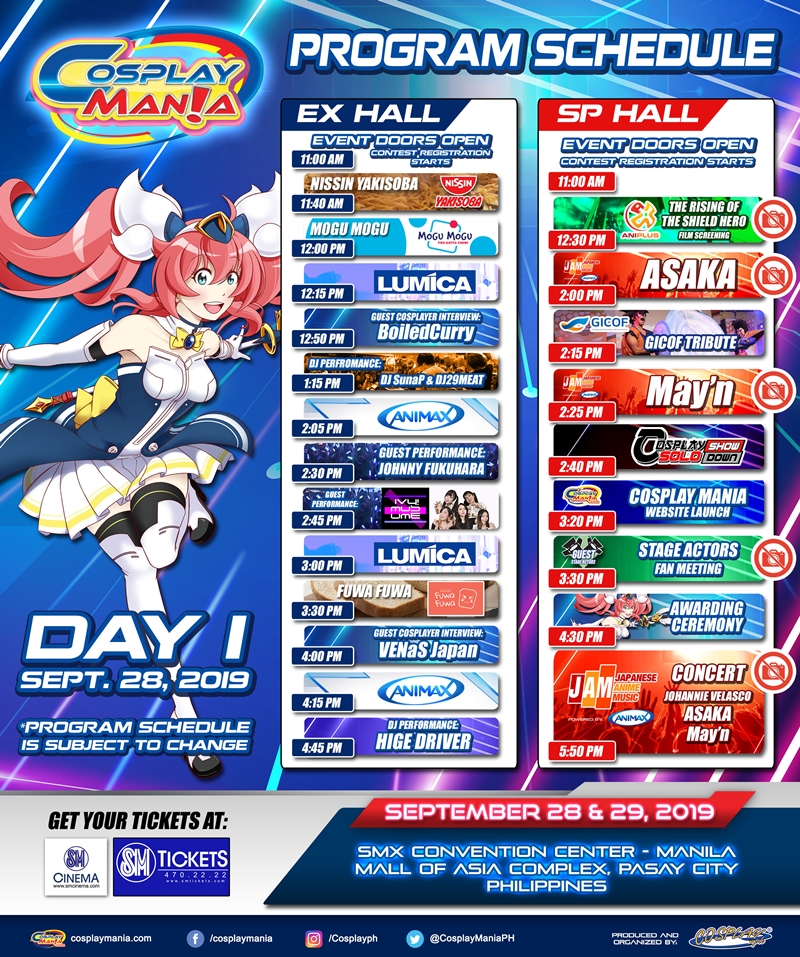 This year's guests include International Cosplayers BoiledCurry, REA KAMI, and VENas Japan, Stage Actors Allen Kohatsu and Kousuke Asuma, Voice Actors Motoko Kumai and Rumi Okubo, Chiptune Legend Hige Driver, and Special Guest Hiroto Kuramasu.
Closing the event is a JAM Concert powered by Animax. Gold and VIP Ticket Holders are in for a treat with performances by Yasutaka Nakata, Ichigo Rinahamu, ASAKA, MYTH & ROID, and May'n.
No Photos or Videos in the Fan Meets and Concerts
Concerts and fan meets are very special events that everyone wants to enjoy without a sea of cameras blocking the view. Therefore, Cosplay Mania strictly prohibits taking photos, so anyone caught in the act will be asked to leave the SP Hall without a refund.
Cosplay Mania invites you to enjoy this once-in-a-lifetime experience, so better grab your tickets while you can!
Also read: Cosplay Mania 2018: 10 Years of Celebrating Hobbies and the Japanese Subculture
For more information, you may visit Cosplay Mania's official website and Facebook page. 
---
This is a press release. Edits were made prior to publishing.