Cosplay Mania 2018: 10 Years of Celebrating Hobbies and the Japanese Subculture
Cosplay Mania 2018 celebrates its 10th year as the biggest anime, cosplay, and concert event in the Philippines– and just last September 29 to 30, SMX Convention Center Manila became the meeting place for all fans of Japanese subculture to meet like-minded people, watch international artists perform, and purchase exclusive merchandise!
Exclusive merchandise only available in Japan are being brought in by retailers and sold at events like Cosplay Mania
Since 2008, organizers Cosplay.Ph has been organizing the event. Cosplay Mania started out as an event to bring together cosplayers through "cosplay," (a portmanteau of the words costume and play), which is the act of wearing costumes that replicates a character in pop culture, most usually from Japanese animation.
The merchandise includes toys, statues, and keychains
As the event and its contests grew, the organizers included resellers and merchandisers of anime-related items otherwise not available in regular stores. For their 10th Cosplay Mania, the spacious SMX convention Center Manila fit in over 120 sponsors and exhibitors.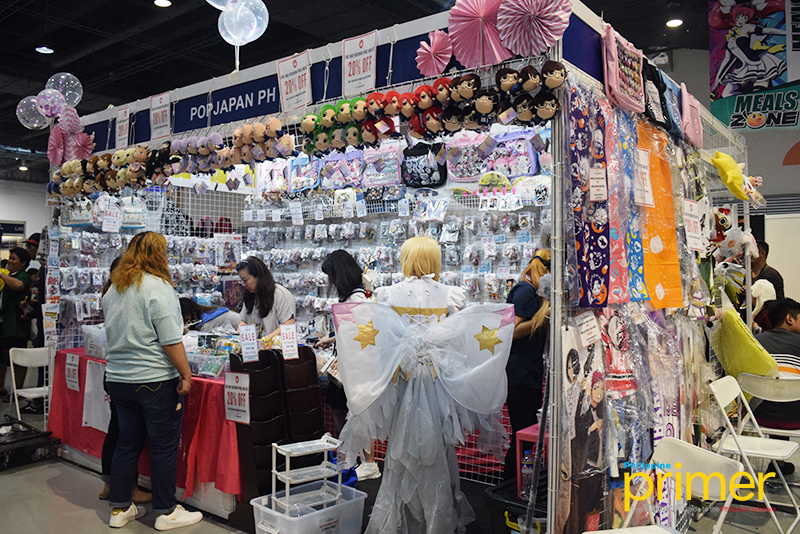 Booths like these are a common thing for cosplay events, most especially in Cosplay Mania
The winner of the wotagei dance battle will go to Japan to compete internationally
Sponsors include Japanese brands Good Smile Company and Bandai, which had toy displays and authentic merchandise. Lumica, a goods company set a small stage where performers taught attendees Wotagei, a type of Japanese choreographed dance executed using high-intensity glow sticks. TV networks Animax and Aniplus gave away freebies as well as showed exclusive previews of incoming anime shows and movies such as My Hero Academia and Fairy Tail. Also, arcade company Quantum brought in Bemani rhythm arcade games that are free to play all day.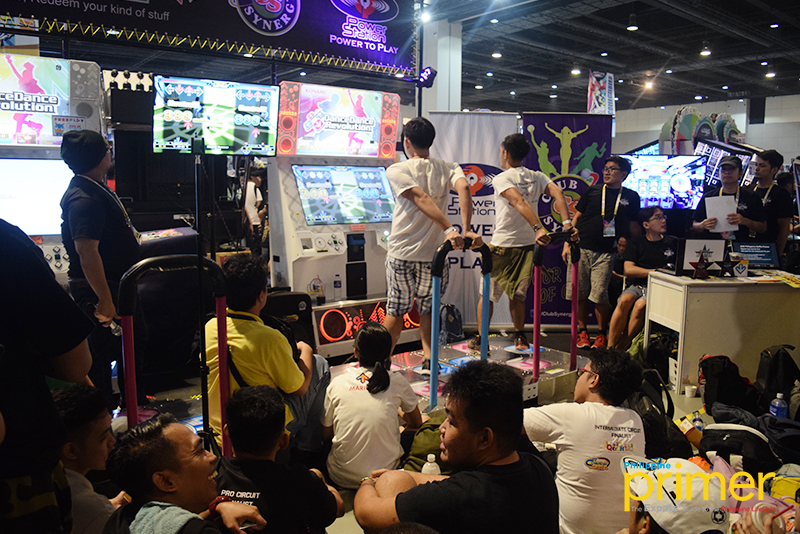 Dance Dance Revolution arcade was a crowd favorite at the Quantum booth
Other booths composed of online retailers, independent artists, and food grouped as Lifestyle, Fanfair, Collectibles, and Meals. Event attendees were able to purchase goods and merchandise from their favorite Japanese anime that are not available in malls and stores. There are also artists selling original artworks and fan arts or offer onsite commissions for artworks.
Event attendees had a chance to test products such as this screen tablet for artists
In addition to the exhibitor booths, Cosplay Mania also became the place to meet, greet, and watch guests such as talented voice actors, stage actors, music artists and special guests from Japan as well as cosplayers from around the world. This year, cosplayers Emperor Cosplay and Astarohime from Russia, Hakken from Malaysia and Ola Aphrodite from Indonesia delighted event guests. 2.5D Stage Actors Hiroki Ino (from Haikyuu!!, Touken Ranbu, Bleach Musical) and Kousuke Asuma (from Haikyuu!!, Bleach Musical, Onmyoji Stage Play) joined the festivities as well.
Cosplay contests are a highlight of the event and grand winner can take home up to Php 100,000 in cash and prizes 
True to their original goal of celebrating the cosplayers tournaments and contests riddled Cosplay Mania 2018. Tournaments included Little Akiba's Influencer Contest, Cyalume World Dance Battle, Dance Dance Revolution A All-Star Challenge. The grand contests were held in the concert stage including the Cosplay Solo Showdown, Cosplay Mania Cup and the Ultimate Cosplay Championship which pitted the best of the best cosplayers against each other in a spectacular show!
There no beating the experience fans get from events where they can be themselves, meet with friends and make new ones, and be able to buy exclusive products
Altogether, the 10th anniversary of Cosplay Mania was a culmination of festivities that celebrate passion in arts and Japanese subculture. Many will look forward to the next years of Cosplay Mania as they continue to promote creativity and self-expression. Cosplay Mania is an annual event held every end of September.