Ballet Philippines Celebrates 50th Anniversary with Exciting Events
Ballet Philippines (BP) remembers the past by moving forward and celebrating their 50th Anniversary Gala with a spectacle of dance, music, and fashion!
Starting August, you can expect a season line-up of your favorite productions, including a fashion show and fundraising concert.
Ballet Philippines Creative Director Alice Reyes (2nd from left), CCP President Margie Moran (Center), and Michael Cinco (4th from left) with BP's 50th Anniversary Sponsors
The dance company is turning 50 in February 2020, which will be met with a celebration of its rich history and vast contribution to the Filipino culture. Since 1970, they have developed over 500 choreographic shows with a wide array of classical, contemporary, and indigenous styles.
Also celebrating 50 years with Ballet Philippines is the theater that houses it, the Cultural Center of the Philippines (CCP).
"The fact that the Philippines had a theater this incredible and beautiful was what convinced me to stay," says BP Artistic Director Alice Reyes on when she held the first summer workshop that started Ballet Philippines.
Also read: Cultural Center of the Philippines Celebrates 50th Anniversary
For Ballet Philippines 50th Anniversary Gala Show, Mariinsky Theater's company members Elena Evseeva and Andrey Ermakov will be featured as guest artists in the production of one of the most iconic ballets, Swan Lake.
Ballet Philippines Swan Lake Performance / IMAGE Ballet Philippines
Opening Ballet Philippines' 50th season, Swan Lake starts on August 30 to 31, and September 1, 7, and 8. The production will have Denise Parungao as a principal dancer with a set designed by Toto Sicangco and additional costumes by Michael Cinco.
Denise Parungao as Odette from Swan Lake
On September 29, BP will have the Ballet Philippines Gala Fashion Show at the Marriott Hotel Grand Ballroom, featuring Dubai-based Filipino fashion designer Michael Cinco's 50-piece Swan Lake-themed couture collection.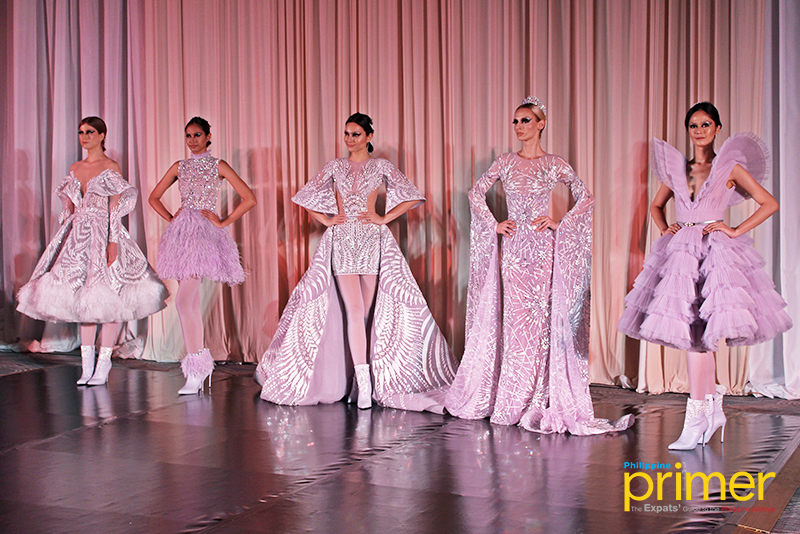 Five of 50 pieces designed by Micael Cinco to be launched for BP's Gala Fashion Show
On October 11, 12, and 13, BP alum and now Hong Kong-based choreographer Carlo Pacis will render a magical and reimagined A Midsummer Night's Dream. BP breathes new life to this enchanting tale of fairies and romance!
To celebrate the holidays, BP is mounting the tale of Cinderella as choreographed by National Artist for Dance Alice Reyes with the design vision of National Artist Salvador Bernal. Cinderella is scheduled on December 6, 7, 8, 14, and 15.
Also read: LIST: Theater Productions to Watch This 2019!
Further, Itim Asu & Other Dances returns to the CCP Main Theater Stage on February 21, 22, and 23, 2020. The 1970 production showcases the company's diverse and dynamic repertoire as a dance-play of the country's Spanish colonial era.
Ending on a high note, BP returns onstage the Filipino modern classic, Rama Hari—the collective product of four National Artists, Bienvenido Lumbera, Salvador Bernal, Ryan Cayabyab, and Alice Reyes. Tickets are now available for March 20, 21, 22, 28, and 29, 2020.
Also read: Who's Who: National Artists of the Philippines
Tickets to all shows range from Php 500 to Php 15,000 depending on the seat or box area of the CCP Main Theatre, with the exception of the Anniversary Gala Fashion Show.
For tickets, visit their website at ballet.ph or email info@ballet.ph. You may also call them at 02-551-1003 and 02-551-7919.