Who's Who: National Artists of the Philippines
Who's Who: National Artists of the Philippines
When someone in the Philippines is given the title of National Artist, it means they have given significant contributions to the development of Philippine arts and letters.
The recognition is given to those who excel in the fields of Music, Dance, Theatre, Visual Arts, Literature, Film and Broadcast, and Architecture or Allied Arts.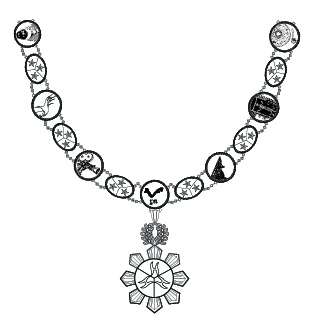 The Insignia of the Order of National Artists. The Grand Collar featuring circular links portraying the arts is bestowed upon the awardee/ IMAGE Official Gazette
The Order of National Artists
The Presidential Proclamation No. 1001, s. 1972, created the Award and Decoration of National Artist, "to give appropriate recognition and prestige to Filipinos who have distinguished themselves and made outstanding contributions to Philippine arts and letters."
Those who have been proclaimed National Artists are given a Grand Collar symbolizing their status. Thus, the title is a rank, a title, and a wearable award that represents the highest national recognition in the field of arts and letters.
A person who receives this title gets the following honors and privileges:
Rank and title of National Artist, as proclaimed by the President of the Philippines;

Insignia of a National Artist and a citation;

Cash awards, monthly life pension, medical, and hospitalization benefits, life insurance coverage, state funeral and burial at the Libingan ng mga Bayani (Heroes' Cemetery), and a place of honor at national state functions along with recognition at cultural events
Criteria for a National Artist
Living artists who are Filipino citizens at the time of nomination, as well as those who died after the establishment of the award in 1972 but were Filipino citizens at the time of their death;
Artists who, through the content and form of their works, have contributed in building a Filipino sense of nationhood;
Artists who have pioneered in a mode of creative expression or style, thus earning the distinction and making an impact on succeeding generations of artists;
Artists who have created a substantial and significant body of work and/or consistently displayed excellence in the practice of their art form thus enriching artistic expression or style; and
Artists who enjoy broad acceptance through:

prestigious national and/or international recognition, such as the Gawad CCP Para sa Sining, CCP Thirteen Artists Award, and NCCA Alab ng Haraya;
critical acclaim and/or reviews of their works;
respect and esteem from peers.
Some of the Philippines' National Artists
There are 66 recognized National Artists to date, with the fields of Visual Arts, Literature, and Music having the most number of recognized National Artists.
Here are some of the well-known National Artists of the Philippines:
Leandro V. Locsin (Architecture, 1990)
A man who believes that true Philippine Architecture "is the product of two great streams of culture, the oriental and the occidental… to produce a new object of profound harmony."
Leandro V. Locsin is the man responsible for designing everything you see at CCP Complex—the Cultural Center of the Philippines, Folk Arts Theatre, Philippine International Convention Center, Philcite, and The Westin Hotel (now Sofitel Philippine Plaza).
Image grabbed from arkitektura.ph
Lino Brocka (Cinema, 1997)
Catalino "Lino" Ortiz Brocka is known to many as one of, if not the greatest, Filipino director of all time. He espoused "freedom of expression" throughout all his films, injecting each and everyone with a social activist spirit.
Some of his well-known works include Tinimbang Ka Ngunit Kulang (1974), Maynila sa mga Kuko ng Liwanag (1975), and Insiang (1976)—the latter being the first Filipino film to be shown at Cannes.
Image grabbed from ABS-CBN
Carlos "Botong" Francisco (Visual Arts, 1973)
Hailing from the Art Capital of the Philippines, Angono-native Carlos "Botong" Francisco is known for single-handedly reviving the modern art of murals through works that showed slices of the past. He was such a prolific muralist that he became its most well-known practitioner for almost 30 years.
Want a glimpse of his works? Your best bet is to visit Manila City Hall or the Manila Museum.
Also read: National Museum Complex: A Memento of the Philippines' Rich Culture
Image grabbed from alchetron.com
Levi Celerio (Literature and Music, 1997)
Levi Celerio, a prolific lyricist and composer, is known for having effortlessly translating or rewriting lyrics of traditional Filipino melodies like "O Maliwanag Na Buwan" (Iloko), "Ako ay May Singsing" (Pampango), and "Alibangbang" (Visaya).
He's also been immortalized in the Guinness Book of World Records as the only person to make music using just a leaf.
Image grabbed from Rappler
Leonor Orosa Goquingco (Dance, 1976)
Leonor Orosa Goquingco is a pioneer Filipino choreographer known to many as "The Trailblazer," "The Mother of Philippine Theater Dance," and "Dean of Filipino Performing Arts Critics."
She has produced stunning choreography during her 50-year career, highlighted by "Filipinescas: Philippine Life, Legend, and Love," which elevated native folk dance to its highest stage of development.
Image courtesy of NCCA
Wilfrido Ma. Guerrero (Theater, 1997)
Wilfrido Ma. Guerrero is a teacher and theater artist who, in his 35 years of teaching, has mentored some of the country's best Filipino performing artists, including Joy Virata and Joonee Gamboa.
He is also the founder and artistic director of the UP Mobile Theater, leading the way for the concept of a theater campus by bringing theater closer to students and audiences in the countryside.
Image grabbed from NCCA 
F. Sionil Jose (Literature, 2001)
One of the few living national artists, F. Sionil Jose is best known for creating the five-novel masterpiece known as the Rosales saga: Poon; Tree; My Brother, My Executioner; The Pretenders; and Mass.
Set in the town of Rosales, Pangasinan, it talks about the five generations of two families, the Samsons and the Asperri, during the Spanish and American occupation.
Image grabbed from fsioniljose.com
Lucrecia R. Kasilag (Music, 1989)
If you're a fan of Filipino artists that blend Filipino ethnic and Western music, then you should get to know Lucrecia R. Kasilag.
An educator, composer, performing artist, administrator, and cultural entrepreneur, she is seen as the pioneering figure for fusing Filipino ethnic and Western music, helping elevate Filipino's appreciation for music.
Her best work is the prize-winning Toccata for Percussions and Winds, Divertissement and Concertante, which incorporate indigenous Filipino instruments.
Image grabbed from NCCA
The list of the National Artists could be seen at the Official Gazette. However, the 2018 awardees that have yet to be uploaded on the site are the following:
Ryan Cayabyab for Music;
Francisco Mañosa for Architecture and Allied Arts;
Ramon Muzones for Literature and
Resil Mojares for Literature.
Got other Filipino National Artists you want to share or know about? Leave their name in the comments below.
---
Sources: National Commission for Culture and the Arts, Official Gazette, Cultural Center of the Philippines