Tim Hortons Milk Tea Will Be Your New Go-To Beverage
For the milk tea lovers and the coffee addicts in the gang, it does not have to be an either-or. Tim Hortons now has both of what these two kinds of people perpetually crave for. Amidst its coffee-focused menu, the well-loved Canadian coffee company now has milk tea!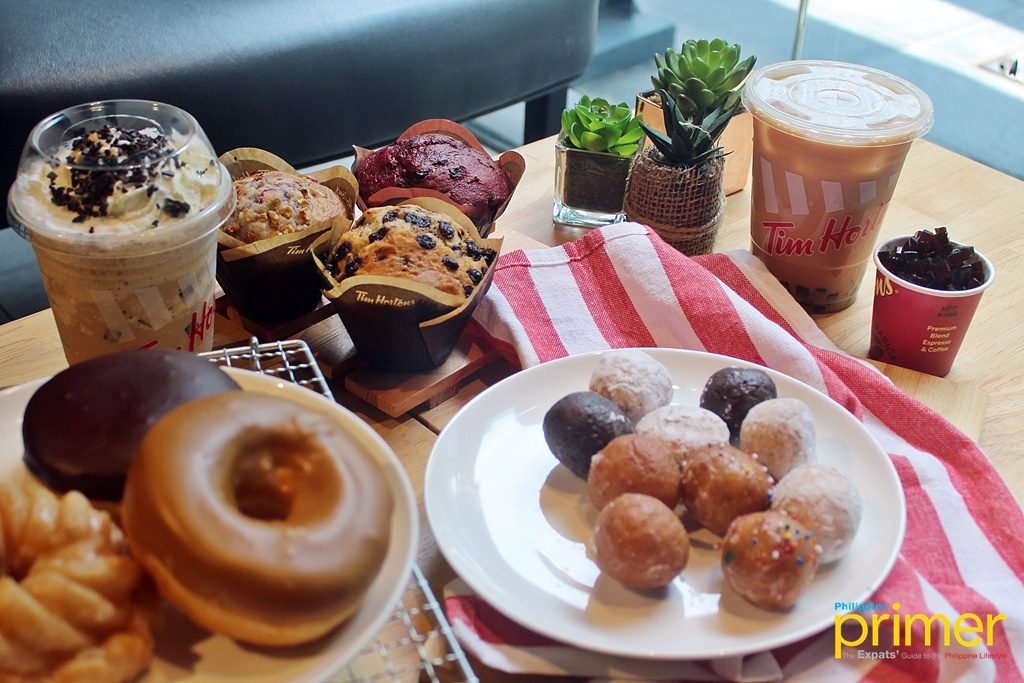 There's something for everyone—coffee lovers and milk tea lovers alike—at Tim Hortons!
Taking heed of the growing demand for milk tea in the Philippines, Tim Hortons Philippines has started to officially offer the drink this May 2019. And we are the first and only country to have Tim Hortons Milk Tea!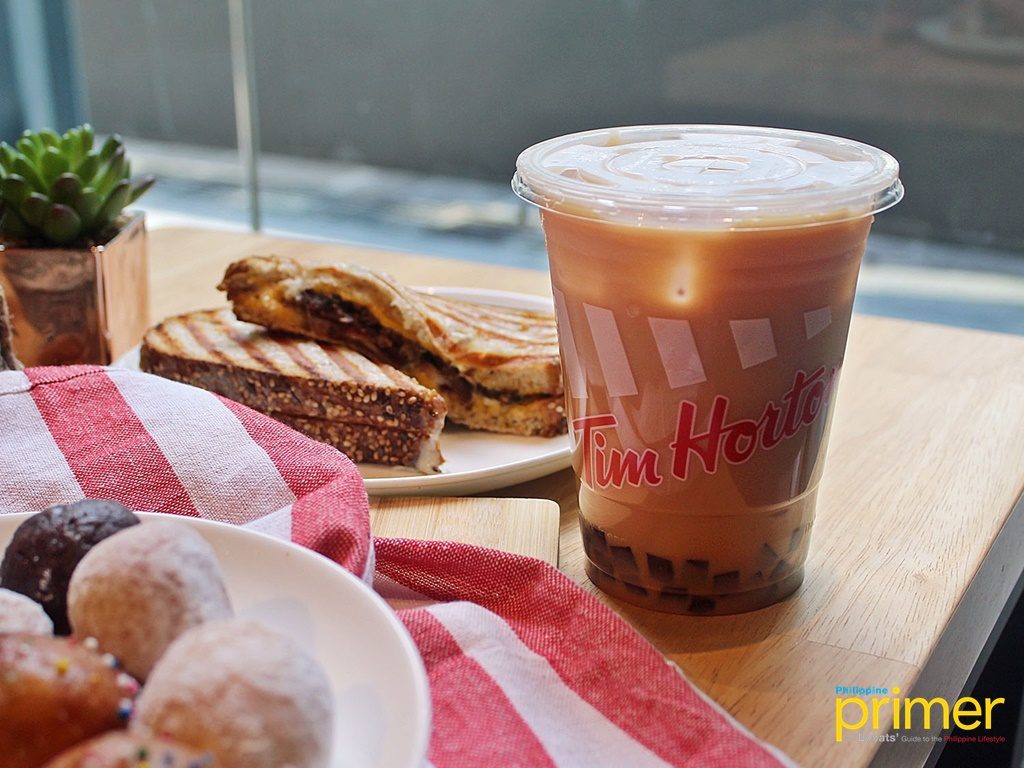 Say hello to your new go-to milk tea beverage at Tim Hortons!
Also read: LIST: The Best Milk Teas in the Metro
It's not your ordinary milk tea, though—Tim Hortons Milk Tea stays true to its coffee roots by having coffee jelly as the sinkers instead of the usual boba pearls. The drink is made from their signature brewed black tea from Canada, sweetened with a vanilla base and sugar.
The plain Tim Hortons Milk Tea is already delicious enough. But if you want to make it more exciting, Tim Hortons gives you the freedom to customize your drink—not only milk tea but also coffee—by adding flavor shots of caramel, hazelnut, or both (Php 20 each).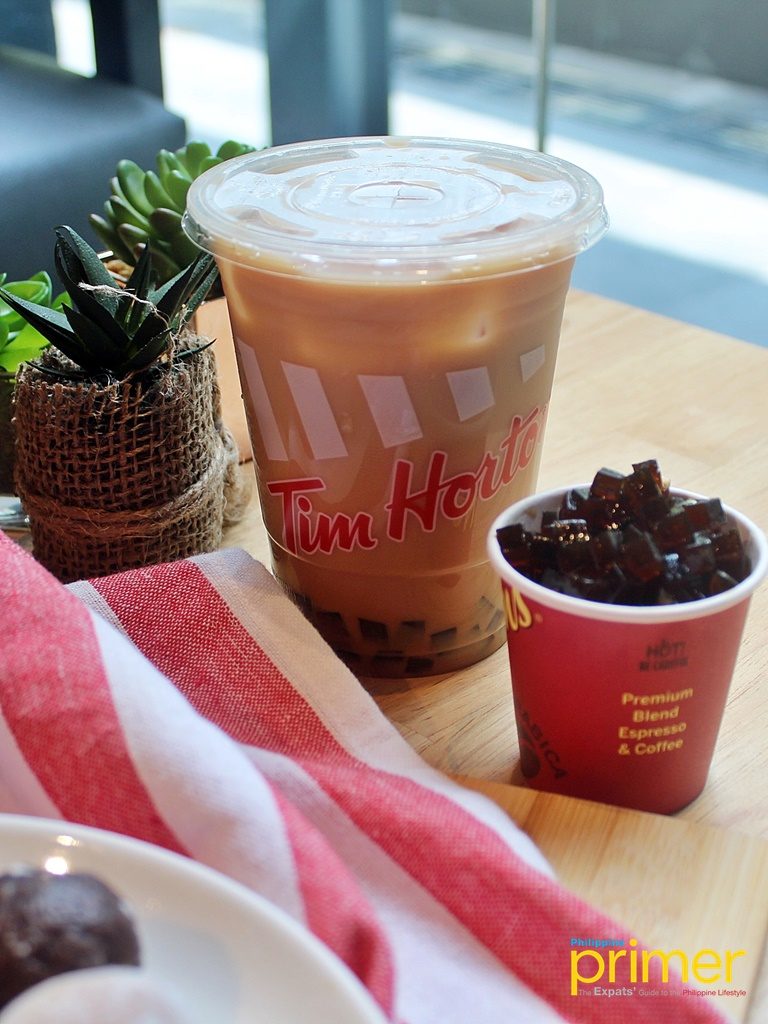 Tim Hortons Milk Tea (Php 110/12 oz.; Php 125/16 oz.; Php 135/20 oz.)
Tim Hortons Milk Tea is perfect for those with a sweet tooth because the drink is on the sweeter end of the spectrum. Even the coffee jellies have a discernible sweetness. So, if you are not a fan of sweet drinks, you can also ask to customize the sweetness of your milk tea.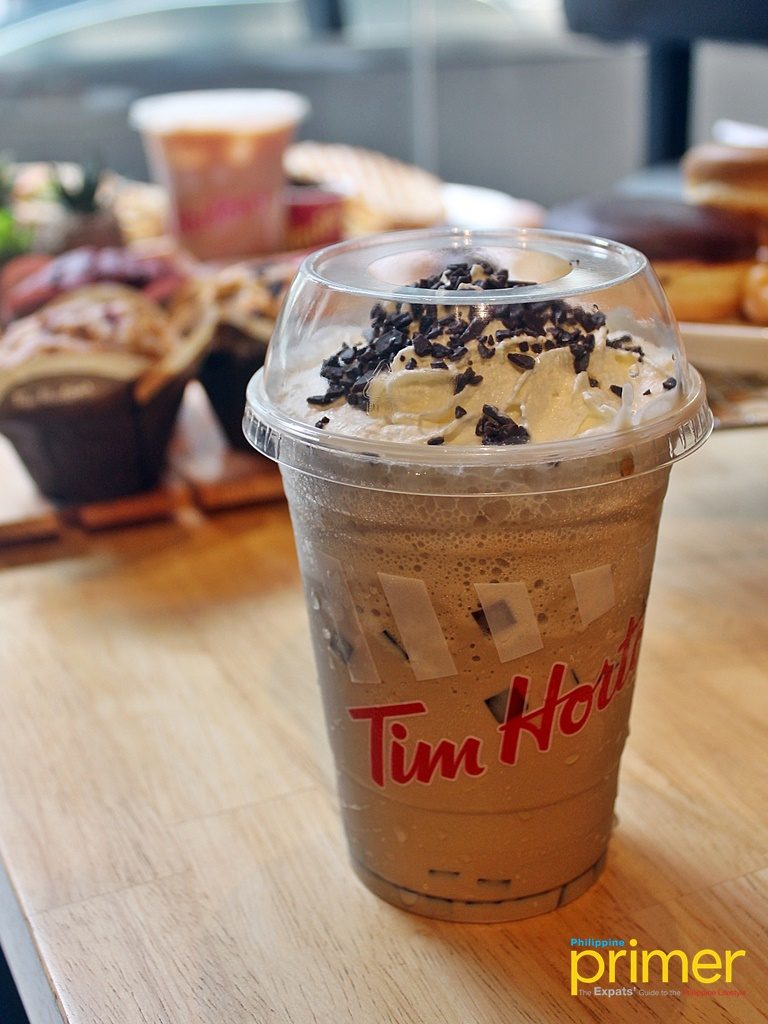 You can also have coffee jelly with a coffee drink such as this Iced Capp Triple Coffee Jelly (Php 155/12 oz.; Php 165/16 oz.; Php 180/20 oz.)
While we're on the topic—did you know you could also customize your bagel and artisan grilled cheese sandwich at Tim Hortons? You might only see Grilled Cheese on the menu, but you can actually do a lot of things to make your sandwich much more fun to eat.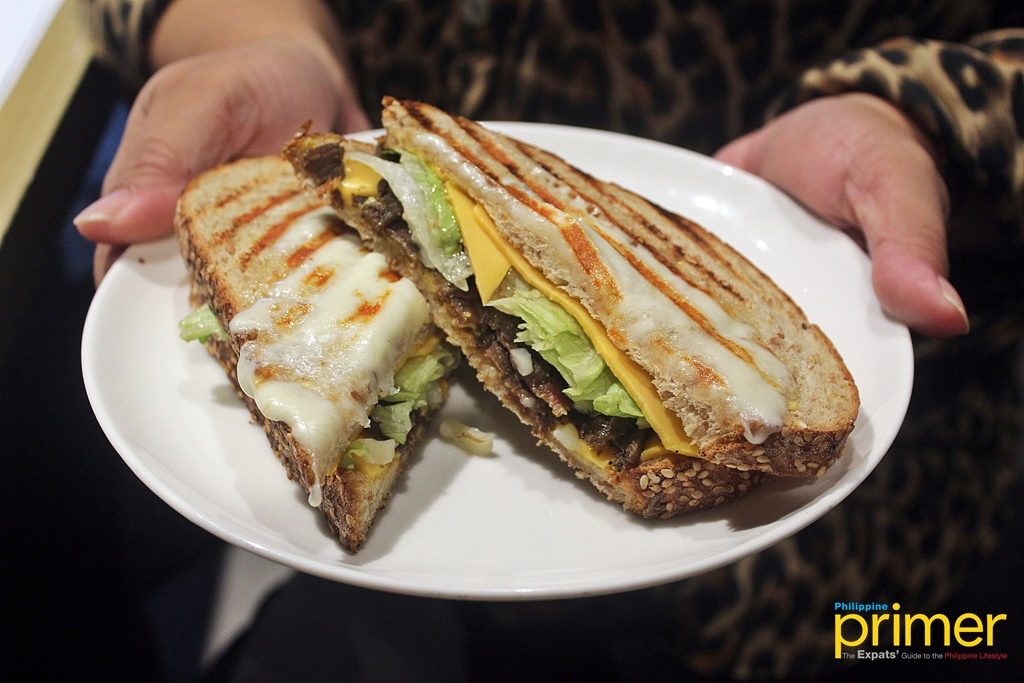 Artisan Grilled Cheese Sandwich (Php 145) with Steak (Php 50), Cream Cheese (Php 25), Lettuce (Php 15), and Honey (Php 10)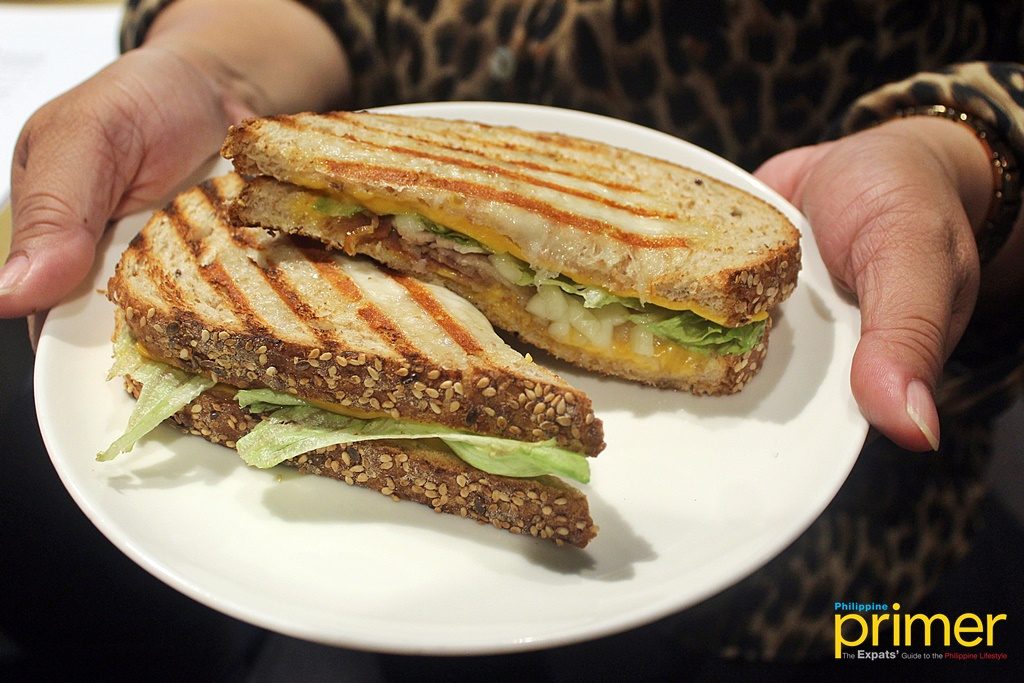 Artisan Grilled Cheese Sandwich (Php 145) with Bacon (Php 50), Cream Cheese (Php 25), Lettuce (Php 15), and Honey (Php 10)
Tim Hortons offers options for meat: bacon, ham, pepperoni, steak, and/or chicken strips (grilled or crispy); cheese: cream cheese, mozzarella, American cheese, and/or cheddar cheese; vegetables: lettuce, tomato, and/or onion; and extra sauce, garlic mayo, chipotle, ranch, and/or honey.
Meat options cost Php 50 except for ham (Php 35), cheese costs Php 15 except for cream cheese (Php 25), vegetables are charged Php 15, while sauces are Php 25 except for honey (Php 10).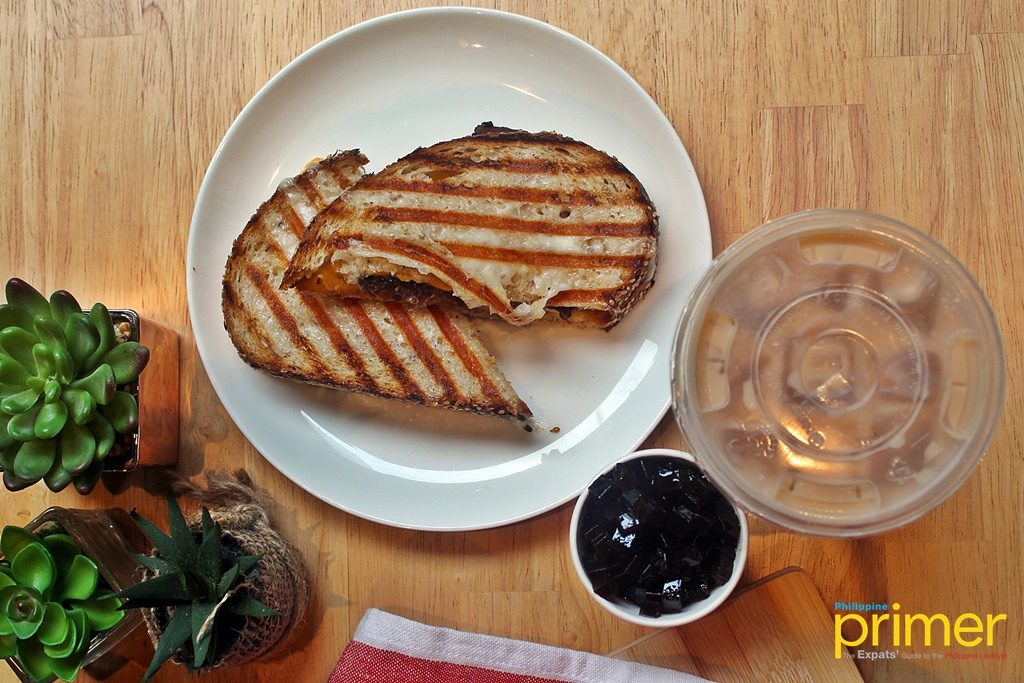 Tim Hortons Milk Tea is available only in select branches: Tim Hortons® Net Quad, Tim Hortons® SM City San Lazaro, Tim Hortons® CEU, Tim Hortons® U.N. Square Mall, Tim Hortons® SLC Building, Tim Hortons® L'Ermitage, Tim Hortons® Uptown Mall, Tim Hortons® Greenhills Shopping Center, Tim Hortons® Pearl Plaza, and Tim Hortons® San Lorenzo Place.
Also read: A First Look at Tim Hortons' Perfect Pairings
Learn more about Tim Hortons by visiting their website at timhortons.ph or follow them on Facebook at TimHortonsPhilippines.