5 Reasons Why You Should Visit Marina Bay Spa and Lifestyle Club
In Pasay, you'll find a wellness center that can be a refuge for those needing a relaxation amidst the busy city. Marina Bay Spa and Lifestyle Club, a luxurious spa center, is surely one of the best destinations to go to for that much-needed pamper time.
Although there are a number of spa centers within Metro Manila, Marina Bay Spa stands out with their signature spa treatments and pampering facilities. Want more reasons to pay this wellness center a visit? Read on!
Also read: Marina Bay: Oasis of Infinite Beauty and Indulgence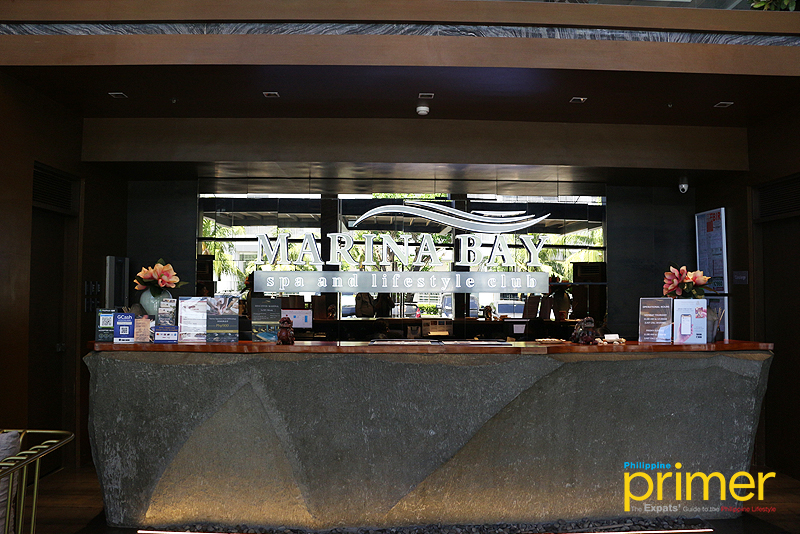 Inside is a luxurious yet new and modern interior giving guests the feeling of exclusivity
A Variety of Wet and Dry Treatments
Unlike any other wellness centers, Marina Bay offers guests both wet and dry treatments before their massage treatments. Here, they have a hot and cold pool. Guests may also detox in the sauna or steam room beforehand.
Don't worry about your things as a locker will be provided, with an RFID band to secure your belongings!
Locker room with RFID band locks
Usually, guests dip in the hot pool before treatment as it is a perfect way to relax their tensed muscles. Plus, it helps fight against aches, stiffness, and fatigue. Beside it is the cold pool which they can transfer after which help brings recovery to tired muscles.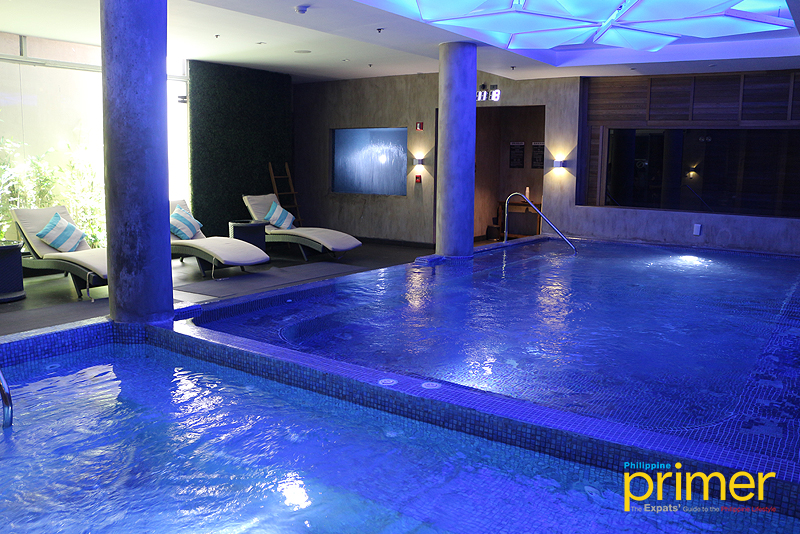 Hot and Cold Spa Pool 
After a dip in the pool, guests can go to the steam room for overall detoxification of the body. This is beneficial for people who have chronic congestion or sinus infection. There's also a sauna across if you would like to detoxify dry.
They also have a hot stone spa or Ganban'yoku, a designated place where you can lay down to warm your body before you undergo your massage treatment.
Hot stone spa or Ganban'yoku
Unparalleled Massage Experience
The major highlight of the wellness center is, of course, the massage experience. For spa packages, we recommend you to get their Marina Signature Experience that runs for about 120 minutes. It consists of a hydrating body exfoliation (30 mins), a Marina Signature Massage (60 mins) plus a quick facial (30 mins) for only Php 3,000!
If you only want to experience the massage, try the Marina Signature Massage using their signature oil blends and calming massage strokes. A 60-min session is only Php 1,700, a 90-min session is Php 2,300 while a 120 min session is Php 2,900.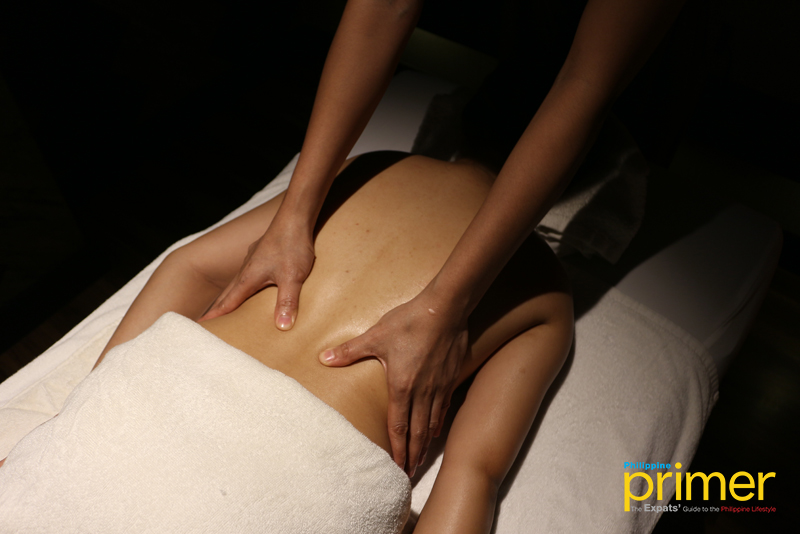 Meanwhile, if you just want a light treatment, we recommend you to try their Wellness Massage. The palm pressure that will be applied to you depends on what your muscles need. This is perfect to sooth muscle tensions from head to toe.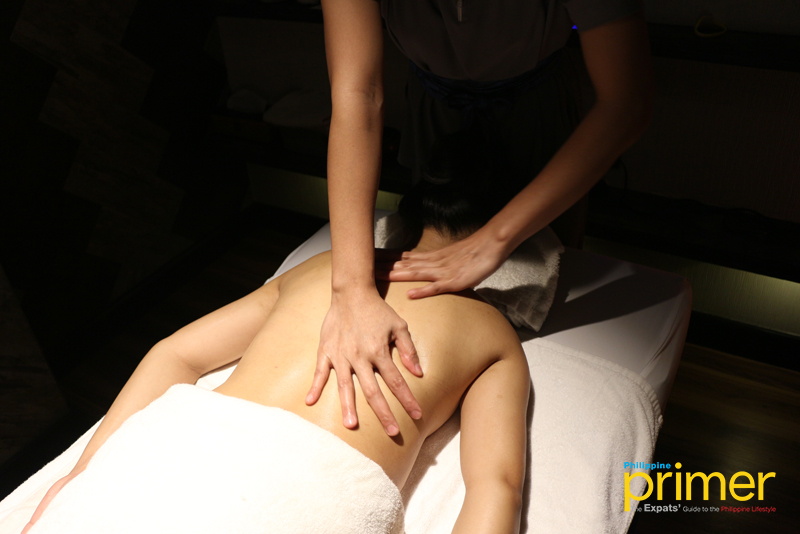 They also have specific massage treatment for athletic guests to help relieve muscle aches and help heal muscular stress and tensions. A 60-min session is Php 1,700, while a 90-min is Php 2,300. A 120-min massage is Php 2,900.
Aside from that, they also have Stone Therapy Massages using hot basalt stones, a Swedish massage using heated bamboo roll, and massage therapy for moms to be.
Body Scrubs
Marina Bay also offers Body Works such as scrub treatments that have a separate room with complete shower facilities.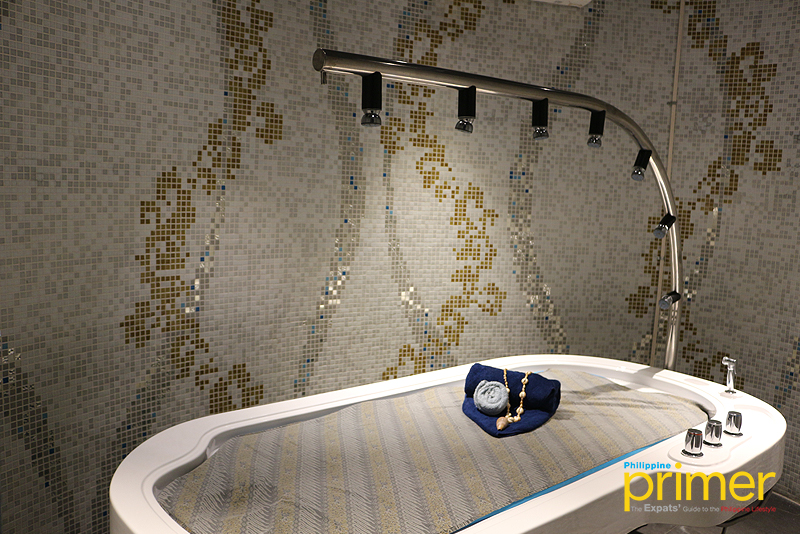 Scrub Room
If you prefer a scrub that removes dead skin cells, try their Hydrating Coconut Scrub Php 1,950 (60 mins) that uses a walnut shell that's rich in vitamins and anti-oxidants. Meanwhile, if you have sensitive skin, might as well try their Zesty Salt Scrub (60 mins) that uses magnesium sulfate salt to prevent itchiness and other skin problems. Plus, did you know that salt scrub is good for blood circulation?
Facials and Foot and Hand Treatments
Another reason for you to visit Marina Bay is their facial, waxing, and foot and hand treatments.
For facials, try their Marina Advanced Anti-Ageing Facial Php 2,488 (60 min), an anti-wrinkle facial with special lifting massage techniques for a firmer and youthful glow.
Foot and Hand Treatment Area
What better way to end your pampering session than getting your hands and feet all relaxed? Their Marina Signature Reflexology treatment concentrates on your lower and upper reflex zones which effectively stimulates corresponding organs in the upper body.
World-class, Stylish Facilities
The best part? The massage packages include a free buffet dining experience! Guests can savor Asian flavors at their Crystal Dining and just chill or take a nap on their Relaxing Lounge before or after their treatments. 
Crystal Dining boasting a variety of Asian cuisines 
The Relaxing Lounge has reclining chairs and full air-conditioning as well as three wide televisions only for viewing, with no sounds. It is to keep the serenity of the room. 
Relaxing Lounge 
In Marina Bay Spa and Lifestyle Club, you get to enjoy all these treatments in the most modern and stylish facilities. From the natural and organic ingredients used to your body, to the beauty of Manila Bay as its view, you are guaranteed to experience nature's healing powers.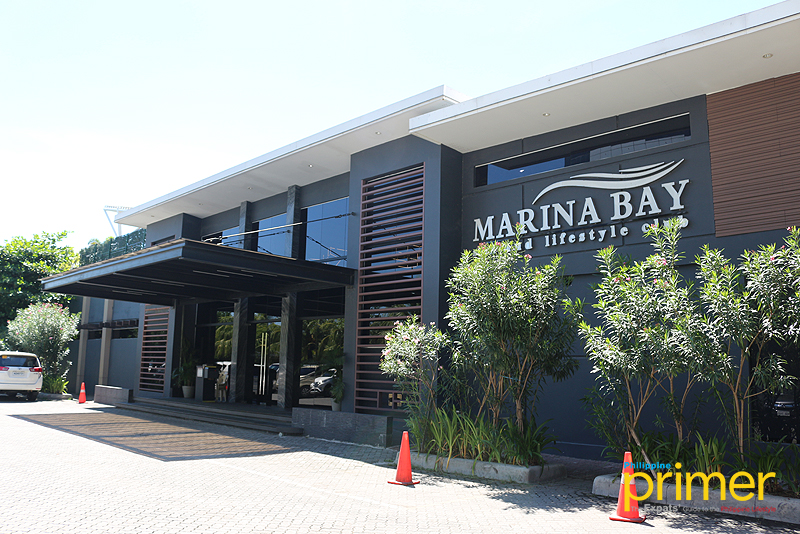 Marina Bay and Lifestyle Club is perfectly situated just in front of Manila Bay, a perfect view amidst the bustling city of Pasay
Treat yourself at Marina Bay Spa and Lifestyle Club, a one-stop wellness center where one can experience a pampering session like no other. For complete spa packages and massage treatments, you may view their services at marinabayspa.com/services.
Marina Bay Spa and Lifestyle Club is also open to memberships where guests can enjoy exclusive use of the gaming lounge, sunset view deck, conference room, and gym. For more information, you may visit their website at marinabayspa.com/membership
You may visit them at Esplanade Seaside Terminal, Seaside Blvd., Mall of Asia Complex, Pasay City. For more information, you may call them at 02-834-1888 or 0977-831-2888.