8 Fishing Spots in the Philippines For Your Next Outdoor Adventure
Updated as of April 11, 2023.
Fishing has always been a way of life in the Philippines. It's one of the biggest industries in the country since we're surrounded by large bodies of water, making us rich with marine life.
IMAGE grabbed from pexels.com
Also Read: Market Guide to Common Fishes in the Philippines
Aside from being a livelihood, fishing is also a recreational activity for locals and foreigners who want to spend their weekends differently. It's a fun activity for families who want something new to bond over.
If you're curious whether there's a nearby fishing spot where you live, here are some of the most popular fishing spots in the Philippines that you might want to check out:
La Mesa Ecopark
The La Mesa Ecopark in Quezon City is one of the parks in Manila that you can visit to experience the beauty of nature amidst being in the city. The trip is definitely worth it as you can do a wide array of activities at the park like having a picnic, biking, and boat riding among others. You'll also find a Butterfly Garden at the park grounds and a swimming pool.
Entrance to the park is Php 50 for non-Quezon City residents and Php 40 for residents of Quezon City. Children that are 3feet and below are free of admission. They also have discount prices of students and senior citizens.
As far as fishing goes, you can rent out a fishing rod for around Php 30 and an additional Php 15 for the bait and you can fish at their lake. Most of the fish at the lake that you can catch are tilapia. You can also go boating at the lake for Php 100/boat that can fit up to four people.
Address: La Mesa Dam Compound, Greater Lagro, Quezon City, Philippines
BLOC Camp Site
IMAGE from BLOC Camp Site Facebook page
BLOC Camp Site is an outdoor adventure camp located in Cavinti, Laguna. The camp offers a range of activities for guests of all ages, including hiking, camping, and outdoor games. The camp also features a swimming pool and various water activities, such as kayaking and fishing.
This camp is also known for its scenic surroundings, which include a river and lush greenery. The camp is a popular destination for groups, such as families, friends, and corporate team-building events.
In addition to outdoor activities, BLOC Camp Site also provides accommodations for guests who wish to stay overnight. The camp offers various types of lodging options, including tents, treehouses, and cabins. Guests can also bring their own camping gear and set up their tents in designated areas.
Address: Brgy. Bukal, Bukal-Cansuso Road, Cavinti, Laguna
Facebook: BLOC.CampSite
Casa Marina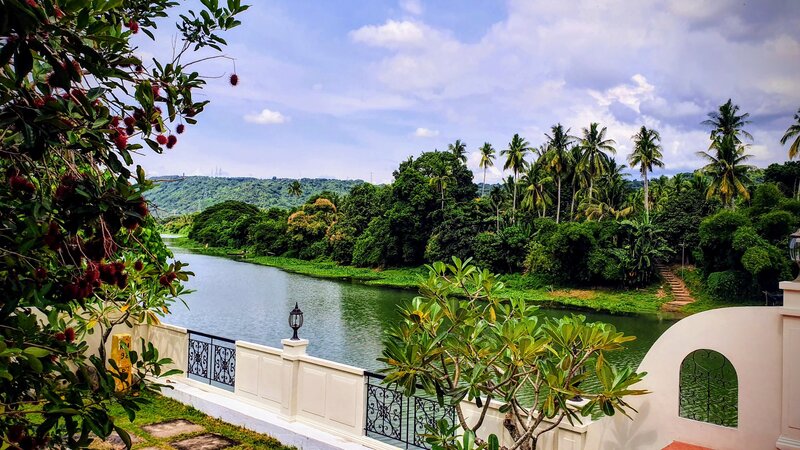 IMAGE from Casa Marina Facebook page
Casa Marina is a resort located in the municipality of Pagsanjan in Laguna. The resort/glamping site is situated on the shores of Caliraya Lake, a man-made lake known for its scenic beauty and wide range of water sports activities.
It features a range of accommodation options, including air-conditioned rooms, cottages, and villas, each of which offers a stunning view of Lake Caliraya.
The lake is home to a wide variety of fish species, including tilapia, carp, and catfish. Whether guests choose to fish on their own or with a guide, they are sure to enjoy the scenic beauty of Caliraya Lake while casting their lines in a variety of fishing activities such as fishing tours, boat fishing, and shore fishing.
Address: Km 92 General Taino Street, National Highway, Pagsanjan, Laguna
Website: casamarinabnb.com
Also Read: Guide to Biking Trails in Manila
Lake Mohicap
IMAGE from Enchanting Lake Mohicap Facebook page
Lake Mohicap is a scenic lake located in San Pablo, Laguna The lake is known for its crystal-clear water and picturesque surroundings, which include lush forests, rolling hills, and stunning rock formations.
This is a popular destination for outdoor enthusiasts, who come to the area to enjoy activities such as kayaking, fishing, and camping. Visitors can also hike around the lake, take a boat tour, or simply relax and enjoy the serene beauty of the area.
In addition to its natural beauty, Lake Mohicap is also home to a diverse array of wildlife. Visitors can spot a variety of birds, including the majestic Philippine eagle, as well as monitor lizards, snakes, and other creatures.
Lake Mohicap is a must-visit destination for those who love nature and outdoor activities. Its enchanting ambiance, crystal-clear waters, and picturesque surroundings make it a popular choice for travelers seeking a unique and memorable experience in Laguna.
Address: San Pablo, Laguna
Facebook: enchantinglakemohicap
Lake Caliraya
Not only is this lake a popular spot for those who want to go on a nature trip, but it's also the ideal place for those who want to go game fishing. Lake Caliraya in Laguna is one of the most popular Bass fishing spots in the country. Caliraya is a man-made lake created in 1939 and is home to a number of resorts and vacation homes that tourists can stay in during their trips.
It's recommended that you stay in one of the many accommodations around the lake to be able to go fishing as rates for rentals differ per establishment. After fishing, you can opt to have your fresh catch cooked at the resorts.
Apart from fishing, some of the activities that you can do at the lake are windsurfing, skiing, and boating among others.
If you're looking for a place to go fishing for Largemouth Bass, you'll want to visit Lake Caliraya!
Address: Cavinti, Calamba, Laguna
Website: calirayalake.com/
Also Read: Caliraya Mountain Lake Resort Takes You on A Nature Trip Like No Other
Naga City Baywalk
The Naga City Baywalk is a small park near Cebu City that's an excellent destination to fish without having to go too far out into the sea. It's easy to find and easily accessible as it's just a 30-minute drive from Cebu City. It's also a family-friendly destination where you and your family can take walks aside from fishing.
Some of the fish that you can catch here include Needlefish, Cresent Grunters, and Large Snappers. While there are no fees to fish at the Baywalk, you have to bring your own fishing equipment as there are no stalls or stores that you can rent from. Also, keep an eye out for pedestrians as there will be some jogging and walking along the path.
Address: Naga City, Cebu
Siargao
While Siargao is mainly known for surfing, the island is also known as the sport and game fishing capital of the Philippines. All year-round, you can find fish such as Giant Trevally, Skipjack Tuna, Yellowfin Tuna, and Wahoo or Tangigue among others.
If you're into big-game fishing, try visiting around March to May where you can catch Sailfish and see some Barracudas as well. You can also try night wishing or trolling while you're on your trip.
It's recommended that you coordinate with your chosen tour providers or hotels regarding fishing packages and the likes when you're planning a fishing trip to the island.
Address: Siargao, Surigao del Norte
Also Read: SIARGAO TRAVEL: Daku, Guyam, and Naked Island Among Most Sought-After Islands in the Philippines
Crocolandia
Cebu's Crocolandia is a conservation park that aims to promote the rich biodiversity of the Philippines. It was first a sanctuary to the Philippine Saltwater Crocodiles and some alligators before expanding their care to other animals. The Philippine Hawk Owl, the Rufous Hornbill, and the Philippine Sail-fin Lizards are among the animals that you can spot at the park.
Crocolandia has two fish ponds that are brimming with Tilapia, Snakehead and Large Pacu. Guests who wish to fish at Crocolandia are asked to bring their own fishing rods, but you can buy your bait at the establishment for Php 50. You have to pay for your own catch depending on the weight and the species that you caught.
Crocolandia is also home to Lapu-Lapu, a saltwater crocodile who is the largest crocodile in the park and the second-largest crocodile in the Philippines.
Entrance to the park is Php 100 for adults and Php 50 for children ages 3 – 12-years old.
Address: Biasong, Talisay City, Cebu
Have you visited any of these fishing spots? Which one is your favorite? Don't forget to share them with us in the comments!