Manila FAME 2019: What to See, Shop, and Experience
Manila FAME the country's premier design and lifestyle trade show, is happening at the World Trade Center, Pasay from April 25 to 27, 2019. Showcasing the marriage of Philippine culture and design excellence, the event is organized by the Department of Trade and Industry (DTI) through the Center for International Trade Expositions and Missions (CITEM).
Also read: Manila Fame 2019: The Country's Premier Design and Lifestyle Trade Show
The Manila Furnishings and Apparel Manufacturers Exchange (FAME) is a bi-annual trade show organized every April and October. This month is their 69th edition which employs the theme Heritage Reimagined to feature iconic and forward-looking collections throughout the 35-year run of Manila FAME.
The show floor encompasses the whole of the World Trade Center so we have put together the event highlights that guests will surely enjoy!
Main Hall Exhibitors
Manila FAME 2019 exhibitors are divided into eight categories strategically laid on the show floor: fashion, seasonal decor, furniture, gifts and premium, home decor, lamps and lighting, services, and visual arts. The list and floor map are conveniently available through the Manila FAME App available on the App Store and Google Play.
 Exhibitor booths are open for retail selling as well as corporate partnerships during the event.
Fashion E-Tailers
Manila FAME recognizes the emerging online fashion marketplace and has featured 22 of the country's rising fashion entrepreneurs and designer commercial brands on the trade show floor.
In this space, you'll find the latest trends in both couture and ready-to-wear fashion. Young and tech-savvy fashion enthusiasts will surely be enamored at this collection of this season's trendiest styles exclusively curated for Manila FAME.
Artisans Village
Local micro small and medium enterprises are also present at the event to introduce their crafts to the global market. Exhibitors, local government units, manufacturers from four provinces are presented: Antique in Western Visayas, Albay in Southeastern Luzon, Marawi, Lanao del Sur in Mindanao, and Zamboanga in Mindanao.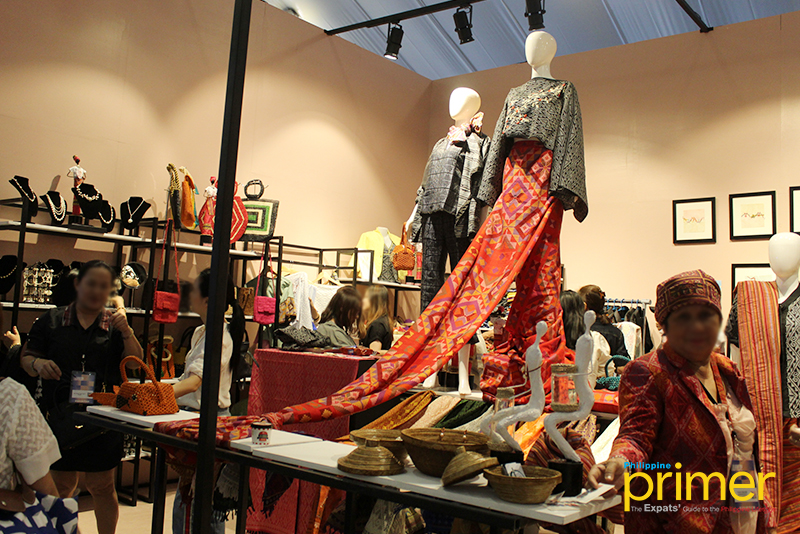 Each province showcase products that highlight their distinct raw materials and local crafts that tell the story of their history and culture. Live demonstrations are scheduled where locals show how these materials are processed, crafted, and fashioned into the end product.
FAME Bar by Manille Liqueur
Through the collaboration of Manila FAME and local distillery, Destilleria Limtuaco & Co., Inc., the FAME Bar is available for exhibitors and buyers can wind down and drink cocktails made with the country's first calamansi liqueur, Manille. Enter the cold room and indulge in 1st Colonial Ice Creamery's unique creations.
Interactive Activities
At the World Trade Center Tent, sit down and unleash your imagination at the CREATE Lab, Manila FAME's exciting new feature designed to motivate creatives with activities such as personal logo-making or stop-motion. This area is to let participants experience an artists' creative journey from idea to product.
With every art, there is a story and for them to share it with trade buyers, the event is open to a renewed online experience. Scan your phone at the entrance and your phone will be able to scan Touchpoint QR codes located at participating booths to get their stories on your mobile.
Attending Manila FAME? Here are some show reminders to take note of:
Register and bring valid IDs to avail of discount (senior citizen or student) and wear the provided event ID at all times.

Regular – Php 500
Senior – Php 400
Students – Php 250

Dress appropriately. Manila FAME highly recommends business attire. Slippers, shorts, and similar casual wear are not allowed inside the venue
Children below 12 years old are not allowed inside the exhibit areas. There is a provided Kids' Activity Station at the World Trade Center lobby.
Be aware of the photography rules per exhibitor booth. This is to avoid any violation of the artists' intellectual property rights.
Now you are all set to attend the second longest-running trade show in Asia-Pacific, Manila FAME!
Details
What: Manila Fame 2019
When: April 25-27, 2019; 9 a.m. to 7 p.m. daily
Where: World Trade Center Metro Manila, Pasay Extension corner, Sen. Gil J. Puyat Ave, Pasay City
Facebook: facebook.com/ManilaFAMEofficial
Website: www.manilafame.com