EVENTS IN MANILA: April 6-7, 2019
This April, we all deserve a meaningful respite from work and school. To make your summertime worthwhile (and because we don't want you just be stuck at home), here are some of the exciting happenings lined up for you this weekend.
Ayala Museum's st'ART Program (April 6)
Let your kids learn great life skills through art as the Ayala Museum presents the st'ART program this summer. The first of six in-depth and engaging workshops will be on Saturday, focusing on Memory and Concentration: Ceramics. Get your kids a closer look at the presented ceramics collection and match their symbols with the right meaning. They can even get to create their own symbols and turn them into unique ceramics.
Children aged 7 to 12 years old are encouraged to join and participate. There are two workshop schedules to choose from: 9:00 am to 12:00 pm or 2:00 pm to 5:00 pm. Register here.
Also read: Ayala Museum's st'ART Program Opens This Summer 2019
The Phantom of the Opera (April 6)
If you still haven't seen the world's most popular musical The Phantom of the Opera, fret not as it is extended until this Saturday at The Theater at Solaire.
The musical first took Manila by storm when they had a run at the Cultural Center of the Philippines in 2012 with Claire Lyon as Christine Daae, Anthony Downing as Raoul and Jonathan Roxmouth as the titular Phantom of the Opera. The 2012 run of Phantom of the Opera began on August 16, 2012, and was supposed to end on September 16, 2012; but due to public demand, the show was extended twice.
Don't miss the last chance to see Andrew Lloyd Webber's biggest hit this year. Get your tickets now at TicketWorld.
Also read: 5 Musicals to Look Forward to This 2019
Chroma Music Festival (April 6)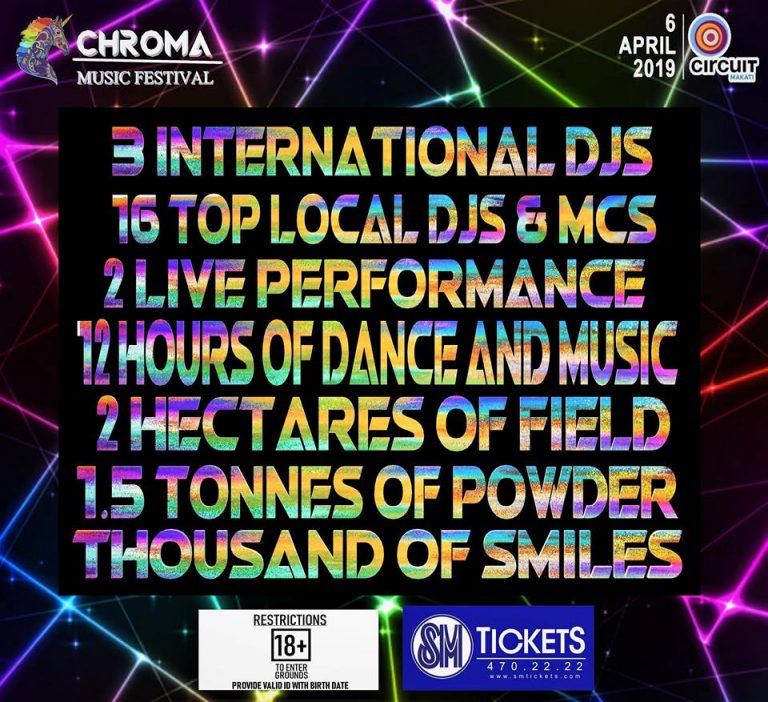 Calling all party-goers! The Chroma Music Festival is back this Saturday, 1 p.m., at the Globe Circuit Event Grounds, Makati. This adrenaline-pumping event will feature three international DJs, 16 prominent DJs & MCs, two live performances to fulfill 12 hours of dance and music.
More than that, there will be an obstacle course, giant balloon slide, giant pit ball, inflatable wall climbing, more color powders, water balloons, face paintings, photo booth, and lastly, a giant Jenga. For online purchasing, you may get your tickets here.
Also read: Chroma Music Festival on April 6
World Travel Lifestyle Expo 2019 (April 6-7)
Just in case you missed last year's World Travel Expo, here is yet another edition for your fulfillment as a traveler and entrepreneur this summer. Visit the World Travel Lifestyle Expo 2019 this weekend at the SMX Convention Center in Pasay City and get exciting deals and cheap offers for your next summer getaway.
The three-day exposition will feature two sections, namely: the Travel Zone, which will showcase a wide selection of hotels & resorts, travel destinations, travel insurances, and travel agencies presenting exciting treats and deals; and the Lifestyle Zone, which will feature different companies that offer quality products such as travel luggage, travel accessories, and other services at reasonable prices.
Also read: World Travel Lifestyle Expo 2019 To Kick-Off This April 5
Lubao International Hot-Air Balloon and Music Festival 2019 (April 6-7)
The 6th Lubao International Hot-Air Balloon and Music Festival is set to happen this weekend at Pradera Verde, Lubao, Pampanga. The event will showcase 31 local and international balloonists all set to paint the skies in the morning. By night time, expect an exciting lineup of local musical acts and a wide variety of on-ground and aerial activities waiting for you. These include a fireworks display, food festival, car show, bazaar, and many more.
For more information regarding the events, you may contact Lubao IBMF at  942-0768, 0929-559-1719, or email them at lubaoibf@gmail.com.
Also read: Two Grand Hot Air Balloon Festival Set to Happen in Pampanga This April
GameCon PH 2019 (April 6-7)

GameCon PH's third grand gaming convention is happening this weekend at the SMX Convention Center in Pasay City. Following the theme Play, Learn, and Enjoy, the gaming convention aims to gather gamers hailing from all sorts of platforms and strengthen the Philippines' passion for gaming.
There will be loads of fun and exciting activities that are not only limited to card and arcade games, but also e-games and console games. Also expect development workshops, interactive booths, and free play areas during the convention. For more information, you may contact GameCon PH at 02-218-9823. Get your tickets here.
Also read: The Biggest GameCon PH is Happening on April 2019!
Which of these events are you planning to include in your weekend plans? Share it with us below!