Here Are the Must-See Artworks at the Art Fair Philippines 2019
The most-awaited Art Fair Philippines finally opens today, February 22, 2019, to feature the works of both local and international artists. In fact, they will showcase 36 of the leading galleries in the country, as well as 16 international galleries from Japan, Hong Kong, Singapore, Vietnam, and Taiwan.
Also read: 5 Things to Expect at the Art Fair Philippines 2019
We got our first look yesterday, and here are our top picks!
This hand-molded epoxy is probably one of the intriguing artworks by Jerson Samson, titled Searching for the Meaning of Life. As you can see, the man's hands are pointing to his chest, which is made of a typewriter. He also has characters all over him, as if depicting that writing is one of the best ways to figure out life's meaning.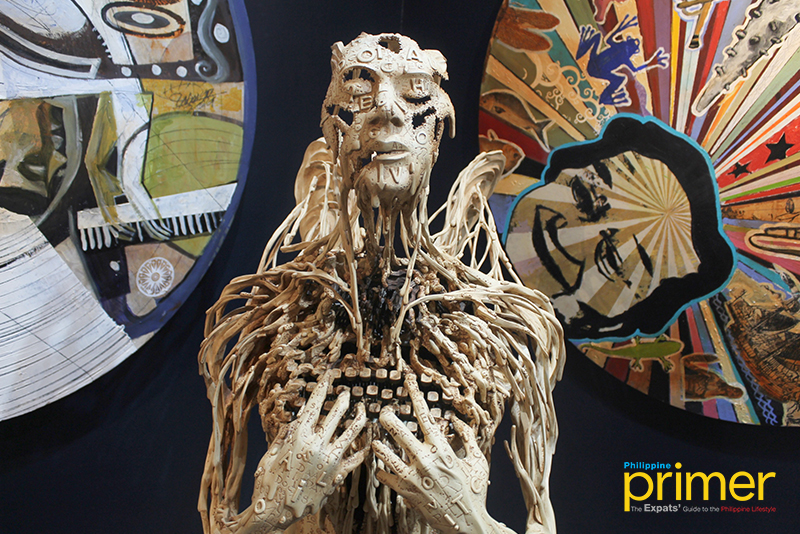 Searching for the Meaning of Life by Jerson Samson
Subject/Object by MM Yu will make you feel like entering your teenage room, with all the posters and cork boards on the wall. For MM Yu, visual arts should function without words. It doesn't have coherence nor a chronological arrangement, but that's exactly what she wants the viewers to experience—interpret her artistic works without textual explanation.
Subject/Object by MM Yu
Forest for the Trees, on the other hand, is a collection of woods that are scrapped from demolished houses. Christina Quisumbing Ramilo envisioned this craft as a "bibliotique of books", where it also speaks of the environment, events, politics and even lost histories.
Forest for the Trees by Christina Quisumbing Ramilo
Comprised of over 200 heads made of all organic materials, Cheap Medicine by Oscar Villamiel aims to portray the sad truth that "undeserving, ineffectual leaders" are elected in the country—just in time for the upcoming elections in May.
Cheap Medicine by Oscar Villamiel 
Daniel dela Cruz's Finding the Light hopes to raise mental health awareness, reducing the negative connotation that comes with such issues. Upon entering, you'll be welcomed with hanging phones playing several videos connected to mental health. These phones all play at the same time, as if static noises triggering a person's well-being. It also has a wall where you can leave inspirational notes for other people to see.
The work is in collaboration with mental health advocacy groups like Anxiety & Depression, Support Ph, Tala Wellness, #mentalhealthph, Buhay Movement, Silakbo Ph, and Boxless Society.
Finding the Light by Daniel dela Cruz
Everything, Everywhere, Everyone by Olivia D'Aboville exhibits artworks that are 100% made from recycled plastics, may it be stirrers, ghost nets, among others. Catch of the Day, particularly, is made entirely of trash, giving a whole new perspective on how these trashes can be turned into a masterpiece.
Catch of the Day by Olivia D'Aboville
Finally, The Ray Albano Graphic Design System by Ray Albano is a whole wall showing various techniques used: in the lay-out, in typography, in the photo lab, stripping, and printing. This collection of graphics is very catchy as you might think it's just a simple group meticulously framed, but it speaks something more.
The Ray Albano Graphic Design System by Ray Albano
Art Fair Philippines is open from February 22 to 24, 2019 from 10 a.m. to 9 p.m. It's located at The Link, Parkway Drive, Ayala Center, Makati City. Regular tickets are priced at Php 350, and you may purchase them at the 4th Floor Reception.
Are you visiting Art Fair Philippines this weekend? Let us hear your favorites in the comments below!
For more information, you may visit their website at artfairphilippines.com. You may also follow them on Facebook, Twitter, or Instagram. 
---
Written by Yana Bautista