German Club Manila's 80th Oktoberfest: A Walk-Through to the Star-Studded Celebration
Who would have thought that Oktoberfest would be this fun?
Like a fire warming up as the night gets deeper, German Club's 80th Oktoberfest feels like a wonderland inside a gigantic tent, housing equally fired up people! And what better to enrage the flame than to put an authentic Bavarian beer like gasoline to ignite the fire, right?
So join Philippine Primer as we relive a night of fun, food, and dancing to the tune of Fligerlied!
Authentic German beers are being raised in celebration of the German Club's 80th Oktoberfest!
A Walk-through inside the Oktoberfest Tent
Entering the vicinity at the Solaire Oktoberfest Tent at Solaire Resort and Casino is like entering a different world altogether.
The cast of dimmed purplish-blue light alone gives a feeling of mystery waiting to unfold. Plus, with the sky-high tent hovering above the people below, indeed the place tries to mirror that of one huge tent in Munich, Germany's Oktoberfest, to bring a touch of the authentic celebrations, here in the Philippines.
Guests, cast in a hue of purplish-blue, began to take their places amidst well-decorated tables.
The tent may not be one that stands on the Theresienwiese (a field in Munich named after Princess Therese of Saxony-Hildburghausen), but the choice of food and beers from wheat to lager all hail from Germany care of Chef Michael Dinges and the oldest brewery in the world, Weihenstephan!
Beautiful servers in the traditional Bavarian dress are waiting for you.
Even more, as you settle on your designated area, beautiful servers await you with a smile and ask you first-hand for your choice of beers: wheat for those who prefer a lighter, fruitier, alcoholic beverage or a lager for a heavier one. A complete course meal will also be served right away upon your cue.
Also Read: German Club Manila's Oktoberfest: What to Expect from the 80-Year-Old Celebration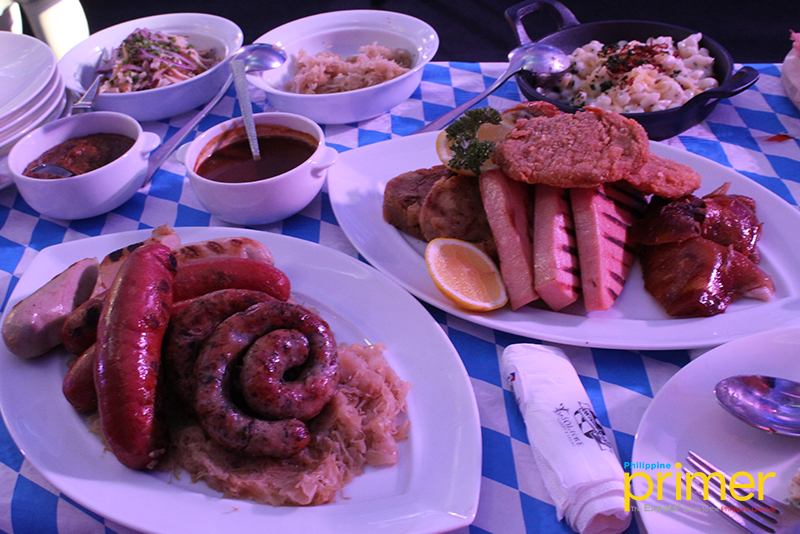 The main course is composed of German sausages and hams– a hearty meal to enjoy the whole night long.
The wheat beer, a food by law in Germany (as all beers are), stands tall amidst the Philippine and German flag.
In addition, Bavarian food is straightforward and ultimately rich in flavor– an onslaught of salty, sweet, crunchy, and chewy ensemble from the German sausages, Weisswursts, Spaetzle, Pretzels, cheeses, cold cuts, fruits, and slices of bread laden like a literal feast in front of you!
Also read: German Club Manila's 80th Oktoberfest at Solaire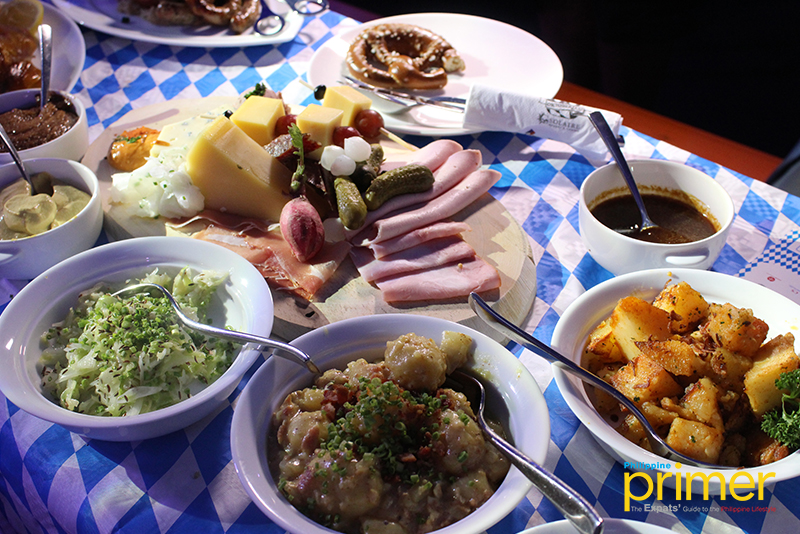 Here is another serving of cold cuts, cheeses, and salads for one more round of appetizer!
As if to prove a point, Mr. Martin Baulig of German Club Manila actually regaled Philippine Primer with how alike some of these foods are with the Philippines' very own local cuisine. German sausages may be the equivalent of Longganisa, and their baked Crispy Pork Knuckle may be the equivalent of our very own Crispy Pata.
Thank the heavens this manna are free-flowing until before midnight for every partying guest to enjoy!
A Star-Studded Event
What's more is that a lot of local celebrities were seen in last night's Oktoberfest celebration– and most probably for the following nights ahead. 
Spotted are Celebrity Football Player, James Younghusband, and singer-songwriter, Martin Nievera. An Oktoberfest familiar face, Mikey Bustos was also seen going from table to table while vlogging to his heart's content.
Also spotted were familiar names of TV personalities gracing some of the tables like actor Dingdong Dantes and many more.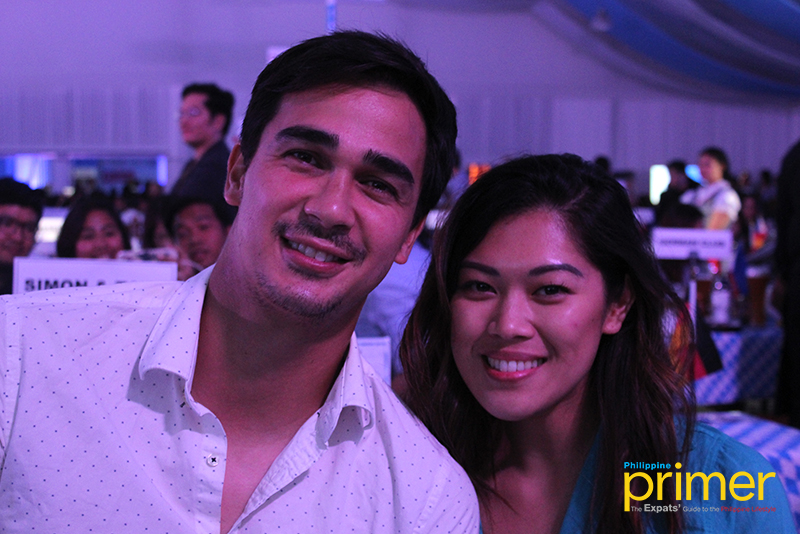 James Younghusband is one with the celebration of the German Club's 80th Oktoberfest.
Martin Nievera becomes playful during last night's Oktoberfest celebrations.
To go with our local stars, a live band started invading the place like soldiers at the ready, drumming away and blowing on their trumpets. It was the Bavarian Sound Express, lined up to conquer and enliven the place with great traditional music!
From the entrance of the hall, they navigated the place with a purpose to let all and sundry hear that they were coming. With this, they halted below the stage, posed in front of the camera, before comically marching away.
The Bavarian Sound Express looks to be enjoying themselves while playing for the crowd!
From here, the band partnered with no other than Mr. Martin Nievera to dance the night away with "Crazy Little Thing Called Love," which led a lone man to dance wildly below the stage, wearing the spirit of the authentic Oktoberfest on his entire being!
As always, Martin Nievera's energy was seen and hear seeping from the stage and all over the Oktoberfest tent.
A Celebration for a Cause
To add to this celebration, the President of the German Club announced one cause to this party which will surely place the German Club Manila's Oktoberfest deep in the recesses of our hearts as not only a fun party but more importantly, a noble one.
As German Club, Manila is known to support different social welfare projects including aiding The National Children's Hospital and the Fairplay For All Foundation in Quezon City, Margarethe Home for the Blind, Mabuhay St. Francis of Assisi Primary Healthcare Program in North Samar, and The Siena School of the Dominican Sisters of St. Catherine of Siena in Taytay Rizal, this year's Oktoberfest is also dedicated to giving some of their proceeds in line to their cause.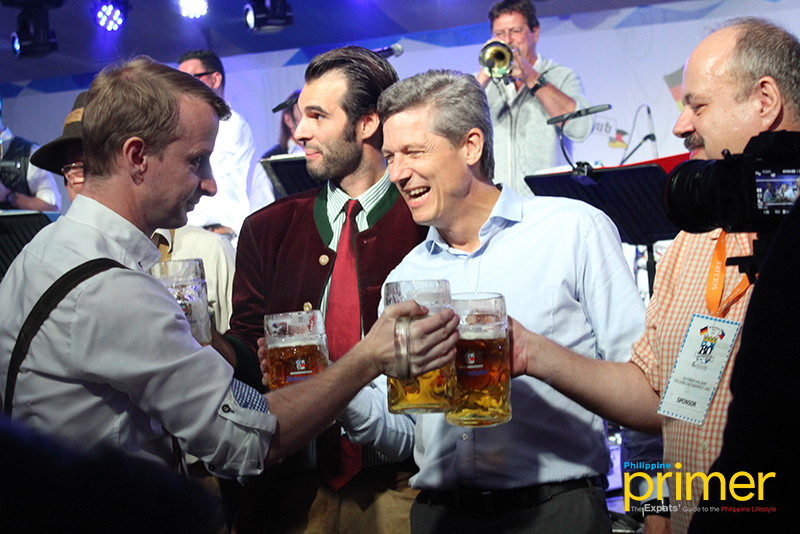 German Club, Manila's President Tobias Rast (left) raises his glass in lieu of the celebrations.
However descriptive Philippine Primer can be in the hopes of walking you through the German Club, Manila's Oktoberfest, nothing is more satisfying than experiencing it first-hand.
With beer drinking competitions at the ready plus raffle draws to electrify the crowd even more, surely German Club, Manila's Oktoberfest is one celebration you would like to experience over and over again; and the good news is, it is not yet too late to join the festivities as walk-in tickets are still available during the event!
Prost! And take more than a swig of German beer at the German Club Manila's 80th Oktoberfest!
Also Read: Oktoberfest 2018 Celebrations and Promos in the Metro You Should Not Miss
---
Written by Chin Sanigan