5 Reasons to Drink Whiskey (Almost) Everyday
You can pull up several quotes about whiskey online, but none are perhaps more iconic (albeit a bit lengthy) than Judge Noah "Soggy" Sweat's "Whiskey Speech." Sometimes called the "If-by-whiskey" speech, it both sings the praises of the "philosophic whine" and condemns the "devil's brew."
THE WHISKEY SPEECH. American novelist, attorney, politician and activist John Grisham reads Judge Sweat's iconic Whiskey speech./VIDEO Southern Documentary Project on YouTube

At this point, we're assuming that everyone knows the ills of having too much to drink, whiskey included. What you might not have known, however, are the health benefits that this "oil of conversation" has, and it's backed up by science:
Whiskey has just as much (if not more) anti-oxidants than wine.
Yes, you read that right. According to the late Dr. Jim Swan, single-malt whiskeys, in particular, have more ellagic acid than red wine. Of course, the same can be said about soft fruits (i.e. strawberries, blueberries, rhubarb, and the like), but if you don't have any of those in stock and you have a bottle of whiskey with you, then you're just about good to go.
Whiskey can lower the risk of getting dementia.
Two studies, one from the US National Center for Biotechnology Information and the other from the Central Institute of Mental Health in Germany, said that adults aged somewhere between 40 and 65 who drank at most one shot of whiskey a day were less likely to suffer from dementia than those who either didn't or overdid it.
Ideally, we'd like for you to stay away from alcohol, but if you're already drinking, consider significantly reducing your alcohol intake.
Whiskey can decrease the risk of heart disease.
It's going to be an intense balancing act, but yes, it can help. An article posted in the Harvard School of Public Health says over 100 studies "show an inverse association between light to moderate drinking and risk of heart attack, ischemic (clot-caused) stroke, peripheral vascular disease, sudden cardiac death, and death from all cardiovascular causes."
Again, you don't need to start drinking, but if you already are (or are planning to), go for no more than 2 drinks a day for men or 1 drink a day for women. Combine that with a healthy diet and exercise and you should be good to go.
Whiskey can reduce the risk of Type 2 diabetes.
The same article from Harvard also cites three studies that say type 2 diabetes was " less likely to occur in moderate drinkers than in non-drinkers." There's also the fact that it can improve digestion after a heavy meal or "offer a soothing respite at the end of a stressful day," not to mention how it can act as a starter to "good" conversations with friends.
There's a special cocktail made with whiskey can help fight off colds and flu.
A cup of hot toddy/PHOTO Patrick Truby via Flickr
If there were reasons as to why whiskey was once considered medicine in the US, then this would have been one of those reasons. The history of where the Hot Toddy came from may still be murky at best, but there is little doubt that this drink is a good way of fighting off a cold—or at least trying to get rid of it as far as the Scots or the Irish are concerned.
There are a lot of variations to this drink, but it usually involves a couple of ounces of whiskey, hot water or tea, honey, lemon juice, and a lemon wedge or a stick of cinnamon for a bit of pizzaz.
What and where to find good whiskey
A bottle of whiskey is easy to find, but most of them are not good for everyday drinking. While you can go for the classics (Johnnie Walker, Jack Daniels, etc.), there's a rising trend when it comes to whiskey, and it's from a place you would least expect.
Japanese whiskey has been rising in popularity as of late, and one of the most popular names is the Eigashima Distillery, makers of the hard-to-find Akashi White Oak Blended Whisky.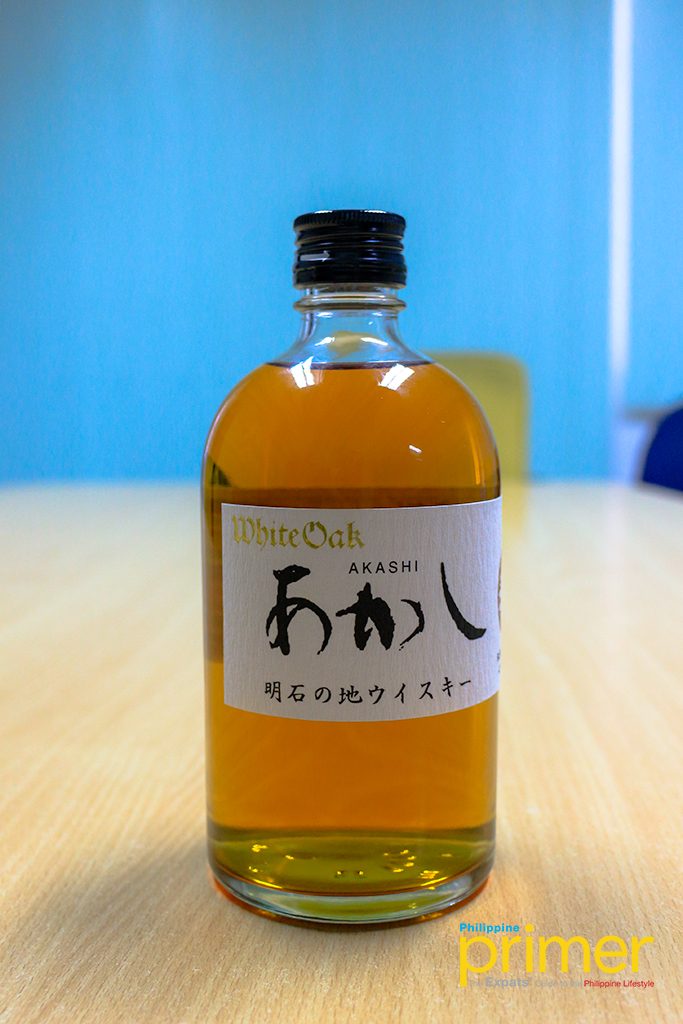 THE AKASHI WHITE OAK BLENDED WHISKEY. This bottle is hard to find, even in Japan!
Eigashima's whiskey production takes place two months out of every production year, making this whiskey rarer than expected. They also incorporate sake and shochu production techniques, making this whiskey truly one of a kind, alongside being blended by a Toji, a sake-making grandmaster.
The taste, however, makes any of their whiskeys easy-to-drink, letting you enjoy them any day of the week and helping you reap the benefits we just mentioned. Their White Oak Blended Whiskey, in particular, has a malty, citrusy aroma with scents of black cherry, toffee, and oak. Notes of vanilla and pine nuts dominate the palate, which then leads to a long, malty finish.
THE AKASHI BLUE BLENDED WHISKEY
Their Blue Blended Whiskey, on the other hand, has a fruity, slightly sweet, vanilla aroma. It hits your tongue with a fresh, spice-laden oak flavor with hints of peat, leading to a medium, spicy-sweet finish.
You may find these bottles hard to find, but there is an easy way for you to get your hands on one. Simply visit liquor.ph and you'll find these plus other hard-to-find bottles of Akashi whiskey.
Also read: Hotei Japanese Premium: Bringing Premium Whiskies to the Philippine Market 
Making the deal even sweeter, our partners from Hotei Japanese Premium have given you the chance to get these at a discount! Simply use the promo code XPPM10 upon checkout and you'll get 5% off of the tag price! You'd have to hurry, though, as this promo is only available until October 31.
---
Written by Andronico Del Rosario
Source: Forbes.com, Town and Country Magazine, Caskers, TOKINOSAKAGURA