8 Places Where You Can Capture Stunning Sunset in the Philippines
Travelers at heart will know that a good photograph make for a good souvenir, especially that a captured photo can remind you of the memories you had when you traveled to that destination. Apart from selfies and food photos, one of the most-photographed things during a travel would be sunset. Chasing sunsets after a long tiring day, can help you reflect and appreciate the beauty of nature.
If you're passionate about sunset photography and would love to see a beautiful twilight, here are some of the best spots in the Philippines where you can capture stunning sunsets
Mount Tapyas
Coron, Palawan
Atop the Mount Tapyas, you will see an unobstructed view of Palawan sunset
Mount Tapyas is a 210-meter mountain in Coron, Palawan where you can get the best view of the dusk. It's also a tourist spot as a lot of people endure the 724-steps climb on the way to the top in time for sunset.
Address: Mount Tapyas, Coron, Busuanga Island, Palawan
Also read: An enchanting paradise: Coron, Palawan
Kingfisher Sand Sea Surf Resort
Pagudpud, Ilocos Norte
Just a few steps away from the cottages lies this sunset view by the beach 
Found at the northern tip of the Philippines, Kingfisher Sand Sea Surf Resort is a paradise-like destination in Pagudpud, Ilocos Norte where you can enjoy a peaceful vacation by the beach. It's located between Saud Beach and Blue Lagoon, where the best view of the sunset can be seen.
Address: Sitio Aprot, Barangay Caparispisan, Pagudpud, Ilocos Norte
Also read: What's Up North: Travel Guide to Ilocos Norte's Laoag, Paoay, and Pagudpud
White Beach Boracay
Boracay Island, Aklan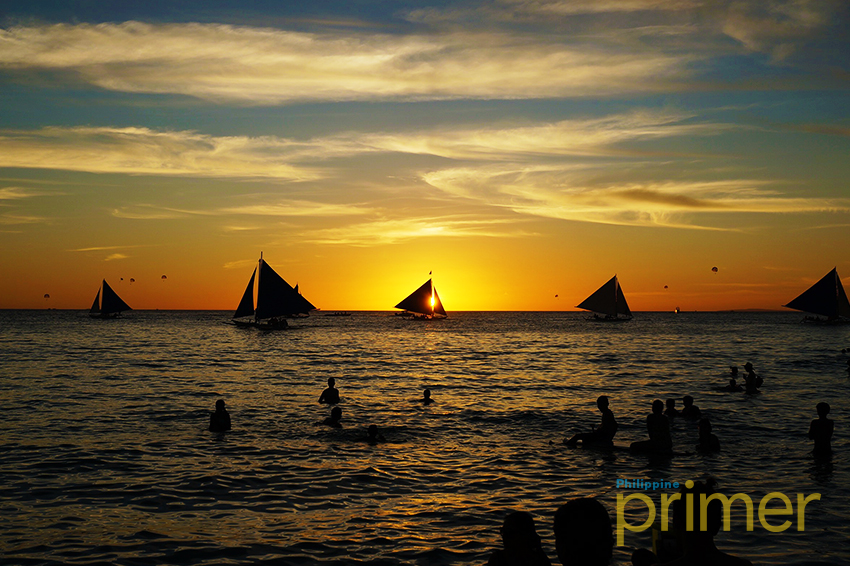 Joining the view of the sunset are tourists and boats by the beach
Of course, part of the sunset spots list would be Boracay. Aside from its powdery white sand beach, a myriad of island hopping activities, and active nightlife, one thing to watch out for when in the beautiful island is the sunset. At the White Beach, you can get a picture-perfect view of the dusk in the island.
Address: White Beach, Boracay Island, Aklan
Also read: Welcome to Boracay Island: A Travel Guide
The Manila Bay View in Solaire Resorts & Casino
Parañaque City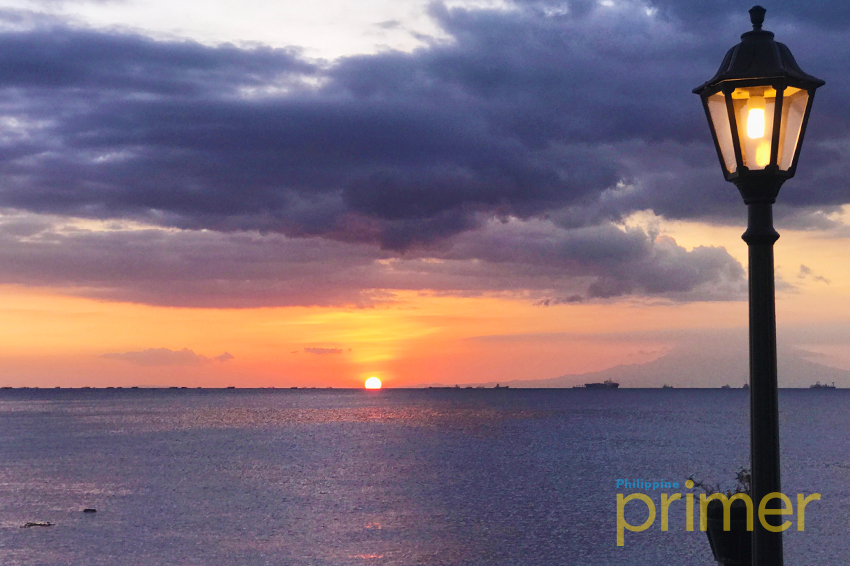 Shades of purple, orange and pink illuminate the sky before nightfall
Here in Manila, one of the most popular spots to appreciate the sunset would be Manila Bay. If you're checked in at Solaire Resort in the Entertainment City, you're in for a treat of a breathtaking panoramic view of Manila Bay, as you experience a nice al fresco dining in the luxury resort.
Address: 1 Asean Avenue, Entertainment City, Parañaque City, Manila
Also read: 11 Excellent Hotels in Manila For Your Next Staycation
Malapascua Island
Cebu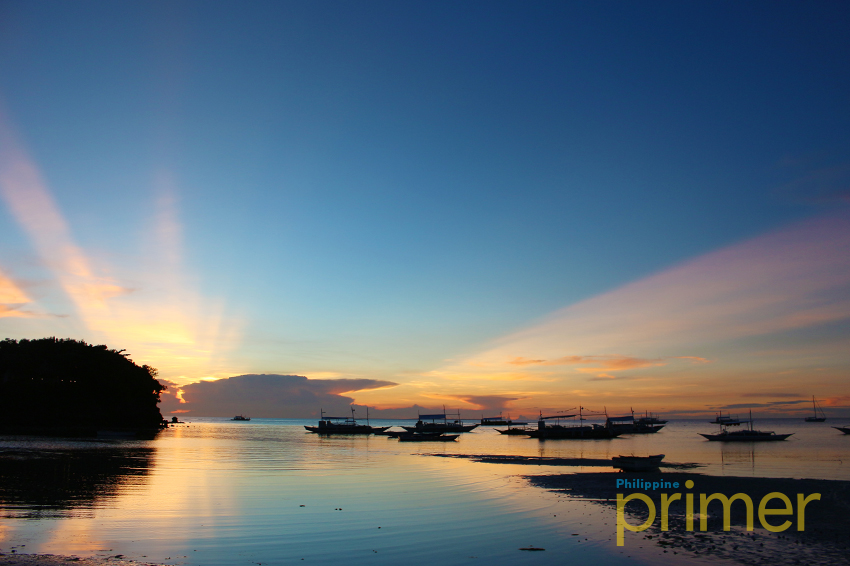 See the reflection of the colours of the sky in this paradise-like attraction in Cebu
Recently named as one of Asia's best beaches, Bounty Beach in Malapascua Island, Cebu is one of the most beautiful destinations in the Philippines where you can relax and enjoy the beauty of nature at the same time. Make sure to capture the well-loved Malapascua sunset to end your day.
Address: Bounty Beach, Malapascua Island, Cebu
Montemar Beach Club
Bataan
Have a leisurely walk by the beach at Montemar
When in Bataan, one of the finest choices for accommodation is Montemar Beach Club. Apart from their state of the art facilities and leisure activities, one of the must-see things in this place is their marvelous scenery of the sundown.
Address: Sitio Pasinay, Brgy. Pag-asa, Bagac, Bataan
Anawangin Island
Zambales
Nightfalls in Anawangin, Zambales is one of the most picture-perfect sceneries you should see in your lifetime, too. A combination of colors orange, purple, and yellow await you as you witness this beautiful sunset in Central Luzon.
Address: Anawangin Cove, Pundaquit, Zambales
La Union
After a tiring day of surfing, isn't it relaxing to just marvel at the glorious sunset? La Union's surfing scene has made it a tourist destination among expats and locals alike, and many have witnessed and took photos of this grand nightfall that can be found in Northern Luzon.
Address: La Union, Philippines
Do you know any other place in the country where we can have the best sunset view? Comment below!
---