What's Up North: Travel Guide to Ilocos Norte's Laoag, Paoay, and Pagudpud
Ilocos Norte is relatively untapped and unknown, unless you're talking about Bangui Windmills and Marcos' "Solid North." For this month's travel special, we'vel looked at some of the most popular spots in Ilocos Norte's Laoag, Paoay, and Pagudpud: sand dunes, beaches, a mausoleum, and a UNESCO World Heritage church.
How to get there?
There are two ways to get to Ilocos Norte. The most common for Filipinos is to brave the nine- to ten-hour drive by car or bus to the city of Laoag. Bus fares are between P800 and P1,000 depending on the type of bus you take. Another way is to take a one-hour plane ride to Laoag City.
Paoay & Currimao
Paoay is the home of a UNESCO World Heritage Site and the most unique pizza you'll probably lay your eyes on. Currimao is home to several beach resorts and rock formations that, when the conditions are just right, will give you photos that will make you the envy of the photography-savvy friend.
Laoag
As the capital of Ilocos Norte, Laoag is the perfect jump-off point for anyone who wants to take a trip to some of the country's northernmost beaches (Pagudpud), or simply explore the must-see sights of the great Ilocos.
Pagudpud
The northernmost town of Ilocos Norte, Pagudpud is home to the region's best beaches. It's also called the "Surfing Capital of the North."
This feature first appeared in Philippine Primer Japanese magazine October 2016 issue and  was republished in Philippine Primer English magazine March 2017 issue.
Where to go: a guide map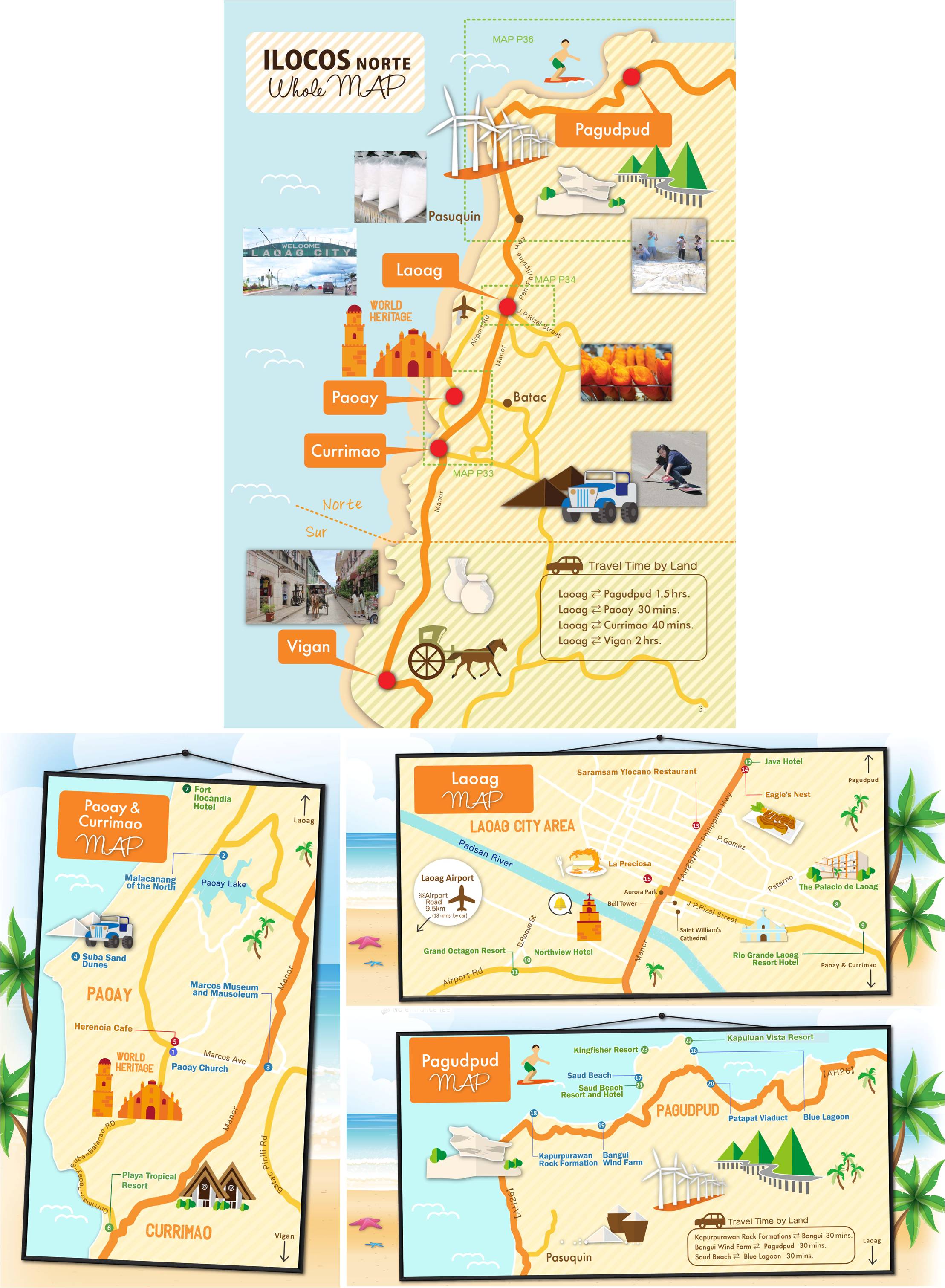 click the image to enlarge
Where to Go in Laoag, Paoay, and Pagudpud, Ilocos Norte
Where to Eat
Where to Stay in Laoag, Paoay, and Pagudpud, Ilocos Norte