Thought-provoking, witty, and definitely not for children: A review of Rep Philippines' The Vibrator Play
Thought-provoking, witty, and definitely not for children: A review of Rep Philippines' The Vibrator Play
What's the first thing that comes to your mind when you hear the word "vibrator"? Certainly not a medical tool, right? Don't believe us? Well, you can either look it up online… or watch Repertory Philippines' staging of In The Next Room or The Vibrator Play at the OnStage Theater in Greenbelt 1, Makati.
Backstory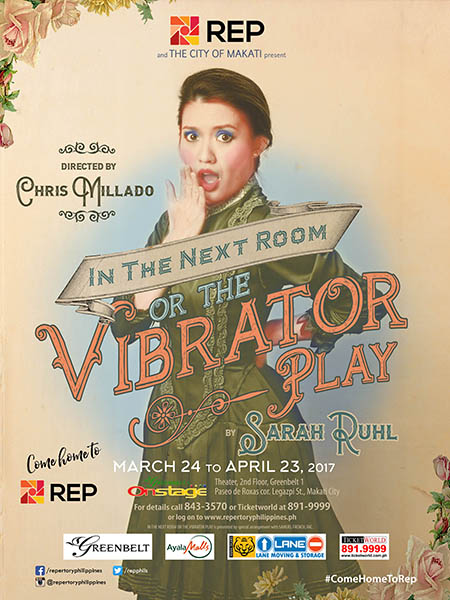 It is the 1880s, and Dr. and Mrs. Catherine Givings live in a beautiful, seemingly sensible Victorian home, where Dr. Givings also runs his private medical practice. Electricity is still a novelty, and as the intelligent and free-spirited Mrs. Givings cares for her new child under the bright glow of a floor lamp, something else is buzzing in the next room. Dr. Givings, a kind — if overly analytical — scientist, has invented a device to relieve "hysteria" in both men and women. That brilliant new device is… a vibrator, though Dr. Givings refers to it euphemistically as a "machine".
When Elizabeth, a grieving wet nurse, is brought in to care for the Givings' baby, and Mrs. Sabrina Daldry, an anxious, depressed patient arrives for treatment, the Givings are forced to confront the realities of their marriage, their love for one another, and the nature of intimacy – all without the help of an electrical current. Provocative, moving, and utterly charming, Sarah Ruhl's In the Next Room is a comedy about passion, true love, and orgasms.
The verdict
Please note that we are not seasoned theater goers so there might be things we missed.
We were able to watch The Vibrator Play right on opening night, March 24 (yes, it took us that long to digest the play… just kidding.) and were, shall we say, intrigued by what we witnessed.
Into The Next Room or The Vibrator Play is depicted as a period drama that is witty and thought provoking. The story revolves around the revolutionary method of using electrical vibrator as a treatment to treat hysteria during the 18th century.  It also tackles about the issue and sexual frustrations inside a marriage.
The story behind the play might puzzle some viewers, who will find it hard to trod through trying to know if the play's focus was on the vibrator or on something else entirely. The novelty of using a vibrator as a medical tool rather than what it is used for today was not lost on us.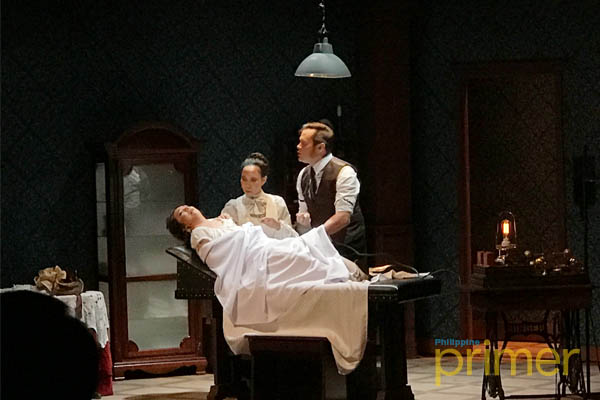 We believe that this play would be interesting to watch for both men and women, especially if you want to come face to face with an issue that they don't want to discuss because it's liberating or taboo.
Sex has been taboo ever since, and though we sometimes try to hide it in the media, we know audiences will be able to understand the context of the story. We also liked how the story was about womanhood and how men saw women as nothing more than a homebody; someone to watch over and feed their kids.
It's a play that you definitely will not want to bring kids along, but it is worth your time, especially if you're mature enough. It's a thought-provoking yet funny two-act play with great set design and acting. Transitions were smooth from one scene to the next.
Overall, it was good. Pro tip: Make sure you stay until the end.
Final thoughts
The Vibrator Play should be on your list, especially if you're one of those seasoned theater goers looking for something a bit more, shall we say, eye-opening. Yes, there are plays that seek to broaden your mind on the same topic, but we're willing to bet they're not as light-hearted (yet still thought-provoking) as The Vibrator Play.
Catch Repertory Philippines' In The Next Room or The Vibrator Play at Greenbelt 1's OnStage Theater until April 23. Check out their schedule here and purchase your tickets from TicketWorld.