Repertory Philippines presents: In The Next Room or the Vibrator Play
The Repertory Philippines is here to bring you again yet another theatrical play for you to enjoy – In the Next Room or the Vibrator Play. Directed by Chris Millado, In The Next Room is a provocative, moving, amusing, and utterly charming story about passion, true love, and orgasms.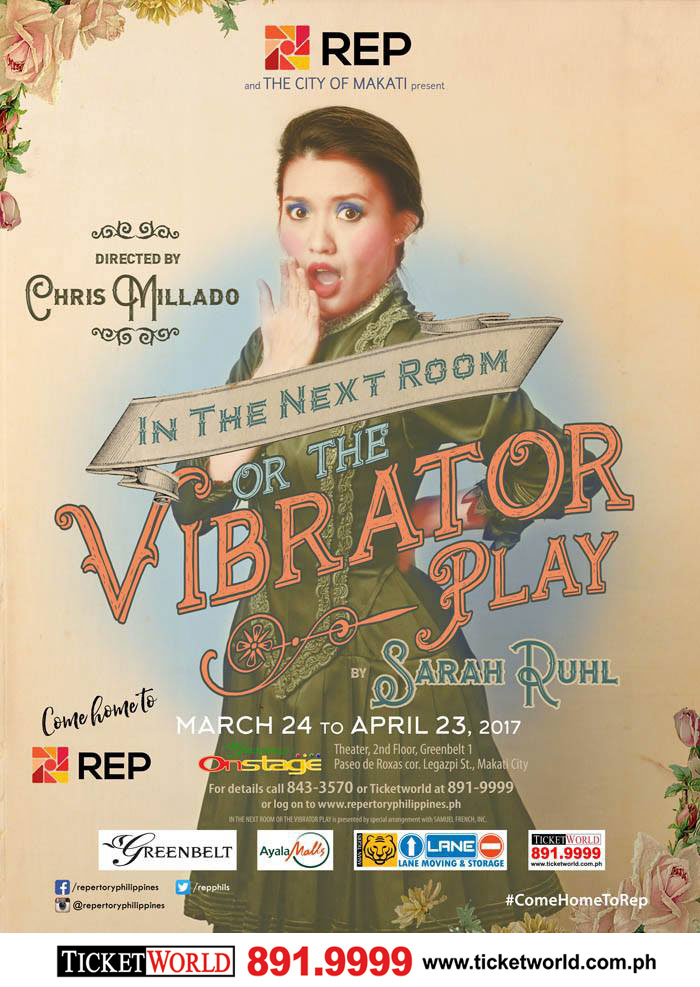 Image grabbed from ticketworld.com
Synopsis:
It is the 1880s, and Dr. and Mrs. Catherine Givings live in a beautiful, seemingly sensible Victorian home, where Dr. Givings also runs his private medical practice. Electricity is still a novelty, and as the intelligent and free-spirited Mrs. Givings cares for her new child under the bright glow of a floor lamp, something else is buzzing in the next room. Dr. Givings, a kind — if overly analytical — scientist, has invented a device to relieve "hysteria" in both men and women. The brilliant new device is a vibrator (though Dr. Givings refers to it euphemistically as a "machine"). When Elizabeth, a grieving wet nurse, is brought in to care for the Givings' baby, and Mrs. Sabrina Daldry, an anxious, depressed patient arrives for treatment, the Givings are forced to confront the realities of their marriage, their love for one another, and the nature of intimacy– all without the help of an electrical current.
Schedule:
• Friday, March 24 – 8:00pm
• Saturday, March 25 – 3:30pm
• Saturday, March 25 – 8:00pm
• Sunday, March 26 – 3:30pm
• Friday, March 31 – 8:00pm
• Saturday, April 1 – 3:30pm
• Saturday, April 1 – 8:00pm
• Sunday, April 2 – 3:30pm
• Friday, April 7 – 8:00pm
• Saturday, April 8 – 3:30pm
• Saturday, April 8 – 8:00pm
• Sunday, April 9 – 3:30pm
• Friday, April 21 – 8:00pm
• Saturday, April 22 – 3:30pm
• Saturday, April 22 – 8:00pm
• Sunday, April 23 – 3:30pm
Ticket Prices:
₱1,045 – Lower & upper orch. Center (Reserved Seating)
₱836 – Lower & upper orch. Left & right (Free Seating)
₱627 – Balcony (Free Seating)
For ticket reservation, visit: ticketworld.com
What: Repertory Philippines presents: In The Next Room or the Vibrator Play
When: March 24 – April 23, 2017
Where: 2nd Floor, Greenbelt Mall 1, Paseo de Roxas St., Makati City