Places in Manila Where You Can Play Golf
In the heart of Manila, one of the world's largest cities, is a booming golf scene with tons of great courses that will entertain and delight any golfer. Here's a list of eleven of the best courses in Manila with all the information you'll need to plan your next golfing outing in the metro area.
Alabang Golf Course
/IMAGE  acci.com.ph
The Jack Nicklaus designed layout is extremely entertaining with tees that lean to the short side. If you are a mid-handicapper, you can reach back and play the Championship Blue tees that run just over 6500 yards without a problem.
Located in Alabang, you'll be amazed at the mango trees that line the course, adding a natural level of difficulty. One of our favorite holes is the 420-yard par-4 4th hole because it ramps up the challenge with water, sand and a wicked dogleg.
After your round, visit the country club portion of the course, as players can enjoy the swimming pool, gym and bowling alley on the premises.
Details:
Address: Acacia Ave., Ayala Alabang Village, Muntinlupa City
Contact: 02-842-3531 to 39
Website: acci.com.ph
Philippine Navy Golf Course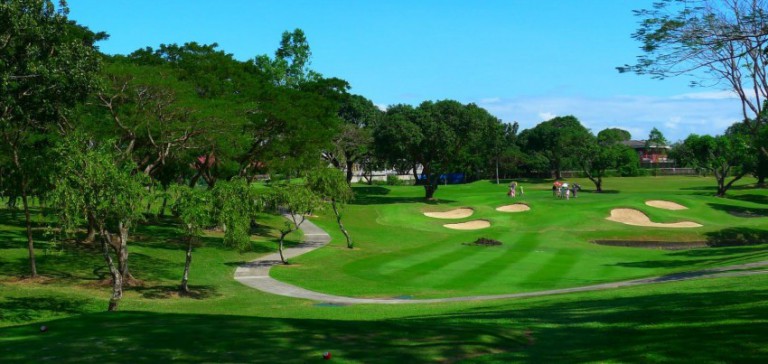 /IMAGE makeitmanila.com
In the belly of Manila rests the Philippine Navy Golf Course, one of the city's most popular golfing destinations. With broad fairways and undersized holes, golfers love to break out the driver and go-for-broke on this par-70 18-hole course.
Championship tees do run close to 7,300 yards but look out for the par-5 10th as it invites a possible eagle opportunity with a solid drive. If you want to drop down a level and play the middle tees, then expect to reach the green with some of your drives as the par-4 holes play much shorter.
Details:
Address: Bonifacio Naval Station, Fort Bonifacio, Taguig City
Facebook: Philippine NAVY GOLF CLUB
Southlinks Golf Club
/IMAGE Business Mirror
Las Pinas City is the home to the Southlinks Golf Club, one of the few courses in the area that can tout the layout as "flood free." With elevation changes and natural terrain that can wreak havoc on golfers who aren't hitting them straight, Southlinks is a challenging group of holes – perfect to try out your latest drivers tailored for these situations.
With championship tees that reach under 6,600 yards, Southlinks isn't particularly long, but some of the holes present a difficult hurdle for the shaky golfer.
The best hole on the course is the 577-yard par-5 18th that is a test of accuracy and length from both the tee and fairway.
Details:
Address:  Ayala Southvale Village, Barangay Almanza Dos, Las Piñas City
Email: info@southlinksgolfclub.com.ph
Website: southlinksgolfclub.com.ph
Wack Wack Golf and Country Club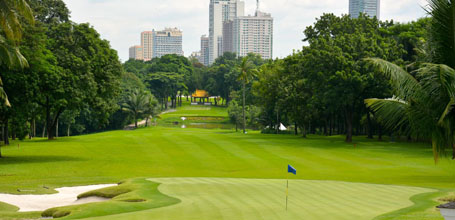 /IMAGE gwclubshares.com
Built in 1930 by American William Shaw, the Wack Wack Golf and Country Club has long stood as of the most exceptional golfing facilities in the metro area. With two courses, an East and West layout, Wack Wack brings golfers in from all over the world.
If you are looking to choose between the two courses, then you should know that the East course is considered to be tougher as it is lengthy and tighter.
At the club, you can find a first-rate clubhouse with access to a barber shop, beauty parlor, and a large swimming pool.
Details:
Address: Shaw Boulevard, Mandaluyong City
Contact: 02-723-0665/72
Veterans Memorial Medical Center Golf Course
/IMAGE Veterans' website
Another fine course located in Quezon City, Veterans Memorial was built in 1958. Golfers can expect a relaxed atmosphere with golf that isn't demanding.
One of the best holes in all of Manila is the 7th hole at Veterans Memorial. The fairway is choked on both sides by water hazards causing the golfer to hit one of the most accurate shots of their lives. Preparation via the use of a swing analyzer is highly advised.
With one set of tees, Veterans Memorial plays under 5,900 yards with short par-4s being the norm.
After your round, hit up two of the best shopping areas in the city at the Trinoma and SM North EDSA malls.
Details:
Address: VMMCC Compound, Gate 2, Mindanao Ave. Project 6, Quezon City
Facebook: Veterans Golf Club Philippines
Contact: 02-920-1190
Email: veteransgolfclub@yahoo.com
Villamor Golf Course
/IMAGE golfcoursemanila.blogspot.com
Host to the Philippine Masters, the Villamor Golf Course is one of the longer courses in the city boasting wonderful conditions that golfers adore. Playing at close to 6,700 yards from the championship tees, Villamor is an excellent course if you are looking to challenge yourself while in Manila.
Our favorite hole is the 15th, a reachable par-4 that gives golfers a chance at redemption if they drop a few strokes earlier in their round.
Villamor is very convenient for the traveler, located next to the airport and just a few minutes from the Resorts World Manila Casino and Entertainment complex.
Details:
Address: Villamor Air Base, Pasay City
Contact: 02-853-4977/4988
Email: villamorgolfclub@yahoo.com
Club Intramuros Golf Club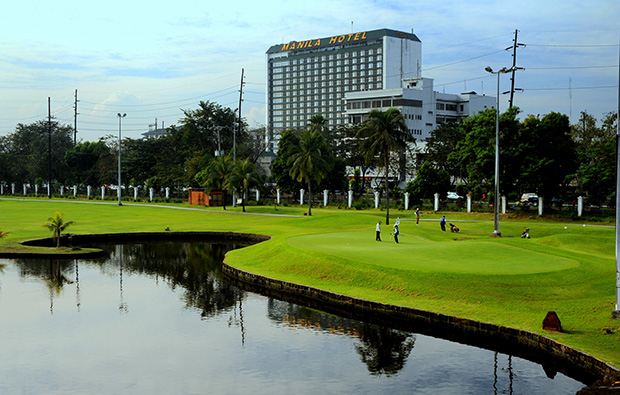 /IMAGE golfsavers.com
If you are looking for one of the city's most historical golf locations, then plan to play the Club Intramuros Golf Club. Located inside the walls of the city of Intramuros, the club is the location of one of the city's oldest courses, a small layout that is perfect for a quick round.
Measuring just 4,150 yards from the tips, Club Intramuros rarely has a par-4 that reaches 300 yards. If you are traveling with golf-loving children (and their bags), then this is a great family-friendly place to swing the sticks.
Are you seeking your first career eagle? Then get your muscles warm for the par-5 7th hole that measures just over 425 yards and is easily reachable in two shots.
Details:
Address: Bonifacio Drive, cor. Aduana St., Port Area, Intramuros
Website: www.philtourism.gov.ph
Contact: 02- 526-1291
Email: cigcreservations@yahoo.com
Army Golf Club
/IMAGE golfph.com
If you are passing through the city of Makati, then the Army Golf Course is a great place to get in 9 holes.
Just because it has nine holes doesn't mean the Army is a pushover as the club is famous for its narrow layout that keeps golfers on their toes by demanding accuracy from every shot.
The layout measures just 4,221 yards from the tips with the par-3 13th hole highlighted as one of the best holes on the course.
You can get some shopping done next to the club as it sits near the Central Business District and two wonderfully luxurious hotels; the Shangri-La Makati and the New World Makati Hotel.
Details:
Address: Bayani Rd, Taguig City
Phone: +63 2 812 7431
Camp Aguinaldo Golf Course
/IMAGE Camp Aguinaldo's Facebook page
Another staple of the golf culture in Manila is the Camp Aguinaldo Golf Course. With a host of obstacles to overcome from the short layout, Camp Aguinaldo can penalize golfers who don't have control over their game.
Measuring 5,409 yards from the championship Gold tees, Camp Aguinaldo can bite you due to the course's strategic use of water, sand and tight fairways.
Be on the lookout for the long par-5 that measures 539 yards. If you hit a terrible tee shot, you'll potentially be ruining your final score with all the trouble that awaits you on the 5th.
The club's location makes it easy to take a post-round trip to Manila or Makati.
Details:
Address: Gate #3, EDSA, Camp General Emilio Aguinaldo, Quezon City
Contact: +63 (2) 911-8142
Manila Golf and Country Club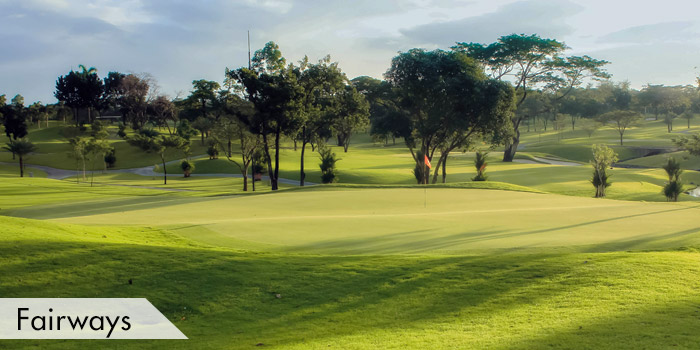 /IMAGE golfph.com
If there is one course that brings pride to the city of Manila, it is the Manila Golf and Country Club. Updated over the years, the Manila Golf and Country Club has immaculate greens and fairways that will leave golfers elated at their golfing experience.
The course has a tight layout with narrow fairways that are hugged by out-of-bounds markers. Playing shorter off the tee is the smart play on most of the holes at the Manila club.
Championship tees measure close to 6,500 yards at the course, with members naming the long par-3 16th hole as their favorite.
After the round, make sure and visit the extensive services the club provides from sauna and massage rooms to a roof deck that allows you to enjoy a drink while looking at the city.
Details:
Address: Harvard Road, Forbes Park, Makati City
Contact: 815-26-41, 817-02-66, 817-49-48
Website: manilagolfclub.com
For membership information, kindly contact them through the numbers provided above.
Also read: Subic International Golf Club: An Eco-Friendly Golfing Destination in the Philippines
---
Written by Jordan Fuller
Jordan Fuller is a good enthusiast who's been on the course for more than 25 years. He usually coaches young golfers to improve their game and also loves to travel to visit new golf courses. He manages Golf Influence, his golf instruction website.