Sentro 1771 in Greenbelt, Makati: Experience Modern Filipino Cuisine
Update: Sentro 1771 is now at Greenbelt 5, near the chapel. This means a Sunday meal at Sentro 1771 will truly feel like a Filipino Sunday meal!
Launched in Greenbelt 3 in 2002, Sentro 1771 revolutionized Filipino cuisine by introducing the modern Filipino cuisine experience. Sentro 1771 is the first to break the boundaries found in and familiar homegrown recipes by infusing them with a delectably sophisticated and cosmopolitan dimension.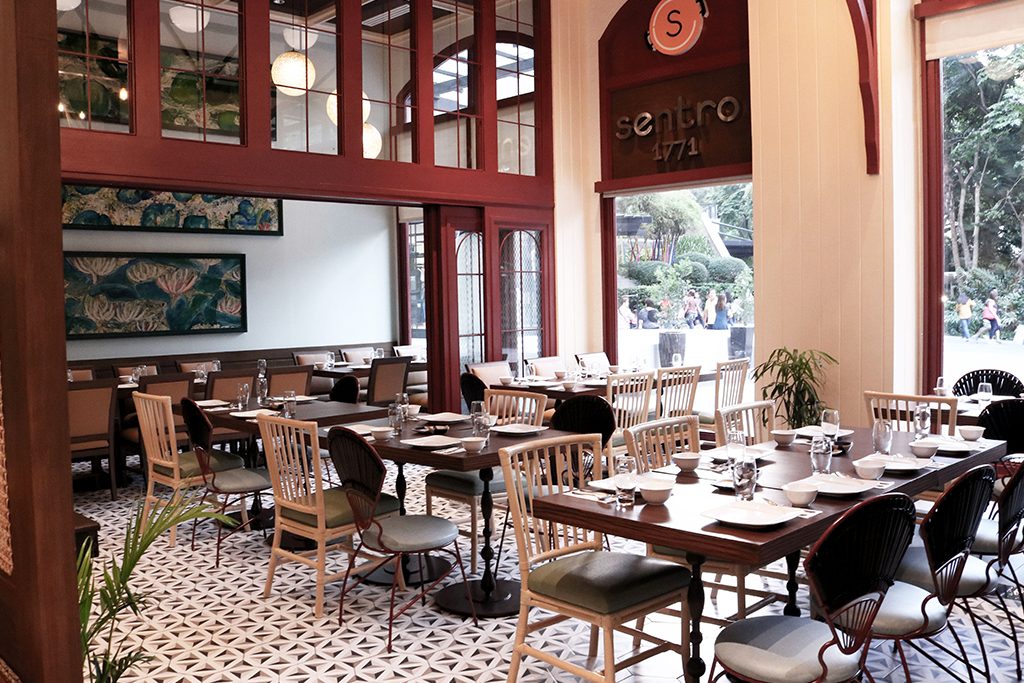 SENTRO 1771. Your go-to place when it comes to modern Filipino cuisine.
You can't miss it. Sentro is now closer to the Greenbelt chapel
The restaurant already feels like the traditional Filipino home even without tasting their delicious offerings yet. They have bright and inviting interiors, perfect for bringing your families to a sumptuous lunch or dinner. The woody textures of the tables and chairs make it more Filipino adding beauty to the whole setup of the restaurant.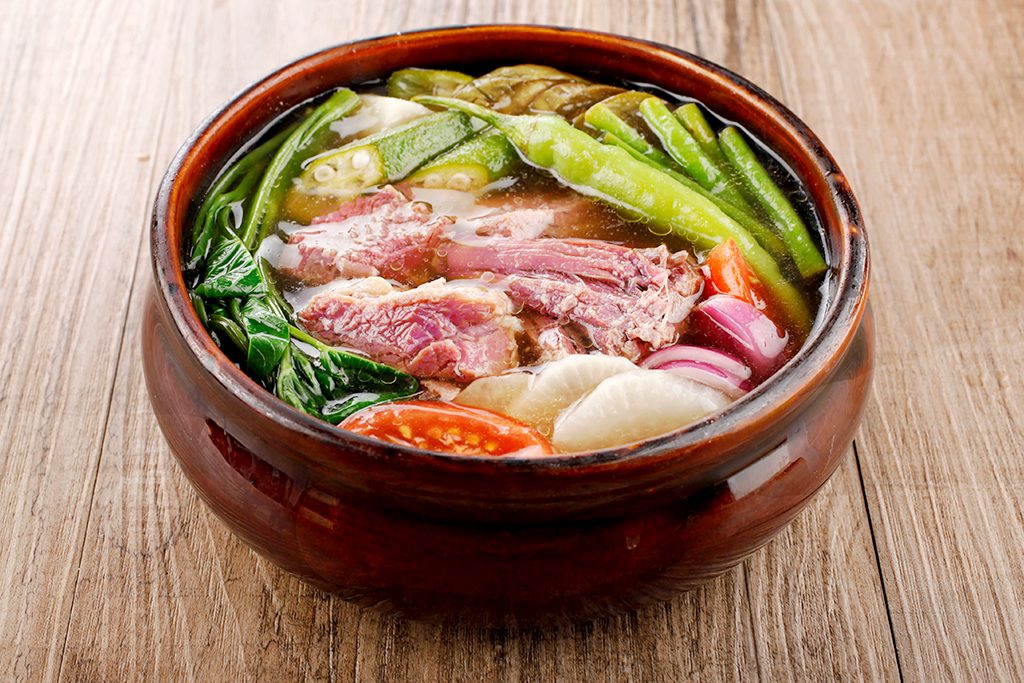 SINIGANG NA CORNED BEEF (Php 295 small, Php 630 sharing, Php 980 family). Corned beef short plate and boneless beef shanks in tamarind broth with native vegetables. "You've got to try it to believe it!" 
SHRIMP CRACKER SALAD (Php 300 single, Php 450 sharing) Shrimps and singkamas flavored with lemongrass, lime, cilantro and garlic in lime mayo on shredded lettuce with kropek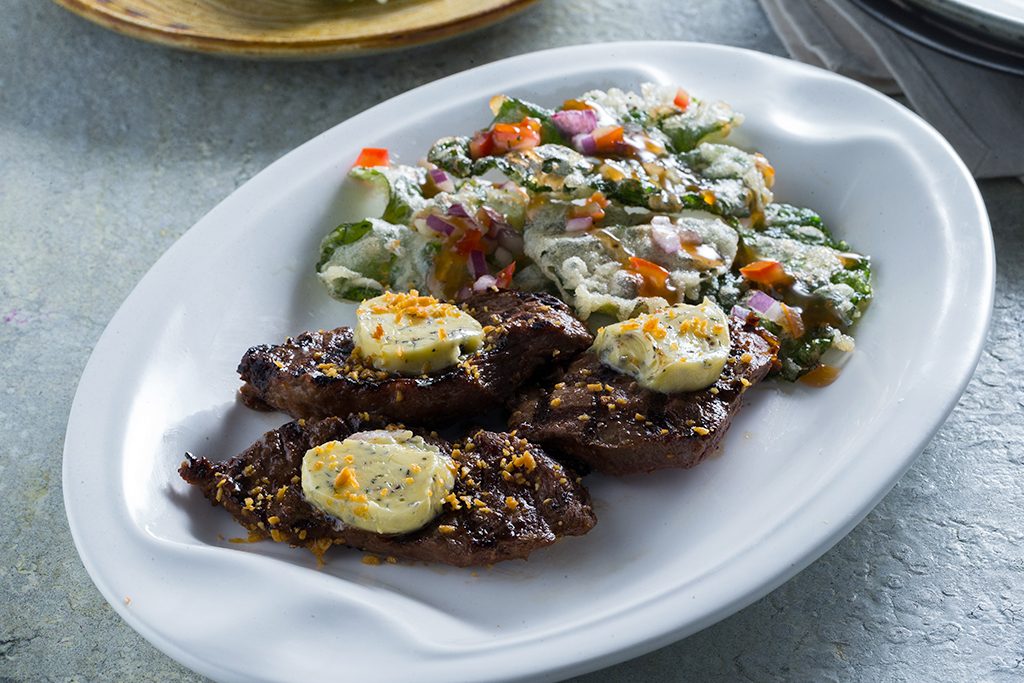 GARLIC STEAK (Php 440 single, Php 850 sharing) Marinated beef slices top blade topped with garlic butter
SEAFOOD LAING (Php 290 single, Php 570 sharing) Level-up laing with garlic shrimps, fried hito flakes, and grilled squid
Using only the finest ingredients from both here and abroad along with a deep understanding of various traditional Filipino dishes, Sentro 1771 has reinvented many local favorites.  It has preserved these dishes' many layers of taste and flavor while constantly adding something new and exciting to the mix.
NEW DESSERT PLATTER (Php 400). A selection of Sentro's top desserts in small portions. Ube ice cream with macapuno, buko meat and buko jello; coffee-pie; fried suman with mango; banana cue.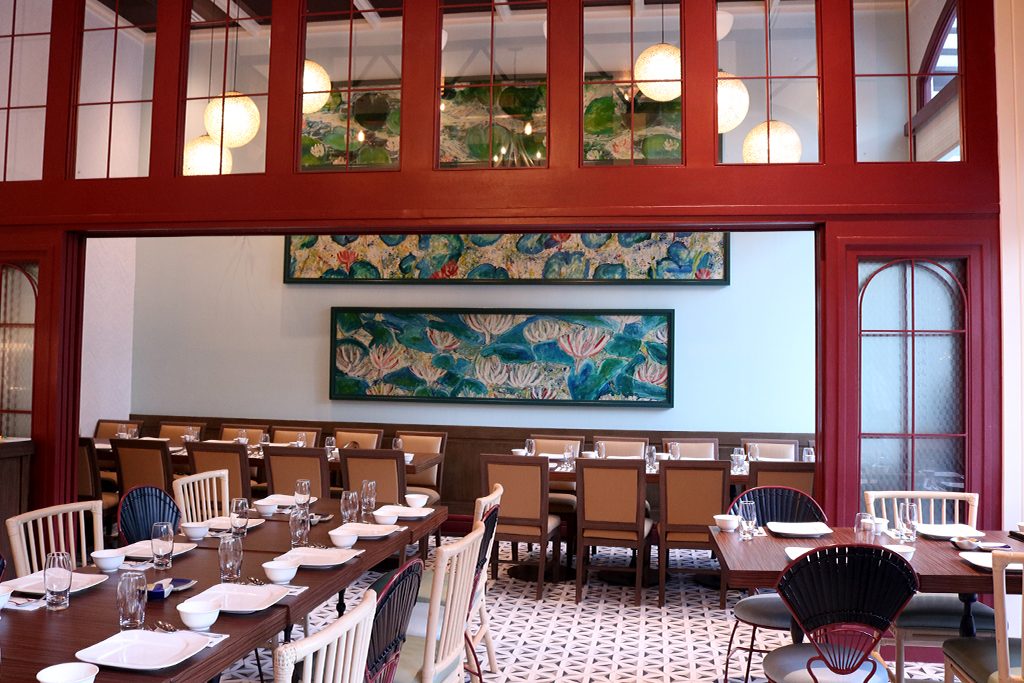 With a spacious interior, you can bring your whole family or the whole team for a private time
Undeniably, the dish that put Sentro 1771 on the map is its famous Corned Beef Sinigang – using our own corned beef cured in-house for 3 to 5 days. Other hits include the Rated GG, which has turned the humble galunggong into a sophisticated and flavorful dish; and Keso Flan, a delightful Filipino twist on the traditional cheesecake served with red egg and queso de bola. 
Also read: Cafe 1771: A European and Continental Restaurant in Pasig 
Sentro 1771 in Greenbelt 5 is also open for breakfast from 7:30 a.m. to 10:30 a.m. daily. Head over soon to get your morning fix from omelets, Filipino Breakfast Sets, All Time Favorites such as Melted Kesong Puti (Php 210) pandesal and special Sentro pancakes.
The chairs resemble the folding hand fan once used by many Filipina women as an accessory
SENTRO OUTDOOR. If you wish to eat outdoors, they also have seats where you can dine out.
Want to try modern Filipino cuisine? Experience only the best at Sentro 1771!
Also read: Flatiron 1771 Modern Diner in BGC: Good Food, Good Mood 

G/F, Greenbelt 5, Makati City

7:30 am to 12 am (Sun. to Thurs.); 7:30 am to 1 am (Fri. to Sat.)

G/F, Uptown Place Mall, 36th St. cor. 9th Ave., Bonifacio Global City, Taguig

Capitol Commons, Oranbo, Pasig City

7 am - 11 pm, Sun to Wed; 7 am - 12 mn, Thur; 7 am - 1 am, Fri - Sat