Hoshimatsuri Japanese Restaurant in Makati: A must-try Yakitori restaurant
A plate of grilled pork and chicken with a glass of beer is a great way to end your day. The Japanese are known for serving mean grilled meats in the form of yakitori, and one restaurant in Makati is a hotbed for people who love eating these delicious skewers of goodness: Hoshimatsuri at Makati's Creekside Mall.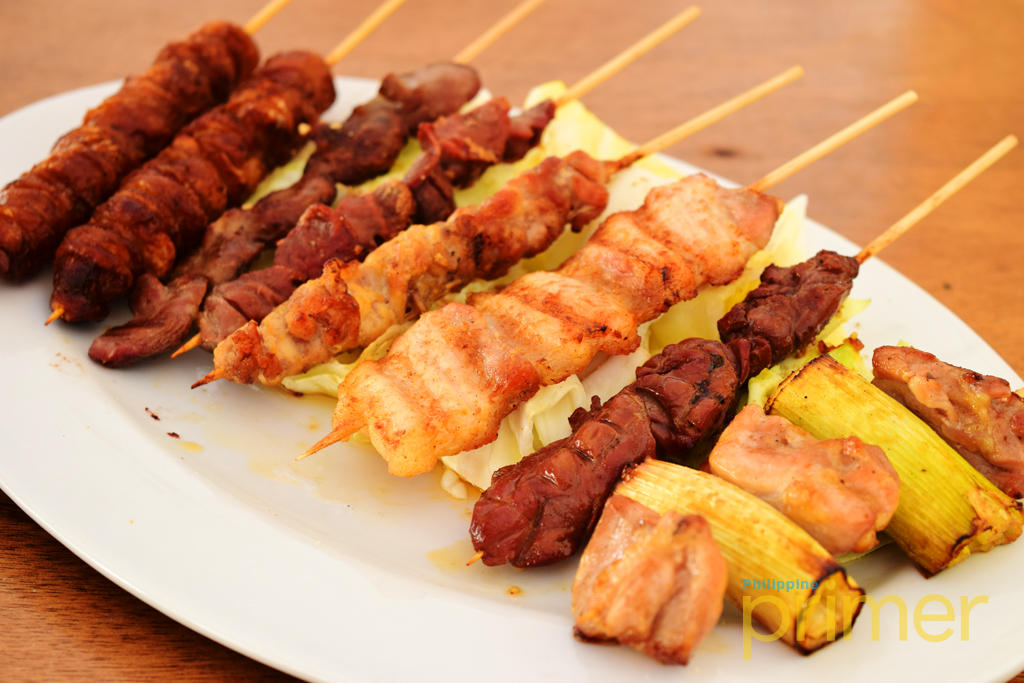 BEST YAKITORI IN MAKATI? They can make a case for that, but we'll leave you to be the judge. Yakitoris are available for only Php 75 per piece.
Hoshimatsuri is an izakaya or Japanese bar that was brought over from Japan over two years ago. Yakitori is their claim to fame, and Makati's Japanese residents seem to approve.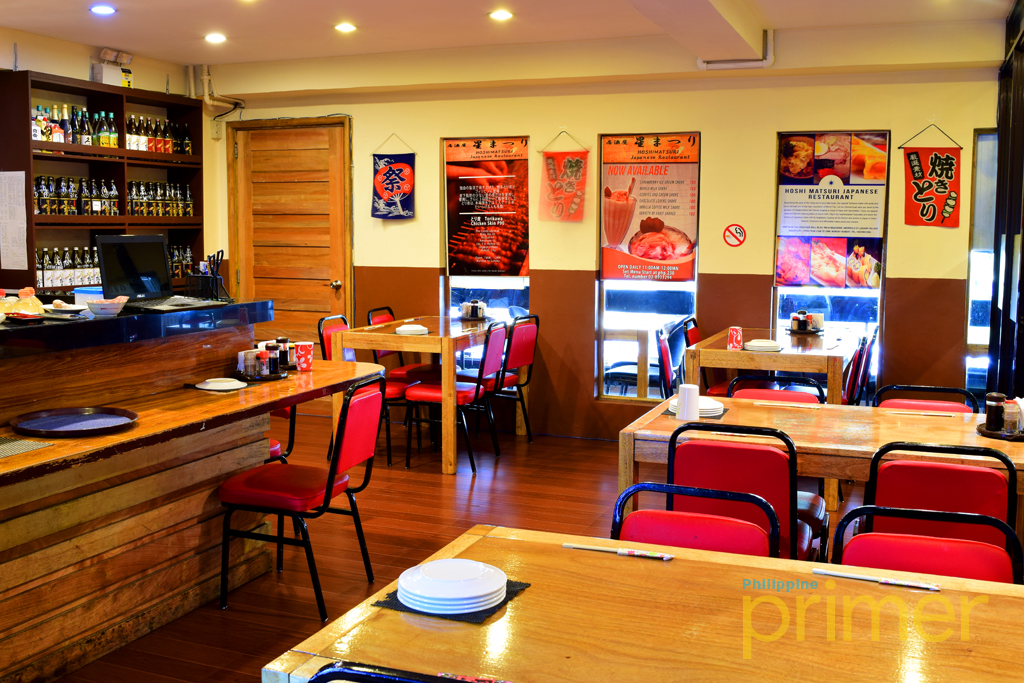 They're also a welcome breath of freshly grilled air from all the seafood restaurants within the area. You see, most of Creekside's Japanese restaurants have seafood as their star attraction; not the case with Hoshimatsuri.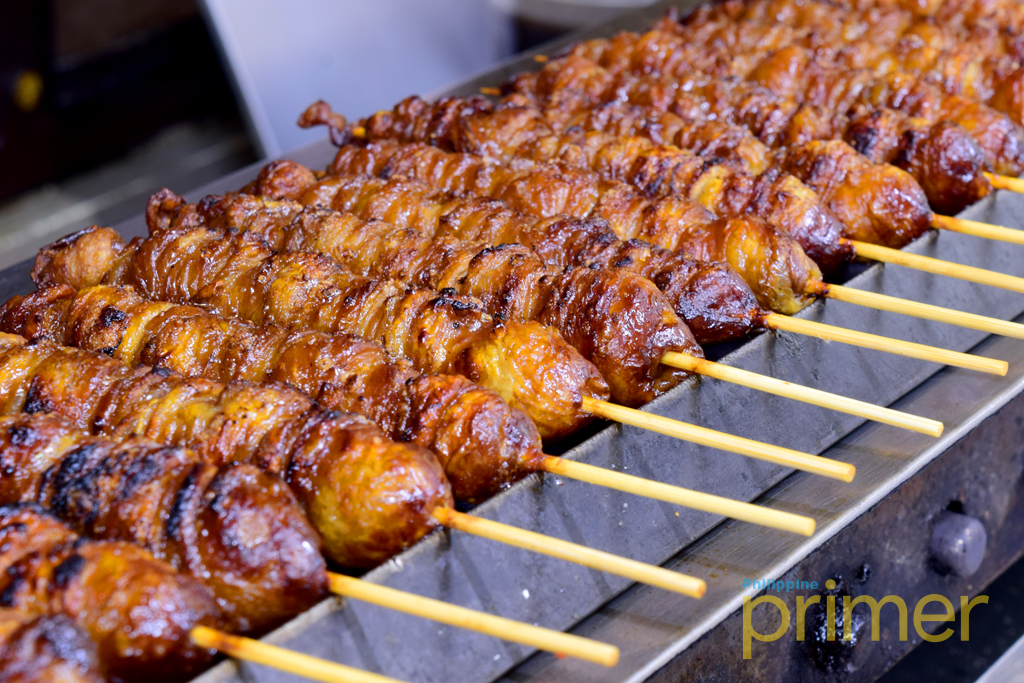 MAKE SURE YOU GET THESE WHILE FRESH. They're still good when they've cooled down, but nothing beats their taste when they're hot off the grill.
One of their mainstays (and their most popular) is the torikawa or grilled chicken skin (Php 90/piece). It's crispy on the outside and juicy on the inside, just as you'd expect from a place that specializes in everything grilled. We recommend adding a bit of shichimi togarashi or seven-flavor chili pepper for that extra kick.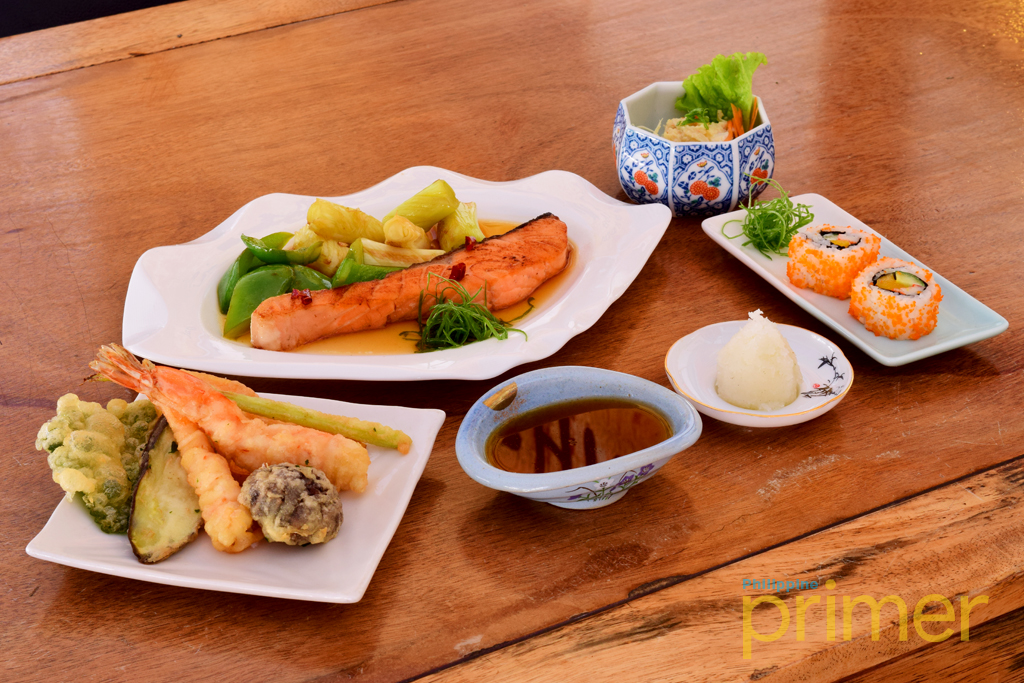 SALMON, MAKI, AND TEMPURA. Get these in Hoshimatsuri's Salmon Yakizuke set for only Php 430.
FEELING COLD? How about we amp that up with their Sushi and Soba set (Php 390), which includes four maki rolls and a serving of chicken karaage?
They're really popular after work hours, but don't let that deter you from visiting them during lunch. They have some really good lunch sets, like their Salmon Yakizuke set (Php 430) and their Curry Udon set (Php 380).
CURRY MADE JUST RIGHT. Their curry udon is as if you're having it in Japan: spicy, but doesn't kill your tastebuds.
The Curry Udon is one thing to watch out for. The curry sauce has just the right amount of spice to get your appetite going. The great thing about their lunch sets? They come with everything you could ever ask for, save the extra ramen for a tonkotsu set.
Whether you're on the look-out for a good serving of yakitori or a simple helping of good Japanese food, Hoshimatsuri is the place for you to visit. The place gets pretty packed by night time, so if you're looking for a Japanese-style night cap, make sure you call ahead of time.
You can find Hoshimatsuri Japanese Restaurant at the Mezzanine level of Creekside Mall, Amorsolo St. cor. V.A. Rufino St., Legaspi Vill., Makati City, Metro Manila. They're open every day from 11 a.m. to 2 p.m. and from 4 p.m. to 12 m.n. For reservations, please call 02-893-3294.

Mezzanine, Creekside Mall, Amorsolo St. cor. V.A. Rufino St., Legaspi Vill., Makati City, Metro Manila

11 a.m. to 2 p.m. and from 4 p.m. to 12 m.n. (Mon. to Sun.)