LIST: Online Shopping Apps You Can Download for Free
Shopping can be therapeutic, but sometimes it can be a daunting chore. With traffic to consider, it's already a bit stressful– how much more if we have to deal with long lines, huge crowds, and rush hours? The good thing is, with the continuous advancements in technology, shopping apps downloadable in smartphones make it convenient for shoppers nowadays. Just a few clicks away and you can have all the things you've always wanted to buy.
Not yet familiar with shopping apps available in the Philippines? We had them listed below for your convenience. Here are the most recommended shopping apps you can download on your smartphones!
Honestbee
No time for grocery shopping? Honestbee has got you covered. When you download Honestbee, you can shop conveniently as you choose from their variety of partner brands such as supermarkets, wine shops, drug stores, baby products, and even pet care products! It's one of the most convenient apps there is and they deliver right at your doorstep.
Also read: Honestbee PH: Your Online Concierge and Delivery Service 
At present, it's available within Manila and select areas at the South such as Nuvali, Southwoods, General Trias, Imus, Tagaytay, Dasmarinas, and Lipa. The app is available on Google Play and at The App Store.
Lazada
"Effortless Shopping" is what Lazada offer as it gives you options with their wide array of products and brands with more than 145,000 sellers and 3,000 brands. It is now labeled as the number 1 shopping and selling destination not only in the country but in Southeast Asia.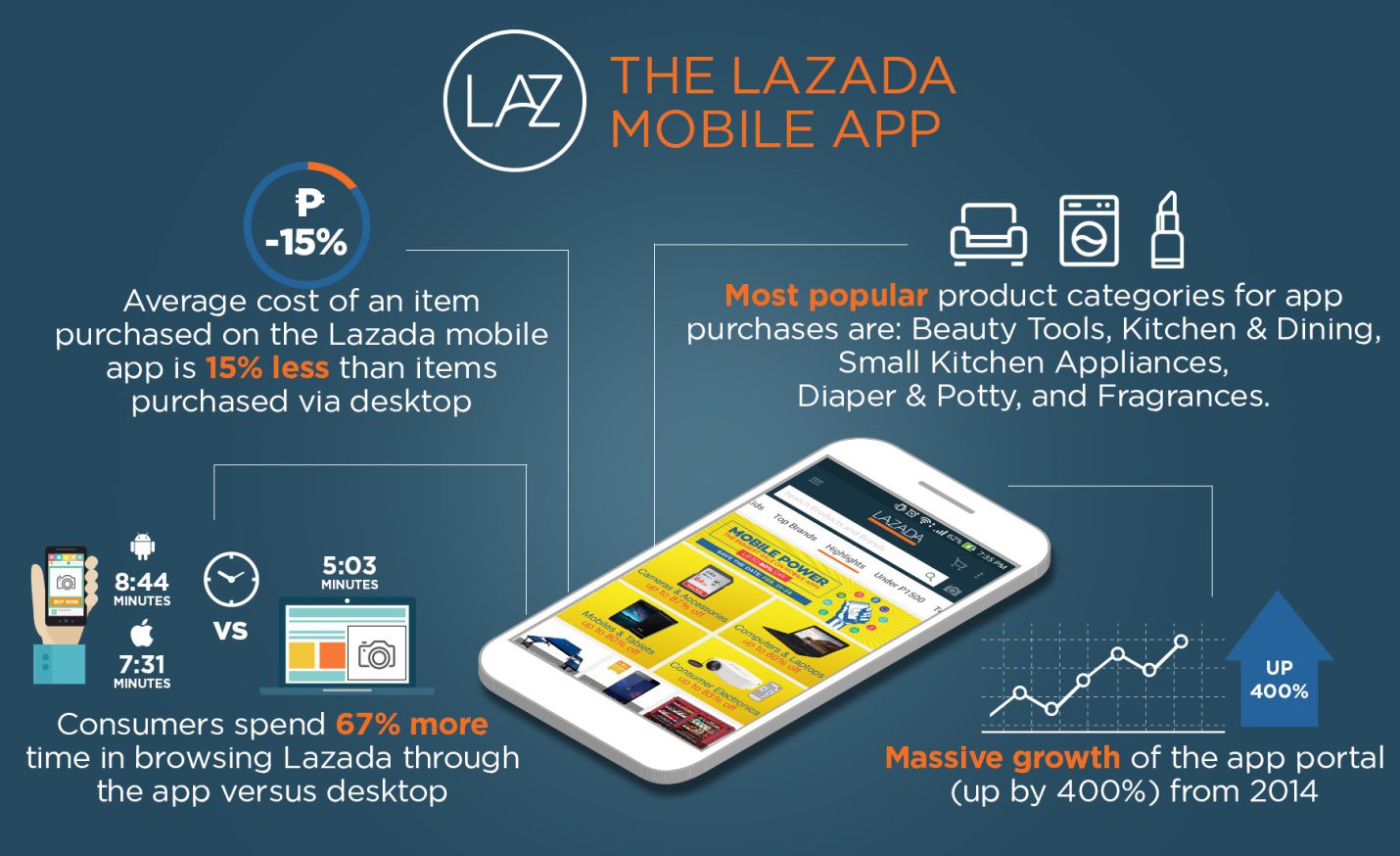 /IMAGE grabbed from Lazada Philippines
Also read: Lazada Philippines' CEO and Co-Founder Inanc Balci 
As the leading e-commerce, they offer home appliances, beauty products, lifestyle and fashion, travel, sports up to automotives. Exclusive offers are waiting after download and sign up. Lazada is available online on their website or via their app available on App Store and Google Play.
Zalora
Philippine fashion trends and brands from A-Z are all in a click for Zalora. Latest updates on clothing, from shoes to bags and everything that incorporates fashion, is now downloadable. Korean fashion is also available along with the top international and local brands with free shipping on orders from Php 995 and up.
/IMAGE grabbed from Google Play
Also read: Business Talk with Zalora Philippines' Co-Founder and CEO Paulo Campos III 
Since style is critical and sizes vary, Zalora has a very hands-on customer service that will make it easy for you to return and exchange your items. Fashion is on you hands and on your phone as it is also available on App Store and Google Play.
Shopee
Connecting sellers and buyers, Shopee is another platform for easy connection of affordable purchases. They have everything from home appliances, electronics to lifestyle and fashion for all all ages. Giving you a more adaptable shopping experience via local sellers, they are generous in giving vouchers and discounts that would totally make shopping your hobby.
/IMAGE grabbed from Google Play
Shopee has enabled messaging sellers before purchase making sure your product is good to go before clicking that cart. They also have daily prizes you can win from and sell as easy as buying stuff. iPhone and Android users can also download this generous app.
AliExpress
As a "mall in an app," AliExpress is considered as an international market as they ship worldwide. They convert currencies of US Market made widely available for everyone. They offer approximately a hundred millions of products. The app can be translated into five languages for their website and 18 for their mobile application.
/IMAGE grabbed from The App Store
Despite of it being global, products are affordable and purchases are easy. However, there are specific products that is not available for shipping in the Philippines and some of their products take time to be shipped. Get it from Google Play and App Store as well.
eBay
Originally a trading site for hard-to-find items, eBay is now an application for buying and selling anything. They are still dedicated on making it a marketplace for rare items that buyers seek to find in a larger scale (international). With this, they make sure they know buyers and sellers to maintain security and safe transactions.
/IMAGE grabbed from App Store 
Not only that, eBay has partnership with famous luxury brands like Prada, Coach, Kate Spade to Apple and Samsung leaving nothing behind. Click search and you will surely find it through its application also available on Google Play and App Store.
OLX Philippines Buy and Sell
Buy, sell, or exchange used goods and even services with OLX. Find your things from electronics to cars as you discover a whole new market that sell real estates as well. You may also find job opportunities through their app! Businesses and opportunities are also available in the application.
/IMAGE grabbed from App Store
Pets and animals, construction and farming, things can now be as easy as typing what you want to find. Talk to dealers. Meet up. For Apple and Android users, the application is downloadable on your smartphone.
---
Sources: Lazada, Zalora, Shoppee, AliExpress, eBay, OLX
Written by: Maria Vinnise Marcelo, Philippine Primer Intern