Lazada Philippines' CEO and Co-Founder Inanc Balci
Inanc Balci, Lazada Philippines' Co-Founder and Chief Executive Officer
Born in Istanbul, Turkey, Inanc Balci graduated with a double degree in Industrial Engineering and Economics from Prude University in United States. He was in the banking industry for three years in London before coming to the Philippines in 2012 where he co-founded the Philippines' biggest online retailer, Lazada Philippines.
How did Lazada begin?
When I was in London, I met some German investors who want to start an e-commerce company in five countries in Southeast Asia, namely Indonesia, Malaysia, Thailand, Vietnam, and the Philippines. I accepted their proposal, and I came to Philippines to start Lazada. We started the company as a retail e-commerce company, which means that we used to buy from our suppliers and sell to our customers. We changed our business model in 2014 to a marketplace platform where merchants sell their goods directly to the customers using our platform – sort of like a shopping mall to reach out to as many customers as they can.
How many partnered merchants do you currently have?
We have thousands of active merchants in the Philippines that are using the Lazada platform to sell products to the customers.
How many visits do you have on your website every day?
We have more than 1 million daily average visitors on our website. In specific days it significantly increases; during our birthday sale, we had more than 10 million people visiting the website in 3 days. We're also the 7th most visited website in the Philippines.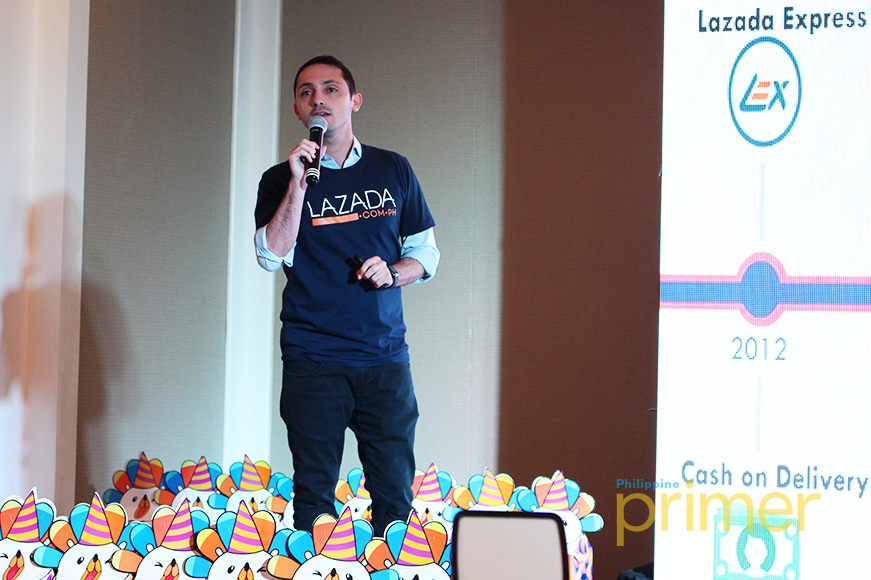 Inanc Balci at the Lazada's 5th Birthday Surprise Launch/IMAGE Primer Stock Photos
How has Lazada fared in terms of competition with other companies in the same industry?
There are two main challenges in the Philippines for e-commerce. The first is logistics. The country's complex geography and the difference between traditional and e-commerce logistics make it very difficult to exist as an e-commerce company, especially if you are not doing your own logistics operations. This is why we launched Lazada express, our in-house delivery company that covers 75% of the Philippines and has put us one step ahead of our competition.
We're also proud of our Cash on Delivery network. The Philippines has only 3-4 percent credit card penetration, so being able to launch the first nationwide cash-on-delivery network in the Philippines gives us a competitive advantage compared to other companies in the Philippines.
Being the leading e-commerce player in the country, what have you done to keep the business constantly growing and expanding?
The first thing is assortment; we are constantly growing our assortment in the Philippines. Today we have 7 million products that you can buy on Lazada Philippines. We also have a growing number of brands that we offer in the website, which is now at 14,000.
Doing big events like the Online Revolution and the 5th Birthday to increase awareness o f the e-commerce business in the Philippines helps us to reach out to potential customers. It is also gives an excuse for non-customers to try e-commerce for the first time.
What have been consumers telling you about why they like purchasing from Lazada?
I think people like purchasing in Lazada because it's convenient for our customers. They don't have to leave their house, brave the crazy traffic of Manila, and spend time, gas or energy walking around the mall only to find products in a limited selection.
One of our mottos is to provide effortless shopping in the Philippines. We try to make it as frictionless as possible by giving them a good platform and an easy-to-use, no-registrations-needed platform in the website or from any device they use.
Ensuring the quality of the products you sell is imperative. How do you keep this fundamental measure in your business to earn the trust of the consumers?
When you have a big platform like Lazada, it becomes difficult to make sure that one hundred percent of the products are not defective. We have specific measures [in place] to make sure all 7 million products are up to our quality standards.
We don't allow non-registered business to sell on Lazada. We assure the customers that merchants in Lazada are registered businesses with permit from the BIR and ECC.
If merchants are selling branded items, they need to prove that they are getting their items from authorized distributors. If the items are subject to FDA regulation, we would also require them to submit FDA permits. This is how we ensure our customers that the item that their buying from Lazada is one hundred percent genuine, brand new, and has passed our quality standards.
What were the biggest challenges in establishing an e-commerce business in Philippines?
The biggest challenges are logistics, payment landscape, and market-related challenges.
For logistics, apart from launching Lazada Express, we work very closely with third party logistics companies. We create the process together and push them to improve their SLA (Service Level Agreement). We addressed the country's payment landscape by introducing the nationwide cash-on-delivery system.
To address market-related challenges, we provide big discounts from our merchants so that people try e-commerce. We also hold huge events during the year for people to be aware of Lazada and e-commerce.
What are the benefits of doing business in the Philippines compared to other countries?
The Philippines is a large economy with a large population that can understand English; this makes it easier to interact with potential customers.
It's also one of the fast growing economies in ASEAN and the world. Combined with a fast-growing number of people who use smart phones in the region and the growing internet penetration, these make any investments in the Philippines favourable. At the same time, there is a very strong government support to help us grow our business.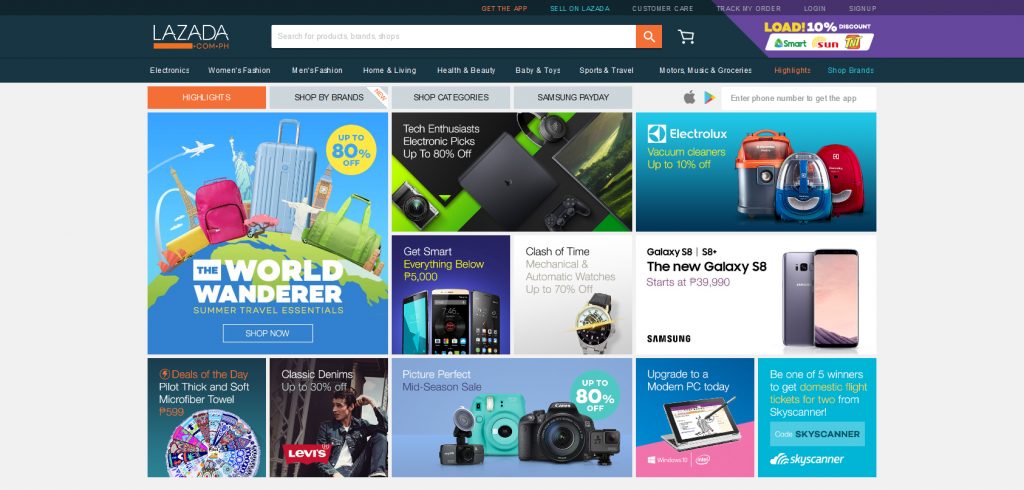 Lazada.com.ph is one of the biggest online retail shops in the Philippines./IMAGE Lazada.com.ph
What advice would you give to budding entrepreneurs in the country?
My advice probably would be that when you come up with an idea from another country, it is very important that you localize that idea when you execute it. For example, if you brought the e-commerce business model from the US, it would probably not work in the Philippines.
It's very important to localize the execution and come up with the business model that will work for the customers in the Philippines. We've localized a lot of things for our business, starting with the process on how to work with local merchants and local partners. We also had to tailor-made our business model for the Filipino customers with cash-on-delivery network, which doesn't exist in most European countries.
How does the investment of Jack Ma last year affect the operation of Lazada?
It did not impact our operations but it affected the strategy and the way we think in our business. Alibaba has been doing this for a long time and they've gained enormous knowledge about how to perform best and how to optimize an e-commerce company.
We have been learning from them and this has reflected in our strategy and the way we think about our business. The things we've learned will continue to have impact in our operations and to optimize our business model.
What are your future endeavors here in the Philippines?
We want the Philippines to be one of the top e-commerce countries in the world. We want to replicate the same success Facebook has had in the country when it comes e-commerce. We have a long way to go but we are very excited about this. Our aim is to not make Lazada the biggest; the aim is to make e-commerce in the Philippines very big, [and] we are working towards this with the help of other industry partners.
How would you describe the way you manage Lazada?
We have a lean management style. We have a very unique way of looking at problems in Lazada. We always try to get people who are good problem solvers. We hire people that are very quantitative and have a very strong ownership of business because we also see them as entrepreneurs.
E-commerce is still in its early days and it requires a lot of entrepreneurial skills not only from us but from all levels of business. This is what we are promoting in Lazada. We give people responsibility based on merit. As people prove themselves, we give them more responsibilities. After that, they will go high up in the organizational chart.
Who are the people you look up to as Lazada's President and CEO?
I look up to successful people in similar fields like Jack Ma and successful long-term leaders in similar companies like the founder of Intel – those people who provide sustainable long-term success.
Describe your typical day at work.
My typical day involves a lot of face-to-face interaction with employees. We have daily meetings where we discuss the problem areas. We also have continuous improvement every day on top of what we've been doing the day before.
The customer is the most important aspect in Lazada. We listen to our customers every day and we spent a considerable amount of time looking at the customer commands to identify the problem areas in the company. Meetings with our partners, merchants and third party marketing partners also take a huge chunk of my day.
Click here for more Business Talk articles.
---
A portion of this article has first appeared in Philippine Primer Magazine May 2017 issue Volume 14 page 38.