GUIDE: Where to Celebrate Father's Day This June
GUIDE: Where to Celebrate Father's Day This June
There are only a few days left before Father's Day, and it can be really difficult to pick out the perfect gift for dad. However, instead of stressing over gift shopping, wrapping papers, and fancy ribbons, why not consider treating him to a fantastic celebration with his loved ones?
Give Dad the gift of a memorable celebration in these premium restaurants and shops where he can kick back, relax, and enjoy the company of his favorite people!
IMAGE from Unsplash
Hotel Okura Manila
If dad is a big foodie who loves savoring mouthwatering Japanese dishes and sweet treats, you might want to bring him to Hotel Okura Manila in Parañaque City where a lavish buffet awaits!
Hotel Okura treats dads this Father's Day with special offerings from its fine dining restaurants, Yawaragi and Yamazato, as well as its pastry boutique shop located inside.
At Yawaragi, located at the 5th floor atrium lobby, you and your family may treat dad to a special all-wagyu buffet, available for Php 3,700++ per head. All dads who will dine at Yawaragi during Father's Day will also receive a complimentary bottle of beer and a Php 500 voucher. This all-wagyu buffet is available during lunch and dinner on June 18 only!
IMAGE from Hotel Okura Manila
However, if you want to celebrate early, you may want to dine at Yamazato which will be offering a Father's Day Teppan Kaiseki until June 18! This Teppan Kaiseki allows you to choose between Saga Wagyu Sirloin, Saga Wagyu Tenderloin, or Crossbreed from Holstain and Japanese beef for the main course.
IMAGE from Hotel Okura Manila
Of course, you may cap off your celebration with sweet and delectable treats from Yawaragi Pastry Boutique which will be offering an exquisite Father's Day collection, starting at Php 390++ only.

IMAGE from Hotel Okura Manila
Pro Tip: Reserve your seats by contacting Hotel Okura Manila at 02-5318-2888 / 0917-842-9067!
Also Read: Hotel Okura Manila in Pasay Offers Luxurious Five-star Hotel Experience to Guests
Santis Delicatessen
Dad is sure to always feel special with Santis Delicatessen in town. It's a great deli shop to buy meats and cheeses for lunch and dinner celebrations or to enjoy an exquisite steak and wine promo that features Certified Angus Beef Porterhouse Steak and Bodega Garzon Tannat Reserva 2020 from Uruguay!
IMAGE from Santis Delicatessen
This bundle is available from June 15 to 19, 2023 in all Santis Delicatessen branches! You may check their list of store locations on their website at www.santis-deli.com/store-locations/.
Also Read: Säntis Deli-Cafe in Silang Cavite: Prime Meats and Premium Dishes in One Place
Kobe Jones
The series of steak celebrations does not end there! Kobe Jones also presents a Father's Day promo for lunch and dinner on June 18, 2023, exclusively for Otosan!
For every single purchase worth Php 6,000 when you dine at Kobe Jones on June 18, dad will receive a Prime Angus New York Strip Steak that comes with a side of wild mushrooms, creamed spinach, and hand-cut fries! It's the perfect gift to spoil dad with premium cut steak during his special day!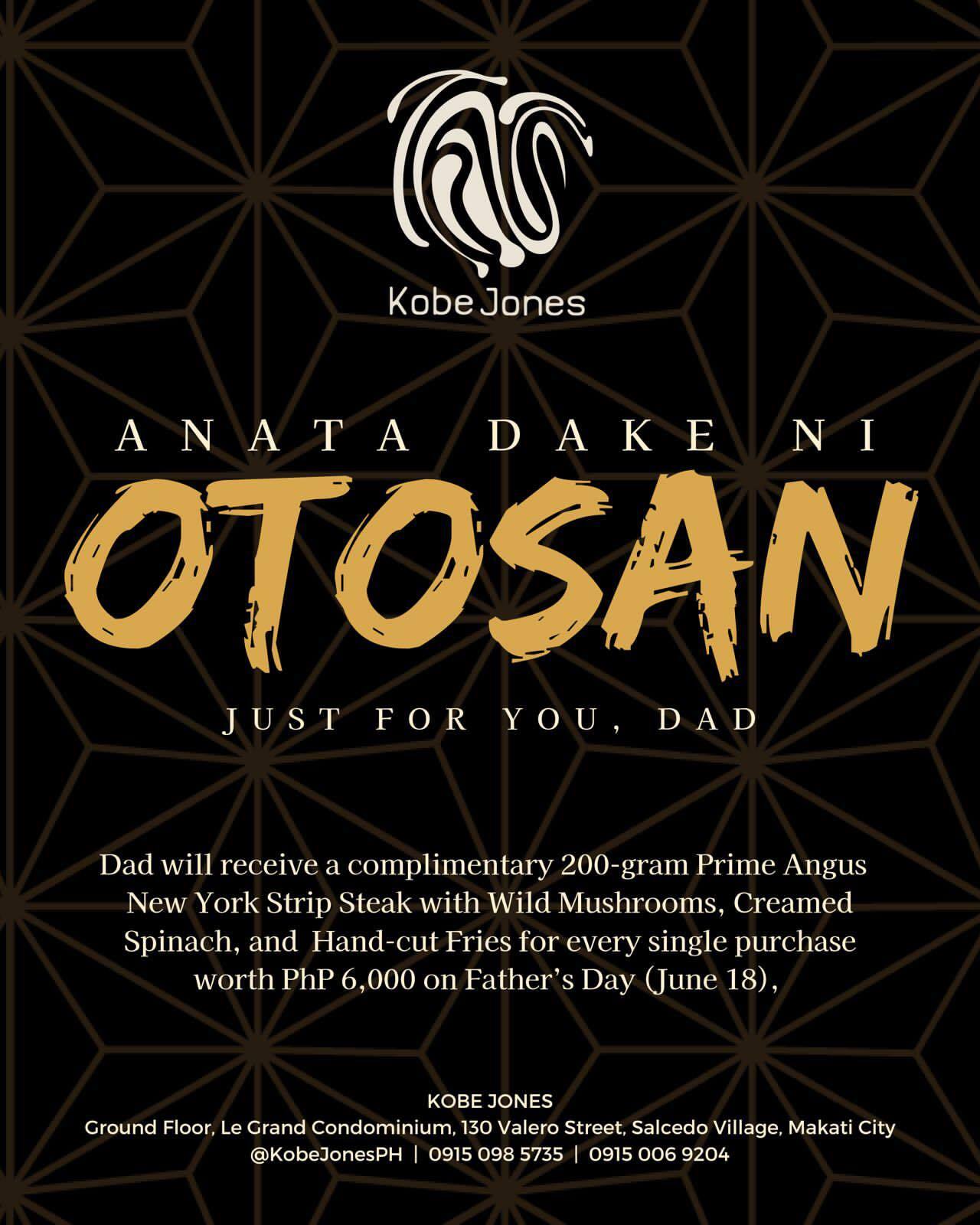 IMAGE from Kobe Jones
Kobe Jones, located at Le Grand Condominium along Valero Street in Salcedo Village, Makati City, is a contemporary, East-meets-West restaurant that serves Japanese and European dishes, which include premium seafood dishes and quality steak that you and your family may enjoy!
Pro Tip: If you have WhatsApp, you may message Kobe Jones directly at 0915-098-5735 or give them a call at 0915-006-9204.
Also Read: Kobe Jones in Makati Combines the Best of the East and West in Fine Dining
Pocky Treats at PICKUP COFFEE
Perhaps one of your most memorable bonding moments with dad include him carrying you on his shoulders or swinging you around in his arms. This loving connection and simple bonding activity is the main feature of Pocky X PICKUP COFFEE #PickMeUpChallenge!
IMAGE from Glico Philippines
You and dad can go to select PICKUP COFFEE branches and get a FREE Pocky when you buy a Babyccino and take a photo of your dad carrying you or vice versa.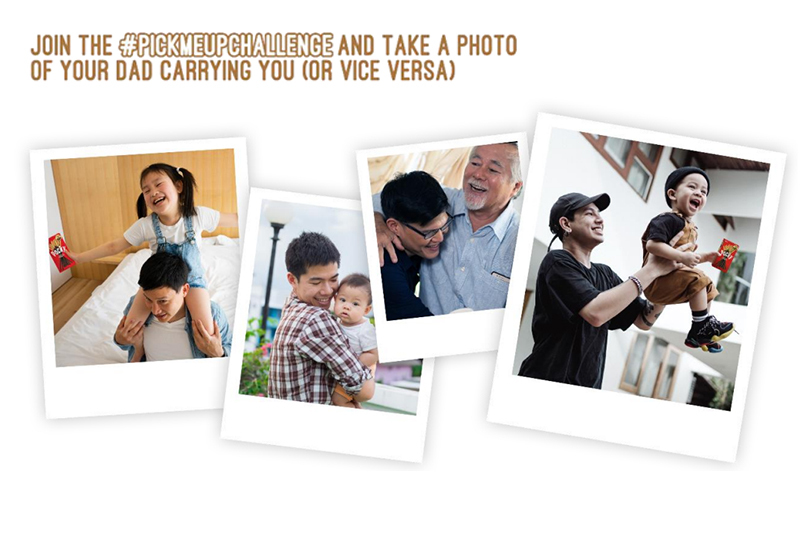 IMAGE from Glico Philippines
If there's no PICKUP COFFEE branch near you, you can also join Jim Bacarro's online promotion on Instagram, where you can upload your photo and get a chance to be one of the 10 winners of an exclusive Pocky X PICKUP COFFEE Father's Day Gift!
To know the PICKUP COFFEE branches that will join the Father's Day celebration, check out our article below on this challenge, which starts from June 11 to 24, 2023!
Also Read: Pocky and PICKUP COFFEE Team up for Father's Day #PickMeUpChallenge
BONUS: Minnano Supermarket 
If you happened to be in Makati near Legaspi Village, you might want to stop by Minnano Supermarket with dad and let him choose among the Japanese grocery's selection of Father's Day gifts!
IMAGE from Minnano Supermarket
From alcoholic beverages like the Ikko Mone and Yonematsu shochu (distilled rice liquor), Mount Fuji and Iwai whisky, a variety of sake (rice wine), to vacuum-packed Sakuranbo Shumai from Sakiyoko-an, Minnano has them all!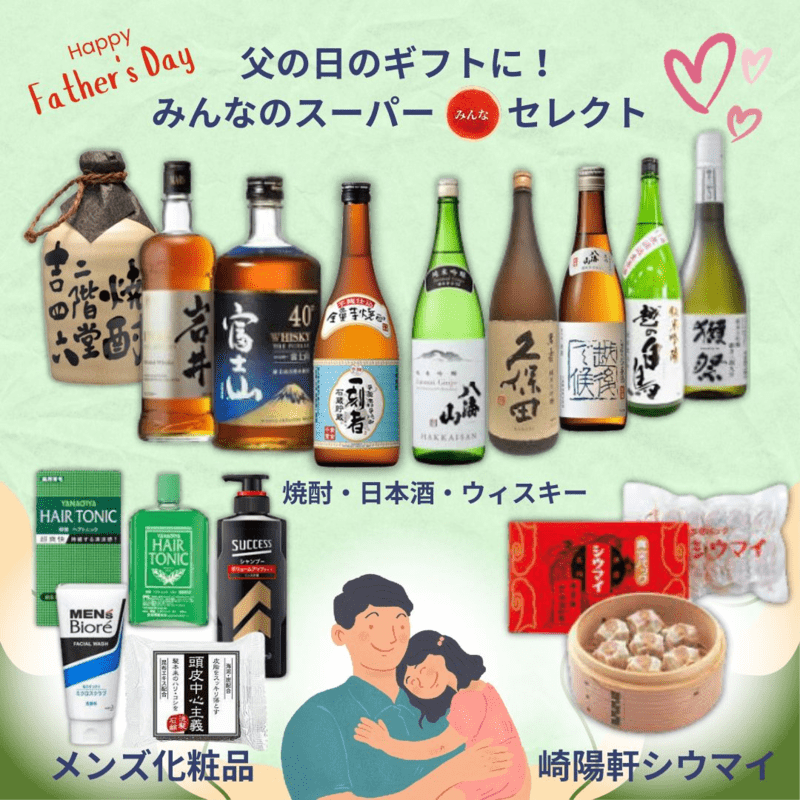 IMAGE from Minnano Supermarket
You can even let dad choose from a variety of shampoo, hair tonic, micro scrubs, and acne foams from prominent brands such as SUCCESS, KIKUBOSHI, YANAGIYA, Biore, and Rosette.
Minnano Supermarket, open from 8:00 a.m. to 8:00 p.m., is located at the 1st floor of Salamin Building, 197 Salcedo Street, Legaspi Village, Makati City. You may reach them at 0966-842-0491 or visit their Facebook page, @msuperph!
Also Read: Minnano Supermarket – Legazpi Village, Makati
Without a doubt, these restaurants and shops will surely bring you a memorable Father's Day celebration this June! So, where are you celebrating among these options? Share with us your thoughts!