Expats' Guide: Rainfall Advisories in the Philippines
Expats' Guide: Rainfall Advisories in the Philippines
Do you know what these color-coded rainfall advisories mean?
The Philippine Atmospheric, Geophysical and Astronomical Services Administration (PAGASA) is a government agency that utilizes scientific knowledge as an effective instrument to insure the safety, well being, and economic security of all the people.
Also read: Tips On How to Survive the Typhoon Season 
During rainy season, Filipinos turn to PAGASA for weather update releases which are immediately disseminated by the television channels and news media sites on the internet. Ever wondered what do those colored symbols you see in infographics on weather reports mean? These are important pieces of information which help citizens be aware of the storms.
PAGASA issues Public Storm Warning Signals that indicate the intensity, the areas that will be affected, and the forecast direction and speed of the tropical storm or typhoon.
Also read: Expats' Guide: Typhoon Signals in the Philippines
Here's an infographic from PAGASA to learn from: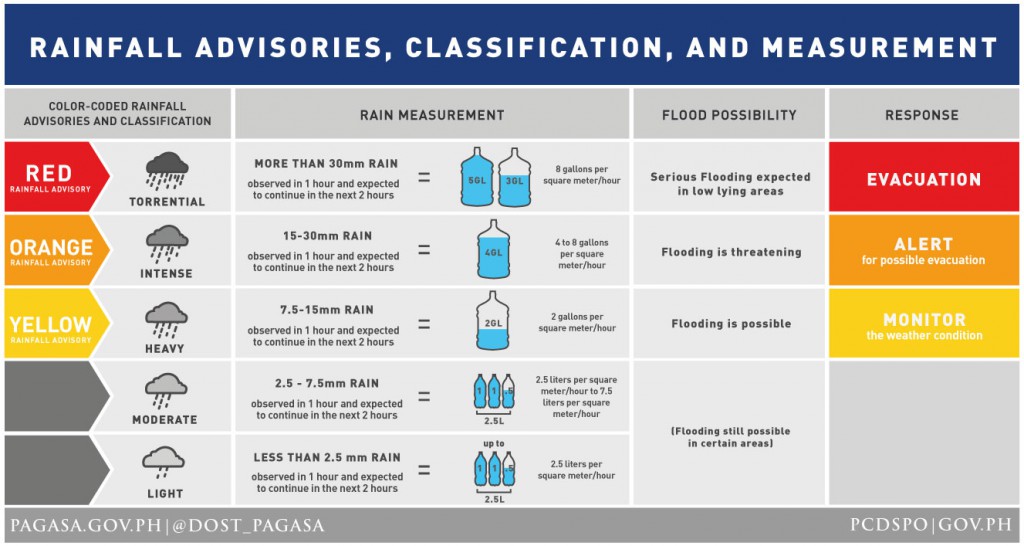 Yellow Rainfall Advisory 
The Yellow rainfall advisory is raised when the expected rainfall amount is between 7.5 mm and 15 mm within one hour and likely to continue. It means that evacuation is not yet needed, but you should keep yourself updated with the weather condition.
Orange Rainfall Advisory
The Orange rainfall advisory is raised in areas where rainfall is between 15 mm and 30 mm within one hour. It automatically means that flood is threatening and evacuation might be possible.
Red Rainfall Advisory
The Red rainfall advisory is raised when observed rainfall is more than 30 mm within one hour or if rainfall has continued for the past three hours and is more than 65 mm. It signifies serious flooding in low lying areas and people living nearby should immediately evacuate.
Be aware and keep yourself updated with these rainfall advisories, this knowledge will definitely come in handy and save you at the right time.  Read more on weather advisories at the PAGASA website. 
Also read: Typhoon Season Must-haves at Home
---
Source: CNN Philippines; Gov.ph