Typhoon Season Must-haves at Home
Typhoon Season Must-haves at Home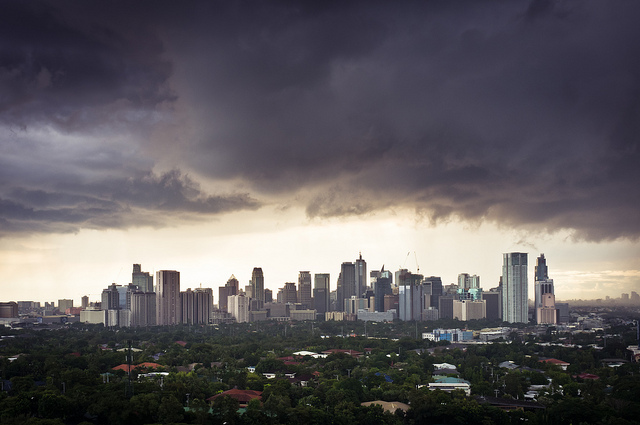 Makati under gray clouds. (Photo by Benson Kua on Flickr)
–
Storms are potentially devastating. Both rural and urban areas experience flooding, power outages, landslides and damages to property, as a result to it. Bleak as it may sound, the Philippines faces this challenge yearly from June to October and slowly entering relapse from November to May. Quite recently, we've had visits from Tropical Storm LINFA (Egay), Typhoon CHAN-HOM (Falcon), and the currently progressing Typhoon NANGKA.
There is no need to sugarcoat: there are those who end up being helpless during the worst times of this season. It could be real tragedy. Yet, the only way to effectively minimize untoward incidents is to have a concrete plan and be well-equipped for any disaster. To help you with that, here's a guide to what you must have at home during the Typhoon Season.
–
Disaster Preparedness Kit
A definite must-have at home is keeping a Disaster Preparedness Kit with the necessary items to survive during the worst case scenarios until possible rescue or as the storms ebb. Pack the following items in a hand-carry bag or backpack:
–
| | |
| --- | --- |
| flashlight | garbage bag |
| batteries | mosquito repellant lotion |
| small transistor radio | portable power bank |
| toilet paper | waterproof case for important documents and gadgets |
| sanitary pads or tampons | basic First Aid kit including medication for fever, pain, coughs and colds |
| diapers for babies | Vitamin C tablets |
| water supply | Povidone Iodine to help purify water |
| blankets | ready-to-eat food (in can or in easy-to-open packs) |
| scissors | children's powdered formula milk |
| rope | raincoats or ponchos |
| pen and paper | a copy of emergency phone numbers to rescue units, preferred hospital, police hotline and the local Baranggay |
–

Adequate Water Supply
You might be boarded up in your houses for a long time, make sure that there is enough stored water supply for flushing toilets, bathing or cleaning the dishes just in case national water services are also affected. A helpful tip, for 15 minutes, leave 30 ml Povidone Iodine and one 50 mg Vitamin C on potentially risky types of water at 150 ml to purify it.
Reserved Fuel and Spare Tires
Stock up on reserved fuel in cans or bottles and make sure that you have your spare tire on your vehicle. You may need to take a long trip to designated evacuation areas or make that quick getaway at the height of disasters.
Sturdy umbrella, Raincoat/Poncho and Rain Boots
Keep the abovementioned items ready in case that you need to get out of the house and wade into flooded streets. Make sure to keep yourself dry despite the weather. Otherwise, it would be terrible to contract diseases such as flu and leptospirosis.
Mosquito Repellants
Speaking of diseases, with the intermittent weather changes from rainy to sunny and back to rainy, expect the increasing risks for Dengue Fever. It is a well-known disease in tropical countries such as the Philippines which can be acquired by mosquito bite. Make sure to have mosquito repellants at home. There are various products in the market that does the work in the form of lotions, sprays, vapors and even plants like the Citronella.
Adding Permanent Storm Shutter for Household Windows
Glass windows have the potential to hurt anyone when they are broken by the wind. Make sure to install storm shutters outside your windows even before this season. Protecting your windows with plywood is also a good alternative. Keep away from these areas of your house for extra pre-caution.
 The Philippine rainy season lasts longer than its polar and only opposite, summer. In general, these typhoon visits are quite predictable for a country close to the Pacific Ocean. The storms are all going to pass but being prepared for it would be a greater idea than being sorry in the future. Keep yourself warm and dry!
–
Article by Michelle Tumanpos