Pokémon Cafe in Nihombashi, Tokyo: A Must-Visit for Pokémon Fans of All Ages!
Opened in March 2018, the Pokémon Cafe at Takashimaya Nihombashi is the world's first permanent Pokémon Cafe. Tucked away on the fifth floor of Takashimaya's East Building, accessible through an exclusive elevator, Pokémon Cafe is a haven for all kids and adults who grew up following every episode and every season of Pokémon.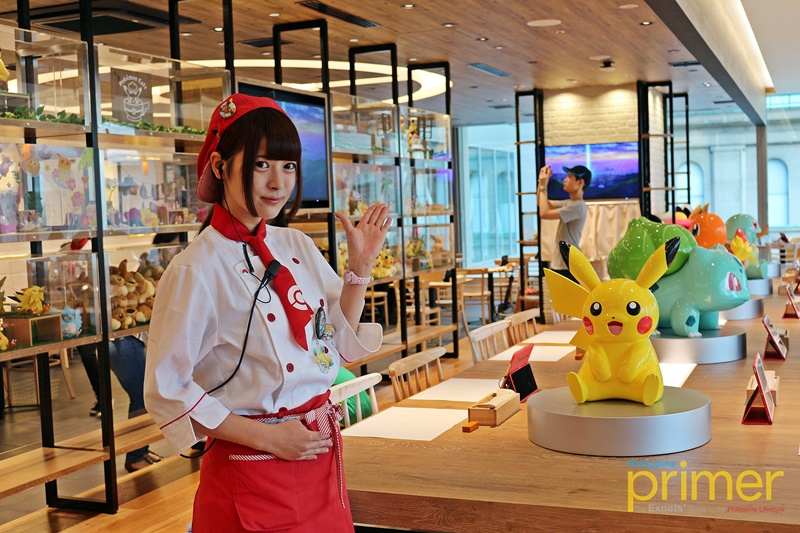 For grown-ups, it is extremely nostalgic and at the same time amazing to find the current generation of children having the same level of excitement for Pokémon. Although the café accommodates a lot of children every day, Pokémon Cafe is no doubt a must-visit for people of all ages—anyone who loves Pokémon!
A piece of heaven for Pokémon lovers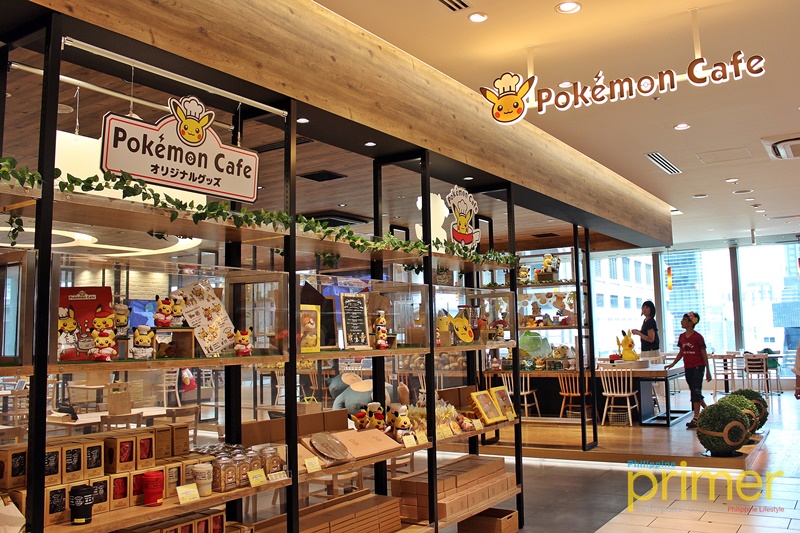 Pokémon Cafe is oozing with youthful energy.
Pokémon Cafe is spacious and vibrant, oozing with youthful energy, sunshine streaming in through the glass walls. Japanese minimalism is at the heart of the design that leaned towards the use of wood. The place is rather simple except for shelves filled with Pokémon toys and memorabilia. Real Pokémon fans would surely not miss the faux plant decor shaped like Poké Balls. There is also a corner with huge stuffed dolls like Pikachu and Eevee.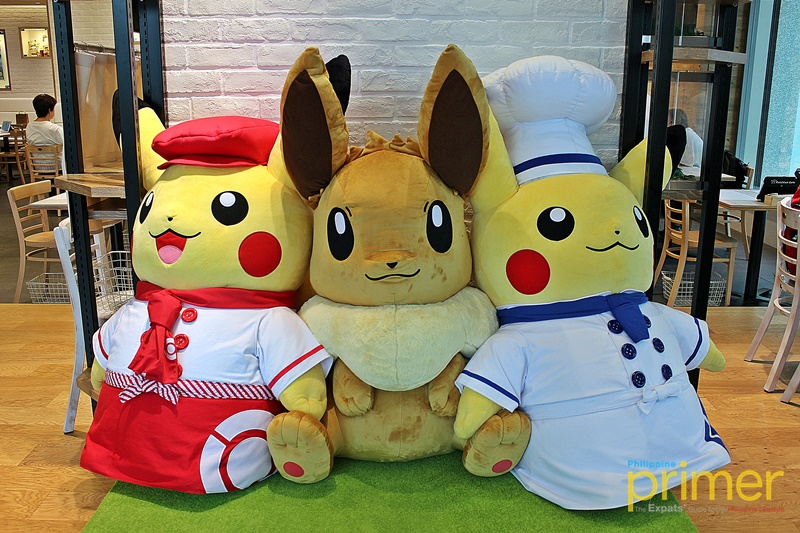 There is a special corner with huge stuffed Pokémon perfect for a photo opp!
Tables are set with paper placemats designed with random Pokémon characters. They have 151 Pokémon characters designed randomly on the placemats—cross fingers you get your favorite one! There is also a tablet computer, used to place your order, on each table. These tablets can be switched to English, and you can easily browse through the list of menu items with photos.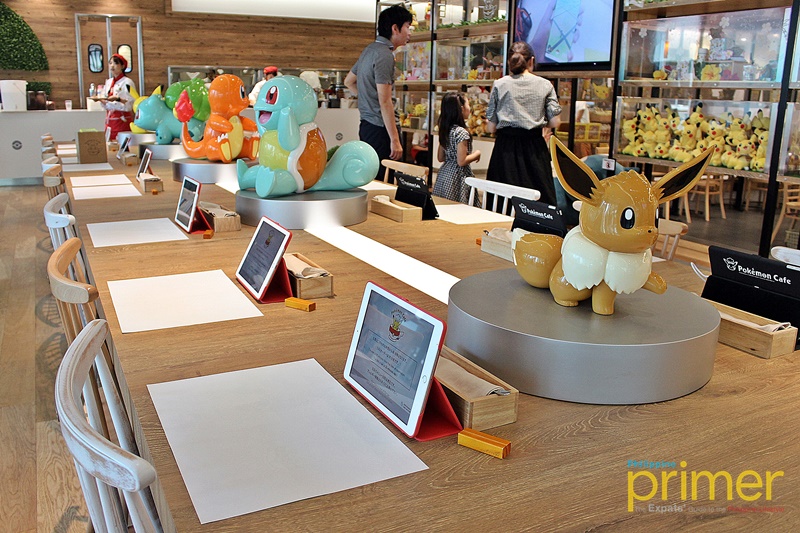 Tablets are used to place orders.
Delicious, picture-perfect food
All of the dishes are kawaii (Japanese for cute) and snapping a photo always precedes getting a bite. Everything is just picture-perfect!
One of the best-selling dishes is Pikachu's Variety Plate which is overloaded with Pikachu cuteness! The dish is composed of a Pikachu-shaped omurice (rice omelet), juicy beef patty, star-shaped hash browns, fried prawn, salad, and Napolitan-style pasta, all neatly placed on a Pikachu plate which will reveal itself once you finish eating.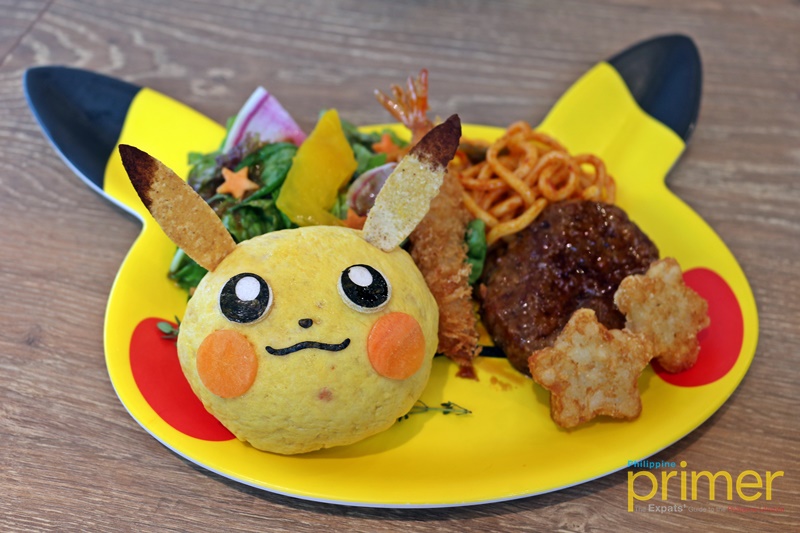 Pikachu's Variety Plate (¥1,706 tax included)
So you seek coffee and think you're a tough grown-up? Wait till you have Pikachu's Hot Caffe Latte, which will surely melt your heart with cuteness. You still get a good caffeine boost in every sip of this creamy and smooth coffee.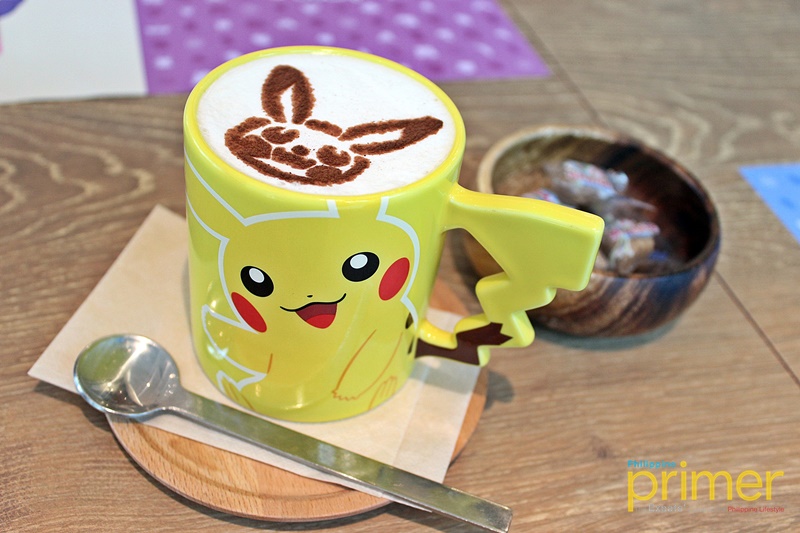 Pikachu's Hot Caffè Latte (¥864 tax included)
For non-coffee drinkers, Gengar's Confuse Ray Smoothie is an amusing choice, with a sweet grape tang that will give you a refreshing zing. The smoothie is served in a glass with Gengar's notorious grin and a beaming red light.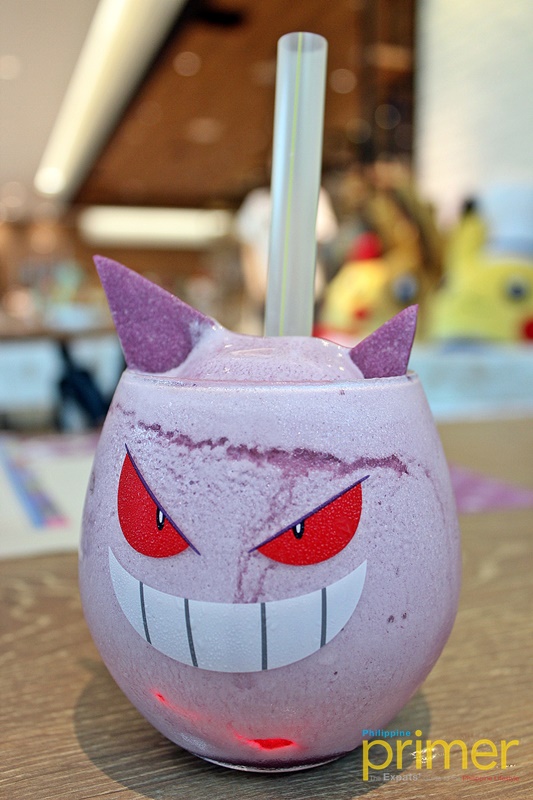 Gengar's Confuse Ray Smoothie (¥864 tax included)
For dessert, swim in Lapras' Marine Wave Parfait made with layers of cream, granola, and refreshing fruit-flavored jelly, topped with an unmistakable Lapras-shaped biscuit. If you are more into some bittersweet decadence like chocolate and coffee, have them both along with some strawberries and cream in Eevee's Sweet Chocolate Parfait (¥1,274).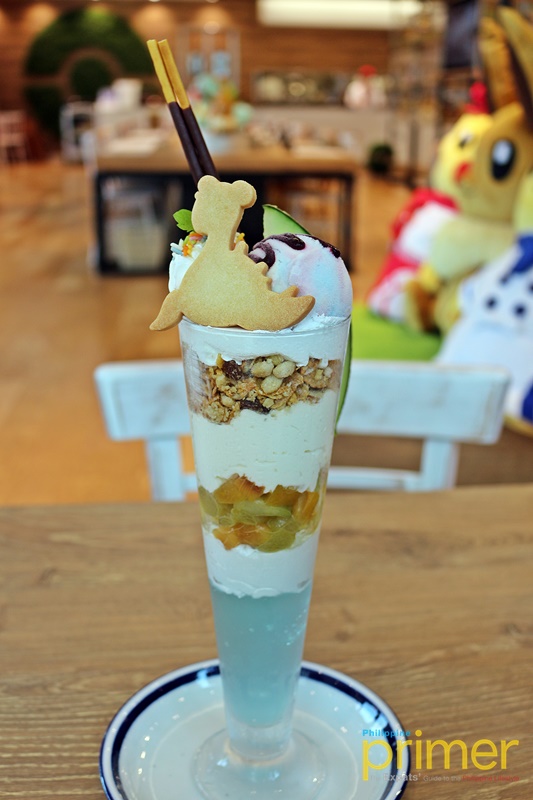 Lapras' Marine Wave Parfait (¥1,274 tax included)
Another fun thing about Pokémon Cafe is that the waitresses are very friendly and engaging. For every drink you order, you will get a random Pokémon coaster (design varies depending on the season). When you order certain drinks like the Berry Shake or Chocolate Shake (¥1,080), the waitresses also stand by your side and teach you how to mix them.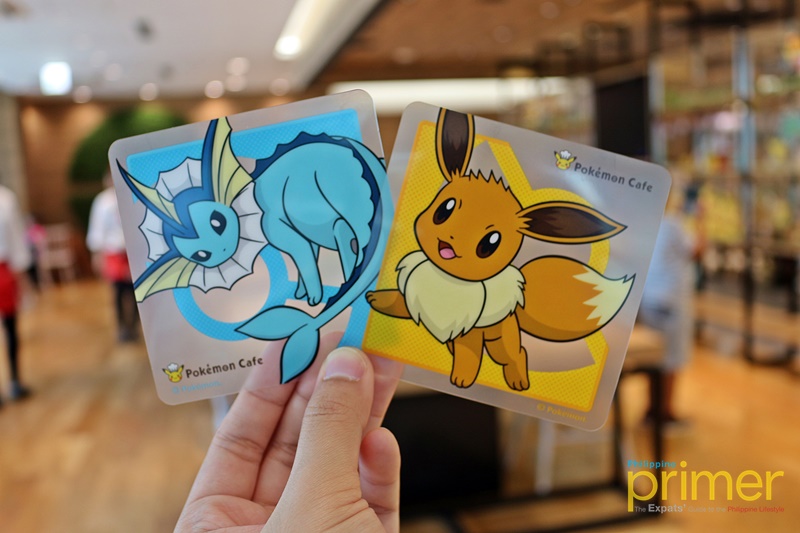 Get a free Pokémon coaster with every drink you order!
Occasionally, on a random schedule, Pikachu also appears to surprise and entertain the customers.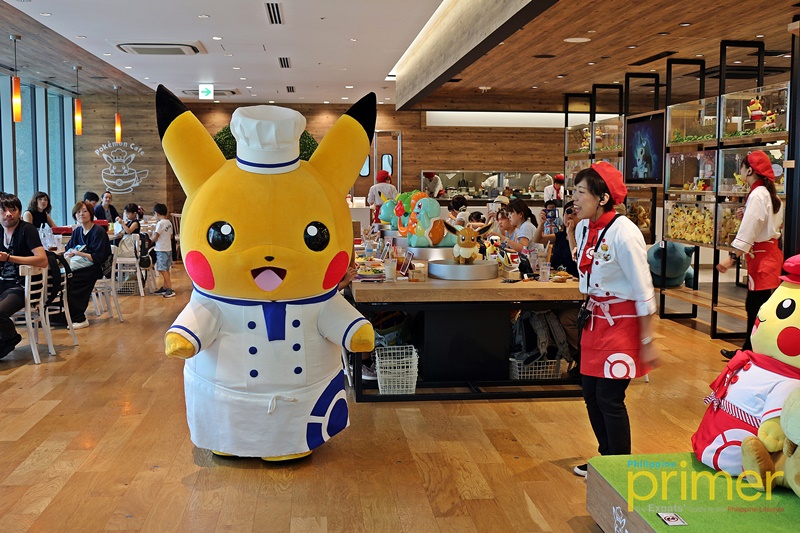 Pikachu appears every now and then to put a smile in everyone's face.
Slots fill up fast!
For fans who wish to take home something to remind them of the remarkable Pokémon Cafe experience, there are various exclusive items available at the cafe, like mugs, plush dolls, and tote bags. Additional exclusive merchandise is also available to purchase as you make your online reservation at reserve.pokemon-cafe.jp.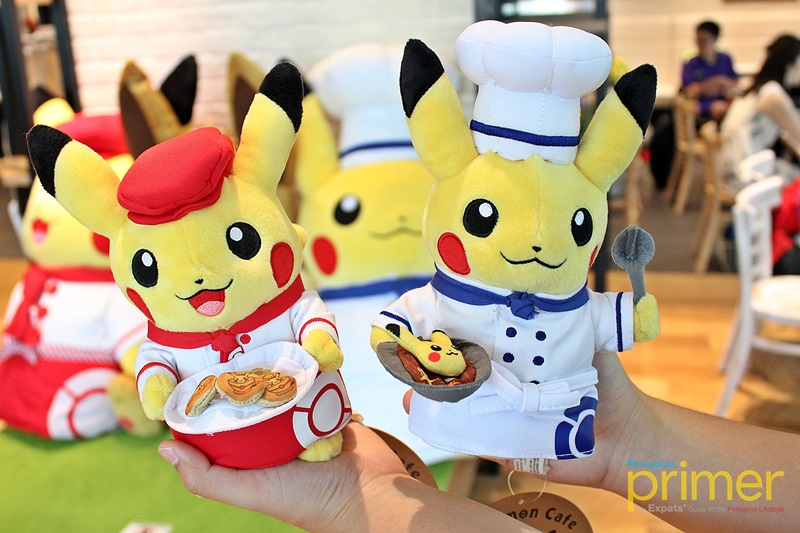 Waitress Pikachu and Chef Pikachu plush dolls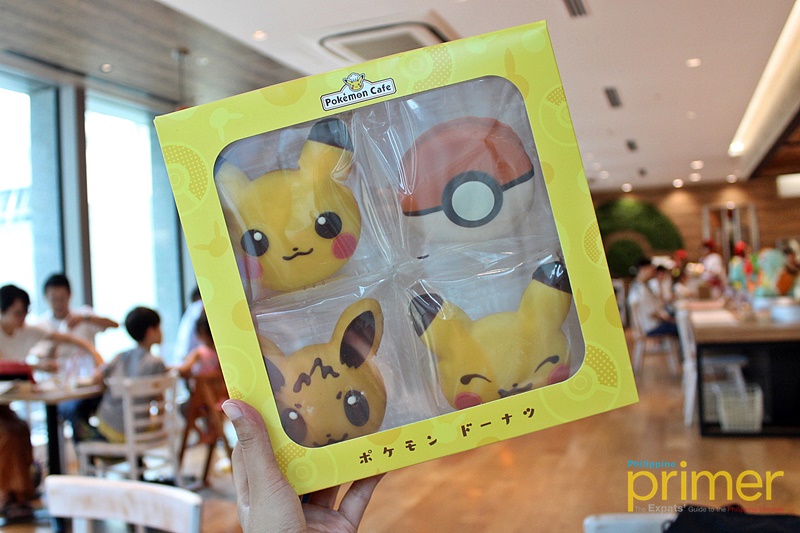 Pokémon Donuts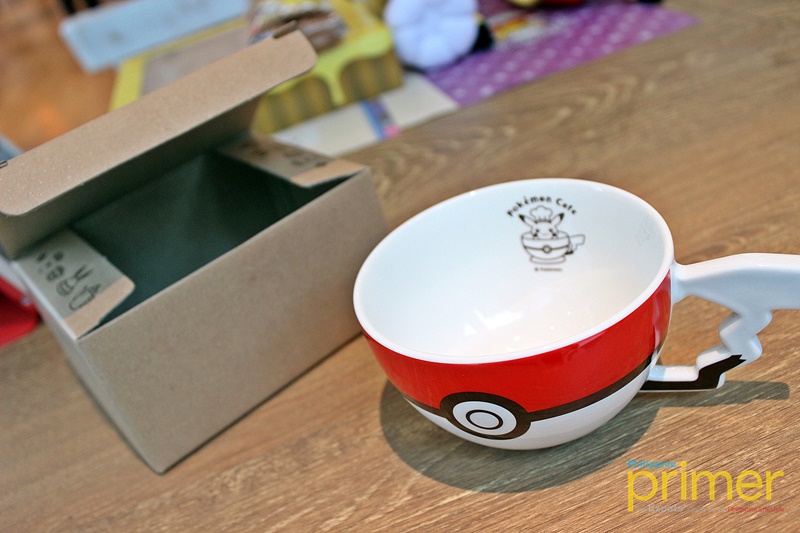 Poké Ball Mug
Many people are eager to experience Pokémon Cafe, and the cafe is almost always filled with people. It is highly recommended to make a reservation on their website, and slots fill up fast so make sure to book a table one month prior to your planned visit.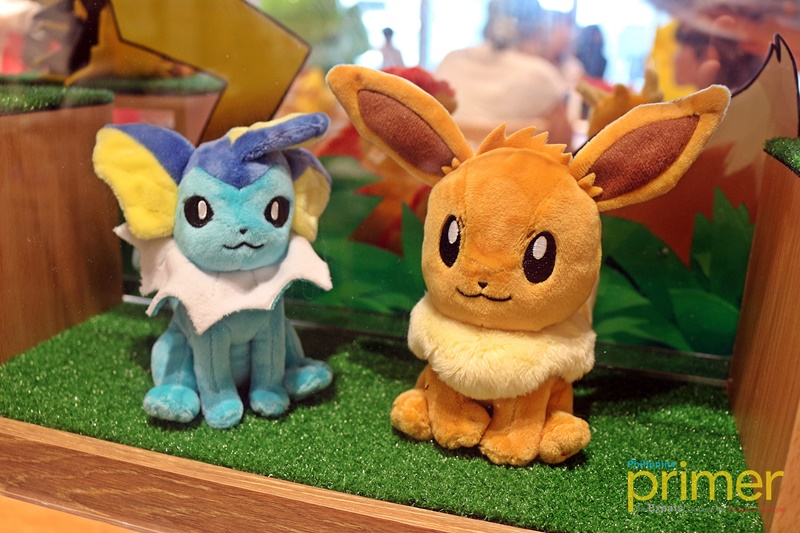 Vaporeon and Eevee plush toys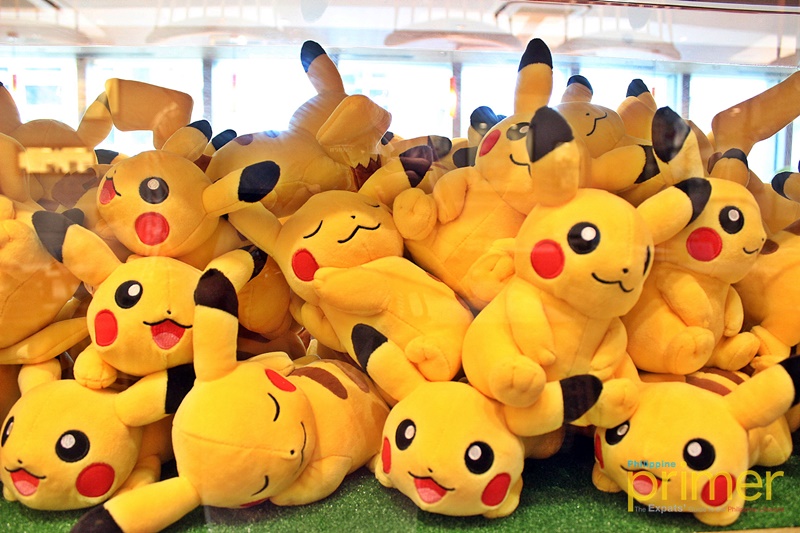 A bunch of Pikachus!
Finding Pokémon Cafe
Pokémon Cafe shares the East Building's fifth floor with Pokémon Center Tokyo DX, which is the largest Pokémon Center in Japan when combined with Pokémon Cafe. The center is a treasure trove of Pokémon collectibles. There is even an interactive touch-screen Pokédex that is also available in English. Diehard Pokémon fans better save up and get their wallets ready because there is a lot to find at the Tokyo DX!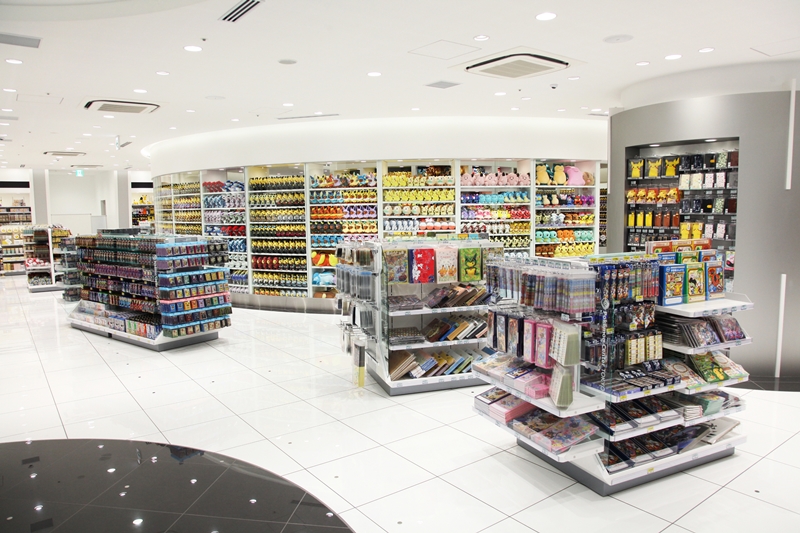 Pokémon Center Tokyo DX has a large collection of Pokémon merchandise. /IMAGE Courtesy of Pokémon Center Tokyo DX
Pokémon Center Tokyo DX has high-tech, interactive facilities. /IMAGE Courtesy of Pokémon Center Tokyo DX
Pokémon Cafe is just a three to five-minute walk from Nihombashi Station or a 10-minute walk from Tokyo Station. From Shibuya Station, Nihombashi Station is 10 train stops away, which takes about 20 minutes.
---
Written by Rei Leaño
This first appeared in Philippine Primer English magazine's Vol. 31 – October issue. 
General Information
5/F East Bldg., Nihombashi Takashimaya Shopping Center, 2-11-2 Nihombashi, Chuo-ku, Tokyo
+813-6262-3439
10:30 am to 10 pm (Last order: food & sweets at 9 pm, drinks at 9:30 pm)
cash, major credit cards