Chef Christina Elevates Southeast Asian Food with a Pinoy Twist at Sunae Asian Cantina
Nestled at the heart of urban Bonifacio Global City lies Sunae Asian Cantina, an up-and-coming, Asian-inspired restaurant which offers fresh, creative take on classic Southeast Asian staples such as curries, beef rendang, and sisig. Behind the scenes, Sunae's team of talented chefs work their magic on the ingredients, transforming them into stunning dishes that brings smile and excitement to would-be diners. With Filipino flavors as its core, Sunae's offers a delightful, fresh ala carte and cocktail menu to those looking for elevated Southeast Asian cuisine. Helming this restaurant is Christina Sunae, a Korean-American chef based in Argentina with a Filipino heart.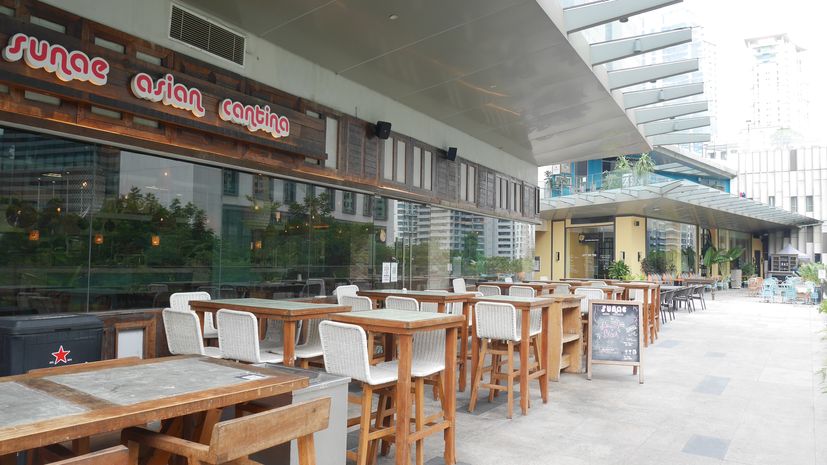 Asian Puertas Cerrada
Chef Christina spent her childhood in Pampanga under the loving care of Apu Nena, her Filipina grandmother. During these years, she has also developed a penchant for Filipino food in the so-called culinary capital of the Philippines. "Sometimes, people get confused. Though I was born in the U.S., my ways and culture are very Filipino because I grew up in a Filipino household," she added.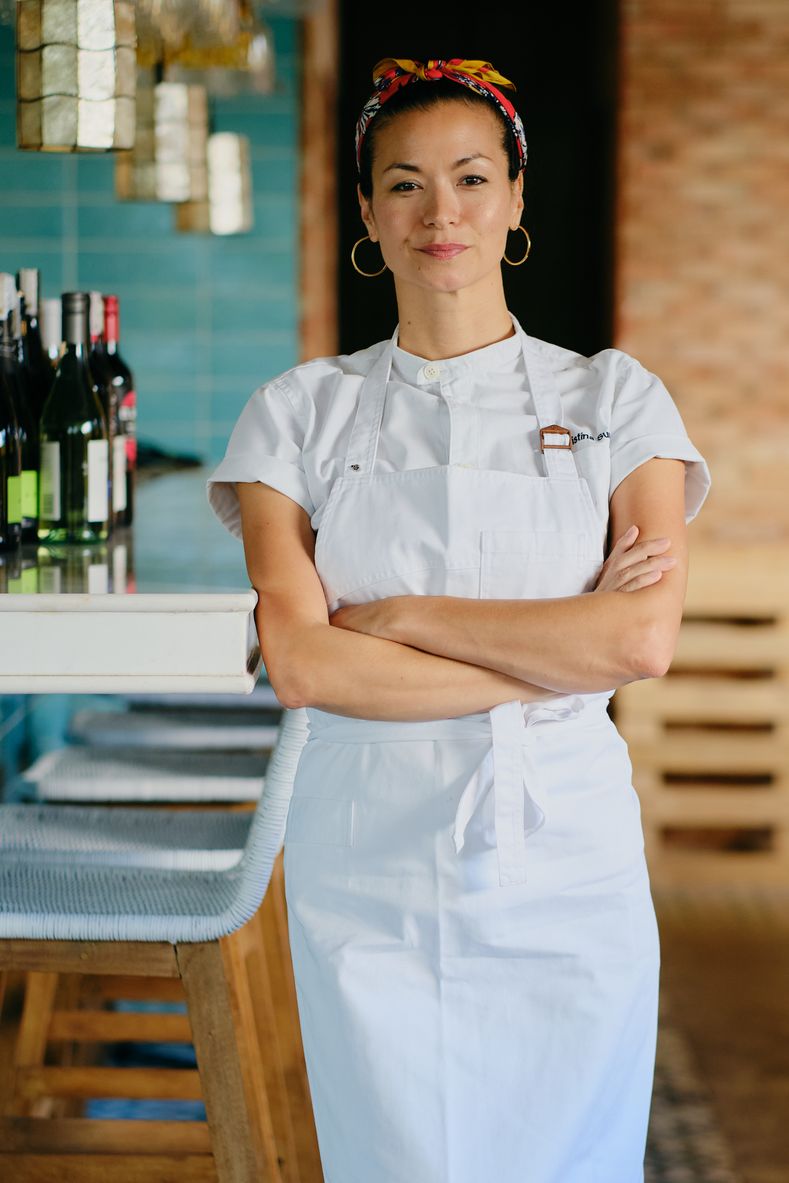 She soon moved to the U.S., where she started her culinary career after discovering her love for cooking. While her 14-year-old friends spent their free time playing together, Chef Christina was working as front of the house in a restaurant, moving on to other positions in the kitchen not long after. Eventually, she moved to Argentina, where she opened her very own closed-door eatery (puertas cerrada). For six and a half years, she'd try and experiment with different recipes, ideas, and concepts to further her skills.
Through hard work and dedication, she eventually found success when her puertas cerrada became a favorite among locals and tourists alike. From 25 covers/night in her humble home, it grew to 75 covers/night at her very first brick-and-mortar restaurant in Buenos Aires: Suane Asian Cantina.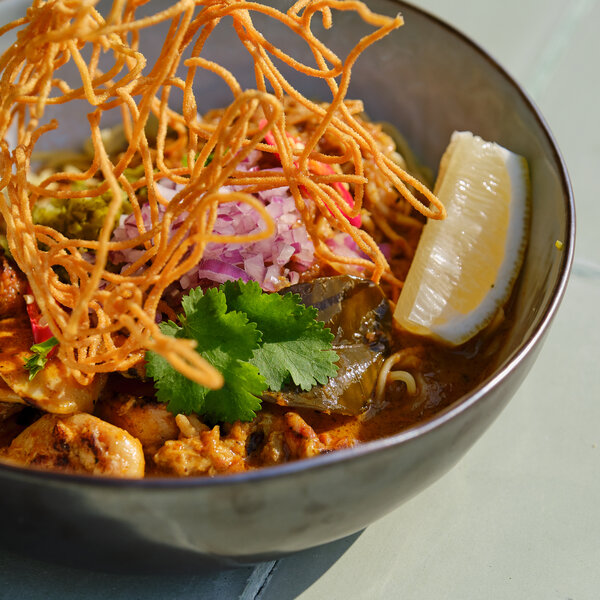 Khao Soi: curry with chicken and egg noodles, topped with mustard greens, red onions, fresh chilis, and crispy noodles
Using Filipino and other Southeast Asian flavors as the basis of her cooking, Chef Christina expertly transforms local meat, fruits, vegetables, and aromatics into Asian dishes with subtle Latin American influences. This proved to be a winning combination, as Sunae Asian Cantina became more and more popular in the local dining scene. "Sometimes, we import items such as fish sauce and rice noodles such as sotanghon. For the rest, we use local ingredients. For example, we make mee krob, a traditional Thai noodle dish, we add sweetbreads—a delicacy here in Argentina—as protein," she explained.
Coming Full Circle
In March 2020, with the support and backing of Nikkei Group president and restaurateur Carlo Lorenzana, Chef Christina brought Sunae Asian Cantina from Buenos Aires to BGC.
When asked how she developed the menu for this branch, Chef Christina shared that she has made adjustments to the dishes she's been cooking in Argentina to make them more appealing to the local crowd.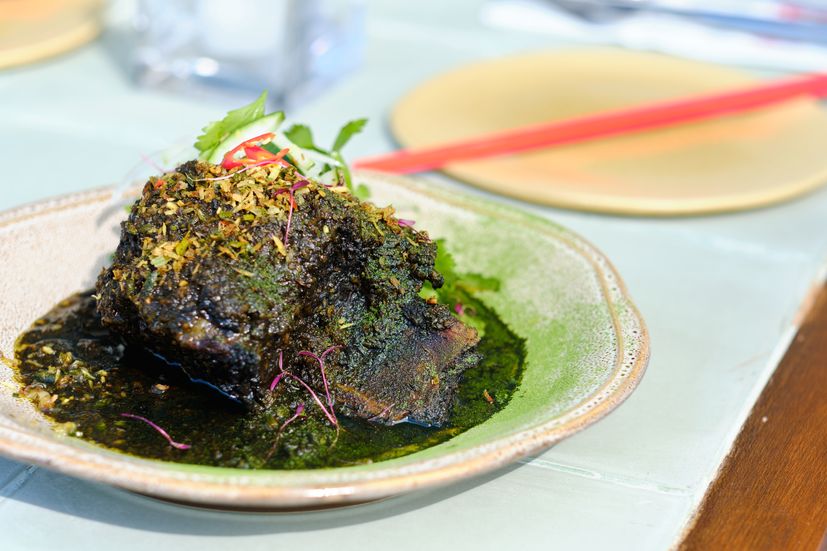 Burnt coconut curry: Braised beef ribs in burnt coconut sauce with lemon grass, turmeric, ginger, and other aromatics
Unfortunately, not long after, the Philippines went into lockdown in the government's attempt to curb the spread of the COVID-19 virus in the country. But ever since the relaxation of local health protocols, the restaurant has been seeing more and more customers coming to try their specialties.
"When you're eating, you're sharing. That's part of the Filipino way, and I hope we can project that at Sunae Asian Cantina. After all, our food stems from emotions certain dishes make us feel," the half-Korean, half-American chef said.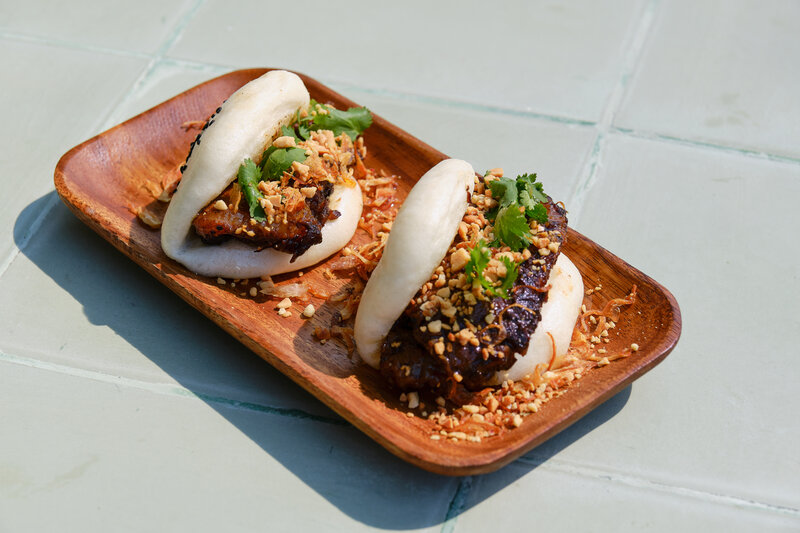 Rendang pao: beef brisket in steamed buns with aioli, peanuts, cilantro, and chili
GENERAL INFORMATION
Address: 28th Street 2nd Floor View Deck One Bonifacio High Street Mall PSE Tower, Taguig, Metro Manila
Business hours: 12 nn – 12 p.m. (Sun-Thu) / 12 nn – 2 a.m. (Fri-Sat)
Contact number: 0916-607-4903 / 0956-469-2863 / (02) 774 9046
Facebook: sunaeasiancantinaph
Instagram: sunaeasiancantinaph
Email: phsunae@gmail.com
Store Information