Café Fleur in Pampanga Serves Filipino Dishes with a Twist
If you think that everyday homemade Filipino dishes could not be of gourmet quality, Café Fleur in Angeles City, Pampanga will prove you wrong. This amazing cafe offers avant-garde Kapampangan dishes that will surely capture your heart.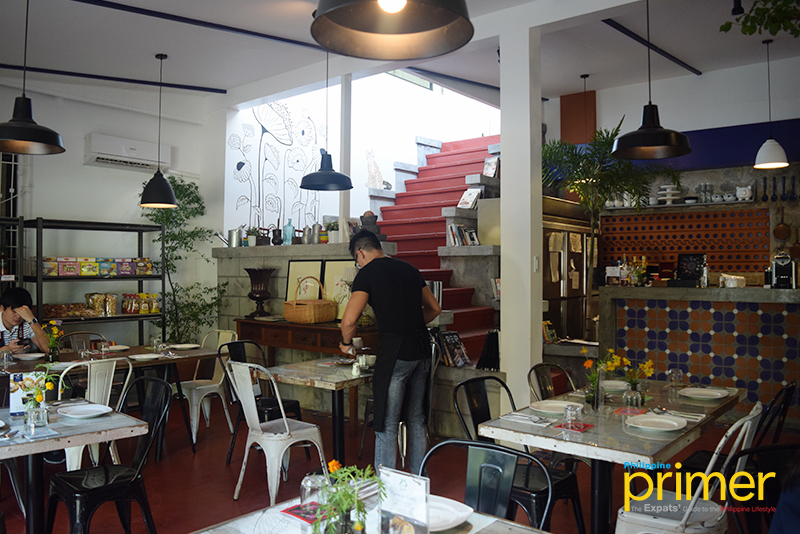 Café Fleur is located inside a traditional ancestral house that celebrates everything the city represents
From Celebrity Chef Sau del Rosario comes Kapampangan delicacies crafted using techniques and twists to create deconstructed dishes. As the culinary capital of the Philippines, Pampanga is the home to many iconic Filipino dishes such as Kare-Kare and Tamales Café Fleur.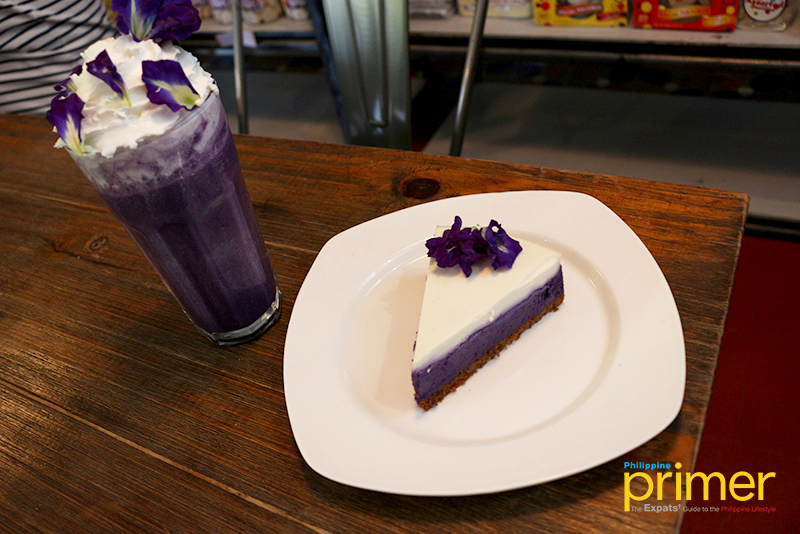 Ube Macapuno Cheesecake (Php 175) and Ube Macapuno (Php 175) made from organic ingredients and flowers from their own backyard
What puts the 'fleur' in Café Fleur is Chef Sau's use of local ingredients, market-fresh meat, and most importantly, their garden-grown edible flowers and vegetables. Their favorites are the Butterfly Pea flower and the Lemon Gem marigold that are almost always used as a garnish in their dishes.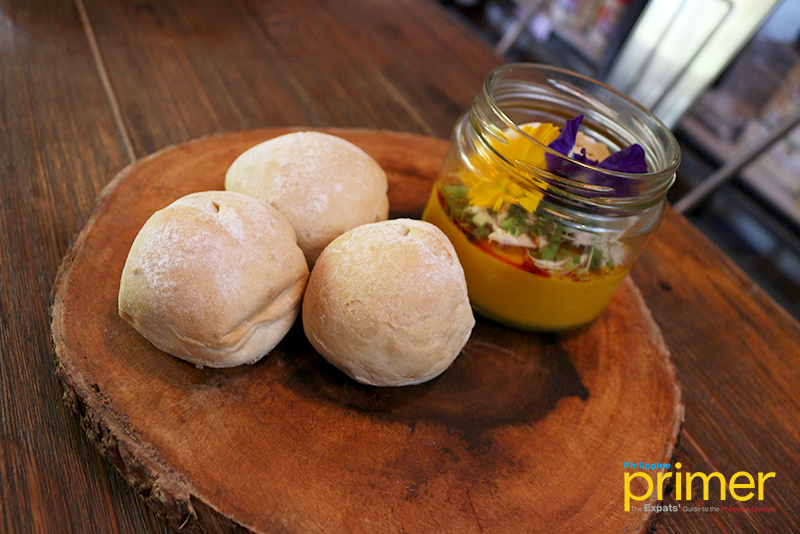 Tamales Café Fleur (Php 275) becomes a gourmet dish paired with pandesal bread
Tamales is a Mexican-inspired rice flour delicacy that Filipinos have adapted and is commonly seen being sold by street peddlers. With this in mind, they have the Tamales Cafe Fleur (Php 275), which is their modern take on the snack.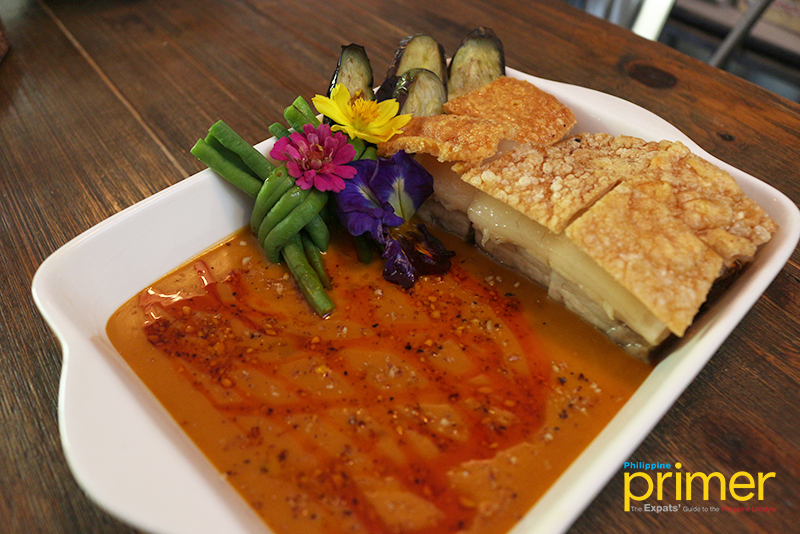 Crispy Pork Belly Truffled Macadamia Kare-Kare (Php 445) is a deconstructed dish that is also a twist on the local stew
Café Fleur's Kare-Kare (Php 445) includes a very creamy truffle macadamia sauce, soft boiled vegetables, and crispy pork belly cuts in a meal that is exciting to eat as it is to look at. The macadamia serves as a great switch to the usual peanut sauce used on the dish.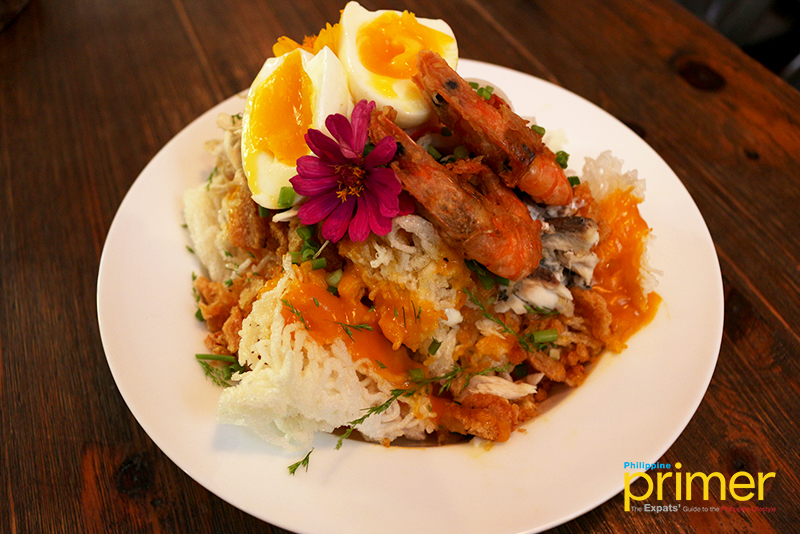 Watching crisp noodles melt under a hot sauce will make anyone crave for the Crispy Pancit Luglug (Php 295)
The café takes it a step further with their own version of the Filipino favorite, pancit luglug—Crispy Pancit Luglug (Php 295) boasts fried rice noodles softly melting under the hot shrimp paste. This special dish is topped with chicharon and vegetables for that extra texture to a savory dish.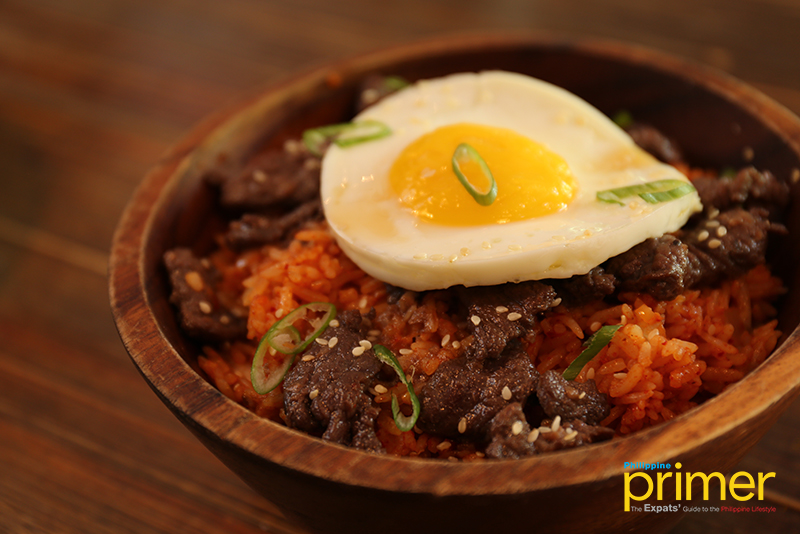 Start your day with the Kimchi Tapa Fried Rice with Fried Egg (Php 255) available from Café Fleur's breakfast menu
Deconstructions, twists, and now a fusion of two Asian dishes in one bowl is the Kimchi Tapa Fried Rice with Fried Egg (Php 255). Feel the flavor of the kimchi slowly building as you continue on to work on the dish. Pair this with either the Kape Batirol (Php 175) or the Macchiato (Php 125) for the needed energy to start the day.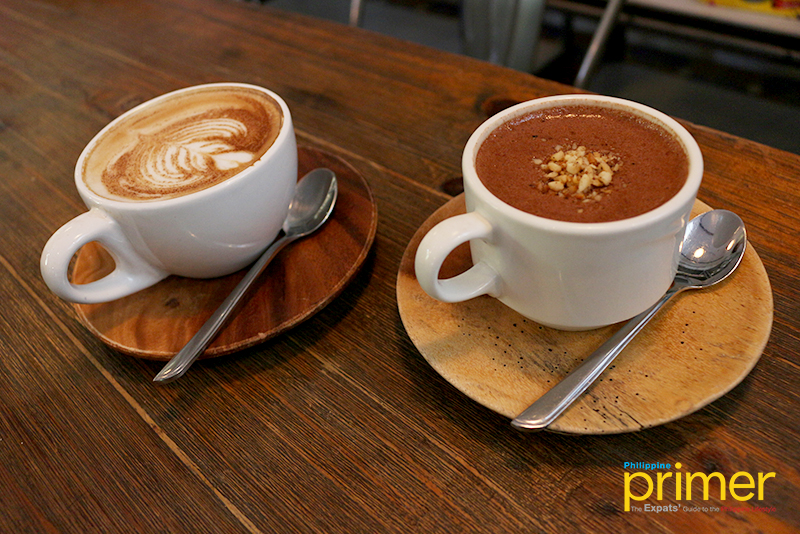 Try their milky Macchiato (Php 125; left) or their Kape Batirol's (Php 175; right) chocolatey coffee for an early morning pick-me-up
Chef Sau is also known to use ancestral houses for his restaurants to preserve and create a down-to-earth atmosphere. Café Fleur's interior is very comfortable enough to make it feel like home. The café is located in the same house as its sister restaurant, 25 Seeds.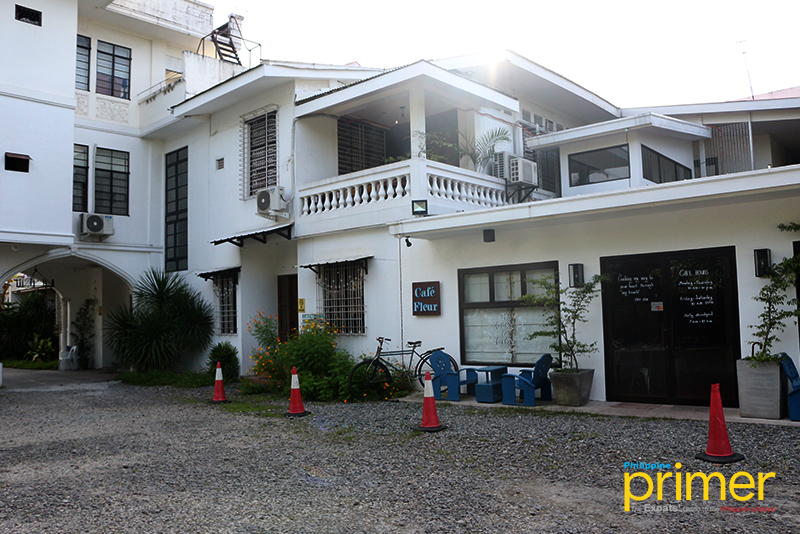 Come to Café Fleur to explore Kapampangan delicacies 
While tasting the original flavors of classic Kapampangan dishes is perfect, the unique twists that Cafe Fleur can offer will open you to a new side of Pampanga. Come inside and try authentic Filipino dishes that make you feel like home!
---
This also appears on Philippine Primer Japanese Magazine's November 2018 issue.
General Information
The Garden, Dycaico Ancestral House, Sto. Rosario St., Angeles City, Pampanga
0995-313-8413
Breakfast: 7 a.m. to 10 a.m., Monday to Thursday, Sunday: 11 a.m. to 10 p.m.; Friday and Saturday: 11 a.m. to 11 p.m.