Picked Cafe—Handpicked coffee beans and more
The café for coffee devotees and connoisseurs, Picked Café satisfies even the picky urban coffee drinkers as the people behind it carefully handpick the coffee beans they use in the coffee they serve. Picked Cafe, perhaps the only coffee shop present along Muntinlupa Highway, boasts of its authentic coffee drinks brewed fresh from premium and straight-from-the-farm coffee beans.
This new cafe, established July this year, was actually an offshoot of the family's original business—coffee distribution. Having been to different places, owner Cherry Cruz has tasted many different kinds of coffee and identified the distinctness of each. Picked Cafe, then, was supposed to be only a showroom of the different coffee products that their family business offers. Little did they know that their humble coffee shop would prove to be popular among local and visiting customers.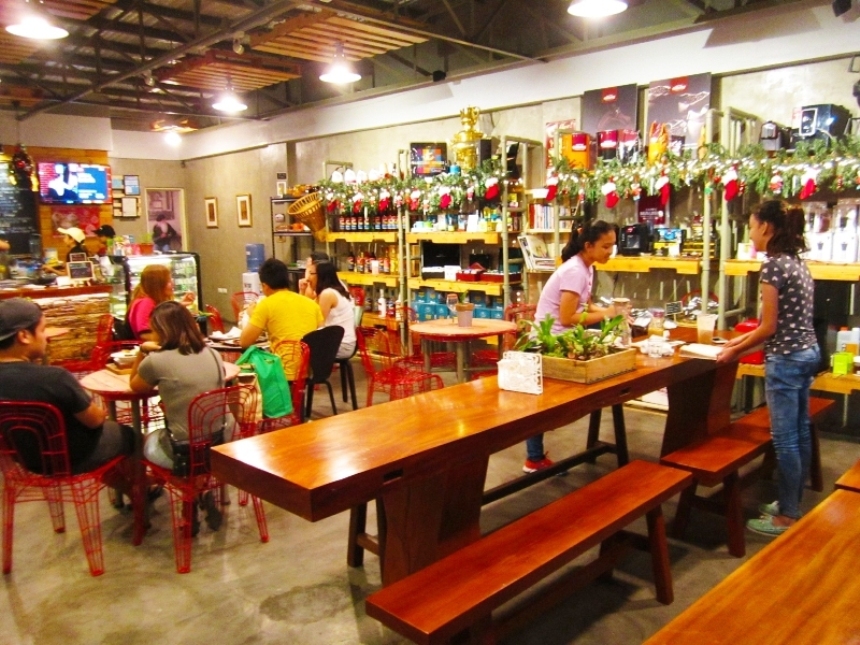 COZY IN THE SOUTH. The interior of the cafe is designed after a warehouse, yet it still emits a comfortable, rustic atmosphere.
The unsuspecting passerby may miss the cafe with its unassuming facade. Yet, as one enters the cafe, a homey feeling suddenly washes over him or her. At one side of the room, photos of the coffee farmers and the coffee beans they picked are hung. On the other side are shelves where different coffee-related products such as coffee beans and coffee-makers are displayed.
There are also bookshelves labeled "Peek-A-Book," from which customers can pick a book to read, making the café a perfect place too for those who want a quiet nook to read a book while sipping their coffee. In another corner is a small area for kids, where children can play as their parents savor their coffee. These little but thoughtful features add to the relaxing and unique atmosphere that Picked Cafe offers.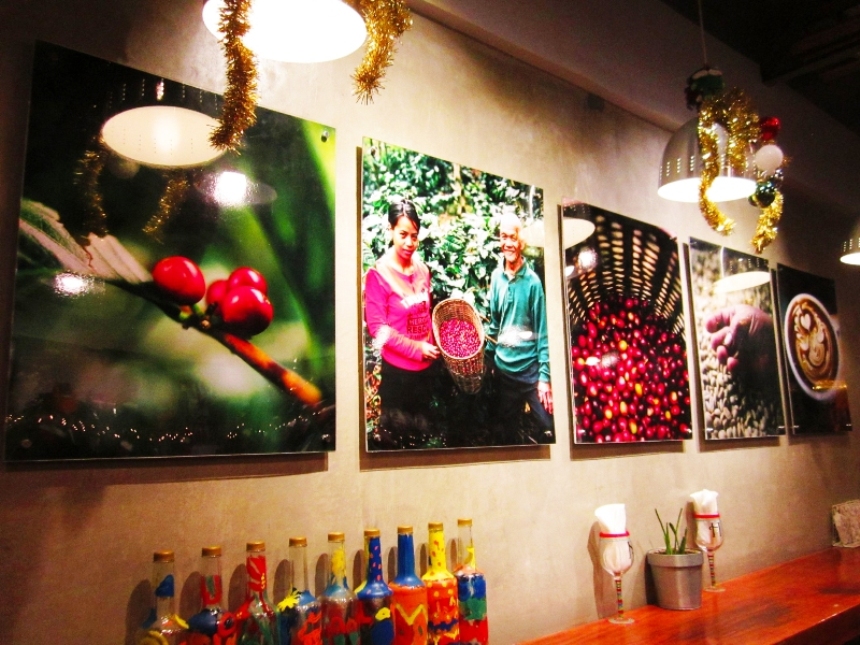 FRESH AND PREMIUM. With these photos displayed on the wall, customers feel assured that what they're drinking is fresh from the farm.
PEEK-A-BOOK! Customers are welcome to pick a book from this shelf as they wait for their order or drink their coffee.
Because their beans are their own, their coffee drinks are both top-grade and affordable, a rarity nowadays! A cup of espresso is only P40. For people who love the combination of bitter and sweet in a hot drink, Primer recommends their Dark Mocha (P90). Those who prefer blended drinks will surely love their Wild Tribe Caramel (P110), a generous serving of Frappuccino topped with almond slices. However, if you are a true-blue coffee lover who craves for an authentic, straightforward coffee experience, Primer recommends their Pour Over Single Origin (P210). Here, instead of brewing in a machine, hot water is poured directly onto the ground coffee beans and straight into a pot, so that you have an "instant" pot of fresh coffee.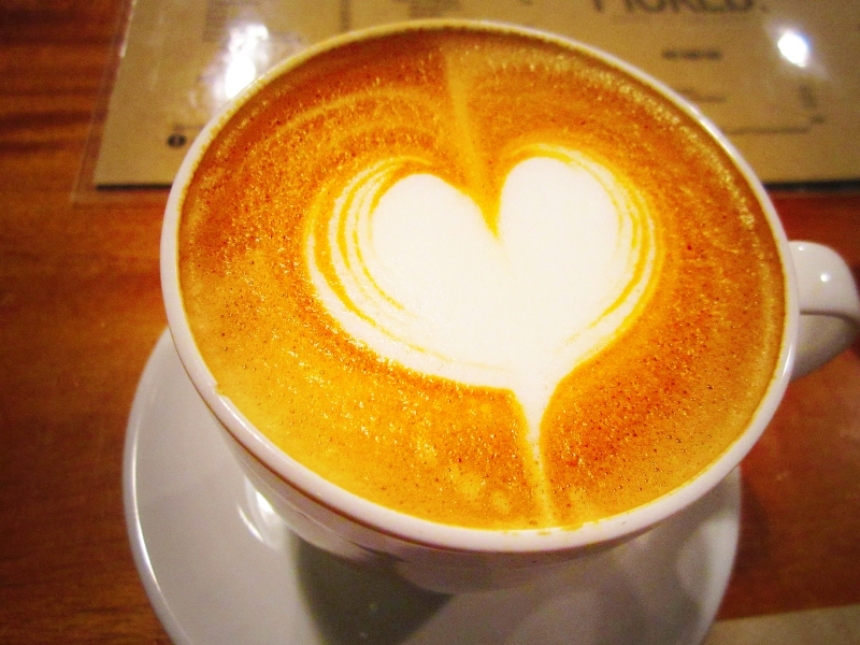 A BITTERSWEET TREAT. What makes Dark Mocha delectable is the perfect balance of sweet and bitter flavors.
POUR OVER IS THE NEW "INSTANT." This is a must-try for those who love a tangy, strong taste to their coffee.
Picked Cafe also has its own bestselling sandwiches, such as the Tuna Sandwich (P180) and the Black Burger (P250). Don't fret as the latter's dark color is made possible by squid ink. This tasty, unique-looking sandwich, big enough to satisfy two people, has a thick, tender, and juicy beef patty—a truly filling treat for hungry tummies! And instead of traditional potatoes, their fries are made of kamote (sweet potatoes), which surprisingly taste good and are healthier than the traditional French fries.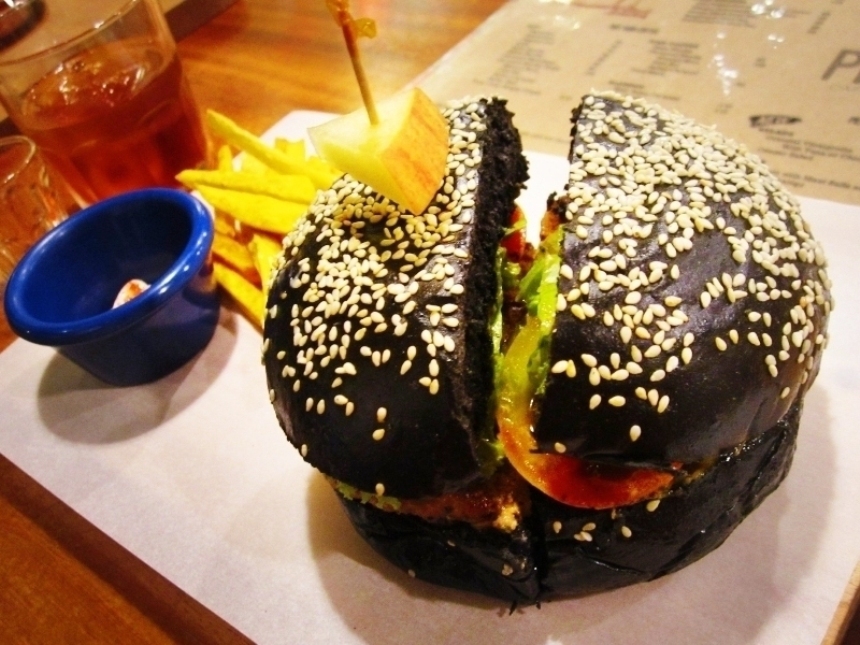 BLACK IS IN. Nope, this burger is not burned. It's squid ink!
If you're headed to the south of Manila, don't miss the chance to visit Picked Cafe. This place proves that great cafes can also be found in small towns and laidback cities!
ADDRESS: The Place Bldg. Nat'l Hi-Way Brgy. Tunasan, Muntinlupa City, Philippines 1773
LANDLINE: (02) 553-4344
OPERATING HOURS: Mon-Fri, 9am-10pm; Sat-Sun, 9am-11pm
E-MAIL: picked@equilibrium.com.ph
FACEBOOK: https://www.facebook.com/PickedCafeandGallery2015/
INSTAGRAM: /pickedcafeandgallery
Article by Jhoanne Kristine Vinuya
Photos by Jhoanne Kristine Vinuya and Shara Dyan Escobido