Coffee Syndicate in Alabang: The Brain-Child of Coffee Enthusiasts
The South may be an underrated part of Metro Manila, but it's changing these days with all the restaurants and cafes popping all over the place.
One of which is Coffee Syndicate, a brain-child of five coffee enthusiasts. It was established August last year at Commercenter, Alabang, Muntinlupa City.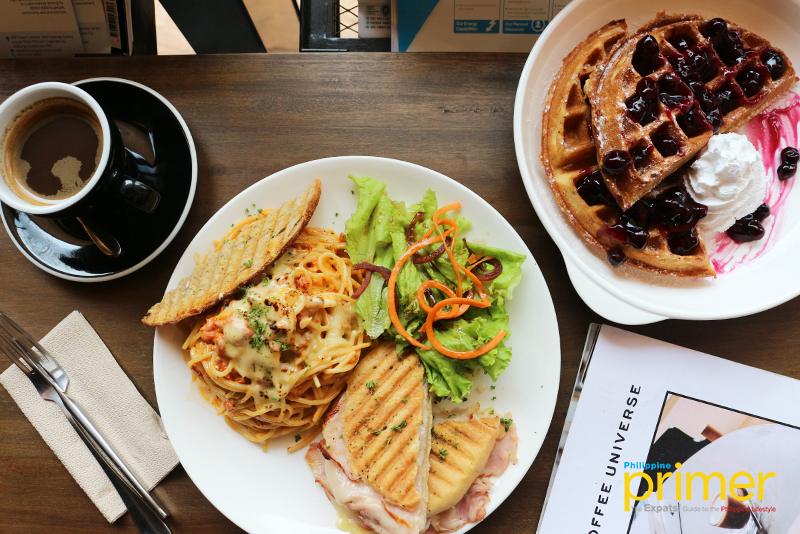 Coffee Syndicate is a random idea by the same people behind Coffee Culture Roastery in Bacolod and espresso machine supplier Decouverte.
"We were just goofing around when we thought about the concept," Tomas, one of the owners, said. "But I was already in Bacolod, and Gus was in Decouverte so we thought it was a good idea."
"And then we asked other friends," co-owner Gus added. "It's like a syndicate [laughs]."
The logo itself screams coffee, as it's a combination of the letter C and S, which stands for the cafe's name, and at the same time, it looks like an Arabica bean.
Coffee Syndicate sources local coffee mainly from Benguet. Their slightly strong, regular brewed coffee (Php 100) alone is enough to get a grasp of what the cafe offers.
The Prohibition Cold Brew (Php 170), meanwhile, looks like a medicine bottle at first glance, served with a glass of ice. It uses Cosca beans harvested locally.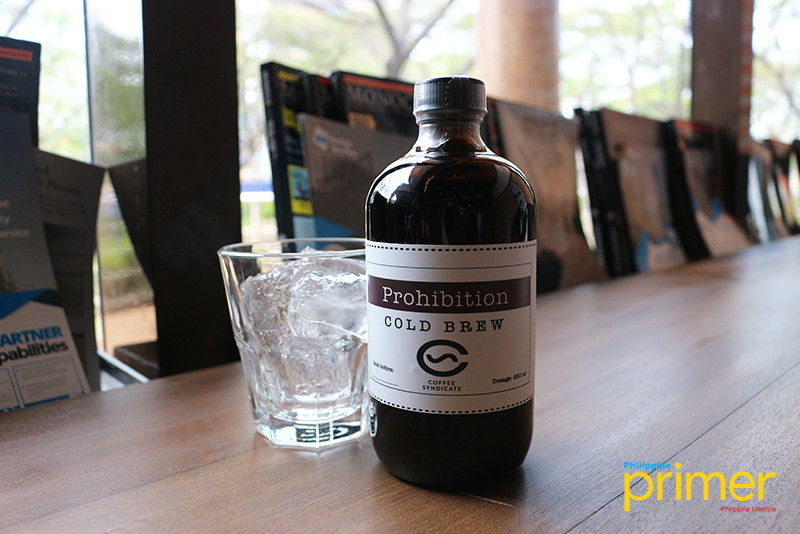 Prohibition Cold Brew (Php 170)
Further, if you want a slightly bittersweet aftertaste, try their Syndicate Shakerato (Php 190). This iced drink actually contains double espresso shot, so better avoid it if you're not used to strong coffee.
Syndicate Shakerato (Php 190)
Meanwhile, the menu is conceptualized by a "silent partner" who also acts as the food consultant. Fun fact: Kat doesn't have a culinary background, and yet she's able to craft honest-to-goodness meals out of her passion for cooking.
Don't ever skip their Blueberry and Creamcheese Waffle (Php 215). These fluffy waffles are not too sweet and are evidently perfect to pair with their cup of Joe.
Blueberry and Creamcheese Waffle (Php 215)
They are also offering a lunch special soon, which contains Ham & Cheese Panini (Php 250 for ala carte) and Chorizo Pasta (Php 285 for ala carte). It also comes with a regular brewed coffee for an ultimate lunch treat.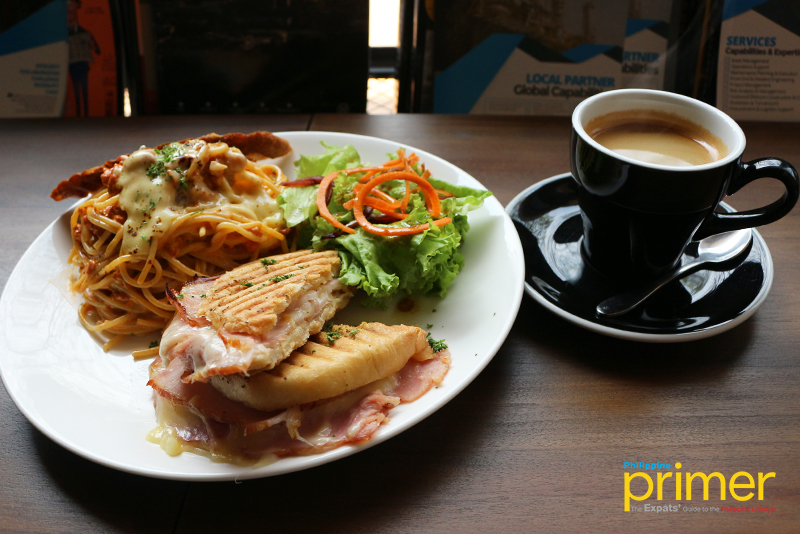 Ham & Cheese Panini (Php 250 for ala carte) and Chorizo Pasta (Php 285 for ala carte)
Ham & Cheese Panini uses focaccia bread with ham and gouda cheese, filled with mayonnaise-mustard. You can just imagine the savory flavor it gives off! On the other hand, the cream-based Chorizo Pasta has this unique meaty taste that anyone would love. It's a great switch up if you want to try outside of your regular carbonara.
Lunch set price is not yet disclosed.  
It's also easy to chill at the place because the interior is a mix of rustic and industrial design. You'd notice a lot of regulars when the baristas ask if they'd have their usual order. Also, expect the cafe to be crowded from Thursdays to Saturdays!
"This is a place where you can appreciate any cup of coffee," Tomas said. "We take people with us from simple instant coffees to local brews."
How to get here
By car: Head South on Metro Manila Skyway to Alabang/South Station toll. Exit on the left onto Alabang-Zapote Rd, then turn left onto Filinvest Avenue. Coffee Syndicate is located on the ground floor of Commercenter.
By public transport: Take a P2P bus to Alabang Town Center. From there, walk south toward Commerce Ave, then turn left onto Commerce Ave. Continue walking until you turn right onto Filinvest Ave. Commercenter will be on your left.
---
This first appeared in Philippine Primer magazine's May 2019 issue.
Written by Yana Bautista
Store Information
107 G/F Commercenter, Filinvest, Alabang, Muntinlupa City
09456104164
Mondays from 8 a.m. to 9 p.m. / Tuesdays to Sundays from 8 a.m. to 10 p.m.
Cash/Card