WHISK Asian Bistro Café
The hustle and bustle of today often leaves you in a weakened state. Places to take a break are few and far between, especially in a city like Makati. Good thing there's WHISK Asian Bistro Café.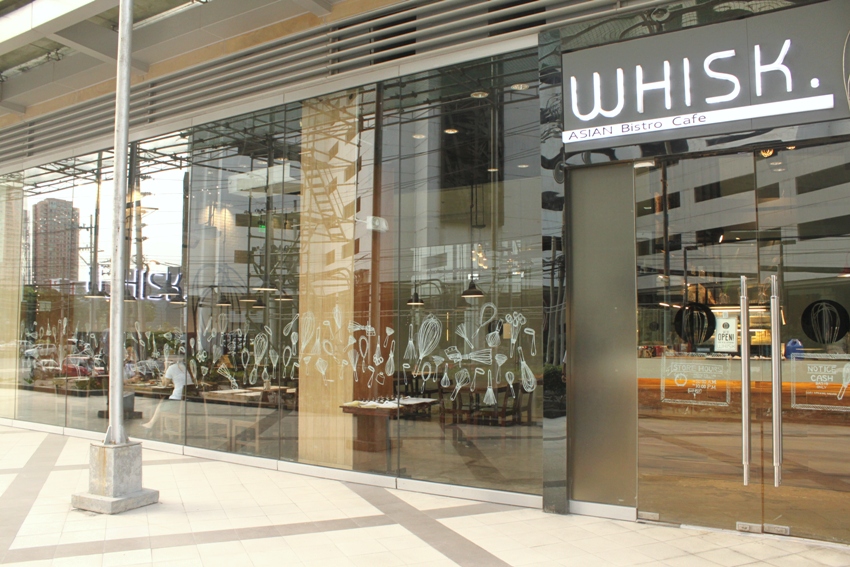 WHISK ASIAN BISTRO CAFÉ: Your new place for R & R in the hustle and bustle of Makati.
WHISK is a place where you can enjoy a fusion of Asian flavours in a place that's a cross between an industrialist café and a minimalist bistro. What you get is the best of both worlds: great food with a great view of the city at ground level.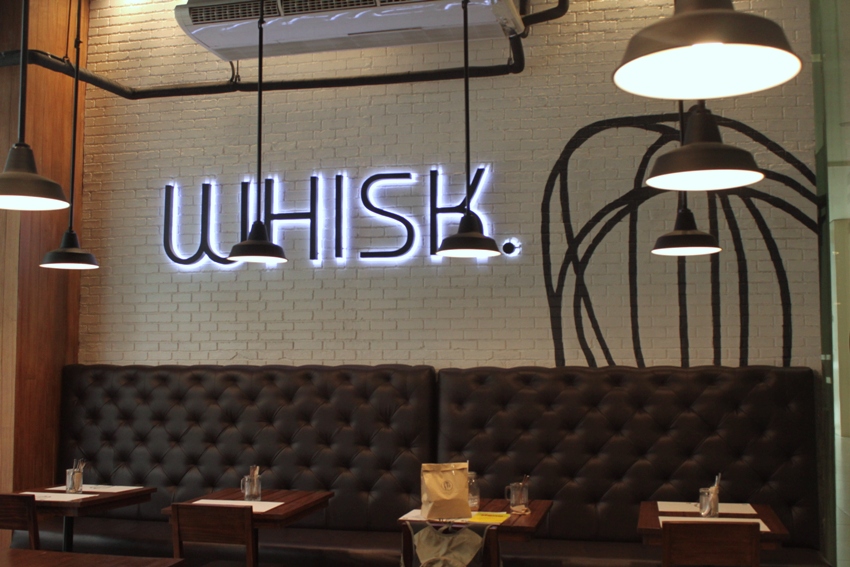 MINIMALIST AND INDUSTRIAL. At WHISK, they want to keep it simple so you can focus on their food. But the place itself is already food for the soul.
Chef Barbie Tan stressed the importance of keeping their café simple yet eye-catching. "Everything about WHISK is simple so you can get more out of your food." That, however, does not take away from how beautiful the café is. It's open design, with glass spanning both sides of the café, gives you a great view of the city.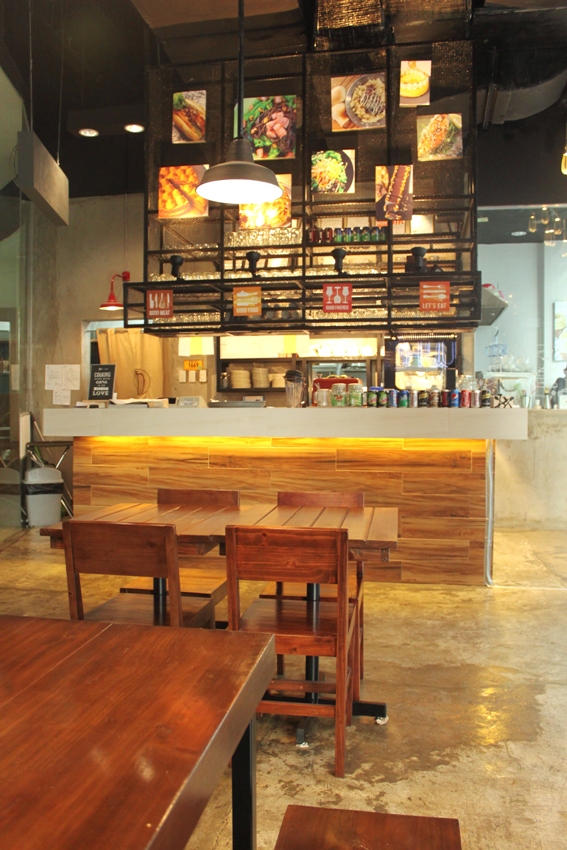 THE COUNTER. People like the sign at the back, but they never get tired of looking at this.
The food here is as good as the café looks, if not better. Being a jetsetter has helped Chef Barbie get the best of flavours from all over the world. Everything on WHISK's diverse menu has been a hit… and this is WHISK on their soft opening.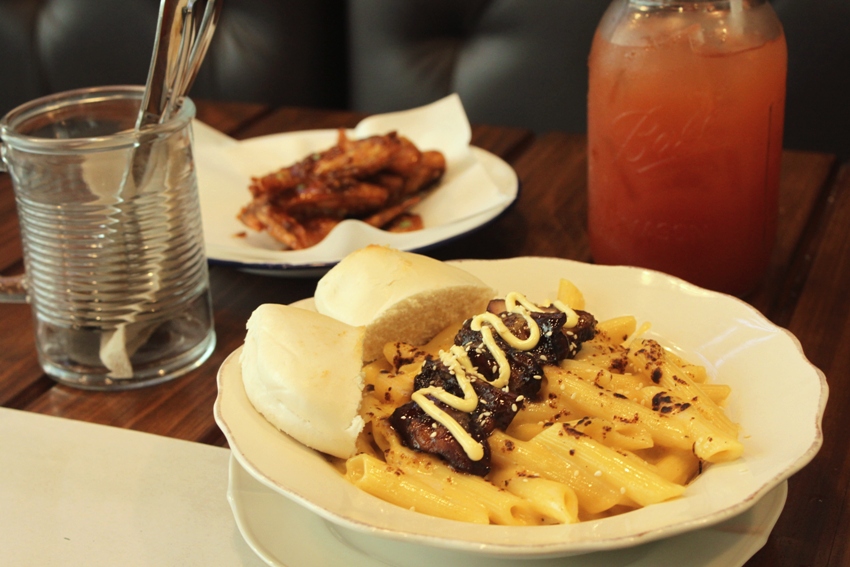 WINGS, MAC N' CHEESE, ICED TEA. A match made in heaven… or at least one of them. WHISK's Spicy Wings at P205, Chicken Teriyaki Mac N' Cheese at P230, and House Blend Iced Tea at P98.
Everything on their menu screams fusion. Two of their best-sellers, especially with expats, are WHISK'S Spicy Wings and the Chicken Teriyaki Mac N' Cheese. Other best-sellers include their one-of-a-kind Taho cupcakes and Chili Chocolate Cake, among others on their extensive menu.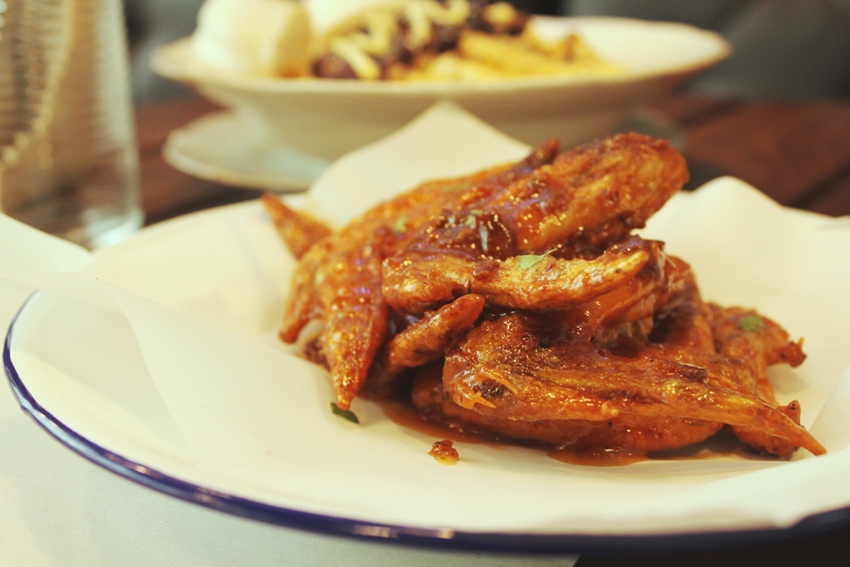 WHISK'S SPICY WINGS. So good, you'll want to come back for more.
Their Spicy Wings are a cut above the rest. It has the right amount of heat, not to mention being sweet and tangy.The wings themselves are also spicy: marinated in Sriracha sauce, it doesn't leave you longing for the sauce on the skin. Want it with a bit more kick? You can ask your server to make spicier.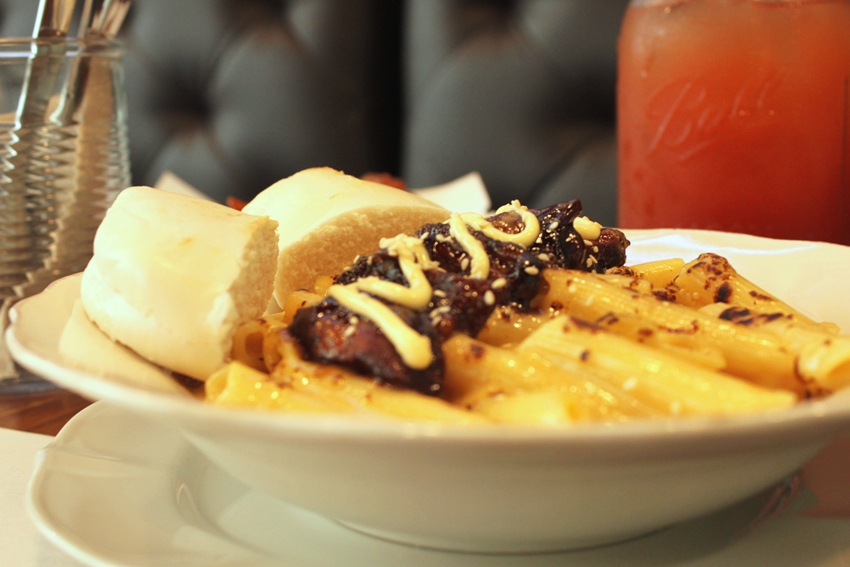 MAC N' CHEESE WITH TERIYAKI? Yes please!
The Chicken Teriyaki Mac N' Cheese is yet another of Chef Barbie's unique concoctions. Most people are put off by the combination, but it's something you have to try before judging.
The chicken teriyaki is nice and tender. The sauce, which is made from scratch, is perfect. A combination of cheddar, mozzarella, Quickmelt cheese, and cheese sauce makes the macaroni and cheese creamy, complimenting the teriyaki. Using penne pasta elevates its well beyond your usual macaroni and cheese. The Japanese mayo on the teriyaki and the toasted mantou buns finishes it off quite nicely.
The best thing about WHISK is that everything on their menu is made once you order. Nothing is prepared ahead of time (except for their Kare-kare, which takes at least 3 hours to make). This ensures the best quality for any of their dishes. It also helps that their meals are affordable, even though it looks like it shouldn't.
WHISK Asian Bistro Café is located at the ground floor of Alphaland Makati Place, Makati City. They are open from 10 a.m. to 10 p.m., Mondays thru Sundays. They accept reservations, and are open for catering as well as private functions. They also deliver, but only if you're within the area of Alphaland Makati. They're currently on their soft opening, and are planning to have a grand opening sometime in March. For more information, you can visit their Facebook page or follow them on Instagram, @whiskasianbistrocafe.

G/F Alphaland Makati Place, Ayala Ave. Ext. cor. Malugay St., Makati City, Metro Manila

10:00 am to 10:00 pm (Monday to Sunday)
Google Map:
"border:0" allowfullscreen>