Savor the Essence of India at New Bombay Authentic Indian Cuisine – Salcedo Village, Makati
Savor the Essence of India at New Bombay Authentic Indian Cuisine – Salcedo Village, Makati
New Bombay Authentic Indian Cuisine captures the essence of India, bringing the tantalizing flavors and rich traditions of Indian cuisine to Makati. With its relaxing ambiance and delectable dishes, New Bombay in Salcedo Village is a must-visit resto for those seeking an unforgettable gastronomic experience.
IMAGE from Philippine Primer
Stepping into New Bombay is like embarking on a flavorful journey through the diverse regions of India. The menu boasts an extensive selection of traditional Indian dishes, each expertly prepared with authentic spices and ingredients. From aromatic biryanis to flavorful curries, every bite at New Bombay showcases the culinary expertise its skilled culinary team.
One cannot miss its classic Chicken Tikka Masala (Php 295), tender pieces of marinated chicken cooked in a luscious tomato and onion-based gravy. The harmonious blend of spices creates a symphony of flavors that will tantalize your taste buds. This iconic dish is a favorite among both meat lovers and newcomers to Indian cuisine, making it a safe and satisfying choice.
Saffron rice (Php 300) and Chicken Tikka Masala / IMAGE from Philippine Primer
Vegetarians are in for a treat at New Bombay as meat-free options are prominently featured in its menu. Try the creamy and fragrant Palak Paneer (Php 285), a dish consisting of spinach cooked with a creamy and fragrant sauce, accompanied by cottage cheese cubes. The combination of tender spinach leaves, aromatic spices, and the creamy texture of paneer results in a delectable and comforting dish.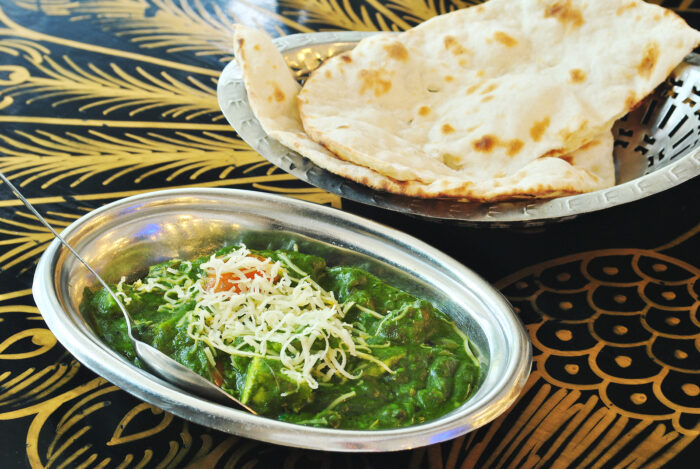 Palak Paneer and Plain Naan (Php 85) / IMAGE from Philippine Primer
New Bombay in Salcedo Village stands as a beacon of Indian cuisine, enriching the culinary landscape of Makati with its diverse menu. Whether you are a seasoned fan of Indian food or a curious explorer of new flavors, this vibrant resto promises an unforgettable journey through the tastes and traditions of India. Come visit this place and let your taste buds embark on a delightful adventure of flavors and spices.
GENERAL INFORMATION
Address: G/F Sagittarius Bldg. III, 312 H.V. Dela Costa St., Salcedo Village, Makati
Operating Hours: 10:30 a.m. to 12:00 a.m.
Contact Number: (02) 819 2892
Website: newbombayfoods.com
Facebook: newbombayresturantmanila
Store Information