FLAME Restaurant at Discovery Primea: Ignite your senses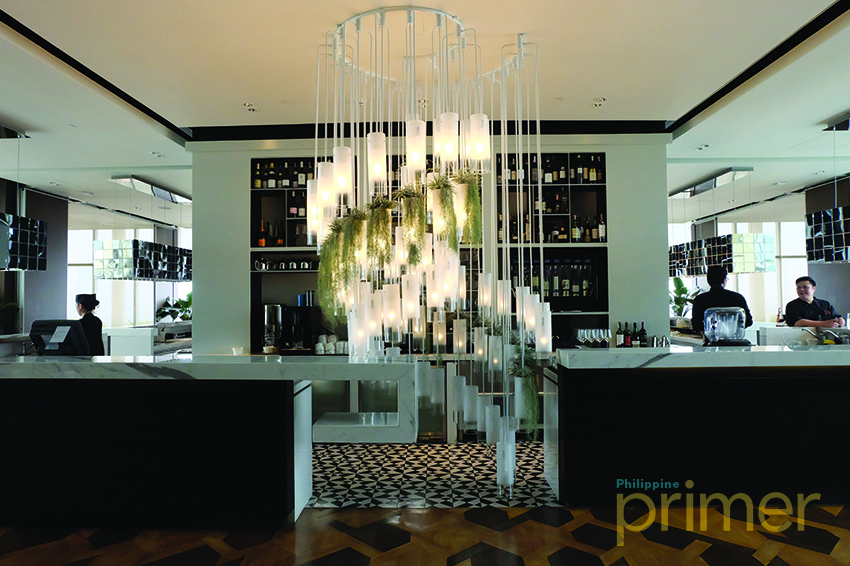 For a fine dining restaurant, it is already given one's higher expectation of the food it offers but it shouldn't really stop there; the ambience of the restaurant and what it makes the guests feel must also be taken into a serious consideration. Located on the 16th floor of Discovery Primea hotel, Makati, FLAME restaurant offers their guests both these "fine dining" qualifications without overdoing it!
FLAME restaurant will talk grand of its selection of luxurious Modern European cuisine and it will surely be justified in one sitting. Not only it offers exciting and flavorful dishes but also an astonishing and cozy interior that gives a very welcoming and satisfying feels of an exceptional dining experience.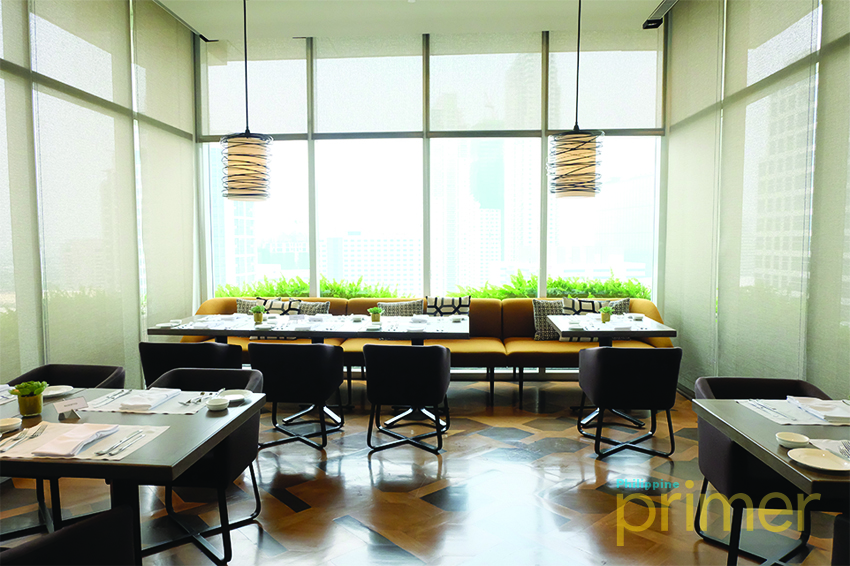 The restaurant is surrounded by an expansive marble-top open kitchen which means you can witness a live cooking session with their chefs. You can also start a casual conversation with them if you're a little curious on what they are about to serve.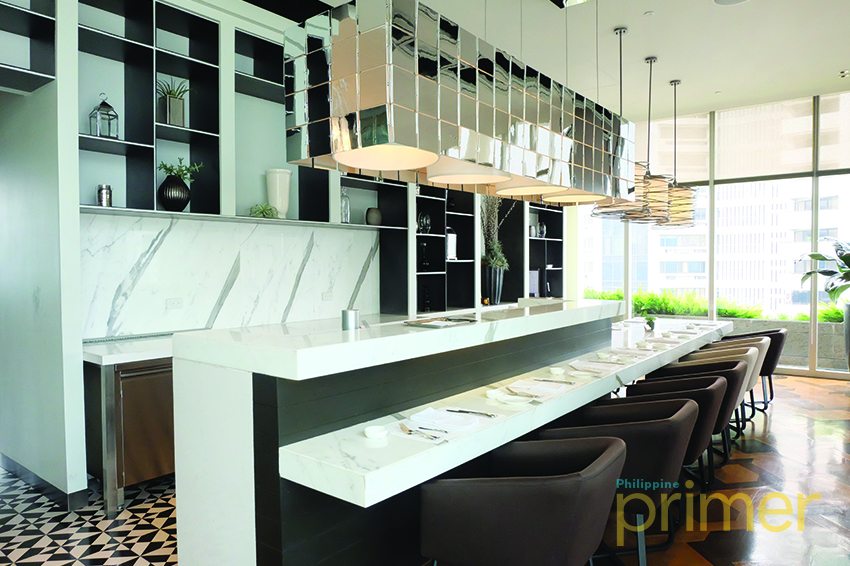 The food for lunch and dinner they serve is very different.–
For their appetizer, introduce your taste buds to rich Asian flavours of their Chilled Seafood Salad, a sumptuous serving of garden fresh greens with baby squid, octopus, shrimp, compressed, square-sized watermelon and ginger-sesame dressing. Also, a little kick of subtle spice will surprise you at the end of every bite.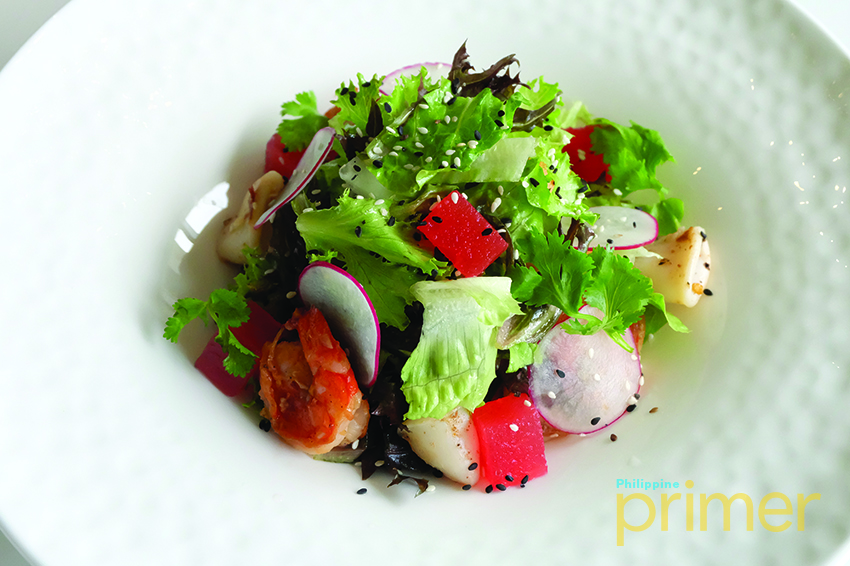 CHILLED SEAFOOD SALAD (Php 390)–
For their lunch exclusive item, try Executive Chef Luis Chikiamco's pork specialty – the Pork Belly Doughnut. You will surely enjoy its crispy on the outside and chewy and juicy on the inside quality. It is sweetness, salty and tangy balanced all in one! There are five bite-size doughnuts sprinkled with sugar-sesame with butterscotch miso dip per serving.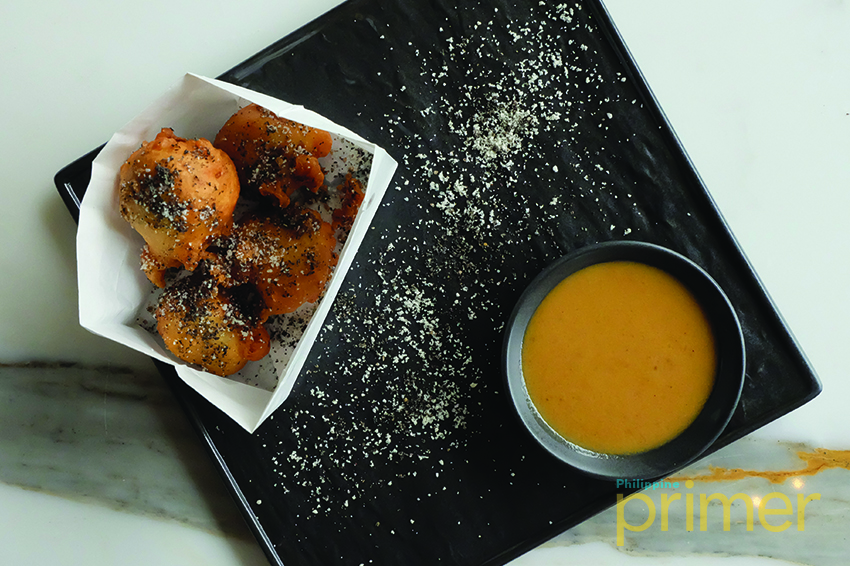 CRISPY PORK BELLY DOUGHNUT (390)–
Their Pan-Seared Foie Gras (Fat liver) with Teriyaki Eggplant, Pickled Pears, Nori-Tempura Crunch has a very rich flavour that melts in your mouth, spreading the succulent taste of specially fattened liver.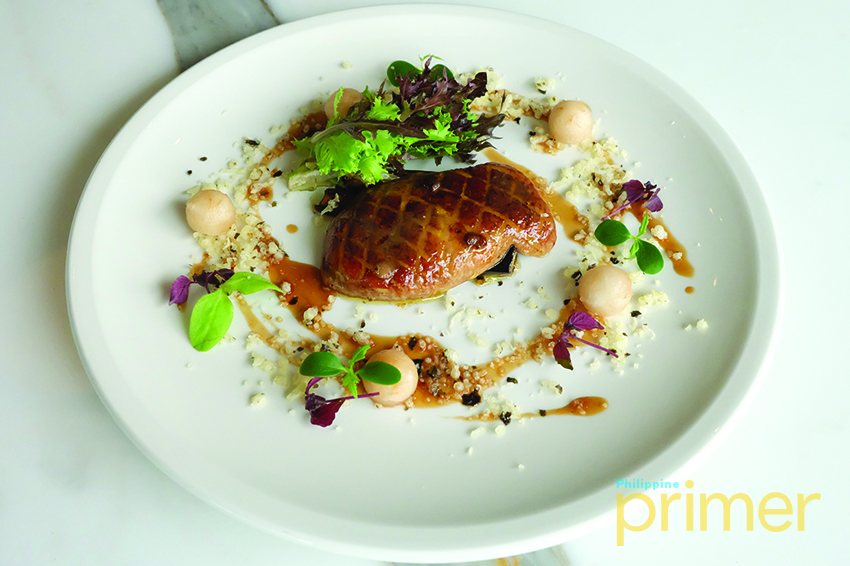 Pan-Seared Foie Gras (Php 790)–
With the tenderness of its thick beef patty laid on top of a bed of coleslaw, cheese and squeezed in homemade Parmesan Buns, Flame signature Burger will leave you wanting for more! It is served with Togarashi Hand-Cut Fries and Shiitake-Bacon Teriyaki Jam. Plus the very Instagram-able presentation, you'll love it on your table!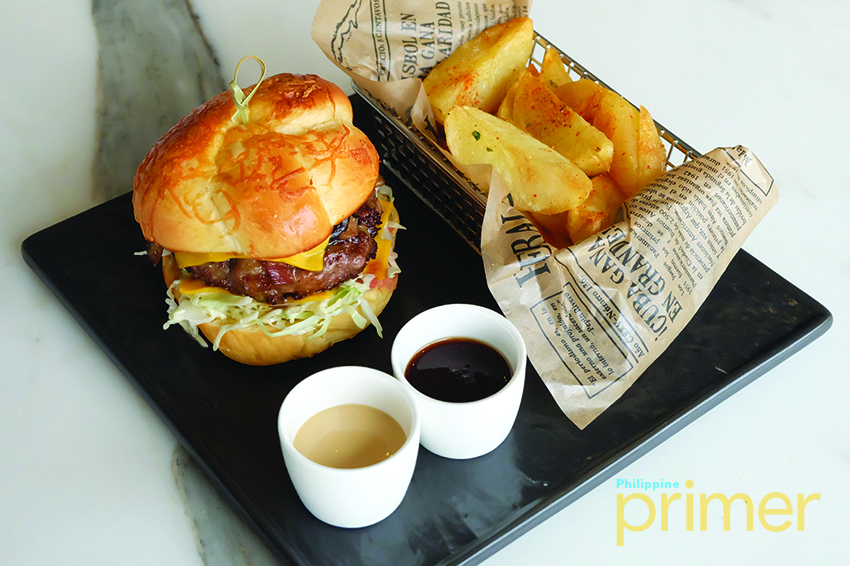 Flame Signature Burger (Php 620)–
And then there's the Take-Out Lobster Fried Rice of Flame. Take a dear moment to admire how this main course is being presented to the hungry belly. It may look a little intimidating to eat because of the presentation, but go ahead! Let your tongue enjoy the rich flavor of traditional Chinese Jasmine fried rice with pork, citrus jasmine rice, 63-degree egg and the great surprise, lobster remoulade. The rule is, you must finish this on your own. But if not, the fun white box will be put in good use – you should take the leftover with you to enjoy it at home
"TAKE OUT" Lobster Fried Rice (Php 890)–
For seafood lovers, you'll love their Seared Chilean Sea Bass with Shiitake Mushrooms, crunchy asparagus in Garlic Confit and Madeira-Mushroom Broth.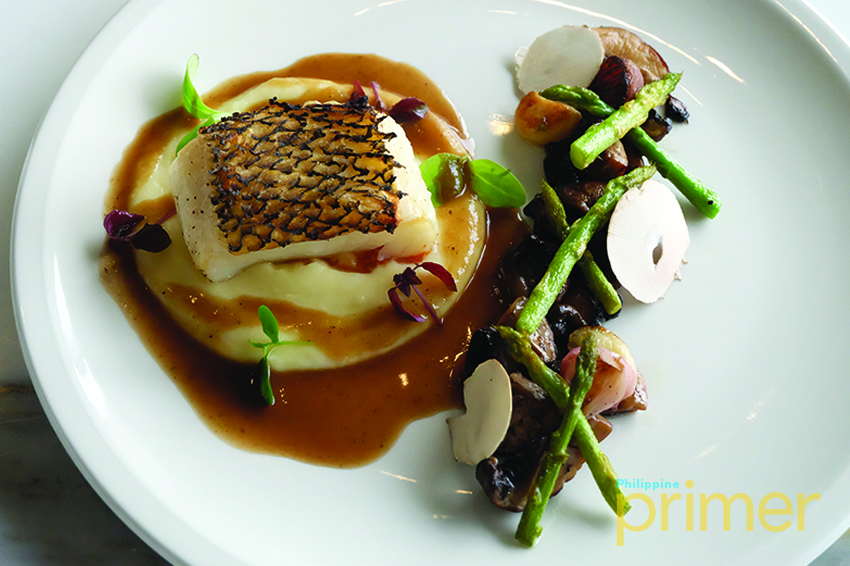 Seared Chilean Sea Bass (Php 1,400)–
The whole dining experience wouldn't be complete without the sweets!
Introducing, APPLE, APPLE, APPLE! Evident with its fun recurring name, this dessert is basically apple fruit in three ways – three bite-sized apples sandwiched between Cinnamon Puff Pastries, delicately arranged on top of a thick swatch of Calvados Cream with Apple Gelée. This dessert is not too sweet and the fresh caramelized apples are surprisingly very crunchy you can scrupulously taste the fruity core. The sweet tooth will surely be delighted!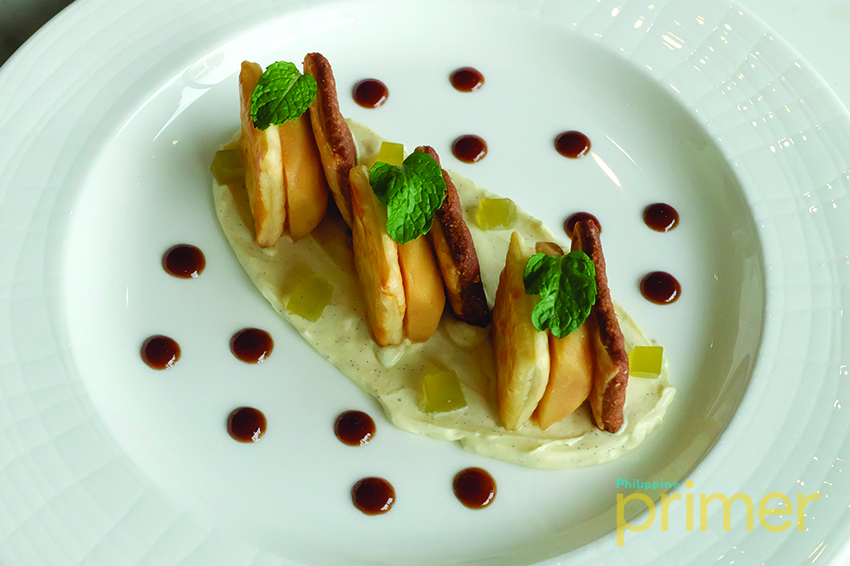 APPLE, APPLE, APPLE! (Php 320)–
Why forget coffee? Flame's Tiramisu is not your ordinary coffee and cream soaked layered biscuit. For their very own Tiramisu, they uses a very dark coco powder imported from Colombia called Valrhona chocolate. It is served with Vin Santo Ice Cream and Amaretto Crumb. Surely, you can admire the presentation because Flame serves it in a very different and refined way, but when you start devouring in the beautifully arranged dessert, you'll know its look is never just deceiving.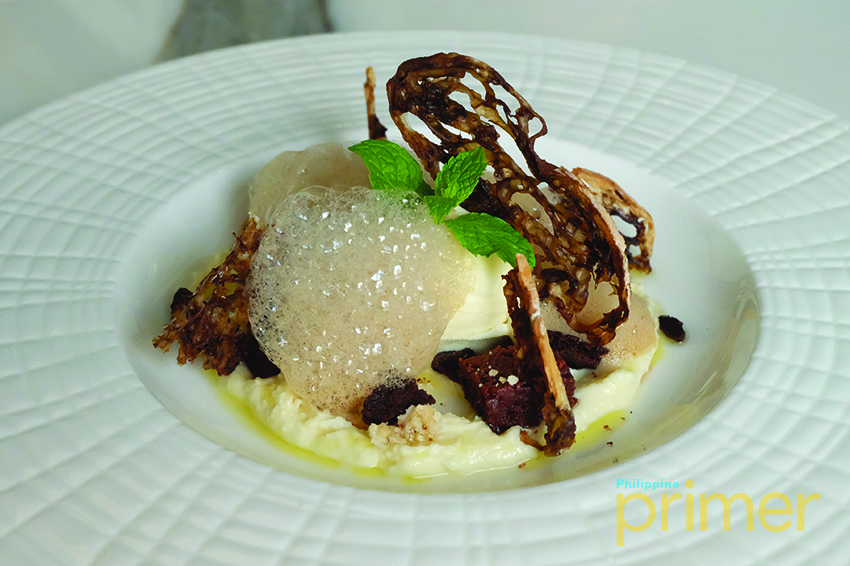 Flame's Tiramisu (Php 360)
As if all these weren't enough, FLAME just recently added more delectable items on their menu including the Chinese style flavored pork ribs (P1, 150), Flank Steak (P1, 500), Porterhouse Steak, and Striploin (P980).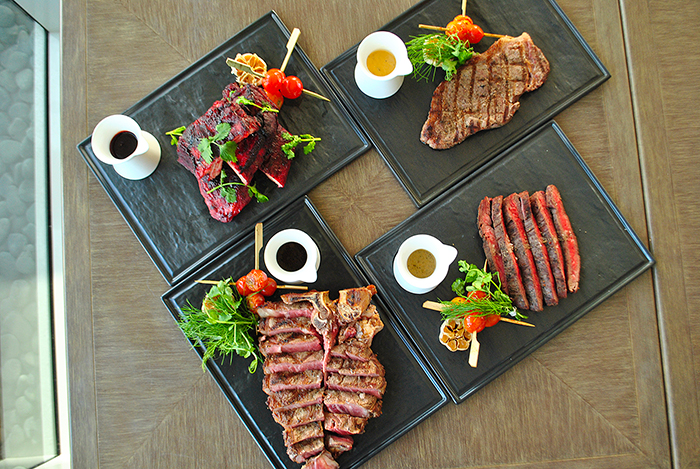 This article alone might not sum up why FLAME restaurant should top off the list of your must-try restaurants, so better experience and see how they give a whole new definition to the so-called "fine dining" yourself!
General Information
6749 Ayala Avenue, 1226 Makati, Philippines
(02) 955 8888
11:30 AM – 2:30 PM 6:00 PM – 10:00 PM, Mondays to Saturdays