Kasbah
Moroccan food is rare, especially in the Philippines. It's even rarer in the island of Boracay, where only one restaurant specializes in this flavour-filled cuisine: Kasbah.
This beachfront restaurant in Boracay's Station 1 is one you won't have a hard time missing, even if it is a bit hard to get to. It's the most colourful restaurant on the beach, inspired by its equally colourful Moroccan cuisine.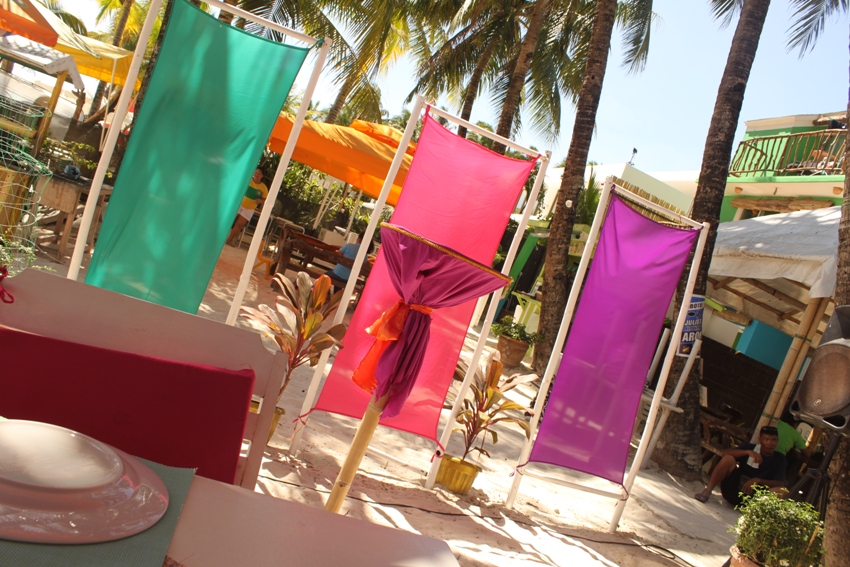 COLOURFUL. Kasbah is hard to miss: it's the most colourful restaurant on Station 1.
The al fresco dining experience will definitely be one for the books. There's no need to worry about being baked in the sun, as they have provided shade for their diners. Kasbah's cabanas are also something to behold, especially for those who want their own place to dine and enjoy Boracay's stunning white beach.
The food, however, is where Kasbah really takes its pride in. Chef Gene may be a Filipino, but the dishes Kasbah serves tells us he knows Moroccan cuisine as if he was born there in a previous life. Seafood and meats reign supreme in Kasbah: you'll be treated to flavours that will surprise you.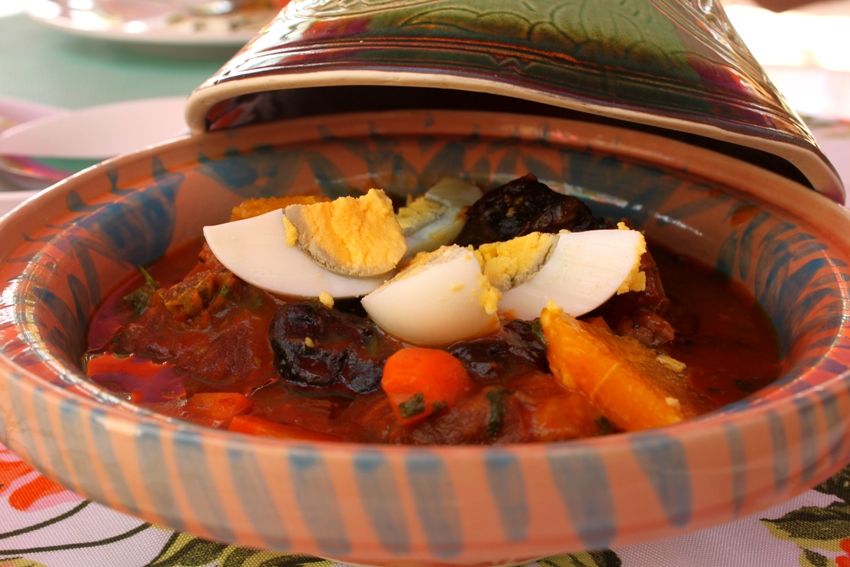 GAMBAS, KASBAH-STYLE. This Spanish-Moroccan gambas is a feast for your taste buds
Start your meal off with their Gambas al Ajillo con Harissa (P410). You may be familiar with Gambas, but not the way they serve it at Kasbah. This Spanish-Moroccan fusion elicits flavours from white wine, garlic, and thyme with its perfectly-cooked shrimp, all served with a fresh fern salad. It's a refreshing way to start your meal.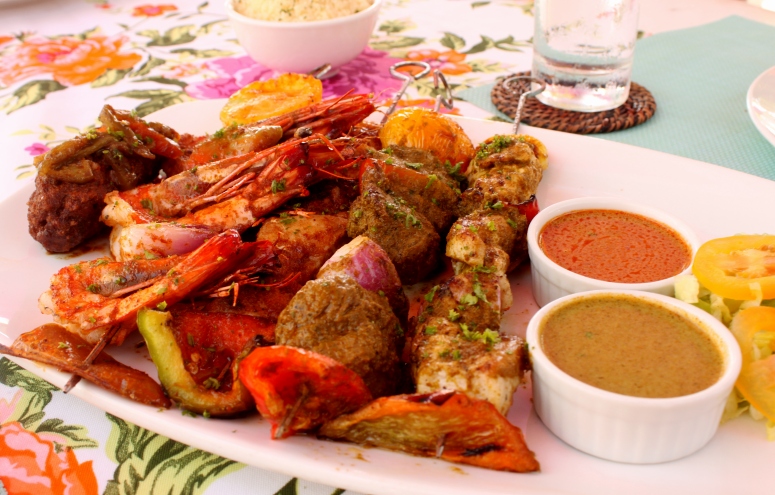 MIXED PLATTER. Enjoy Kasbah's best brochettes all in one platter: chicken, beef, tiger prawns, and the Fish and Merguez Sausage.
Start off your main course with their Mixed Brochette Platter (P1,200), which features four of their best brochettes or Moroccan kebabs: chicken, beef, tiger prawns, and their fish and Merguez sausage brochette.
The chicken is marinated in chermoula, a combination of dried parsley, cumin, paprika, and a bit of salt and pepper. A must-try from this platter is the fish and Merguez sausage brochette. Two fresh chunks of mahi-mahi compliment the spice from the Merguez sausage.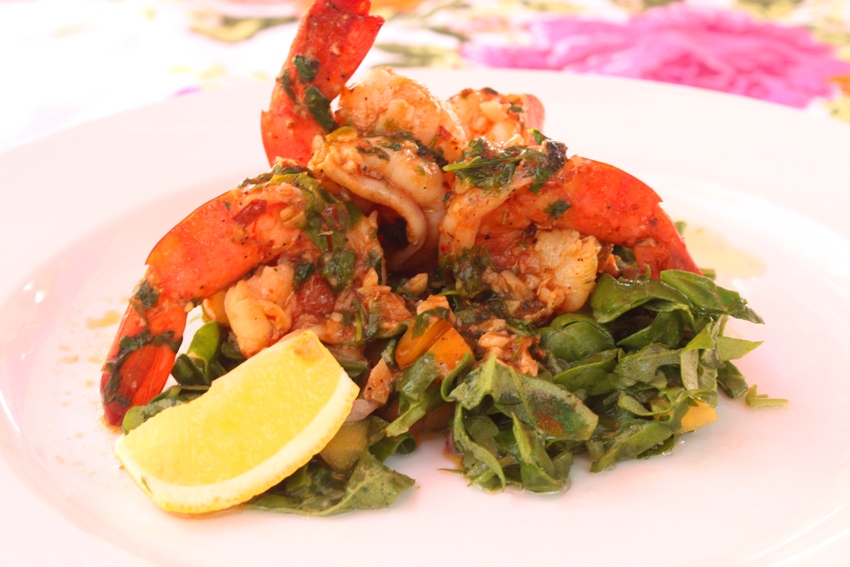 BERBER LAMB TAGINE. This is classic Moroccan stew served in a unique earthenware pot known as a tagine.
Drive home your main course with their Berber Lamb Tagine (P710). The combination of orange segments, carrots, prunes, and toasted almonds mix with the tender stewed lamb to give you a true Moroccan experience. Its fruity flavour melds perfectly with the earthy lamb. A serving of couscous rounds off this dish that's perfect for sharing.
There's no need to worry about serving size at Kasbah, as all of their dishes are served in sizes that are perfect for two to three people. Their brochettes might not be good for more than one, though, since it's too good to pass on.
You can find Kasbah at Station 1, Boracay Island. They are open from 11 a.m. to 10 p.m., Mondays thru Thursdays. They close at 11 p.m. during Fridays, Saturdays, and Sundays. For reservations, you may call 036-288-4790. To get to Kasbah, just ride a tricycle and get off at Willy's or between Seawind Resort and Pearl of the Pacific. Walk towards the beach, then go towards Discovery shores.
Price range: P150 – P1,200 per dish

Station 1, Boracay Island

Monday – Thursday, 11:00 am to 10:00 pm; Friday – Sunday, 11:00 am to 11:00 pm