Tokyo Ramen Street in Tokyo: The Best of Japan's Ramen Restaurants in One Place
The century-old Tokyo Station is the central train station in Tokyo which connects to several lines and is one of the busiest stations in Tokyo Metropolis. When touring around Tokyo, one would definitely find oneself at Tokyo Station one way or another.
For first-timers, going around Tokyo Station might feel like finding one's way out of a labyrinth. Tokyo Station serves several lines and has several platform entrances that you might possibly mistake as the exit—like I did—but getting lost in a train station like this is not so bad. There are many shops and restaurants to stumble upon, and getting lost around Tokyo Station feels anything but.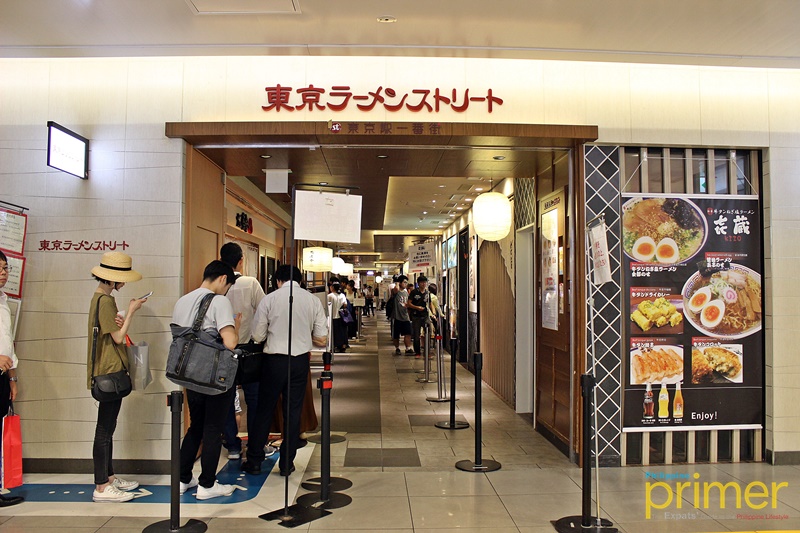 Tokyo Ramen Street is one of the best places to stumble upon at Tokyo Station.
Get lost and find your way to TOKYO RAMEN STREET
To fill you up with energy before you proceed to an exciting "getting lost" expedition around Tokyo, head to Yaesu South Gate first and find your way towards the stairs leading to the basement, where you will find Tokyo Ramen Street, a great place to blend in with the locals and enjoy hearty bowls of ramen.
Opened in June 2009, Tokyo Ramen Street consists of eight ramen shops with their own various specialties. The diners that flock to Tokyo Ramen Street are diverse—Japanese businessmen, young people, foreign tourists, some still with their luggage. The place is a convenient stop to get a taste of good Japanese ramen, especially for tourists transiting Tokyo Station towards Tokyo's amazing attractions.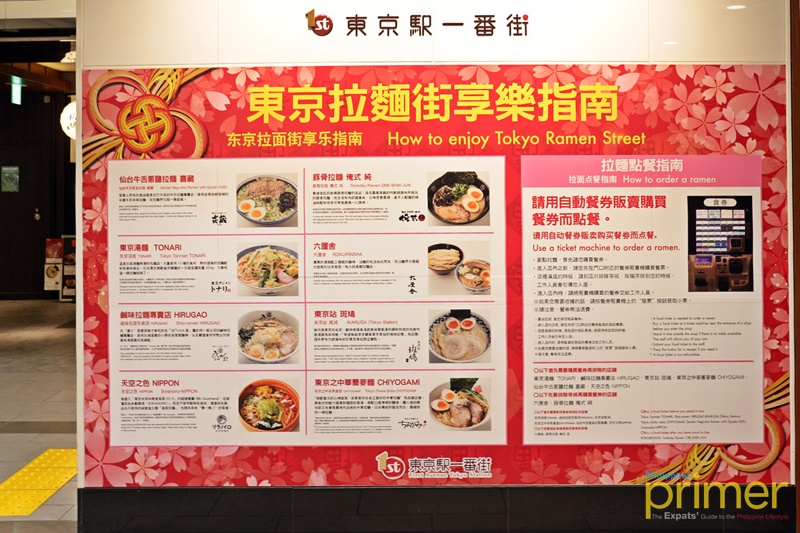 Tokyo Ramen Street was designed to gather some of the best ramen shops and let people enjoy them in one place. It was also established so that commuters who use the station, especially people on the go, can easily get a good warm bowl of ramen before they head off.
Once you have chosen the restaurant you want to try, you have to use a ticket machine to select your order and get a food ticket. There is a ticket machine at the entrance of each shop. Most of the ticket machines are in Japanese but each menu item is accompanied by a photo so you can pretty much get an idea of what you could get and what each dish is made of.
Get a healthy fill at SORANOIRO
During our visit, we tried Soranoiro. After getting our food ticket, we waited in line a while before being ushered to our table. The shops are not so spacious but they are a perfectly nice place to enjoy ramen like a local—simple, straightforward, and not intimidating.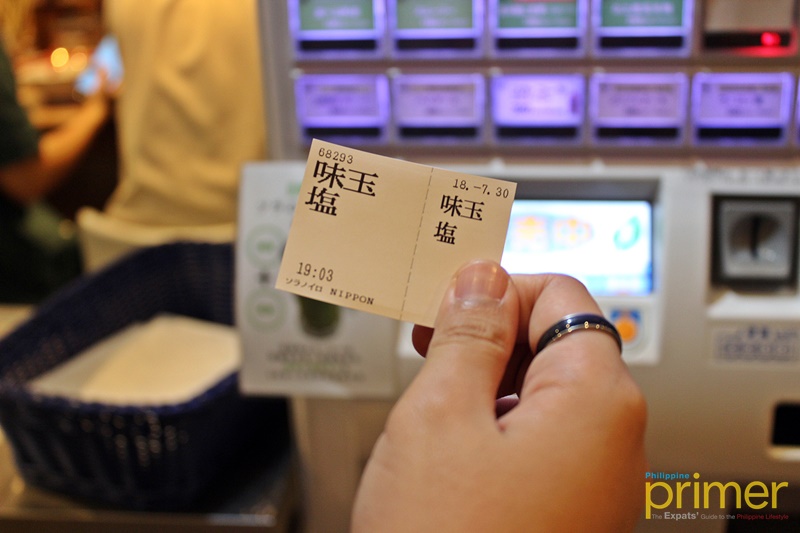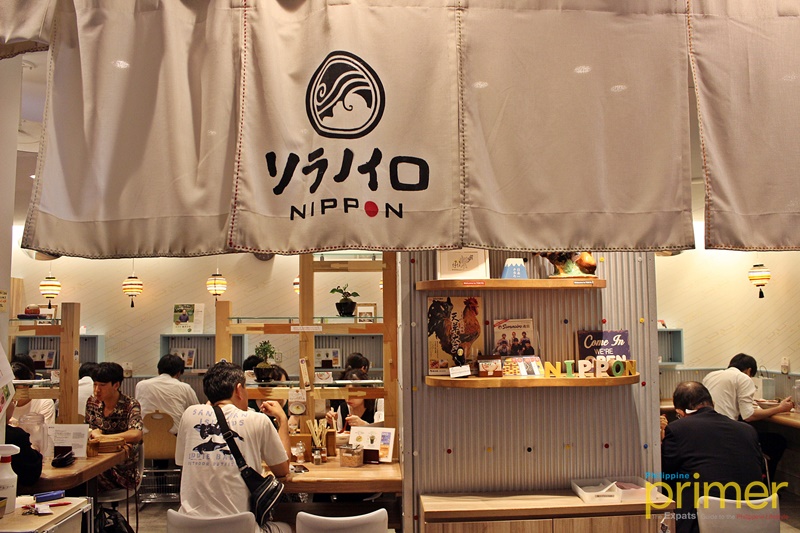 Founded in 2011, Soranoiro is a well-established ramen joint in Japan, currently with other branches in Hirakawacho (Soranoiro Honten or the flagship store) and Asakusabashi in Tokyo; Kyobashi in Osaka; and Nagoya.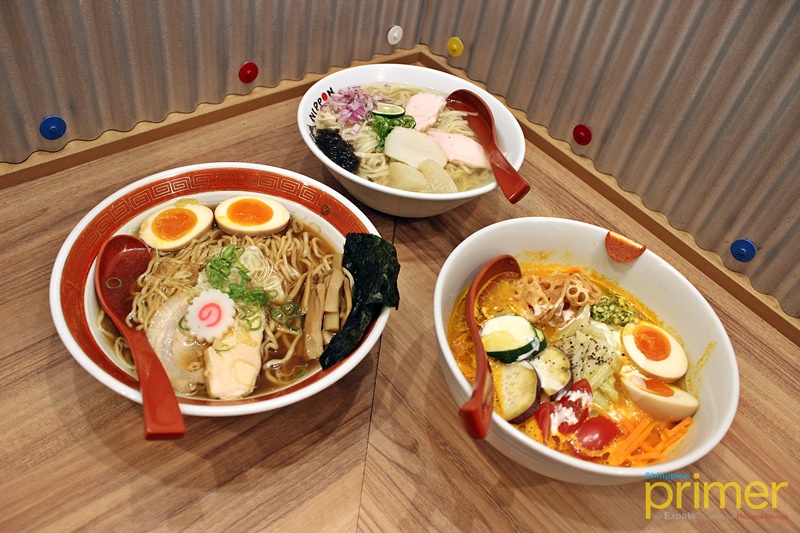 The restaurant's specialty is Veggie Soba, which is especially popular among foreign tourists and health-conscious eaters. If healthy were an actual taste, it would be this.
Veggie Soba tastes literally healthy—you could taste the flavors of various vegetables in one bite. The noodles are kneaded with paprika and the soup is made out of carrots and other vegetables. The dish is topped with vegetables like cucumber, eggplant, cherry tomatoes, and other seasonal vegetables, along with ajitama (soft-boiled egg), and drizzled with soy milk sauce, with a small amount of spicy citron paste on the side.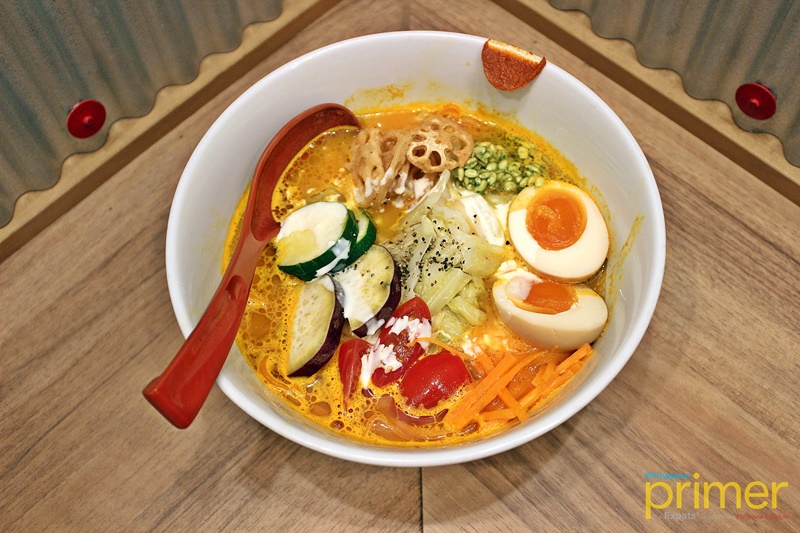 Veggie Soba (¥1,100)
Another best seller is their Ajitama Chuka, which is a house special with a special soy-based soup made with Amakusa daio (free range chicken), pork, vegetables, and seafood.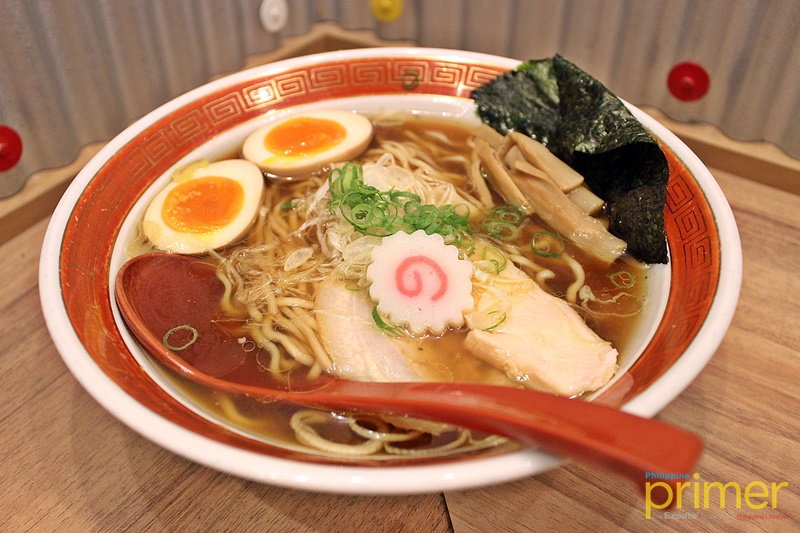 Ajitama Chuka (¥930)
In the summer, they have limited-time summer offerings like the Tsumetai Niboshino Ramen, a small-sardine-based soup with strong umami and a refreshing cold taste. Since it is cold, the noodles tend to be firmer and packed with flavor.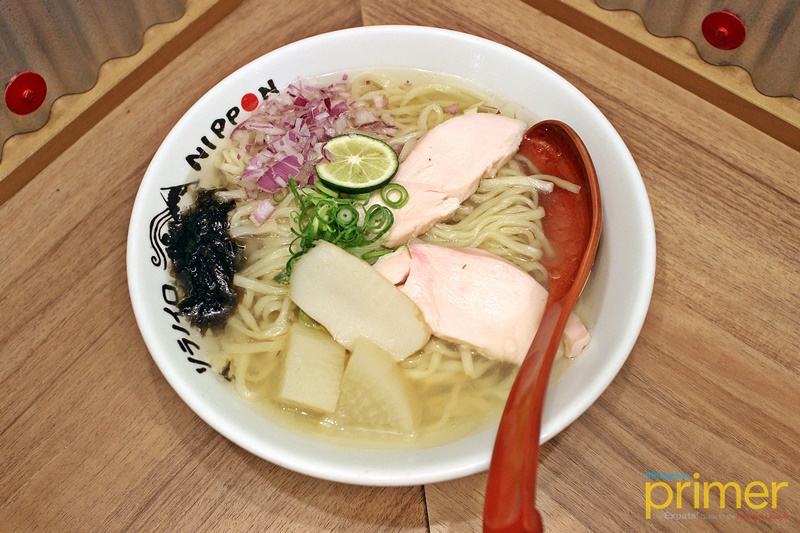 Tsumetai Niboshino Ramen (¥880)
Try all the delicious ramen restaurants
Aside from Soranoiro, there are seven other ramen restaurants to try at Tokyo Ramen Street.
If you're looking for another healthy option, there's Tokyo Tanmen Tonari which also features the use of various vegetables in their dishes. They use 350g of stir-fried vegetables in each dish, which is said to be the ideal amount of vegetable intake per day.  
Rokurinsha specializes in tsukemen or dipping noodles. Their tsukemen is known for having a rich soup and thick noodles. The restaurant's trademark is the dried fish flakes sprinkled on the nori topping on the soup.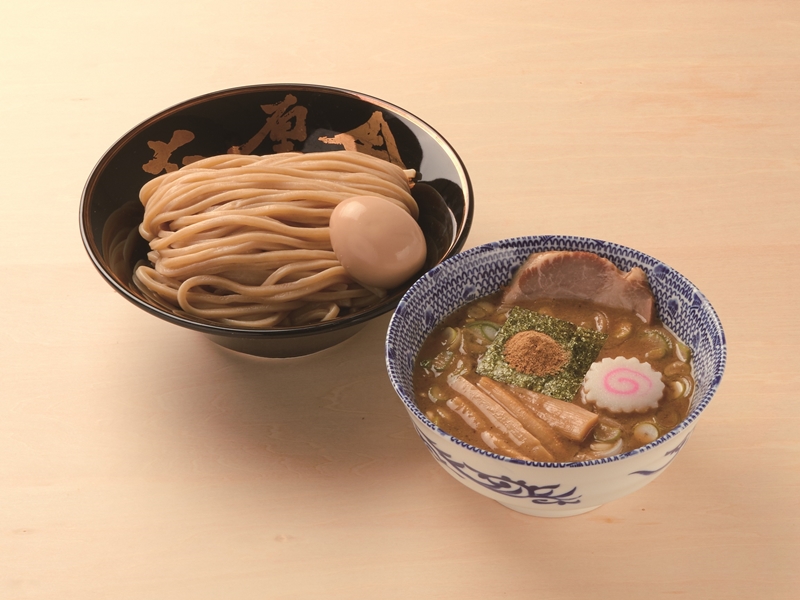 Ajitama Tsukemen by Rokurinsha
Tonkotsu Ramen Oreshiki is famous for its pork broth ramen with mellow flavors and aroma.
Another ramen specializing in pork broth ramen is Tokyoeki Ikaruga. Their tonkotsu ramen is made special by the addition of seafood broth to the meat stock, which creates a rich and deep flavor.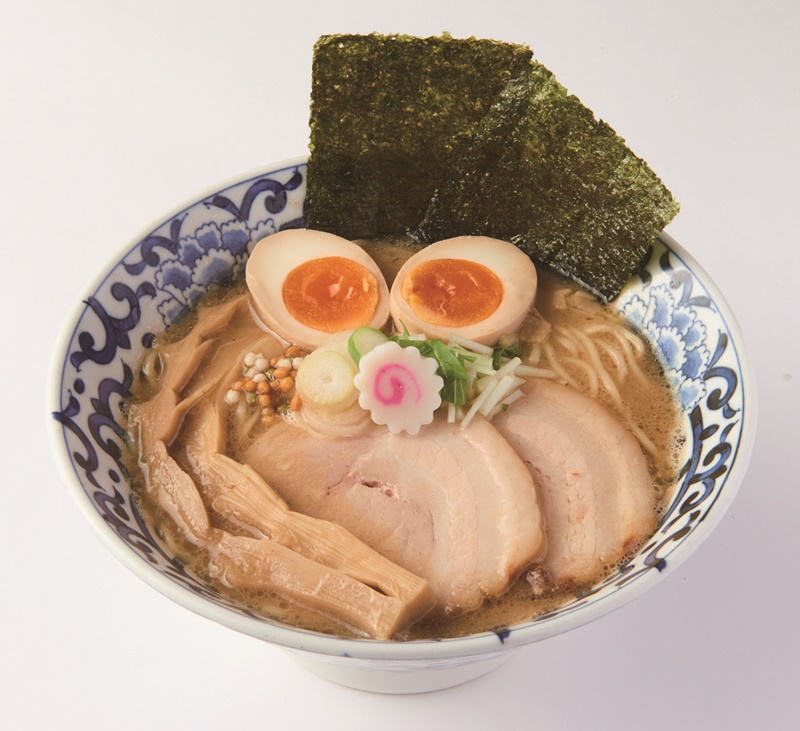 Tonkotsu Ramen by Tokyoeki Ikaruga
Meanwhile, Gyutan Kizou offers something unusual (at least to foreign tourists). The restaurant is known for their robust-flavored shio ramen topped with Sendai beef tongue, called Sendai Negi Shio Ramen.
For delicately flavored shio ramen, check out Senmon Hirugao. And for shoyu ramen with a memorable traditional taste, try the specialties of Chiyogami.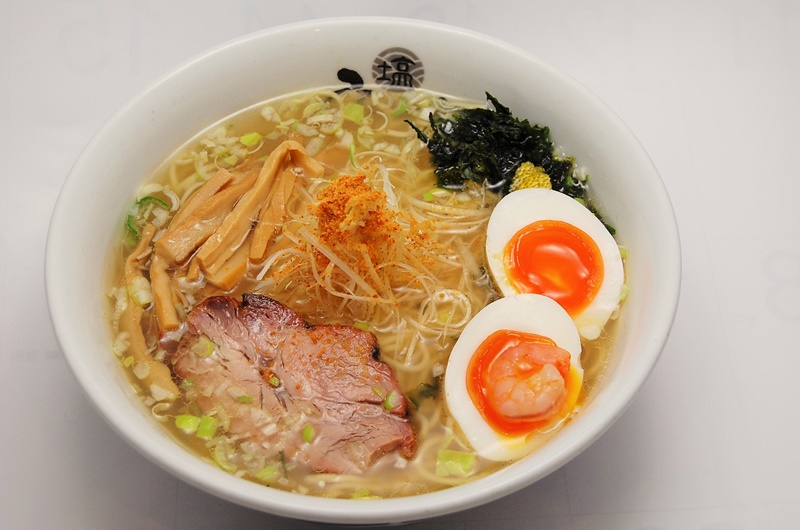 Shiotama Ramen by Senmon Hirugao
Tips
• The best time to visit Tokyo Ramen Street is early in the morning or in the afternoon.
• Prepare cash because the shops only accept cash or Suica card.
How to get there
• Find the Yaesu South Exit at Tokyo Station and take the basement stairs which will immediately lead to Tokyo Ramen Street.
• From Shibuya Station, take the Ginza Line to Akasaka-mitsuke Station, and then transfer on the Marunouchi Line to go to Tokyo Station.
Also read: Tokyo Character Street in Japan: Character Shopping Spree Right at Tokyo Station!
---
Written by Rei Leaño
This first appeared in Philippine Primer English magazine's Vol. 31 – October issue. 
Store Information
B1F First Avenue Tokyo Station, 1-9-1 Marunouchi, Chiyoda-ku, Tokyo
+813-3211-7555
8:30 am to 11 pm
cash, Suica card