JAPAN TRAVEL: Apron in Musashino, Tokyo — Get to Know a Hot Pot Dish Called Oden!
When talking about Japanese hot pot, or nabe in Japanese, perhaps the most famous one is shabu-shabu, with many restaurants offering the dish in Manila. When in Tokyo, find your way around the mini-labyrinth that is Harmonica Yokocho and try a different kind of hot pot dish called oden at Apron.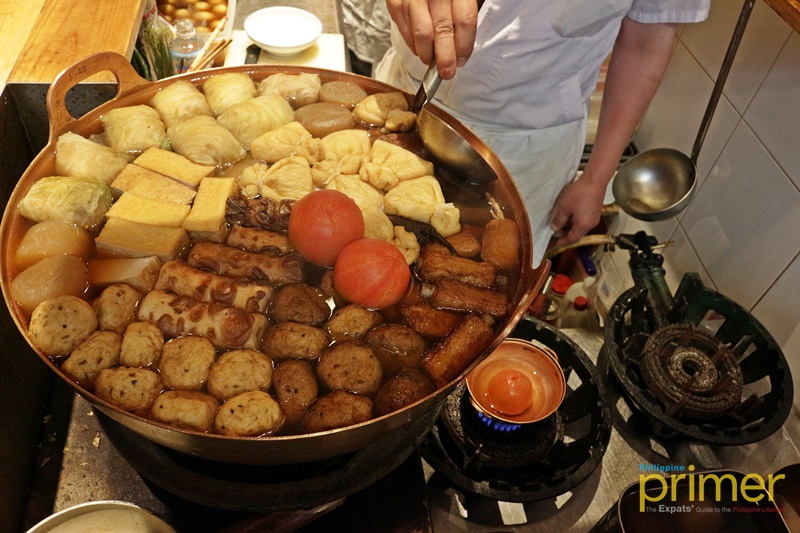 Compared to the more famous shabu-shabu, which highlights thinly sliced beef or pork and vegetables as ingredients, oden is a hot pot with several ingredients, but the most distinctive ones are fish cakes and tofu. Oden's popularity is seasonal—it is more known as a winter dish in Japan.
At Apron, a small two-level restaurant, the center of attraction is one huge hot pot where an assortment of ingredients is being simmered. The head chef, who specializes in traditional Japanese cuisine, is the guardian of this precious dish, mixing and re-adding broth from time to time.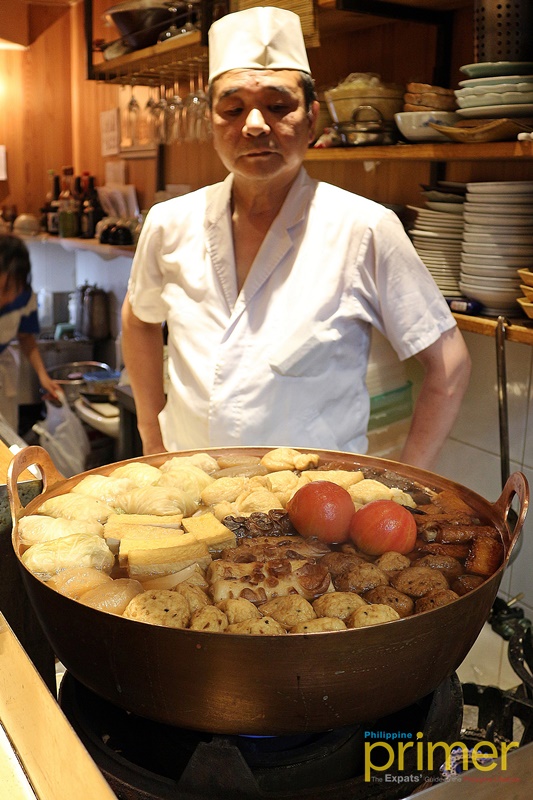 The boiling time for each ingredient varies. For some of them, it takes several hours to a few days. For instance, daikon (Japanese radish) is boiled for two to three days, which makes it delicately soft, and it easily bursts in the mouth when you bite it. The cabbage rolls are boiled for one to two days, which also makes it really soft and tasty.
The base soup is made with katsuobushi or fish bonito soup. It boils for one whole day, and then the broth is changed the next day.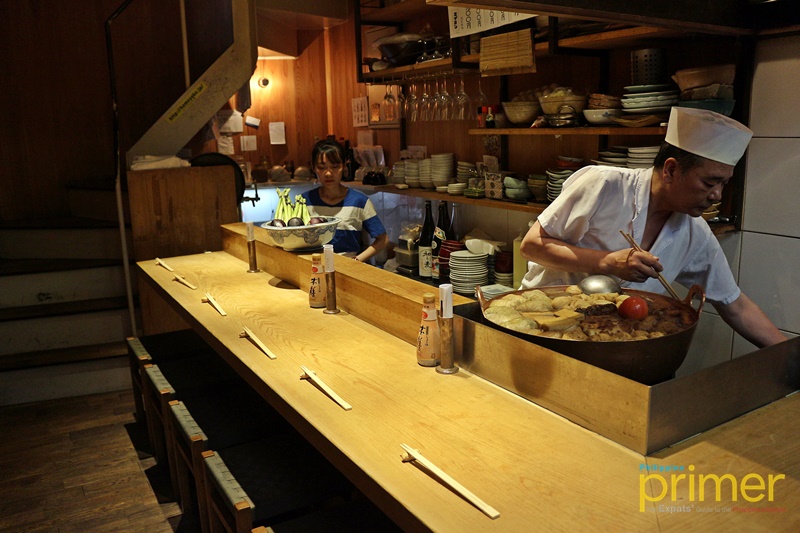 You can have a combination of the ingredients in your bowl. Some of the most recommended are Tomato ni Tororokonbu (boiled tomato with seaweed shavings), Gyu-suji (beef tendon with coriander), and a combination of Daikon (Japanese radish, ¥450), Cabbage Rolls (¥600), and Satsumaage (fried fish cake, ¥300).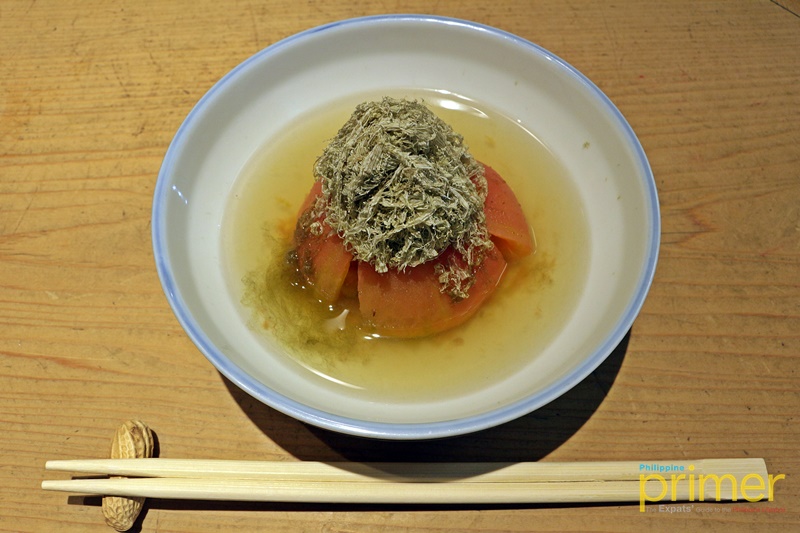 Tomato ni Tororokonbu (¥480)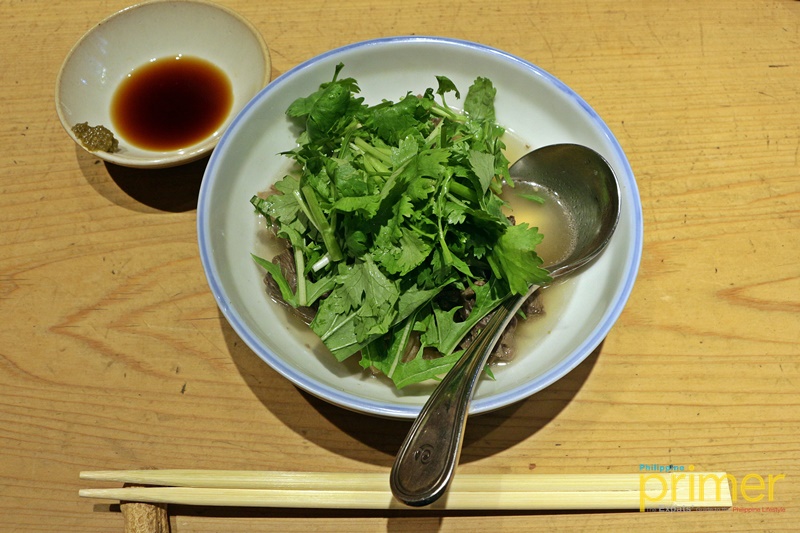 Gyu-suji (¥700)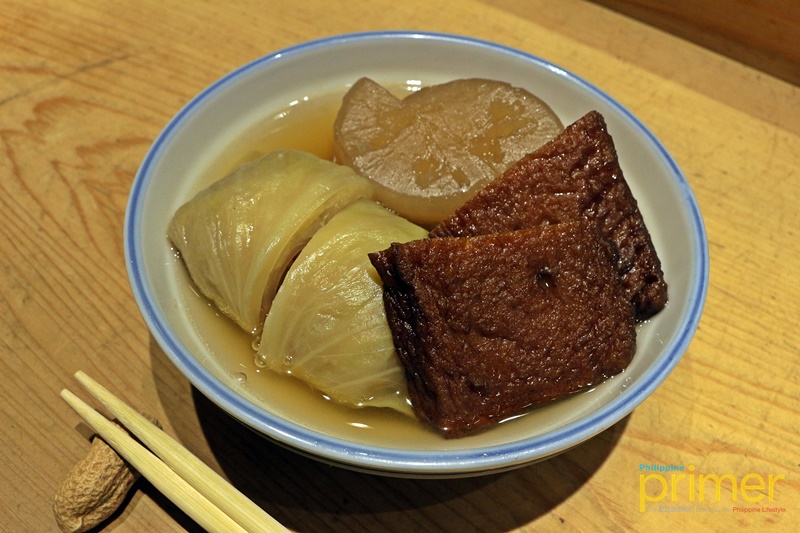 Daikon, Cabbage Rolls, and Satsumaage set (¥1,350)
Besides oden, Apron also has a wide selection of sashimi and sake, as well as Japanese risotto.
Apron is small but comfortable and well-ventilated. The first floor is where the tiny open kitchen is, bordered only by a long counter table with seats from where you can watch all the cooking. Upstairs are a few more tables and seats with a capacity of 10 to 12 people.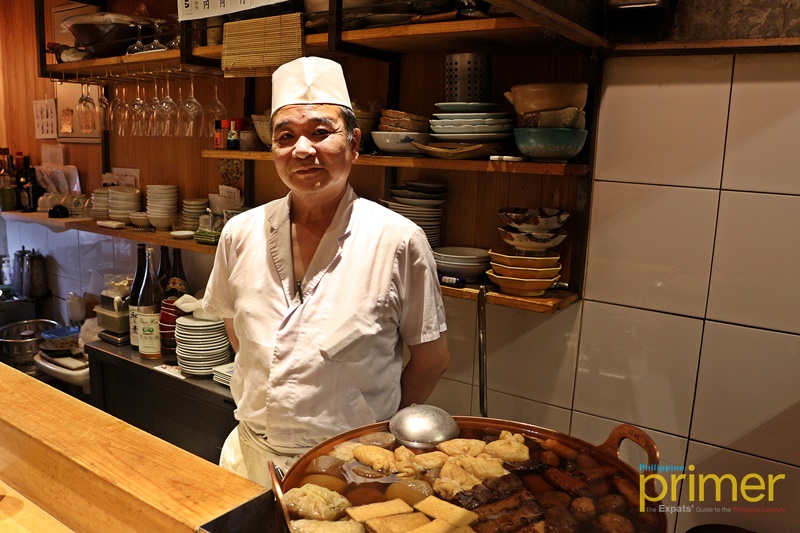 The usual customers of Apron are women and young professionals, who, as I observed during our visit, seem to already have a comfortable relationship with the head chef.
Also read: Harmonica Yokocho in Musashino, Tokyo: Hidden Treasure Trove of Food and Nightlife
---
Written by Rei Leaño
This first appeared in Philippine Primer English magazine's Vol. 32 – November issue. 
Store Information
Harmonica Yokocho, 1-1-1 Honmachi, Kichijoji, Musashino-shi, Tokyo
+81422-23-5334
5 pm to 12 am
Cash only