La Vita at The Podium: Authentic Italian Traditional Cuisine in Every Bite
Your favorite Italian restaurant La Vita just moved to its new home at The Podium in Mandaluyong City. With this move, the restaurant still carries with them years of authentic Italian tradition and cuisine on every plate through Chef Maurizio Gibillini, the main person in-charge of La Vita's kitchen.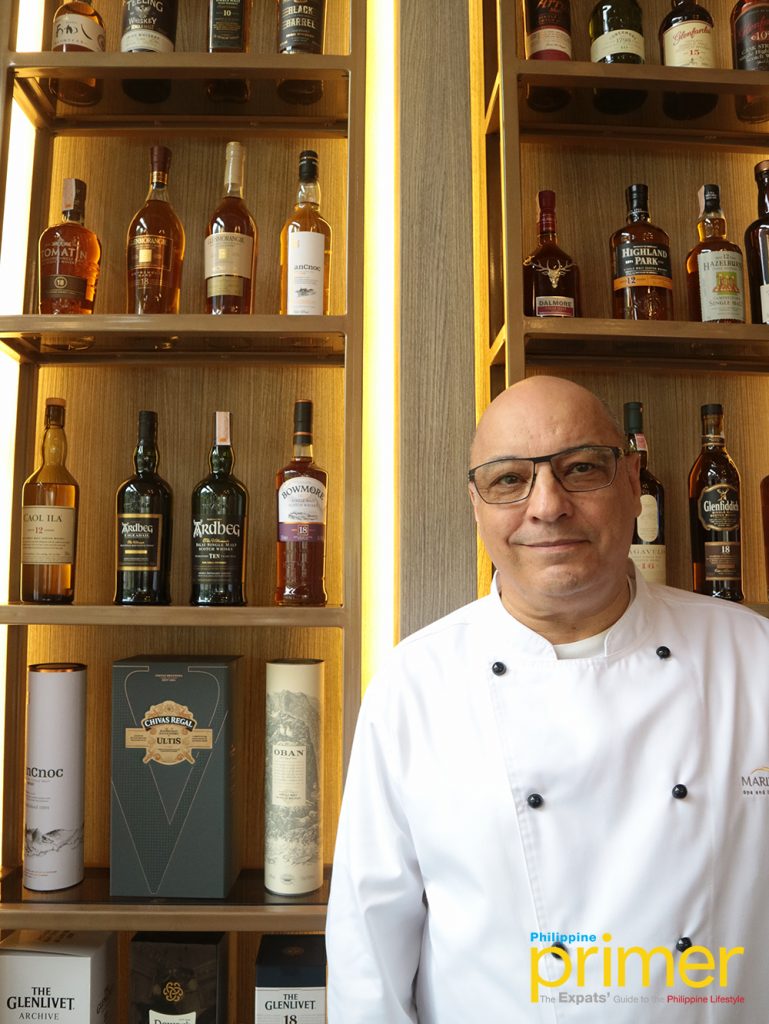 Chef Maurizio Gibillini hails from Milan, Italy and brings authentic Italian cuisine to the Philippines with La Vita at Marina Bay.
With the restaurant's array of main ingredients such as canned tomatoes, mozzarella cheese, and pasta imported from Italy, La Vita serves their customers with 100% Italian dishes. La Vita sources other food components locally, such as vegetables, fish, and clams, to guarantee its freshness.
Upon your visit to La Vita, complete their course meals and try their Carpaccio Di Polipo as your appetizer. With its tender slices of octopus drizzled with olive oil, Italian vinegar, and sprinkled with bits of garlic and chili, the appetizer teases the tongue with small bites of spice, readying your stomach for the next course.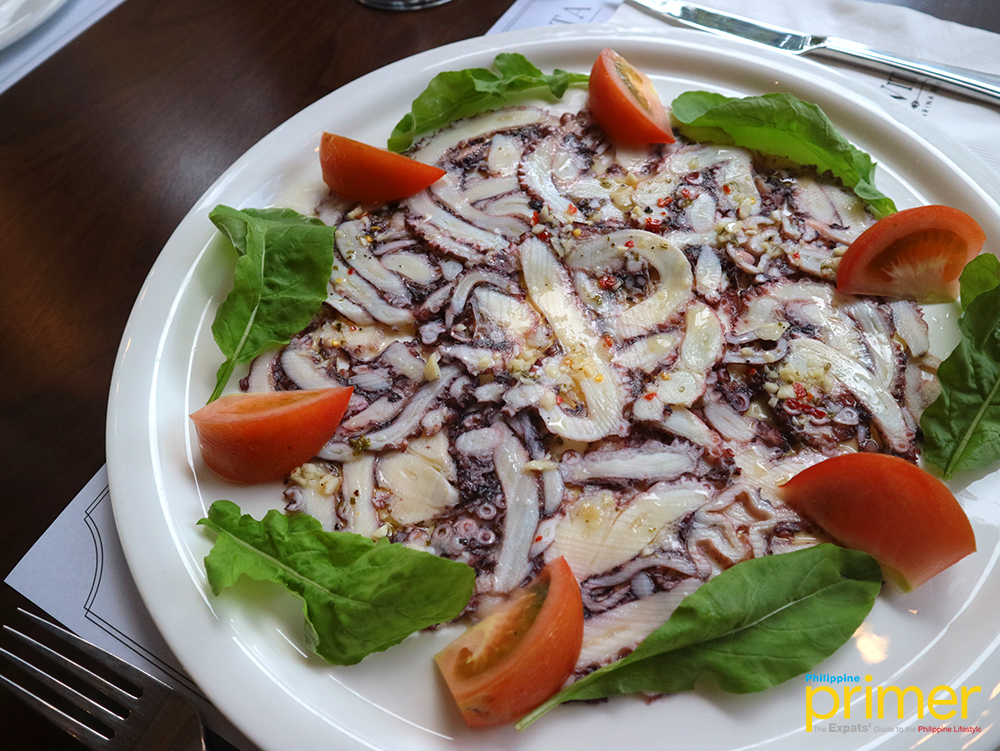 Carpaccio Di Polipo
Pizza lovers may also be surprised with La Vita's Pizza Burrata with its soft, almost doughy fresh cream made of Italian cheese, perched in the middle of their pizza. Best eaten while hot, the cheese is broken in half and is spread on the pizza. Sandwiching the creamy cheese, each slice of the pizza is meant to be eaten by hand according to Chef Gibillini, who charmingly requires it to bring an authentic Italian dining experience to his customers.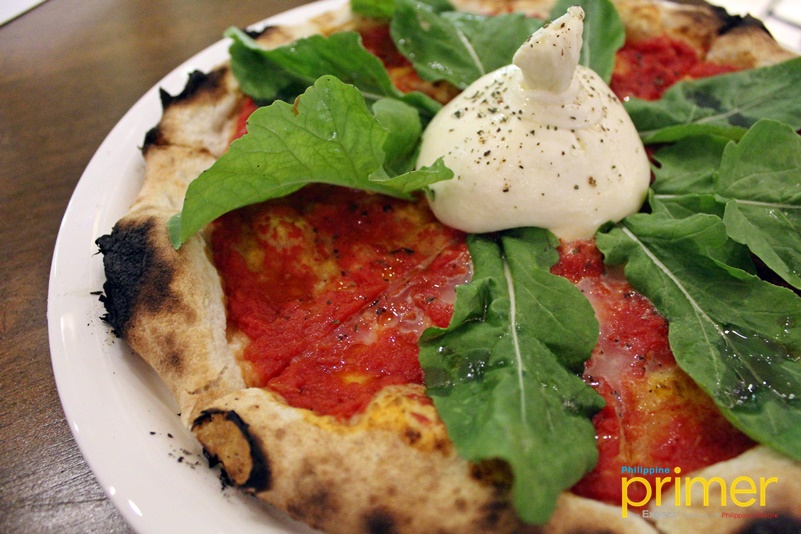 Pizza Burrata
Another exciting thing about La Vita's move is the addition of a new brick oven in their kitchen. This is where they now bake their pizzas, giving the crust a crispier and slightly charred quality as well as an added flavor to the pizza.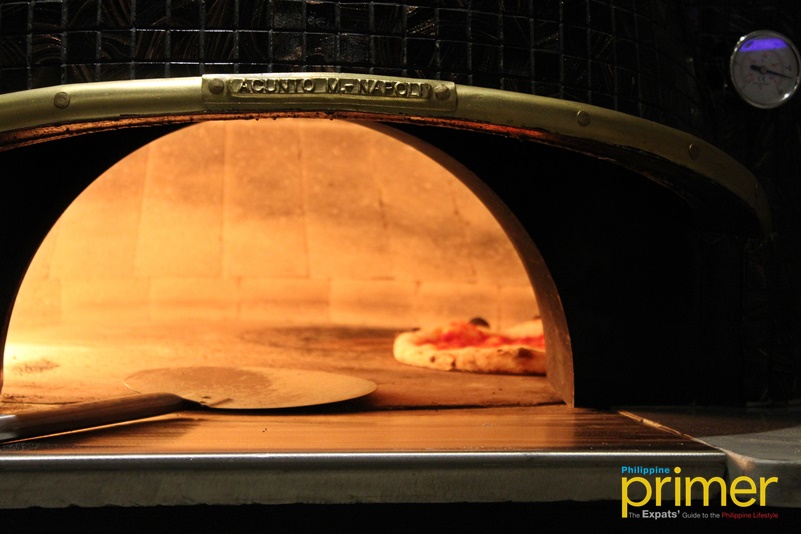 A pizza dough bakes inside the brick oven
For pasta, try Chef Gibillini's homemade Pappardelle Tartufate, laden with a story to tell. According to the Italian chef, every plate of the pasta goes back into the kitchen without a cream left to its name. This has been the reputation of Chef Gibillini's pasta with porcini mushroom for its cream.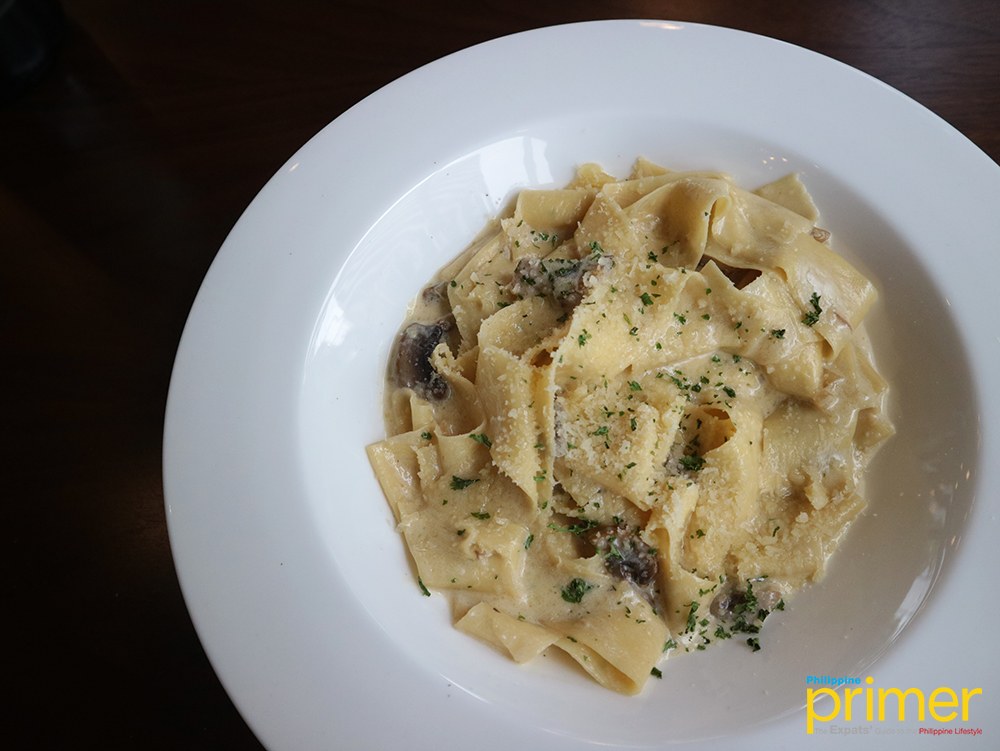 Pappardelle Tartufate
Chef Gibillini also recommends the Spaghetti Tavolara, which is flavored with the sinful goodness of crab fat with a little bit of cream for the sauce. A generous serving of freshly cooked shrimps is also added on top to complete the experience. The chef shared that this pasta dish has been one of the most requested dishes of La Vita regulars.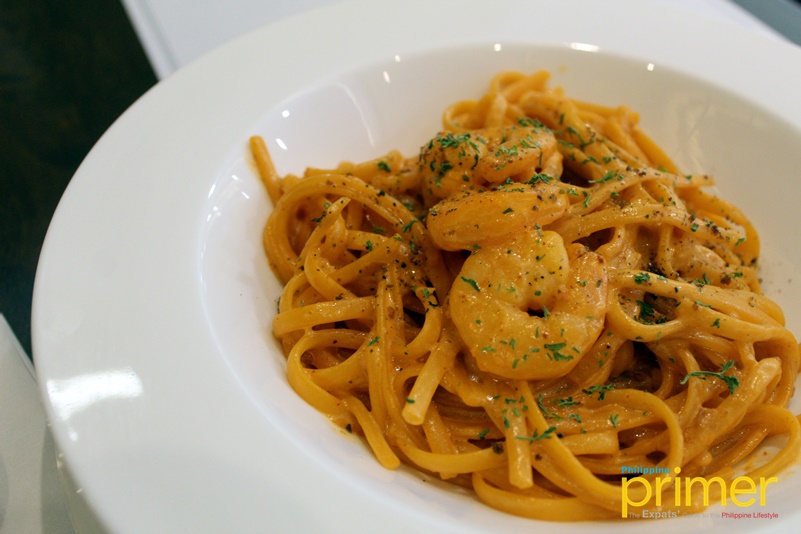 Spaghetti Tavolara
Their main course is a joy to share with family or friends as a great helping of sliced U.S. Black Angus Grilled Rib Eye is served with porcini mushroom sauce, with a side of mixed vegetables, and creamy mashed potatoes. The Tagliata Di Manzo Alla Robespierre is one of the dishes La Vita prides itself on for its tender and flavorful ensemble.
Tagliata Di Manzo Alla Roberspierre
And while we are at it, be sure to save some room for La Vita's Pannacotta. It has the right amount of sweetness to finish off a meal but not too much as to give you a toothache. With the saltiness and texture of the nuts complementing the milk cream gelatin, surely the pannacotta is the dessert you won't want to miss at La Vita.
Pannacotta
Chef Gibillini recollected how Europeans meditate on a beautiful bottle of wine after lunch or dinner. Now everyone can also enjoy a glass or two at La Vita with their impressive selection of wine. Variants such as Macchia, Primitivo, Nero d'Avola, and Negroamaro are chilled and served in the restaurant.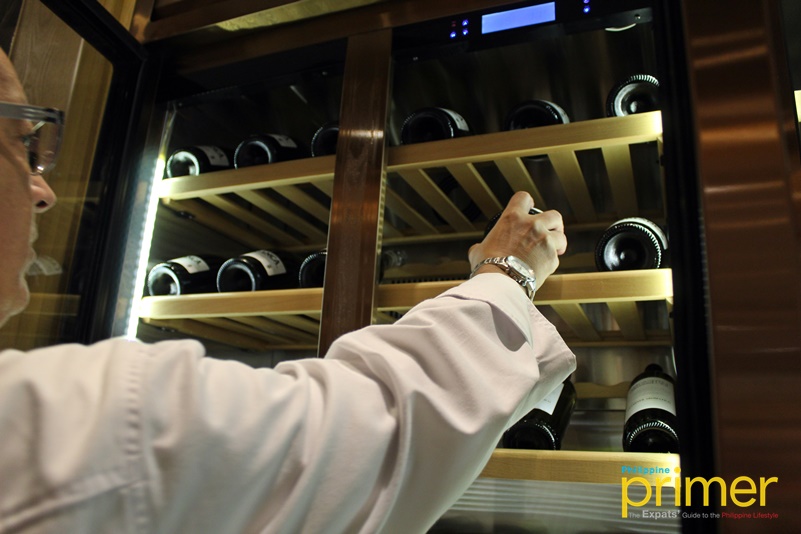 Wines are often served in Italy and all over Europe after lunch or dinner, according to Chef Gibillini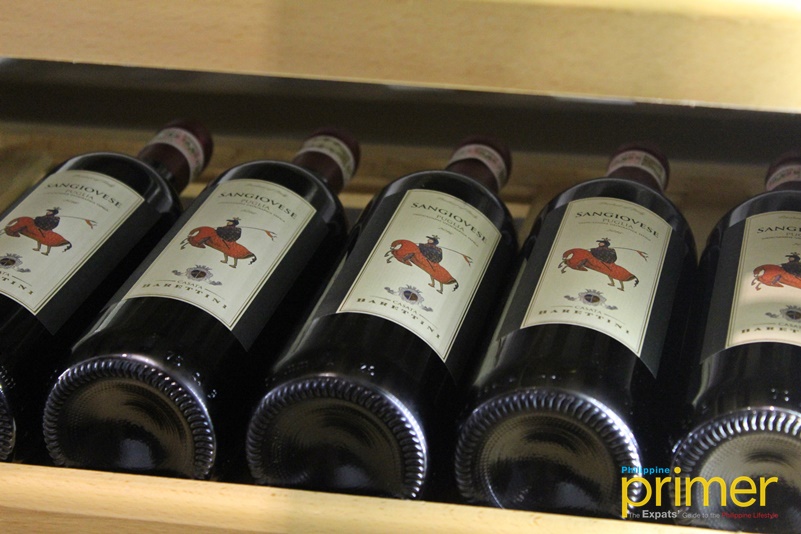 Sangiovese is the house wine at La Vita
About Chef Maurizio Gibillini
Chef Gibillini, with his compelling character, fell in love with the Philippines since his arrival in 1994, going back and forth for three years since then. Food had always sparked his passion and curiosity, more so as their family once had a big bakery in Milan, Italy. Establishing his first restaurant in Boracay, he continued to improve his skills to reach greater heights, driven by his love for food.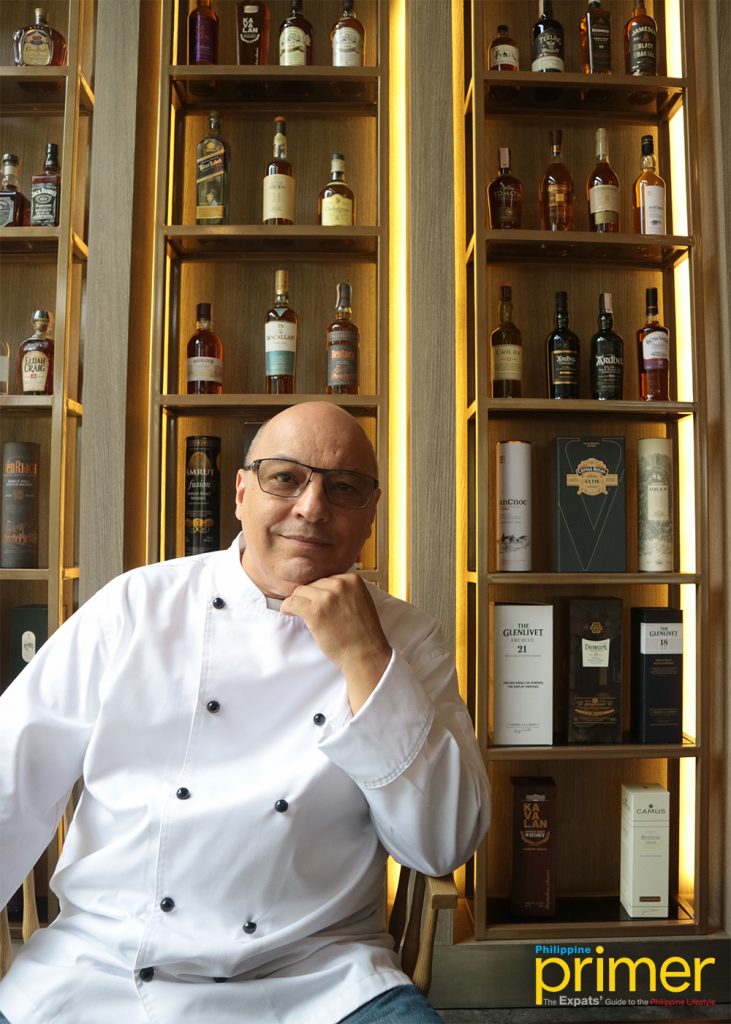 Chef Gibillini introduces La Vita as one of the really few authentic Italian restaurants in Manila.
Moreover, the Italian Chef argues that food, if he were to be honest, is next to God in Italy. As if to prove this, the Chef related how every port in the boot-shaped country has different ways of cooking soup and utilizing seafood alone. Plus, with years of influence from Austria, France, Germany, and the Arab nations, the Italian gastronomy differs in every direction.
As Chef Gibillini includes family, food, passion, and love into one amalgamation of elements, the restaurant, with its 65 to 70 seating capacity ideal for gatherings of friends and families, embodies its name well as the chef christens it La Vita or The Life.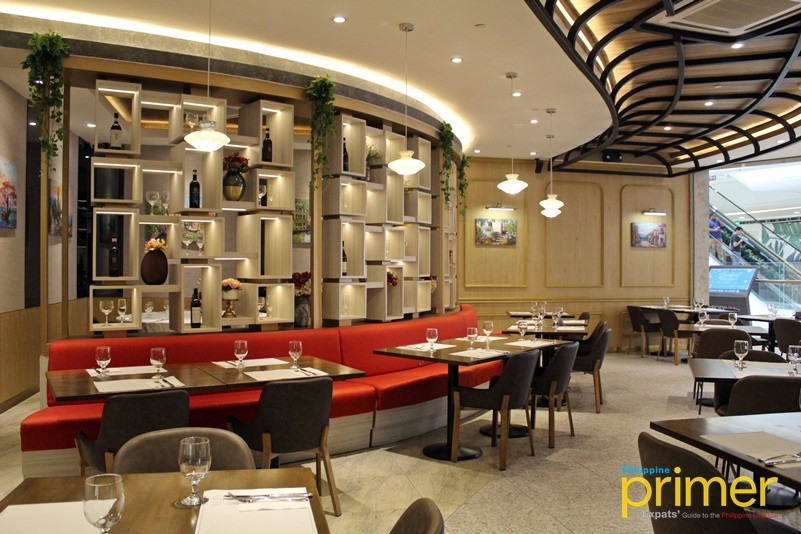 The upscale interior of the restaurant has little hints of Italian elements to complete the vibe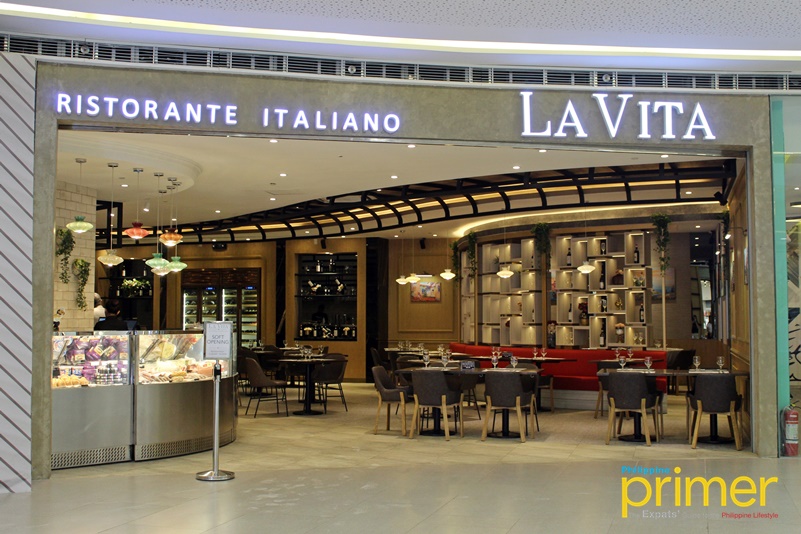 La Vita is located at the 3rd Level of The Podium, DB Avenue, Ortigas, Mandaluyong City
For more information, you can visit their Facebook Page at www.facebook.com/lavitaphilippines, or call them at 02-8285-1486 or 0920-976-8888 for reservations.
How to get there:
La Vita is located on the 3rd level of The Podium.
By car: Take EDSA to Ortigas. Make a right at Guadix Drive then follow ADB Avenue. The Podium is on the right side of the road.
By commute: Take the MRT to Ortigas Station. Walk to The Podium through SM Megamall.
---
*Prices to be updated. Subject to 10% service charge
Written by Chin Sanigan
General Information
Level 3, The Podium, DB Avenue, Ortigas, Mandaluyong City
02-0285-1486
0920-976-8888
11 a.m. to 2:30 p.m. (Mon to Fri), 10 a.m. to 10 p.m. (Sat and Sun)
Cash, card