Story of Filipino Success: David M. Consunji of DMCI Holdings, Inc.
For some of us, it's hard to imagine how an ordinary man from a middle class family can rise to the very top and become one of the country's richest men. However, this is exactly what construction magnate David M. Consunji did as the founder and Chairman Emeritus of DMCI Holdings, Incorporated.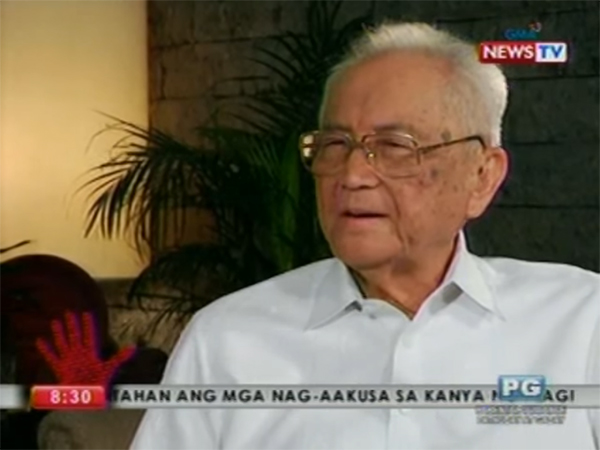 A NICE GUY WHO FINISHED FIRST. DM Consunji, 92 at the time of this interview with Winnie Monsod, talked about his keys to success.
The man
The now 95-year-old David M. Consunji was born to a middle class family in Hermosa, Bataan. Once a humble concrete inspector, the Civil Engineering graduate from University of the Philippines – Diliman started his construction business in 1954 as nothing more than a small contractor.
FROM LA SALLE TO UPD. He did not have the worst of starts, but he wasn't given the best one, either.
Before rising through the ranks of the country's richest with his company, DM Consunji, Inc. (DMCI), he was a small construction contractor who did not have connections to the biggest names of his time. All he had was his dedication to quality work and finishing projects on time.
He started gaining steam when he finished a plant for tycoon Don Andres Soriano, who was impressed at how he finished the project almost six months ahead of schedule.
He also served as Secretary of the Department of Public Works, Transportation, and Communications during Marcos' time. He was later removed from office because he did not tolerate shady deals.
Building up
Consunji rose through the ranks the old fashioned way: through blood, sweat, and (probably) tears. His company, DMCI, was formally incorporated in 1954 and started with building chicken houses for the Bureau of Animal Industry.
Known for their on-schedule delivery and quality of work, his biggest break came when he finished the Tacloban Coca Cola plant six months ahead of schedule. Since then, they've enjoyed patronage from some of the biggest names in the country, like the Ayala and SM Groups, the University of the Philippines and De La Salle University (where he finished high school), and multinational companies like Mitsubishi Heavy and Nippon Steel.
DM Consunji today
BLOOD, SWEAT, AND (PROBABLY) TEARS. Consunji did not have any major connections in the construction industry, yet he persevered and is now one of the richest men in the country.
Diversity is one of Consunji's keys to success, along with doing good business (i.e. finishing projects on time while still maintaining the highest quality), taking risks, and living a lifestyle that's below what his net worth can handle.

Today, DMCI Holdings, Inc. is one of the country's top companies, helping Consunji become the 7th richest man in the Philippines. DMCI Holdings may not be as diverse as, say, the Ayala Group, the SM Group, or San Miguel Corporation, but it does have a hand in key industries:
DM Consunji, Inc., the one that started it all, is still a big player in the construction industry.
DMCI Homes, DMCI's housing division, is one of the country's top real estate developers, especially in the high rise condominium sector.
Semirara Mining and Power Corporation (SMPC) is an emerging player in the Philippine power industry as well as being the country's largest coal producer.
DMCI Power Corporation (DMCI Power) is their second dip into the power cookie jar, with contracts for the 13-megawatt Masbate Diesel Power Plant and the 600-megawatt Thermal Coal-Fired Power Plant in Calaca, Batangas.
---
Images grabbed from De La Salle Alumni Association, GMA News Online, DMCI Holdings
Source: Forbes, GMA News Online, DMCI Holdings, De La Salle Alumni Association