How to earn millions with only ₱20: The Ice Candy Factory Success Story
Have you ever asked yourself: what can I do with P20? Well, apart from what this commercial and others like it have shown you, there is another way: build an ice candy empire.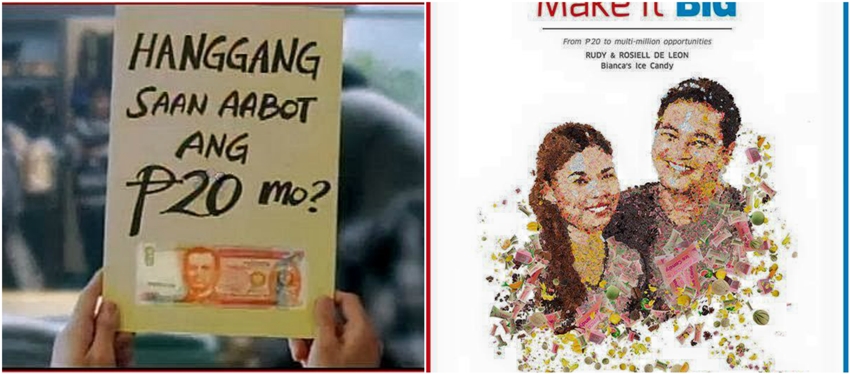 A PRESSING QUESTION. For a couple who lives in Rizal, their answer was simple yet largely unexpected: build an ice candy empire. (Photos grabbed from AD Subliminal and Ice Candy Factory – Bianca's Special Facebook page)
Rosiell and Rodolfo De Leon certainly were not expecting that the lone P20 bill they had would lead them to having a booming business empire. Here's the story of how the De Leons started Bianca's Ice Candy in 2011.
Humble beginnings
The De Leons hit rock bottom when Rodolfo lost his well-paying job. They managed to save up some money, but it was not enough to pay the bills and send their children, Bianca and Nica, to school. Times were so hard for the family that they had to resort to using charcoal to cook their meals instead of on a gas stove.
With only P20 left in her wallet and they were the only ones in their local neighborhood in Rizal that had a refrigerator, she bought ice bags and sold ice at P3 per piece, earning P300 in the process. She then bought ingredients to make ice candy which they sold to their neighbors at P5 per piece.
Their ice candy eventually gained steam and became a hit with their neighbors. They then tapped the local street vendor who hawked fish, sari-sari stores (neighborhood variety store), carinderias (small canteens), bakeries, and even the cigarette vendors to sell their ice candies by letting them keep P1 for every ice candy they sell.
The decision
Rosiell and Rodolfo have their daughter to thank for their business being as big as it is today. Their daughter, Nica, attends one of the local public schools in Rizal. She asked her parents to bring their ice candies to their school because they did not have snacks she liked. After a talk with the principal, they were able to get their daughter's school as their first client.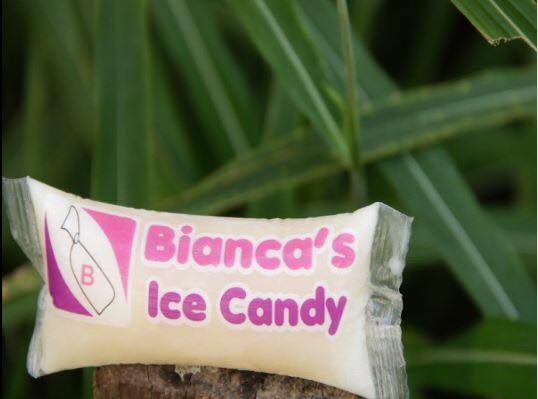 THE START OF AN EMPIRE. Bianca's Ice Candy became such a hit with their daughter's public school that it soon became a sensation.
From there, their list of clients grew. In two years, they've grown from one school to 13. Another two years would pass and they would get 40 more schools. As of July 2016, they're already serving 136 schools in Antipolo, Pasig City, and other schools in Quezon City and the province of Rizal.
When Entrpreneur.com.ph asked them why they were so successful with public schools, Rosiell said she and her husband were both from the public school system. Besides making delicious and affordable ice candies, their product works well with the tray system used in public schools.
Under this system, a tray of snacks is brought to each class. It's both efficient and helps avoid accidents during a recess rush. Armed with this knowledge, Rosiell and Rodolfo gained a steady following from public schools. The schools also get to keep a portion of the profit from their sales.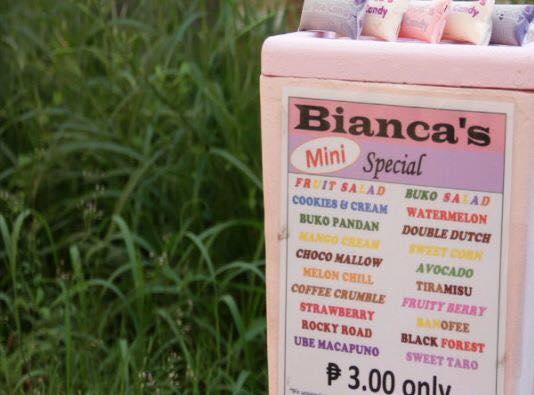 24 FLAVORS AT P3 each. It's something that cannot be achieved overnight. From their daughter's favorite fruit salad, they now have 24 flavors, still sold at P3 each.
Today, they now have two factories in Antipolo that churn out a combined total of 60,000 ice candies a day in 24 flavors. They've also gone from having Rodolfo himself deliver their ice candies by tricycle to three frozen trucks. They'll be opening a new factory in Antipolo come August, hoping to bump their production to 500,000 and giving jobs to at least 50 people between their three facilities.
They're also a part of PLDT Inc.'s business solutions provider PLDT Smart SME Nation as one of its ambassadors.
So allow us to ask you again: what can you do with P20?
Source: Entrepreneur Philippines – Multi-million ice candy business revisited, Entrepreneur Philippines – From P20 to Millions, GMA News Online
All photos courtesy of Ice Candy Factory – Bianca's Special unless otherwise indicated