Get the Best Cleanroom Materials at P2M Korea Logistics Inc.
If you're working in manufacturing or pharmaceuticals, you should know that a cleanroom is a sensitive environment that must be monitored for pollutants, debris, and other harmful particles. Pollutants can be found in the air and can come in the form of dust and microbes. When spills and contamination occur, it's important to ensure that your maintenance staff has cleanroom wipers on-hand for fast and efficient cleaning and sanitizing.
Electrostatic discharge (ESD) gloves, on the other hand, must be used as a mandatory safety equipment for working in laboratories, assembly lines, and factories to help prevent injuries from electric shocks when working on eletrical equipment.
How are Cleanroom Wipers Different from Ordinary Wipers?
If you think that you can use just any wiper to absorb spills and contamination in your cleanroom, you're wrong. Cleanroom wipers are different from household wipers for a number of reasons: they are highly absorbent and resistant to chemicals and abrasion. These wipers also have low levels of lint for better control of moisture, solvents, and spills for cleaning surfaces, machines, and production materials, making them the number one choice for disinfecting and sterilizing spaces.
Wipers like Superlimit and Microlimit are knitted wipers made from 100% continuous filament micro-denier, ideal protection for those doing ultra high accumulation semiconductor processes in TFT LCD sterilized rooms. The Superlimit Wiper, very much like SAVINA MINIMAX, cleans instruments, apparatuses, and peripheral devices while causing no contamination. Meanwhile, the Polyester Wiper is a knitted wiper made of 100% multifilament PES fiber, suitable for equipment cleaning in critical manufacturing operations.
Static-resistant Gloves
ESD occurs when two objects with different voltage potentials come into contact and are subsequently separated. This results in an electrical current passing between them, as static electricity is discharged.
The human body is capable of conducting electricity so people can also be a source of static electricity. This means that ESD can occur when a person comes into contact with an object that also contains static electricity or has voltage potential. For example, it's the 'zap' you sometimes feel after touching a metallic object like a door knob or steel railing.
ESD gloves are designed to stop the phenomena from occurring. They have anti-static properties, which helps dissipate static electricity and prevent both the wearer and the objects they touch from being exposed to ESD.
The Best Brand for Cleanroom Materials
P2M Korea Logistics Inc. is among the top brands in the Philippines you should consider when it comes to cleanroom wipers and other control and cleanroom products. As a leading producer of ESD-related materials and cleanroom wipers, the company offers a wide variety of quality and industrial-grade goods for cleaning and sanitizing manufacturing environments which includes semiconductors, LCDs, and micro-electronics factories and processing facilities.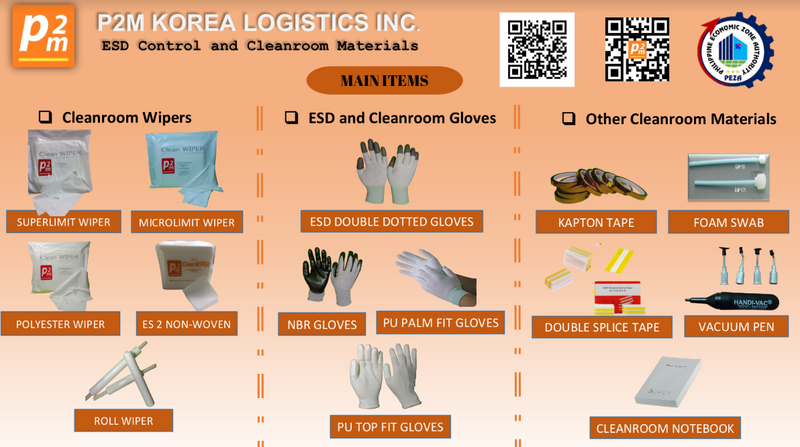 IMAGE from P2M Korea Logistics Inc.
The company also manufactures and supplies a various ESD and cleanroom gloves and a number of control and cleanroom materials such as vacuum pens and foam swab that meet the strict requirements of various fields and industries. Its products are tested to ensure exceptional cleanliness for high performance and consistent quality.
More than 85% of its customers are Japanese manufacturing companies, who for almost a decade, have been relying on P2M Korea Logistics Inc. for the quality of its products and services.
P2M Korea Logistics Inc. is located at Bldg. 7A Panorama Compound 1, CPIP-SEZ, Brgy. Batino, Calamba City, Laguna. For inquiries, call (049) 508 0126. Follow the company on Facebook.