Business Talk with Yoichiro Ikeda, Chief Advisor to the President of Asian Development Bank
Business Talk with Yoichiro Ikeda, Chief Advisor to the President of Asian Development Bank
Yoichiro Ikeda is the Chief Advisor to the President of Asian Development Bank since 2017. During his 18 years of professional career, he has been wearing several hats: a government official, an international organization staff, and a leader of the non-profit organization, Crossover.
His work experiences have been spanning many countries including Bangladesh and the Philippines. He keeps working both at the micro grassroots and macro policy-making levels, aiming at leading an effective collaboration across different occupational, organizational, and national boundaries toward achieving sustainable development for countries and for the globe.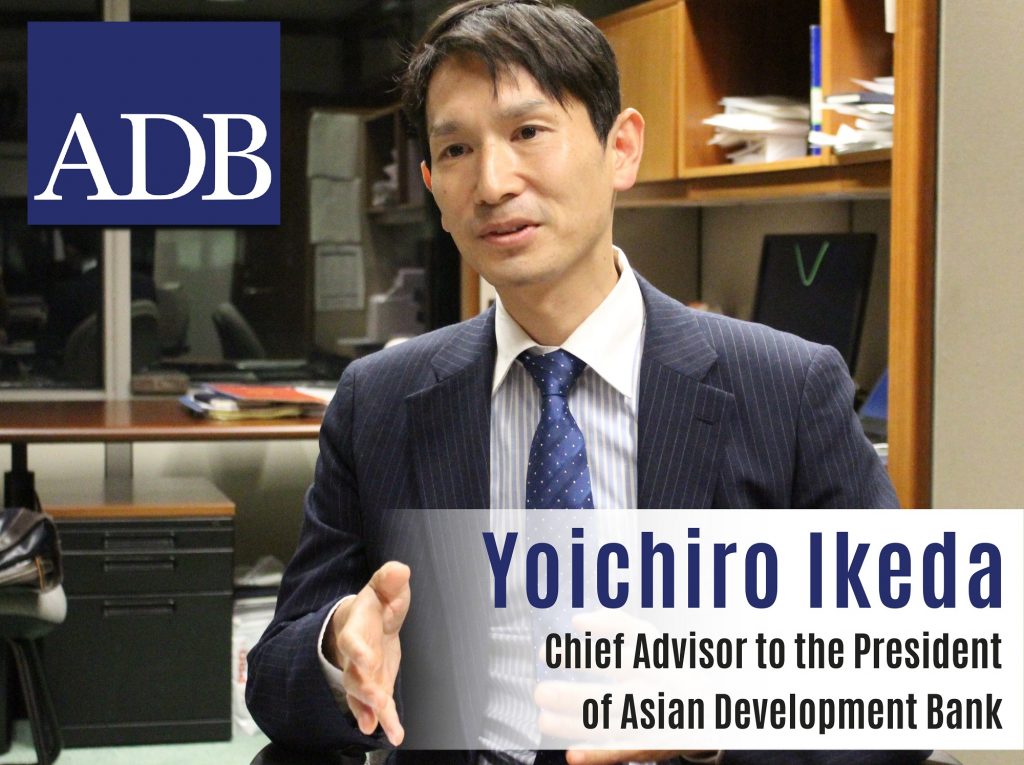 Why did you choose to work for the Ministry of France? 
A profession that can contribute to developing one's own country is something that I wanted to pursue since my childhood, due to my interest in Japanese and world history, as well as the influence of my father and grandfather who worked hard to develop Japan. While I was on a job hunt, I found the Ministry of Finance (MoF) attractive as a place where I can dedicate myself to Japan's national development with a holistic view, grave responsibility, and effective tools. I was also impressed by the MoF staff, in particular, their professional ethics and effective communication skills. My professional career started at the Budget Bureau of the MoF in 2001. Two years later, I had a chance to be seconded to the National Tax Bureau in Hiroshima.
Could you tell us about your experiences in Hiroshima?
Exposing myself to the field where tax collection was actually going on helped me appreciate how important it is to feed both tax collectors' and taxpayers' views into tax system, which is the foundation of a country. I was also really into studying English there. To be very honest, I even could not introduce myself by attending an English conversation school almost every day to get as many opportunities as possible to use English. While English education in Japanese school is said to be too input-oriented, such as memorizing grammar and vocabulary, a huge jump of my English communication skill in Hiroshima would not be possible without the foundation that I built with a lot of inputs.
With your enhanced English skills, you went to the USA.
Thanks to a generous program supported by taxpayers, I got a chance to study at Harvard Kennedy School for two years from 2006. I learned how to manage public organizations effectively and how to solve public issues through a partnership between the government, businesses, and civil society organizations. I also tried to get field experiences in developing countries by volunteering at a shelter for kids orphaned due to the HIV/AIDS pandemic in a rural place in Kenya, and also by working as an intern for the microfinance institution in India.
Please talk about memorable experiences in the USA.
My biggest learning was from the experience that I became a so-called "minority." There were no students other than me who did not have any experiences of studying or working in English. Catching up with the discussion in the class was truly challenging. I felt I was the only one left behind. I tried hard to actively participate in discussions by setting a goal: asking at least one question in one class. This made me feel confident step by step. After two years in the Kennedy School, I came back to the Ministry of Finance in 2008 and joined a team that handled international matters.
2008 was the year when the financial crisis occurred.
I was struck that a financial problem in one country rapidly spreads all over the world. Under the extremely serious and imminent situation, as one of the members of the crisis response team, I worked almost around-the-clock including weekends to catch up with the ever-changing situation of the US and European markets engulfed by "a once-in-a-century financial tsunami," and considered the government's countermeasures. It was indeed daunting, but I learned a lot: the importance of taking corrective actions among various governments, as well as the difficulty of communicating with markets under the crisis. Then, I moved to the World Bank in 2011.
What role did you play in The World Bank? 
The World Bank helps developing countries with concessional financial resources and knowledge. I worked in the Bangladesh country office to get a field-level perspective, where I developed the third-party monitoring mechanism through a collaboration with the government and local civil society organization. This new mechanism was meant to get direct feedback from the users of projects such as cyclone shelters in coastal areas to enhance the design of The World Bank-funded development projects. This experience was followed by the mission at the headquarters in Washington DC to scale up the mechanism across the Bank.
What is your role in ADB? 
As the Chief Advisor, I am always with the President to support him to make an informed decision on important managerial issues. Facilitating communication between the staff and the President is also an expected role that I should play. ADB has increased available funding for the Philippines for infrastructure-related investments, like a railroad project between Clark, Pampanga, and Malolos, Bulacan, as well as for reforming education program and reconstructing Mindanao after the conflict. With about 3,000 staff, ADB helps its developing member countries by providing not only financial resources but also practical and cutting-edge knowledge.
What do you have in mind for effectively managing an international organization like ADB? 
What matters is to turn the differences of each staff, like nationality, culture, and specialty, into strength as a group. To prevent ADB from being a fragmented and silo-minded institution, we promote communication across various sectors and enhance staff mobility among different departments.
What is your dream for the future? 
I hope to keep contributing to making the world free from conflict. To achieve the goal, I want to squarely face people and issues in front of me, while continuing to play different but interrelated roles as a Japanese government official, and the leader of a civil society organization. In blazing my own path, I want to embrace curiosity, aspiration, and public spirit in my mind. I also hope to continue my practice of going back and forth between the grassroots and the operation room of a big organization to cherish both micro and macro perspective.
Could you give us a quote that motivates you to do well in your job?
The Serenity Prayer by Reinhold Niebuhr: O God, give us serenity to accept what cannot be changed, courage to change what should be changed, and wisdom to distinguish the one from the other.
What do you do on your holidays? 
I like running, visiting the grass-roots project sites where JOCVs (JICA overseas corporation volunteers) are working, and managing my NPO, Crossover, to promote public-private partnership. Since my family came to the Philippines recently, time I spend with them increased, which brings me joy and learning.
---
This first appeared in the Philippine Primer Magazine's July 2019 issue.