Business Talk with Takayuki Araki, President & CEO of AEON Credit Service Philippines
Takayuki Araki became the president of AEON Credit Service Philippines, one of the leading providers of installment plans without credit cards, in 2014. He has a diverse business background, which includes working at a French bank and running a restaurant business in Shanghai.
With calm analytical skills and passion for immersing himself in the main business scene, Araki is introducing financial products and services suitable for every Filipino, leading to the improvement of their living conditions.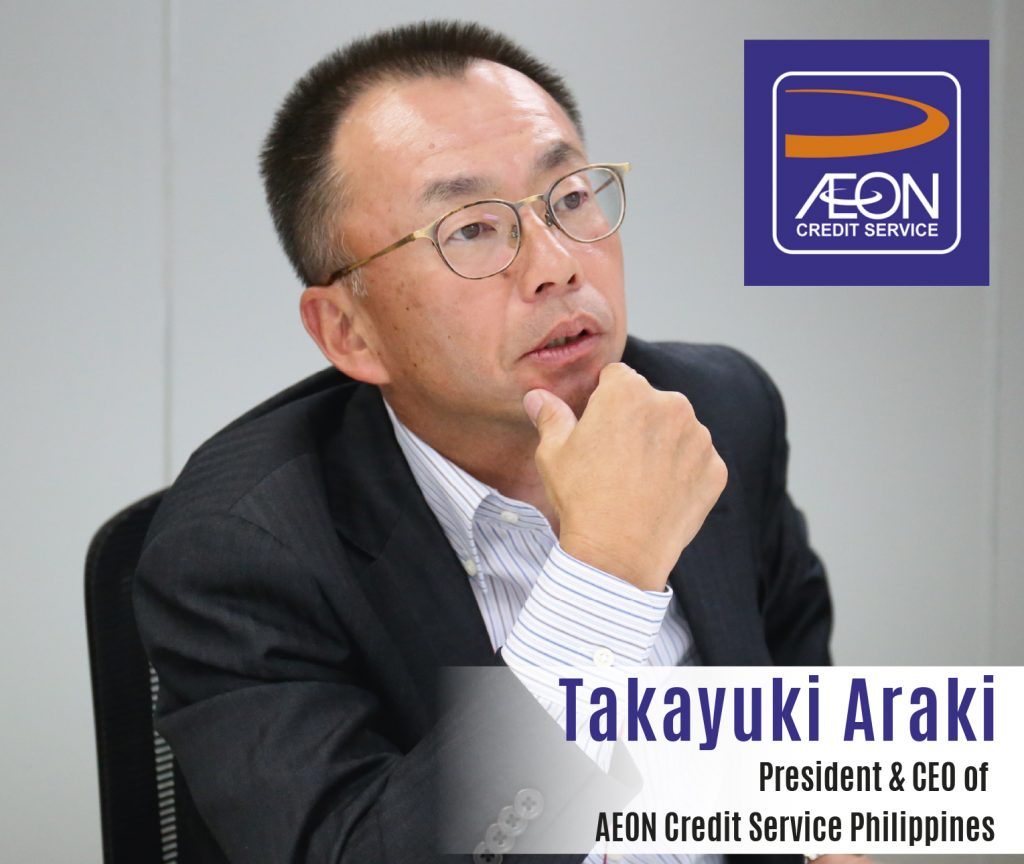 Please tell us about yourself.
I was born in Osaka in 1962 and entered a university in Kansai. I was interested in foreign countries; in fact, I studied English in Los Angeles in my second year of college. In 1987, I got into the Osaka branch of the French bank, Crédit Lyonnais as a fresh graduate. Because of the merger, it is now called Crédit Agricole. At that time, with the yen's high depression before the bubble, manufacturers focused on the number of recruits, so I turned my attention to banks and securities companies. There is a somewhat uniform image for Japanese banks and securities companies, and I joined a foreign-funded company.
What kind of task were you in charge of?
After joining the company, I have been involved in basic operations such as managing credit limit for about three years. After that, I was in charge of supporting sales for corporations. Japanese companies, such as manufacturers and trading companies, based in France were the main customers. After that, I transferred to the Tokyo branch in 1991. I took on the position of Relationship Manager and worked for about 20 years until I was about 50 years old.
What did you do after that?
I have friends in Shanghai, China and started a restaurant business there by recruiting colleagues before I left the bank in 2010. However, I fully realized that the business in China is difficult to manage during that time and then withdrew around 2013. Looking back, what we were missing was a strategy.
What happened after you return to Japan?
I looked for my next job at around 52 years old. I submitted my resume to about 300 companies, but my age was always a hindrance. I worked for about a year looking for a job. After I met a colleague who I previously worked with, he introduced me to my current company and joined in June 2013.
What role did you take?
I was majorly involved in the corporate governance of subsidiaries, accounting, finance, and compliance. In 2014, I was sent to Malaysia, where a company oversees Indonesia, Philippines, and India. I took charge of the reorganization plan in the Philippines and became a president after.
How is the current business situation?
After three years, it has now become possible to make profits. Originally, we set a low-interest rate as compared to competitors for loans, but there was a high risk of customers failing to repay. For this reason, we changed the structure by setting interest rates as high similar to competitors, and we reformed our asset system that diversifies the risks. We continue to improve the collection rate of funds and measures are implemented.
Please talk about the characteristics of the market.
Consumer loans including purchases of cars and household goods are about 4.4 trillion dollars in China and other Asian countries, and the growth rate is 14%. In the Philippines, it is about 26 billion dollars and the growth rate is about 8%. When considering the total sales of our franchisees as a market, it is on the scale of 160 billion to 200 billion pesos, so we can expect considerable growth in the future. I would like to encourage customers who visit affiliated stores and home appliance mass merchandisers to register and analyze installments so that it will improve review and collection. Credit cards as a means of payment will remain for more expensive purchases, but I think that the spread of prepaid cards will advance in the future, so we consider entering the market as well.
I heard that a business designed for low-income consumers was also started.
We started a tricycle drivers' loan in July 2017. It is a loan to purchase a tricycle. We partnered with a company called Global Mobility Service. Initially, we aimed for 1,000 contracts but reached up to 3,000 in 2018. I would like to extend it to 10,000 after three years.
What are your future plans?
In the future, the core business of our company that is installment loans will change. It is unclear whether it will be electronic payments through QR code or whether it will be in other forms. However, we have provided the necessary funds to the customer in an appropriate form. Through various experiences so far, regardless of what kind of new business we are going to start, the most important thing is what's out there—the answer is always on-site, so I would like to gather and review on-site opinions more than anything else.
What words do you live by?
Tomorrow is another day.
It does not mean to postpone what you have to do today. It means that unexpected new developments are waiting if we work on it today. You never know how something will turn out until you've given it a try.
---
This first appeared in Philippine Primer magazine Vol. 36 – March 2019 issue.