Business Talk with Ray Refundo of Qwikwire
Ray Refundo is the CEO and founder of Qwikwire, a multi-awarded startup that provides cross-border payment solutions with its powerful network of banks and payment facilities around the world. He is less on the day-to-day operations and more on Qwikwire's strategic side like getting partnerships with banks from different parts of the world. The startup was founded in 2013 and has been profitable since May 2017.
How long have you been in the tech industry?
For this company, it's been almost five years. I did have another tech company 12 or 15 years ago called MoneyTran, which was an online money transfer service. It didn't work out so it closed down. 10 years after that, I started Qwikwire, so you can say I have been in the industry for as much as 15 years now.
I was born and raised in the Philippines but I went to college in California, Silicon Valley to be exact. The influence there was everywhere, and that's how I got in.
Can you share about how a startup like Qwikwire is built compared to big corporations and companies?
It's a lot more agile. The decision-making is faster. You're also bound to make a lot of mistakes, but that's the beauty of it: you're allowed to take risks, especially in the beginning. The goal of a startup is to become a big corporation.
Most startups don't have a chief operating officer; that comes in later when the company has grown and needs someone to focus on operations-heavy activity. We don't have that yet. What we do have are a lot of activities that involve marketing and sales and product developments.
What separates your company from other firms that can provide the same type of service?
One of the things that separate us is that we are a US company operating in the Philippines. We are licensed with the US Department of Treasury and we have banking partnerships all over the world, especially in the US. US banks are very sophisticated; they're able to operate all over the world. We're able to leverage on that and connect to almost every bank account in the world and every credit card you can imagine.
Our greatest strength, however, is our infrastructure, our banking network. Banks in the Philippines don't have the same network that we do. We're also the first to introduce electronic cheques, which as far as we know do not exist even in other countries.
Are there any achievements you want to highlight?
We have a new project called AQwire, which is something different from what we currently offer. We realized that the problem our property developers have is access to foreign buyers. What we want to do is to build a marketplace where foreigners can buy real estate easily, anywhere in the world. It's like a marketplace for international real estate.
It's very hard to do international real estate right now. People don't know where to start with cross-border real estate. There are differences in acquiring real estate from one country to the next. Even if you manage to get through those differences, it still takes months of work just so you can acquire a property. What we want to do is to streamline that process so it's easier for brokers and property developers to be able to sell their units to foreign buyers.
THE QWIKWIRE TEAM
What are some of the challenges that Qwikwire has faced?
The biggest challenge we have now is our ability to scale. We've reached $1.5 million per month in transactions last June and we should hit $2 million per month in transactions by September. The problem is we could be doing up to $7 million a month already, but we missed out on a lot of big payments because we have a limit of $20,000 per transaction.
Our main problem is not having the tech or the infrastructure; the challenge comes from us not having earned the trust of both the banks and the property developers yet, which prevents us from operating at full capacity.
I talked to the founder of Flywire, one of the biggest cross-border payment providers for consumers. They told us that there's a lot of problems that will be solved by size and not by how much you can handle per year. The bigger your company is, the easier it will be for you to get clients. The first five years is really the make or break point for your team. We are in the process of raising $15 million through a token sale, which will also include an ICO for AQwire outside the Philippines.
What plans do you have for Qwikwire in the foreseeable future?
If the AQwire platform succeeds and becomes big, it will need Qwikwire as its payment system. The bigger AQwire gets, the better it is for Qwikwire. Our goal for the next two to three years is to build on that.
We already have a client in Singapore. The funny thing is we never marketed in Singapore; that client used to be in the Philippines but moved to Singapore. We are planning to open offices in Thailand, the UAE, and the US early next year.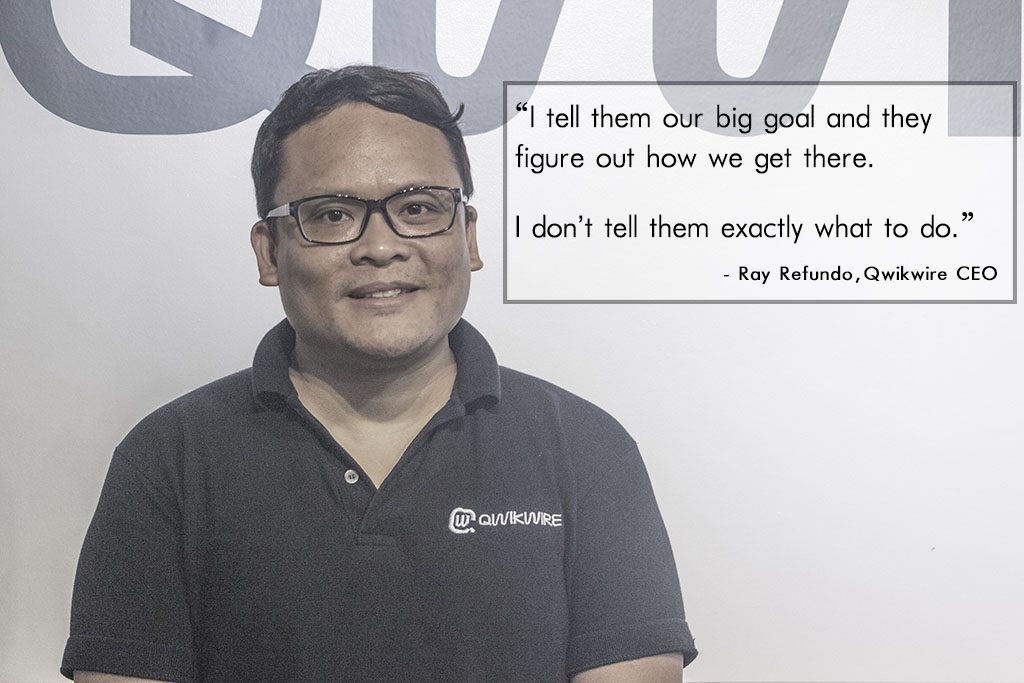 HOW HE RUNS HIS TEAM
How would you describe the way you manage Qwikwire?
It wasn't perfect, especially in the beginning. I made a lot of mistakes.
The way I manage things is that I tell them our big goal and they figure out how we get there. I don't tell them exactly what to do. They can do it in their own way as long as we get the result.
Take marketing for example. I don't know anything about marketing, so I respect their ideas. I ask questions, but at the end of the day, they are still the ones who will do it. They don't even need my approval; they just tell me what they did.
Who are the people you look up to?
I look up to Elon Musk. He's a risk-everything kind of guy and I believe in taking risks. You can't make it big by playing it safe. There's no room in tech startups for risk-averse people.
What has made the most impact on your role as CEO of Qwikwire?
Guidance. I've been fortunate to have the guidance of people who know more than me. Brainsparks (Victor Belen, Artie Lopez, et. al) have given us so much help as far as guiding us in how we can sustainably grow Qwikwire. They were there when we needed guidance and investors.
Do you have a motto or quote you live by?
"Customers first, employees second, shareholders last." – Jack Ma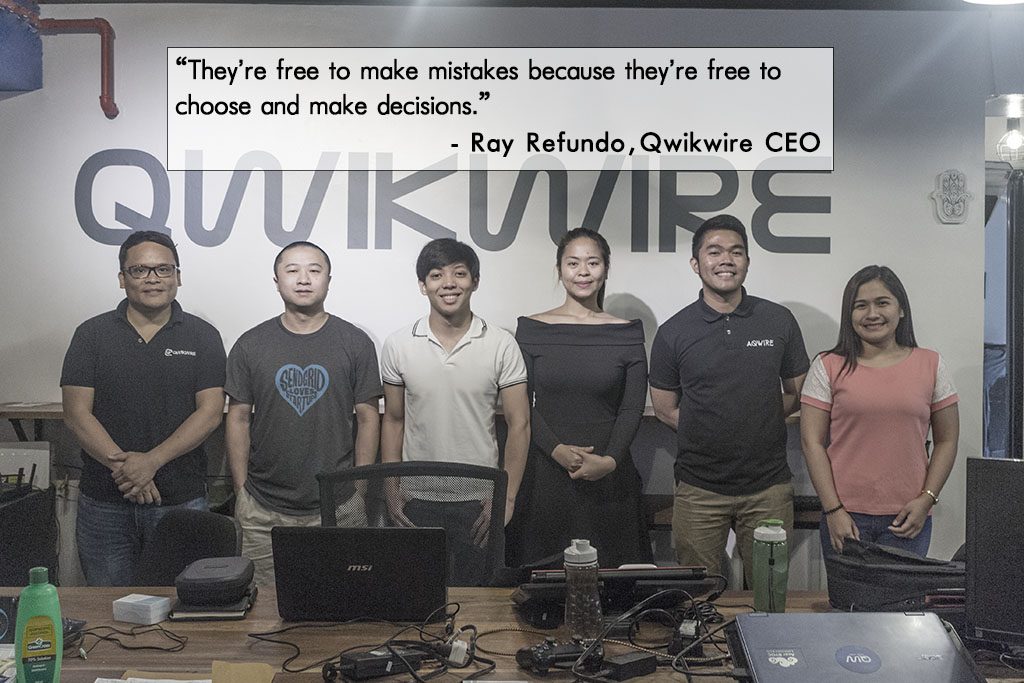 ON GIVING PEOPLE SECURITY
I believe in giving people security. I'm not a "hire slow, fire fast" kind of guy. I'm not like the GM who fires the lowest-performing 10% of their staff every year. I'm not trying to have everyone compete with each other; that's not the culture we want here. They're also free to make mistakes because they're free to choose and make decisions. I've made a lot of mistakes myself. You won't get in trouble for making a mistake here because even I don't know what the right direction is. The key is to learn from those mistakes and move on.
A big piece of advice I can give to anyone is the importance of networking. There's a lot of startup advice going around, but I feel that networking is underappreciated and overlooked. 
Your success comes from people, and that can only come from the power and size of your network. The more people you know, the more chances you have of being introduced to someone who will eventually open doors for you. We've found the best employees, investors, and clients in these networking events. 
---
This first appeared in Philippine Primer English Magazine's August 2018 issue.