Business Talk with Patrick Paul Tan, CEO of Skyjet Airlines
As the CEO of Skyjet Airlines, Patrick Paul Tan is in charge of the day-to-day operations and the future development of the company.
Skyjet started as a resort airline, which now serves Batanes, Coron, Siargao, and Boracay via Caticlan. Being in the process of increasing their fleet and destinations, Skyjet plans to stay with general resort destinations before moving into international charters direct to resort destinations (Boracay, Puerto Princesa in Palawan, Clark, and Cebu).
In addition to this, the company is eyeing to import Airbuses to fly passengers directly from Korea, Taiwan, and China, and to expand domestic routes to commuter destinations.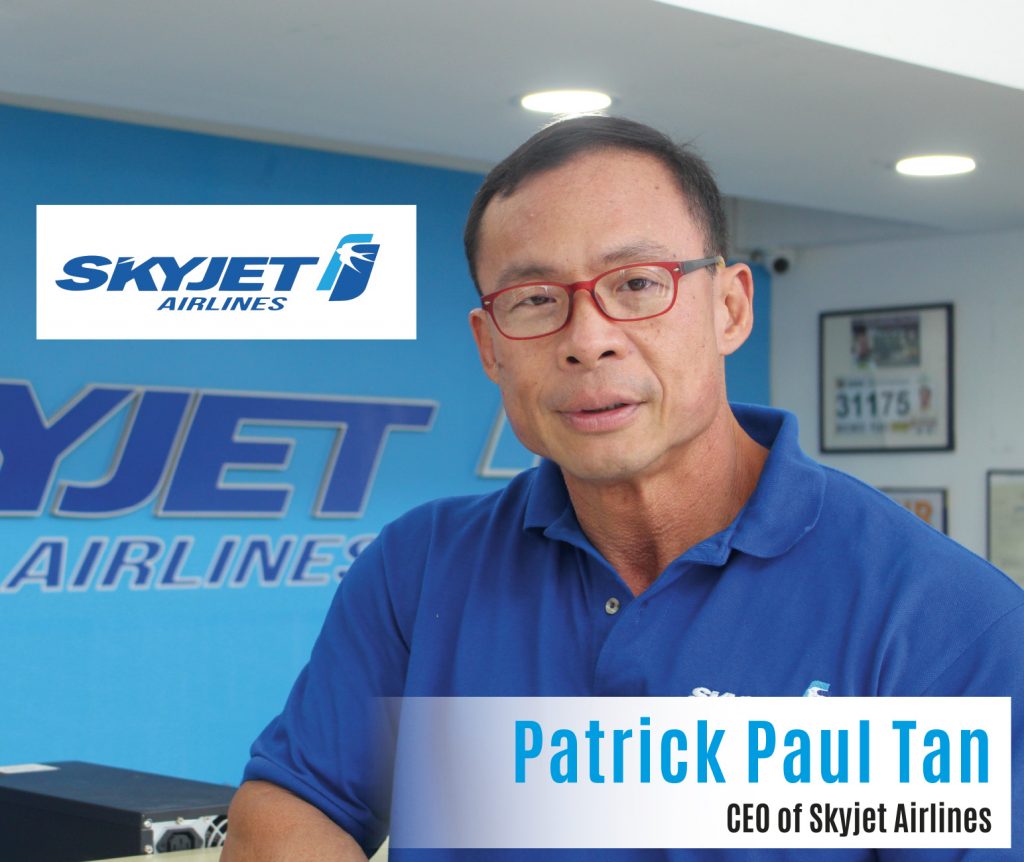 About these commuter routes, will these be the usual routes like Manila to Cebu or Manila to Davao?
No. These will be more of the secondary cities like Legazpi and Masbate, basically the underserved routes.
How did you get into the aviation industry?
I came into the aviation industry as Vice President for Commercial of SEAir, Inc.. I later became their Vice President for Operations before becoming the CEO of SEAir. When SEAir had a tie-up with Tiger Airways Singapore, I became president of Tiger Airways Philippines.
We would fly regional flights from the Philippines to the likes of Singapore, Hong Kong, Kuala Lumpur, and Ho Chi Minh City. We flew from Cebu, Davao, and Puerto Princesa, very quickly becoming the third player in the Philippines.
There was a strategic move with Tiger Airways to get out of their regional joint ventures, so they sold to Cebu Pacific and now operates as Cebgo.
What would you say is the difference between you and other airlines?
We specialize in our routes. We give full priority to our passengers in our routes. There aren't that many airlines taking the same routes that can say the same thing because those are just minor routes for them. In our case, you feel the difference in the service. From check-in to boarding, we provide a personalized service compared to other airlines.
Most of the ground staff from other airlines are outsourced. If you encounter a problem, generally you cannot complain to the ground staff because they're not in a position to tell you anything. In our case, you deal with company employees as soon as you step in front of the check-in counter. This means you have a direct route to getting information about everything that has to do with your flight.
We also treat our guests like actual tourists. If you fly with a low-cost carrier, you expect to be treated like a low-cost passenger.
Would you classify Skyjet as a low-cost carrier or is it something else entirely?
We don't market ourselves as a low-cost carrier, but if you check the airfare consolidator websites, we're generally cheaper than the rest in the routes that we fly. We, however, do not let that prevent us from providing the kind of personalized service we want to give to our passengers.
What was factored into choosing the destinations you currently fly to?
One of the factors was the runways were a bit shorter than standard. The larger airlines cannot go in, and if they do there are limitations as far as the weather.
Our planes are designed for short runways. It's one of the few planes that are allowed to take-off and land at the London City Airport (LCY). LCY has a short runway and requires plans to climb out at a steeper angle than other airports because of noise restrictions in the city. In fact, it's a favorite of the Royal Family. The Queen herself has three of them for her personal use. The only difference is that our planes are 80-90 seaters, while The Queen's plane is a 24-seater.
There are weather conditions in Batanes that will not allow us to land there, but we will be the last to cancel because our planes are the most suited for these runways. If there is a plane that flies into Batanes despite bad weather and high winds, that will most likely be Skyjet.
What challenges has Skyjet had a difficulty of facing?
Right now, we're coming in from afar fourth. We want to improve our position to become the strong fourth player in the local airline industry. We want to keep our position of offering the most number of seats per week to the destinations we serve: Batanes, Busuanga, Siargao.
Skyjet started out as a niche player, and it will remain a niche player for a while. Our focus on our niche lets us give a different level of service compared to typical low-cost carriers. It's because of that service that we want to be known.
Are there any other challenges you're looking to face as CEO of Skyjet?
It'll be more of competitive challenges, like starting new routes. There is a tendency for airlines who fly those routes to drop prices (when a new player comes in), which will lead to price wars.
What plans does Skyjet have for the foreseeable future?
We hope to have the charter operations within 3-5 years. Going beyond that, we want to get into scheduled international flights.
How would you describe your management style?
It's consultative and very open. If you'll notice, my office doesn't have a door. Anyone of my staff could approach me. Even my phone numbers are public, as you'll see in my Facebook account. This is so the passengers can contact me directly.
Who are some of the people you look up to?
I look up to the pioneers and successful leaders in the aviation industry. Lance Gokongwei grew Cebu Pacific to what it is today despite not having a background in aviation. Lucio Tan spent a good 10 years on the outside of Philippine Airlines before getting into the company. I admire their tenacity and hard work.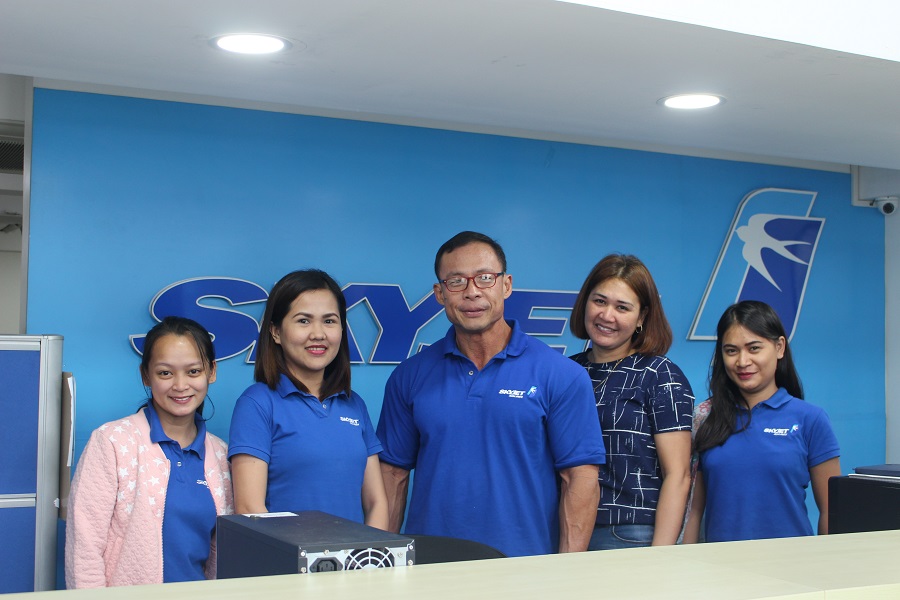 Describe your typical day at work.
My day usually starts at 4 am because I ride my bicycle to work. I go to the gym from 5 am to 7 am before I get to the office by 8 am. I'm usually one of the first people in the office. Outside of meetings during the day, my day usually ends at 6 pm.
I ride my bicycle to work from my home in New Manila, Quezon City because of how much time I save going back home. I save at least an hour and a half compared to driving a car from here to where I live each day. It also removes any excuse from my staff about coming in late for work because I'm the only one who comes in by bike.
---
This also appears in Philippine Primer English Magazine's November 2018 issue.