Business Talk with Omar Cruz, Founder and CEO of Stash
Ernani Omar Cruz is the founder and CEO of Stash, a healthcare management system. He has experience in the IT industry, finance, and airline industry working with large multi-national companies.
In 2015, Cruz was the only Filipino to get accepted into the Australian startup accelerator program, muru-D. With Cruz at the helm, Stash is on a mission to connect doctors, insurance companies, and pave the way for a better healthcare system on the Philippines.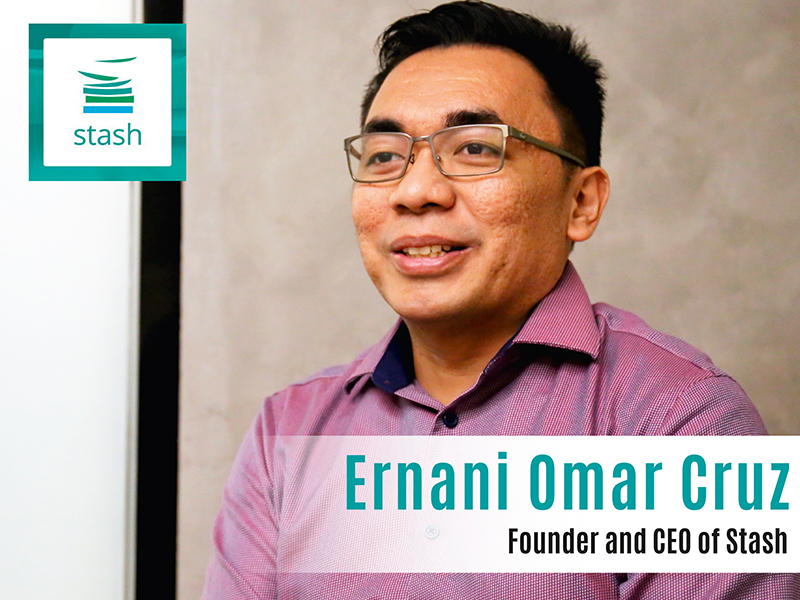 One of our missions is to connect healthcare.
Can you tell us about your company and how it started?
Stash is a health technology company that aims to integrate and offer technology solutions in the healthcare industry. Currently, our focus is on claims management and health insurance companies.
Back in 2013, I was working on an idea "How can I make the doctor and patient interaction faster, more efficient?". Right now, we are still based on paper; when you go to the doctor, the doctor sees you, writes on a paper, then the staff will index it. This is inefficient and insecure. The initial idea was to provide an app for doctors. However, the challenge was scaleability as doctors have different needs and with so many variables, I could not make out how to make a business out of it at the time.
In 2015, I got into a 6-month program by muru-D startup accelerator, a Telstra-backed accelerator program. There, we pivoted to a more strategic approach, which is catered to health institutions. We went from a B2C standpoint with doctors and clients to B2B with hospitals and the health insurance companies, HMOs, and PhilHealth for the most part.
Are you still looking to go back to the original idea of digital transformation for the doctors and patients?
Yes, we are. We changed the starting point for Stash but essentially, the plan to help the doctors and patients stay the same. We went with claims because once we gain a network of hospitals, we can also capture the doctors in those hospitals. It would be easier for us to gain a market and influence people rather than go one by one. There are 70,000 active doctors in the Philippines (2015 DOH data), mostly centered in the urban areas, and there are 2,000 hospitals. We are going on a top-down approach.
How did you get into the industry?
I have been working as a technology head for a firm and we were working on a startup idea. On 2013 I was a new dad which compelled was that whenever we go to the doctor, the time we spend there is ridiculous.
When I was single and used to be active in sports, I got injuries and went to the hospital quite often. There was a doctor that made me wait for three hours and when he finally came to the clinic to look at me, he asked me to buy a pain reliever and charged me Php 800.
It made me think of the people who can't afford doctors, actually dying in wait for medical attention if we have this kind of practice. Coming from the IT industry, we are not used to waiting. There are fast transactions and connection so I saw the need to change.
There are so many points in the healthcare industry especially in the systems that need solutions. For Stash, we want to impact a lot of people and we utilize technology to improve the lives of many.
Here in the Philippines, nobody wanted to invest in healthcare but now, it's one of the hottest industry companies want to put money in. I saw that during a financial crisis, healthcare is the one still alive. It's not going to go away and we believe that what we are doing can potentially affect 5 million people in the next 3 to 5 years.
How do you convince the hospitals, address the cynicism, and tell them that you are actually trying to help?
The first thing that we did was to get credibility. To convince them, there are mainly two parts: first, is we educate them on digital transformation; and second is we ride on what the government is pushing for. Now, Philhealth will only pay claims that are sent digitally and since we are able to do that, it opened a lot of doors for us. We use multiple avenues to convince customers.
What separates your company from others with similar services?
If we are going to talk about the mission and vision of Stash, it's ambitious for us and I don't think there's a similar competition. So there is none. However, of the multiple facets in the industry, there are direct and indirect competitions on many parts that we want to work on.
How big is your team now?
Currently, we are 15 but we started with only one, me. So far, most of the people here have been with us for three years, they've been with me since the start. They know what it's like and they know that this is bigger than us, the mission.
What sets us apart is our missional mindset and it is also being respectful of your roots, the purpose. Healthcare is really difficult in itself, so one of the things we try to avoid is internal conflict, losing our identity and why we do things. We guard ferociously our core values like integrity, action, respect; things that could make or break a company.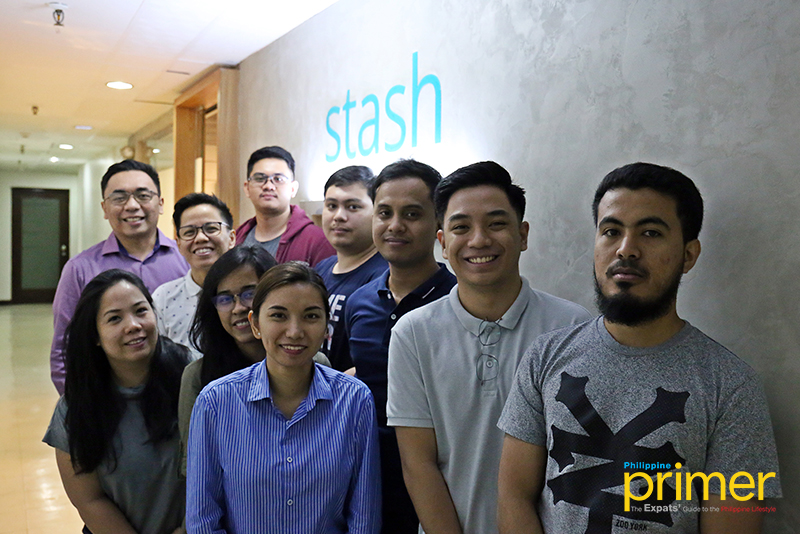 The Stash Team
Do you have anyone with a medical background?
Yes. Mostly in the advisory role. We have eight advisors mostly based in Singapore. The one here is Dr. Ted Herbosa, former Undersecretary of the Department of Health and Noemi Azura, the CEO of Insular Health Care Inc., to name a few. We may not be doctors but we are surrounded by doctors. Our main focus is technology, so we have the freedom of seeing things in a way that people from the medical field may not understand.
What other plans do you have for the foreseeable future?
Yes but maybe adjacent to what we're already doing. As I've said earlier, the Stash mission is quite ambitious. We want to connect different healthcare systems under one platform. Our starting point is the claims, and we are slowly venturing out to financing claims, the doctors' app, end to end claims management, etc. We are working with different partners like Insular Health Care, PhilCare, Intelicare to digitize the whole transaction and bring insurance to people without access to.
What can you say about the healthcare industry in the Philippines? Do you have any data on expats receiving healthcare in the country?
It's getting better. I'm glad about the recent passage of UHC (Universal Health Care) law, the push of the government to modernize the healthcare system especially in claims processing (through e-claims). But I wish that the turnaround time of decision-making becomes faster.
How would you describe your management style?
It's mostly diplomatic as I like people to take ownership of what they do. I dislike micromanaging as that is inefficient. I believe that people work best on something if they can make full use of their own intellectual facilities. I tell the guys what we need to do, the big vision, and I let them do what needs to be done to get to the vision.
What book would you recommend to businessmen or aspiring entrepreneurs?
Zero to One by Peter Thiel. I think it drives the focus as a startup, what it is that really matters. There are a lot of killers of productivity so the founder needs to have a very small focus that needs to be something that will generate the business. If your focus is too spread out, with the limited resources, you will not be able to do anything.
Who are the people you look up to? Who has made the most impact for you?
There is no quick and short answer. I've gotten a lot of advice and influence from a lot of people but in terms of how I govern even my personal dealings and how I do things, is that I am very religious. Most of my dealings are anchored on my belief as a Christian. If you are familiar with the biblical way of how we do life, that kind of sets my principles, but of course, I am not perfect.
As much as possible, I do things in the way that the Bible teaches; love for others, love for God.
Describe your typical day at work.
Normally I wake up around 7 am, I live near so it only takes around 15 minutes to come to the office. Here, I start with doing things on my plan or to do list that I've made the night before. I read as much as I can on things that I need to learn or that I need to study such as a new law. I do those in the morning so my mind is still fresh. If there are any emails that I need to answer or contracts that I need to review, those are also done in the morning.
After lunch, I normally dedicate that to meetings with partners, employees, or customers. Then at night is when I do my planning for the next day or I study. Sometimes I watch entrepreneurship shows, speeches, or I read management books.
Can you give us a quote/word/phrase that motivates you to do well in your job?
There are many things that I would like to quote but something that I always try to do myself is that "Whatever you do, work at it with all your heart, as working for the Lord, not for human masters," and as a Christian, one of the things that really sets the tone is that I work for my God. I don't mind getting the applause of men, which is why we don't go into startup competitions anymore just to prop ourselves.
At the end of the day what matters is that we do things right. We do things as if we are doing things for our Lord and it checks our hearts on why we do things because it is not really for myself. Our purpose is to really make a difference for a lot of people and we cannot do that with something sinister in our hearts.
---
This first appeared in the Philippine Primer Magazine's June 2019 issue.
This interview is a collaboration between Philippine Primer and TechShake.
You might also like...